Even as a little girl in Santa Cruz, Bolivia's largest city, Daniela Monje already had her professional aspirations in order.
"My dad and grandma both had a great love of animals," Monje said of her childhood. "My dad would teach me about the wide variety of fauna around us in Bolivia; it wasn't unusual to see toucans or sloths. I cannot remember a time where I didn't think I was going to be a veterinarian. If an animal was hurt, I wanted to help it."
Monje moved to Florida at age 13 and is currently in enrolled at Ohio State's College of Veterinary Medicine, where she is on track to graduate in May 2020. She was a veterinary preceptee at Fossil Rim from August 19 to September 27.
"I'm a member of the American Association of Wildlife Veterinarians, and I saw that Fossil Rim had an opportunity for externships for fourth-year vet students," she said. "I was a second-year student at the time, and I thought it was an amazing opportunity. I applied well over a year ago, and I've been keeping up with Fossil Rim for quite a while.
"When you are trying to pick a track related to zoo or wildlife medicine, it is recommended that you apply here 1.5-2 years early because it's a competitive field of applicants. I was excited about this and very interested in the work that is done here."
Monje was surprised at her ratio of "doing" at Fossil Rim compared to "watching."
"I heard that at many places you wouldn't get a lot of hands-on experience – that you do more shadowing and you just try to learn by watching," she said. "I asked multiple zoo veterinarians in my area about Fossil Rim, and multiple people who'd done (a preceptorship) here said it was their best hands-on experience. I got even more experience than I expected.
"(The animal health team of Dr.) Julie (Swenson), (Dr.) Holly (Haefele), (Dr.) Lauren (Schmidt), and Allyssa (Roberts) were great mentors. If I wanted to learn something, they were always very receptive to helping me do so. The same procedure on a sable (antelope) can be quite a bit different than on a smaller animal, so it was great to get many different opportunities."
Monje recalled some of her most memorable activities.
"Being able to treat as many Attwater's prairie chickens as we did allowed me to get a lot more bird experience than I expected coming in," she said. "Vaccinating cheetah cubs was pretty amazing. Learning about the different types of vaccination protocols they have here – and what species they are appropriate for – will be very important for me to know. All of the anesthesia-based procedures that we did with large hoofstock, I don't believe many places would've offered this amount, and that was extremely helpful."
Like most people who get acquainted with Fossil Rim's animal residents, Monje had her favorites.
"I really like the gemsbok and the waterbuck," she said. "We didn't get to treat waterbuck while I was here; I just find them fascinating."
In her final week at the wildlife center, Monje gave a presentation to the staff.
"My project was about the treatment of deep infections," she said. "Hoofstock, in general, can be prone to deep infections, such as abscesses. I went over two different kinds – subcutaneous and hoof abscesses, as well as the complications that can arise from each.
"I discussed treatment options and procedures, plus how the veterinary team here treats these infections and manages any complications."
She had a lot of learning sessions with Swenson.
"I really enjoyed Julie taking the time to quiz me and teach me about phylogenetics and where species are located in the phylogenetic tree," she said." The treatment of different animals can be related to how close they are regarding taxonomy. It was very interesting to go through that topic here and understanding how the similarities among species affects treatment, plus the insight you gain on an animal's behavior and natural history."
With graduation mere months away, Monje reflected on how her practical veterinary skills are improving.
"Being able to treat a lot of birds in my time here will be extremely beneficial, I think," she said. "The same goes for the procedures with the (Eastern box) turtle, because we don't get much hands-on bird or reptile experience at vet school. The opportunity I had here to deal with as many different species as possible will help me in the long run. For example, when listening to a maned wolf heartbeat, I learned its heart is positioned slightly more in the middle (of the chest), compared to a dog.
"Learning the anatomy of every species is obviously key to provide the best healthcare. With Julie, Holly, and Lauren, we like to do journal club. We take different journal topics, summarize and discuss them. It's a very important skill Julie taught me, in terms of summarizing (animal health) literature and applying it."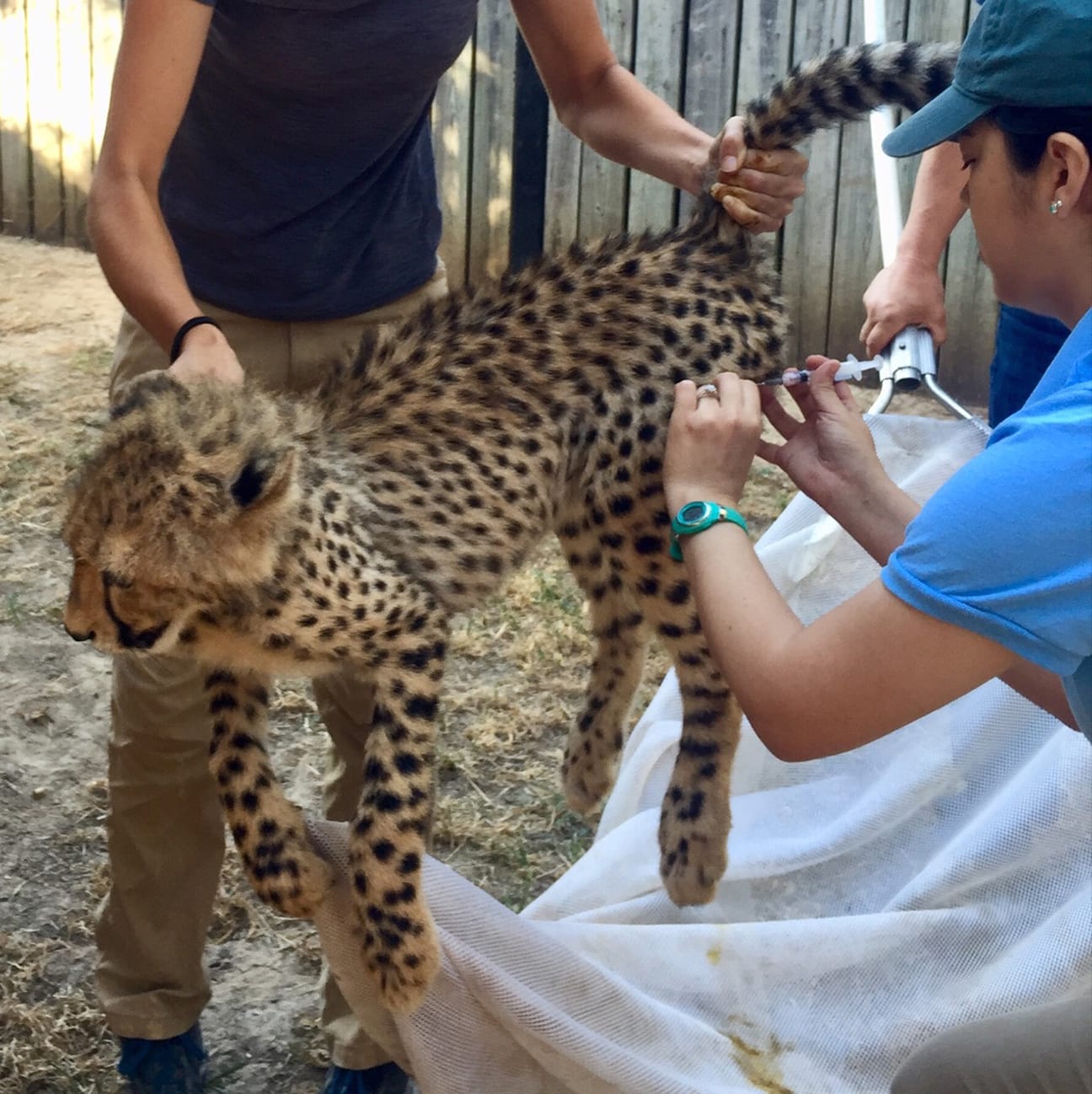 What is next for Monje as she progresses through her final year of veterinary school?
"I still have clinical rotations at school, but I'm also doing offsite training at Zoo Tampa at Lowry Park for a month and then USGS Honolulu Field Station for a month," she said. "Coming here reinforced the fact that (zoo and wildlife conservation medicine) is what I want to do. I'd like to continue to follow that career path."
Any advice for others eyeing a preceptorship at Fossil Rim?
"You will receive as much from this preceptorship as you give," she said. "The animal health staff is happy to teach, but you also have to let them know where you want to pick up new skills. Speak up about what your interests are and be motivated, because they are willing to teach you. Be invested in guiding your own learning.
"The animal health team has so much information, but you need to know what you are interested in learning so it can help guide the track you are trying to pursue."
Why is Fossil Rim a special place?
"Fossil Rim is a unique wildlife center," Monje said. "I've been to facilities with a similar motivation, but each one has its differences. I really enjoy how Fossil Rim allows the animal to have social interactions as it would in its natural habitat with the different species. I really like the team dynamic between the doctors, the animal care specialists, and the curators.
"Everybody's opinion matters, and they just have a nice, cohesive relationship where the common goal is taking care of the animals. As an outsider, it was really enjoyable to see. Everyone was very welcoming and ready to help you learn."
-Tye Chandler, Marketing Associate