September 26 is Human Resource Professional Day, and the two-person HR department at Fossil Rim has a full plate with 101 employees on staff.
Director of Human Resources Tally Hickey and Human Resources Assistant Carrie Albrecht have each served Fossil Rim since 2017. This is the perfect occasion to learn more about how they strive to keep everything running smoothly on staff.
"When I worked in social work, HR was always an interesting field to me," Hickey said. "Years later, I can't think of anything else I'd rather do – except retire."
When there is a conflict on staff, how does she address it?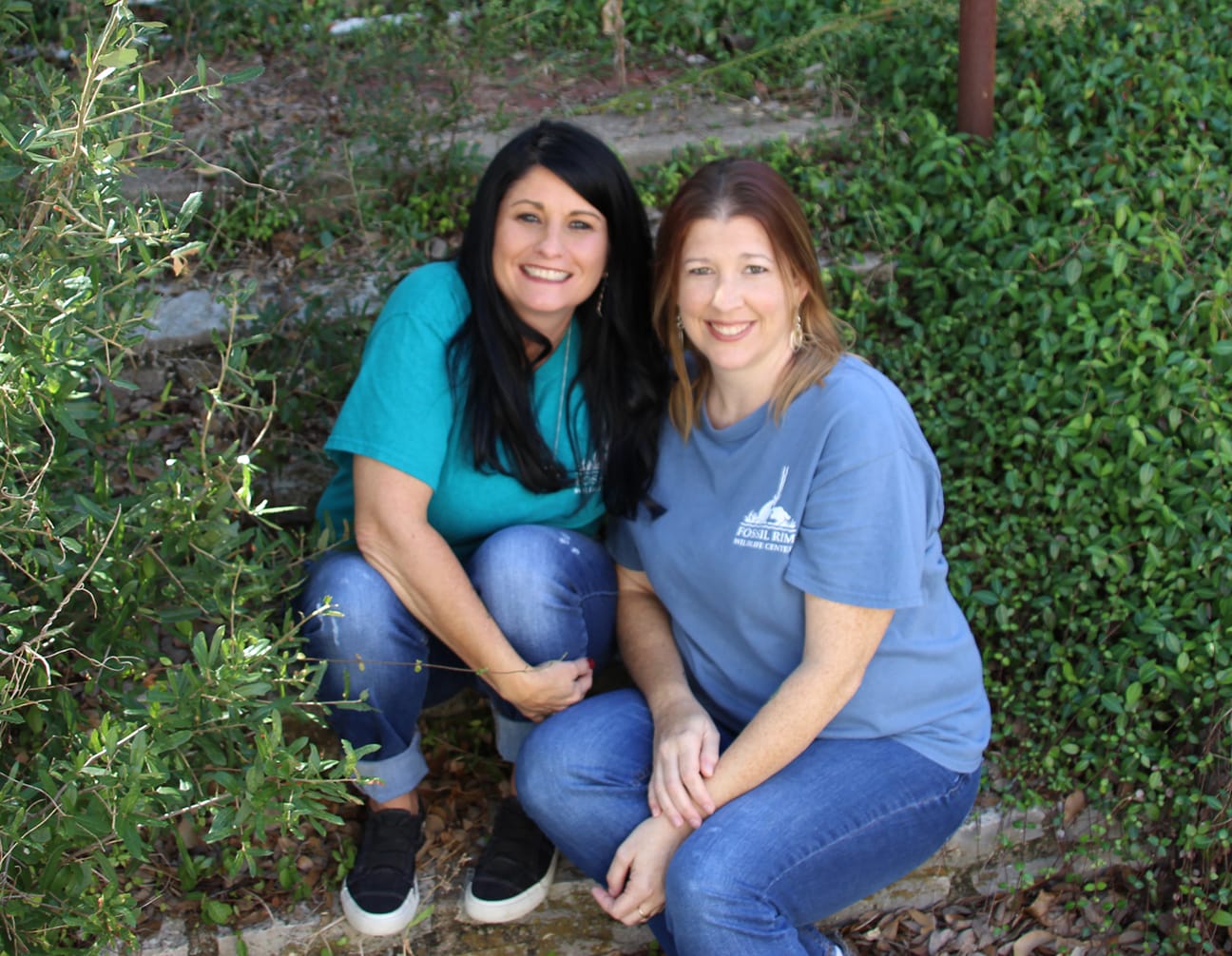 "There are steps you must take to help resolve the conflict," she said. "When an employee oversteps the line of healthy difference of opinion, resolving conflict requires respect and patience. The human experience of conflict involves our emotions, perceptions, and actions. Since we experience it on all three levels, we need to address all three to resolve it.
"You must have the employees who are involved both acknowledge that the conflict exists and discuss the impact it can have on the department or multiple departments. Both sides have to agree to communicate, understand the situation from the other perspective, and clarify their positions on the situation in order to come to an understanding."
Staff morale is always at the forefront of Hickey's mind.
"I just try to get out there and talk with the employees," she said. "You need to let them know you respect their hard work. Try to do the small things that show appreciation for them; that could be a staff lunch or any number of other events or gestures."
On any given day, what is the Fossil Rim HR Department up to?
"We address any employee questions on benefits, policies, payroll, or training, deal with any issues regarding employee relations, screen resumes, post job opportunities, and make sure we are keeping up with all state and federal compliance," Hickey said. "When new employees and interns arrive, we try to go over everything they might need to know. I do my best to keep up with all intern issues and make sure the intern housing is well-maintained."
In HR, there is a difference in employee management and employee development.
"Employee management is the effort to help employees do their best work each day in order to achieve the goals of their department, and also to help their department achieve the larger goals of the organization," she said. "Meanwhile, the development of employees is about supporting them with various training methods to enhance their skills and help them acquire new knowledge. Development is continuous due to the fact that the work environment is ever-changing, even if that change may be on a small scale."
Some people may think a visit to the HR department has a negative connotation, but Hickey hopes that perception is changing.
"I always hear it's like going to the principal's office or 'oh no, you have to go see HR; you must be in trouble,'" she said. "The role of an HR department has changed over time. HR deals with a variety of staff-related aspects – it's not only about disciplinary actions."
Albrecht also arrived with her own HR experience.
"Before Fossil Rim, I had some experience as an HR assistant in background checks, drug testing, interviewing, orientation, and recordkeeping," she said. "In every HR position, I've learned the importance of confidentiality, listening carefully, and having a willingness to learn."
She has come to know what Hickey values most when engaging with staff members.
"Tally emphasizes the need for consistency, confidentiality, and striving to be 100 percent correct in every aspect of what we do as a department," Albrecht said. "When we respond to someone's question, it should be our best effort to give them an accurate answer."
If the person reading this blog has been thinking about going to speak with his or her human resources department about an issue, Hickey shared her thoughts on making the decision.
"HR should always have an open door policy, but I always encourage an employee to first use chain of command," she said. "However, if they are not comfortable with chain of command for a particular issue, their company's HR person should be there to talk to. If it is not an issue of conflict, maybe a question about benefits or a general inquiry, then going straight to HR should always be fine."
What is different about working in human resources at Fossil Rim than at other companies in Hickey's past?
"It's more relaxed here with relatively little turnover of employees," she said. "The employees have easy access to HR, and we have more time to listen and do our best to help out."
-Tye Chandler, Marketing Associate