The Eighth Annual Halloween Spooktacular Extravaganza promises to be the best-ever installment of the Children's Animal Center (CAC) event, so the planning and manpower are increasing accordingly.
"Now that this is a well-established Fossil Rim event, we decided to take the step of having a planning committee," said CAC Supervisor Kristina Borgstrom. "This is a fun event, both for locals and people who make the trip from cities like Fort Worth. It's family-oriented.
"I think we'll have more to engage some of the older kids now. Since we get a lot of repeat visitors for the Spooktacular, it's been great to get a lot of new ideas, so we'll keep it interesting for everyone."
Speaking of everyone, it seems like practically every staff member at the Overlook area (1789 County Road 2009) is contributing to the Spooktacular cause. The event is set for Saturday, October 26 from 4-6:30 p.m. at the Overlook.
"Most of the staff at the Overlook is now involved in our coordinating team for this event – tours, CAC, and education," Borgstrom said. "We will all help run activities and have a map so people can find all activities and see what time some particular events are scheduled. Will (Baker) is our visitor programs supervisor, and so he seemed like a great person to help me plan the event. We're working with the education staff, plus (Director of Tourism) Donna (Steakley) is supplying the prizes as our special events coordinator."
The Spooktacular is always free to attend, but it is also the primary annual fundraiser for the CAC, so donations are welcome.
"The proceeds will benefit the (CAC) animals and educational opportunities they provide for visitors," she said.
Most proceeds will come as a result of the Spooktacular's related bake sale. It will be held in front of the Nature Store from Oct. 17-20 and then Oct. 24-26. The time for the bake sale will be 10 a.m. to 4 p.m. on weekdays, 10 a.m. to 5 p.m. on weekends, and 10 a.m. to 6:30 p.m. on the day of the Spooktacular.
"We've raised over $1,000 each year with the bake sale, so it is a very important fundraiser for the CAC," Borgstrom said. "It helps us care for the animals, as well as our project needs for the facility. Past fundraiser efforts have helped us bring black-footed cats to the CAC, renovate our tortoise yards, fund our animal enrichment program, do upkeep on our aviaries, and more."
Borgstrom added there will be some animal artwork by the CAC residents for sale again this year during the event. New ways of donating have been added to the Spooktacular to keep things fresh and provide options for guests who are less fond of sweets.
"We're going to do a s'mores and witches' brew station using a fire pit that we're modifying," Borgstrom said. "That area will be available to those who make a donation."
Visitors can build their s'mores and enjoy story corner, as hosted by Sara Paulsen, just a few feet away.
"Sara will have her story corner activity for stories and singalongs," she said. "I think she'll have more Halloween-related content this year. We are looking at doing that at the amphitheater."
On that note, the Spooktacular festivities will be a bit more spread out this time around, as the spectrum of related activities keep growing.
"Activities will start at the CAC and wrap around over to the EcoCenter and then to the amphitheater area by the Bioshack," Borgstrom said. "We have the space, so we'll use it."
The Spooktacular has added its version of a cakewalk.
"The cakewalk will have raffle prize items like ostrich eggs, emu eggs, feathers, t-shirts, gift cards, and stuffed animals donated by the Nature Store," Borgstrom said. "A bunch of different numbers are laid out in a circle; it's sort of like musical chairs. People purchase tickets to participate. They go around the numbers while music is playing.
"Once the music stops, they have to jump on a number. One of our staff members will pull a number from a fish bowl – whoever is standing on the matching number will win a prize. We'll have some adult prizes, in addition to kids' prizes; we want this to be fun for everyone."
Borgstrom anticipates 25-30 activities in action for the Spooktacular.
"We are modifying a lot of them, looking at what was popular and putting a Fossil Rim twist on some of the games," she said. "For example, instead of bottle ring toss, we're going to do an antler and horns ring toss and see if the guests can ID the antlers and horns. Mummy bowling is now conservation knockout, while the can knockout game will emphasize the trophic level of different organisms.
"The natural resources staff will have a landfill graveyard, and we'll have a fossil dig pit where guests can potentially take a fossil home. We have the opportunity to make this event even more unique to our facility, as opposed to having standard carnival games."
The pumpkin carving contest is a Spooktacular staple.
"I think the pumpkin carving is always a big hit," Borgstrom said. "Guests enjoy creating their own designs, and a lot of them actually donate their pumpkins to Fossil Rim after carving them. Our animals at the Children's Animal Center enjoy them, plus they provide enrichment for the wolves and black-footed cats."
That is not the only contest on the schedule.
"We'll have a costume contest," Borgstrom said. "Will is calling it a 'wolf prowl.' Any kids who want to show off their costumes will walk down a runway, and they can make fun animal calls while doing so. People can vote for best costume, and we'll have prizes for that."
The mad chemist magic show will make its Spooktacular debut.
"Kalee (Roberson) from the tours department, her husband is a chemistry major, so he offered to do a show during the Spooktacular," Borgstrom said. "There will also be a craft table where kids can perform their own magic by making slime."
Hiking is returning as an aspect of the Spooktacular.
"We're going to add a hike on our Birding Trail, which is right behind the Children's Animal Center," Borgstrom said. "We'll put different items for people to try to find on the hike, which lasts about 15 minutes and will start about every 20 minutes during the Spooktacular. It's an opportunity to tie nature into the experience and teach about Halloween myths.
"We'll hopefully have some different animal calls playing on the trail, which will be open during the entire event. If guests haven't ever done a hike here before, this will be a great time to try it."
Piñatas will remain in play, of course.
"Who doesn't like candy and toys?" Borgstrom said. "Not just piñatas for the kids, we'll make piñatas for the CAC animals; even the emus love pecking at piñatas. Visitors are encouraged to come to our enrichment table to help celebrate Halloween with our animals, too. They can create a theme for their piñata, fill it with treats, and then choose what animal should receive it."
Animals have always been a cornerstone of the Spooktacular experience, and that will certainly continue.
"We received some new goats from (Dr.) Julie (Swenson), and they'll be used to their new home by the time the Spooktacular gets here," Borgstrom said. "Some of the older goats moved to a retirement yard by 'Arnold,' one of our pot-bellied pigs. The new goats are all Nubian females and very social.
"Our interns will have exhibitions of goat training, plus they'll have our outreach animals on display. We are keeping the CAC open during the event, so all of the animals can be visited. Most of the CAC animals get more active in the dusk hours.
"I think people really enjoy our ambassador animals, so we are going to split them up into two (exhibit) tables and we are planning to have nearly every animal in our collection for kids to see."
After the Spooktacular ends, the final Discovery After Dark Program and Tour of 2019 will be ready to roll off in a couple of tour vehicles at 7 p.m. For tickets, call (254) 897-2960.
"I love hearing about what our guests see when they go on the Discovery After Dark tours," Borgstrom said. "The animals are active at that time – especially the kudu and the bongo. It's really cool that they do a night hike with it now. There's a better chance of seeing the (resident) red wolf on that hike, as opposed to during the day."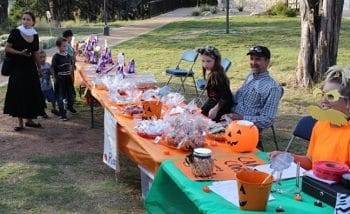 For anyone interested in volunteering to help with the bake sale or the Spooktacular itself, please email volunteer@fossilrim.org.
Whether it is fun and games, animal education, or something else that draws guests to the Spooktacular, Borgstrom hopes to see everyone there in costume.
"I just want to welcome people of all ages out to the event," Borgstrom said. "It should be a lot of fun."
-Tye Chandler, Marketing Associate