Irene Hopping loved her months as an intern at the Children's Animal Center (CAC), so when she got the opportunity to leave something lasting at Fossil Rim, she capitalized.
An intern at Fossil Rim from August 13 to December 15, the Flower Mound (TX) native raved about her experience.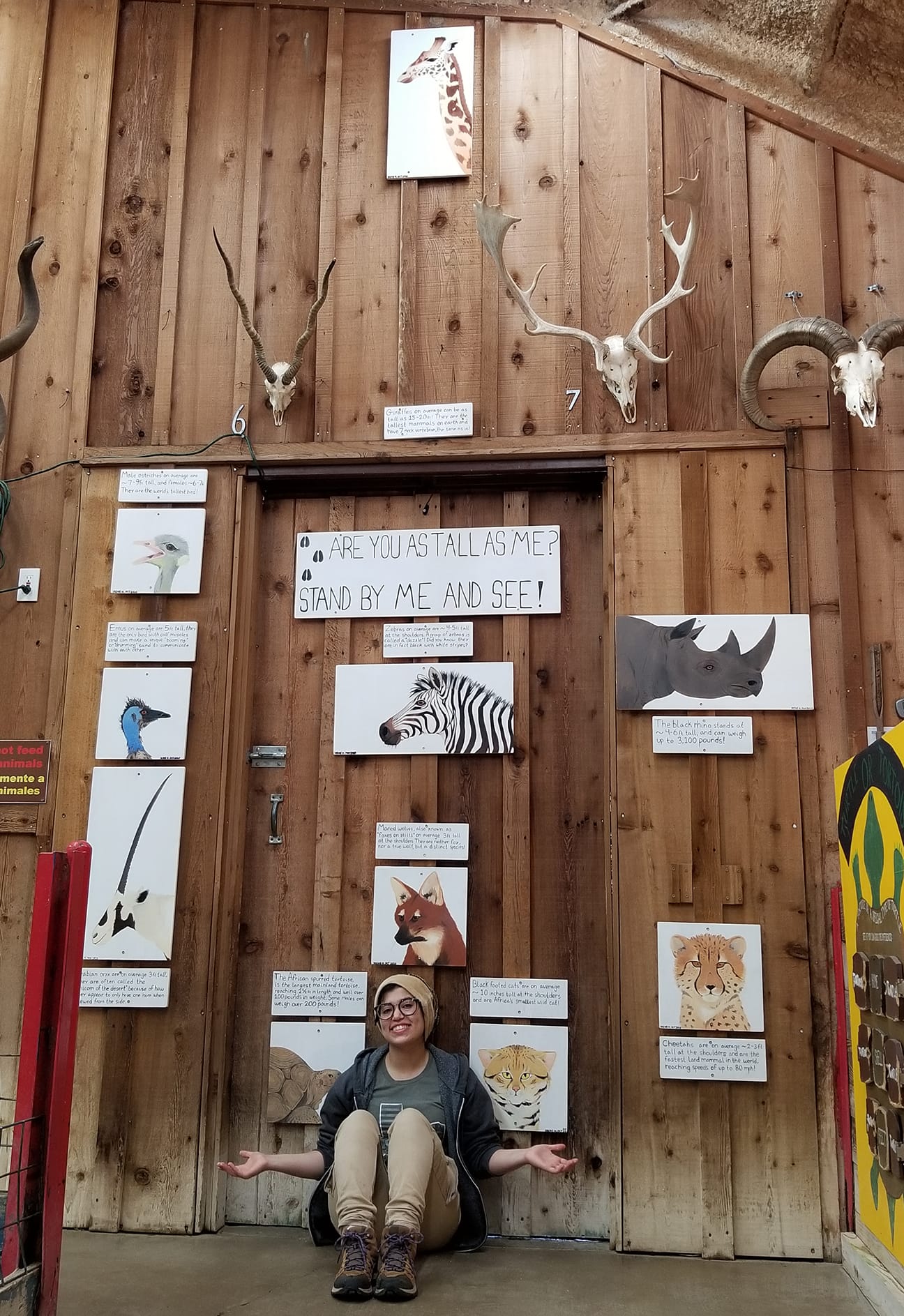 "This internship far exceeded my expectations," Hopping said. "It was definitely the best internship I've done so far, in terms of all the different things I got to see and do, plus experience gained. There is good diversity in the collection at the Children's Animal Center."
Flower Mound is approximately a 95-mile drive from Fossil Rim.
"I'd been to Fossil Rim before as a little girl and the main memory was feeding the giraffes," she said.
She completed a project that is now prominently displayed at the CAC. It is 10 animal species paintings with associated facts that are presented on the CAC wall at a corresponding height to how tall the animals are in real life.
"Looking around the CAC, I saw a lot of previous projects on the walls," she said. "The one that I modeled my project after was seven years old. I had a lot of materials at my disposal that I wanted to take advantage of, such as acrylic paints, brushes, palette knives, and more. I love mixing art with science, so any way I can involve my artistry into what I'm doing is a chance worth taking.
"The previous project from 2013 was an animal height chart that let kids see how tall they are in comparison. Being ambitious about my project, I decided to hand-paint 10 different animals on one-foot-by-one-foot squares of wood – some were two feet long – using those acrylic paints. I included some facts to go next to the paintings.
"The paintings were placed to reflect the animals' real heights – some at head level and some at shoulder level. I wanted to keep some of the same (pasture) animals from the 2013 project, but I also wanted to feature some animals from the CAC like the African spurred tortoise and black-footed cat. I wanted to include the maned wolf, which is not seen as often, and I wanted a lot of variety in terms of the species and their heights."
Hopping was not artistically trained, unless you count what she has learned on her own.
"I love art," she said. "It's more of a hobby for me than a career goal. I've done it ever since I could hold a brush. I've done all sorts of mediums like watercolors, stamp carvings into linoleum I'd make prints with, and wood burning, just to name a few.
"I'll try anything when it comes to art. I only took one art class back in middle school, so everything I've done has been self-taught."
Stepping back to look at her internship overall, Hopping feels like she is moving forward with great benefit from these four months.
"I got a lot of experience in diet preparation, and you don't get involved in that process at some other places," she said. "It helps you better understand what goes into the care of the animals. There is a lot of responsibility given. If some animals needed medication, I was able to administer that myself, and I was thankful to have the trust to handle that.
"There was a lot of training involved with the animals. That allows you as an intern to build a relationship with the animals, and it's definitely useful to know as you move on to future jobs.
"The goats were surprisingly difficult to train, because they are so food-motivated. Sometimes, they forget what they are doing and are just checking your pockets or your hand for a treat."
It sounds like Hopping would recommend the CAC internship to others with her interests.
"If you are like me and looking for jobs working with ambassador animals and interacting with the public – a mix of animal husbandry and education – the CAC internship is absolutely perfect for that," she said.
While guests were not able to check out her project before she left, Hopping feels a sense of pride about its long-term presence at the CAC.
"It feels really nice to know once the CAC is open again that people will be able to go in and see the project, take pictures standing next to it, plus share those pictures and let others know they can find it at Fossil Rim," she said. "My name is on every single painting, and to know I left a bit of a footprint there is awesome. Anytime I can bring some art to the science field, that's something I'm interested in."
As she heads into a new year, her time at Fossil Rim helped Hopping confirm what she wants for her life.
"At this point, I've done four internships," she said. "Now, I'm looking for seasonal job positions working with ambassador animals. Long term, I've definitely found through my internships that I enjoy the animal husbandry for ambassador animals, as well as interpreting animal behavior for people and interacting with the public in general."
-Tye Chandler, Marketing Associate