Fossil Rim's Dream Day event held each December for a couple of local families always seems to evolve in regard to the itinerary, but the special guests enjoying their time together remains a constant.
With social distancing in mind, the December 4th event was customized accordingly for a group of four – the "Giraffe Family" – and a group of three – the "Zebra Family."
"This year's Dream Day was a very special day for these two local families," said Executive Director Kelley Snodgrass. "It was organized and led by our planning committee and supported by a host of staff members, volunteers, and local sponsors. It was planned and well-executed with the heart and determination that the opportunity to share a day of joy would happen, even under extenuating circumstances – very well done by everyone involved."
In addition to donations by Fossil Rim staff and volunteers, event sponsors included LDL Educational Resources Foundation, Glen Rose Medical Center, United Co-op, Best Western, Dinosaur Valley State Park, Tractor Supply, Mr. Jim's Pizza, Brookshire's, and Papa's Pantry (Somervell County Food Bank).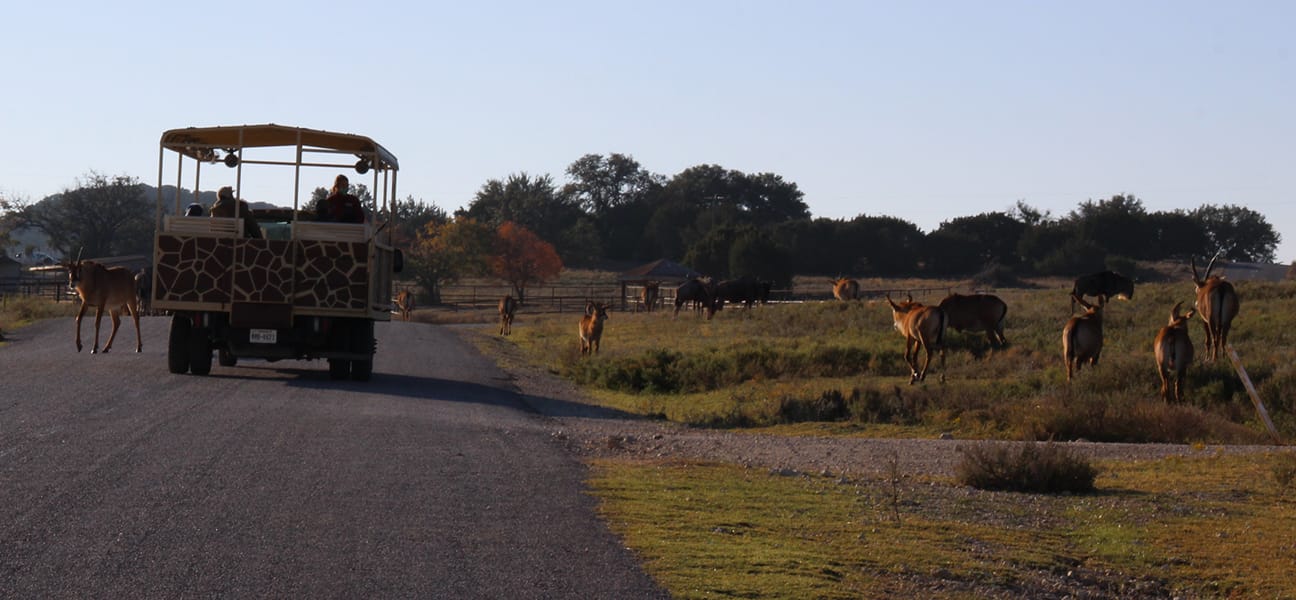 Dream Day families have traditionally been dealing with adversity of some sort – medical or otherwise, but they were preoccupied with fun and learning on this day. After the families arrived outside the Admission Center, Snodgrass welcomed everyone and thanked the sponsors. From there, it was time for the guests to head out on separate tour vehicles for their customized guided tours.
The Giraffe family included parents William and Courtney, as well as 12-year-old Hailey and 10-year-old Breonna. The Zebra Family included mother Tammy, along with 12-year-old Jada and seven-year-old Kayce.
"I found out about this a couple of weeks ago, and I was really excited," said Courtney. "I didn't tell the girls until a week later; William and I were giving them little hints."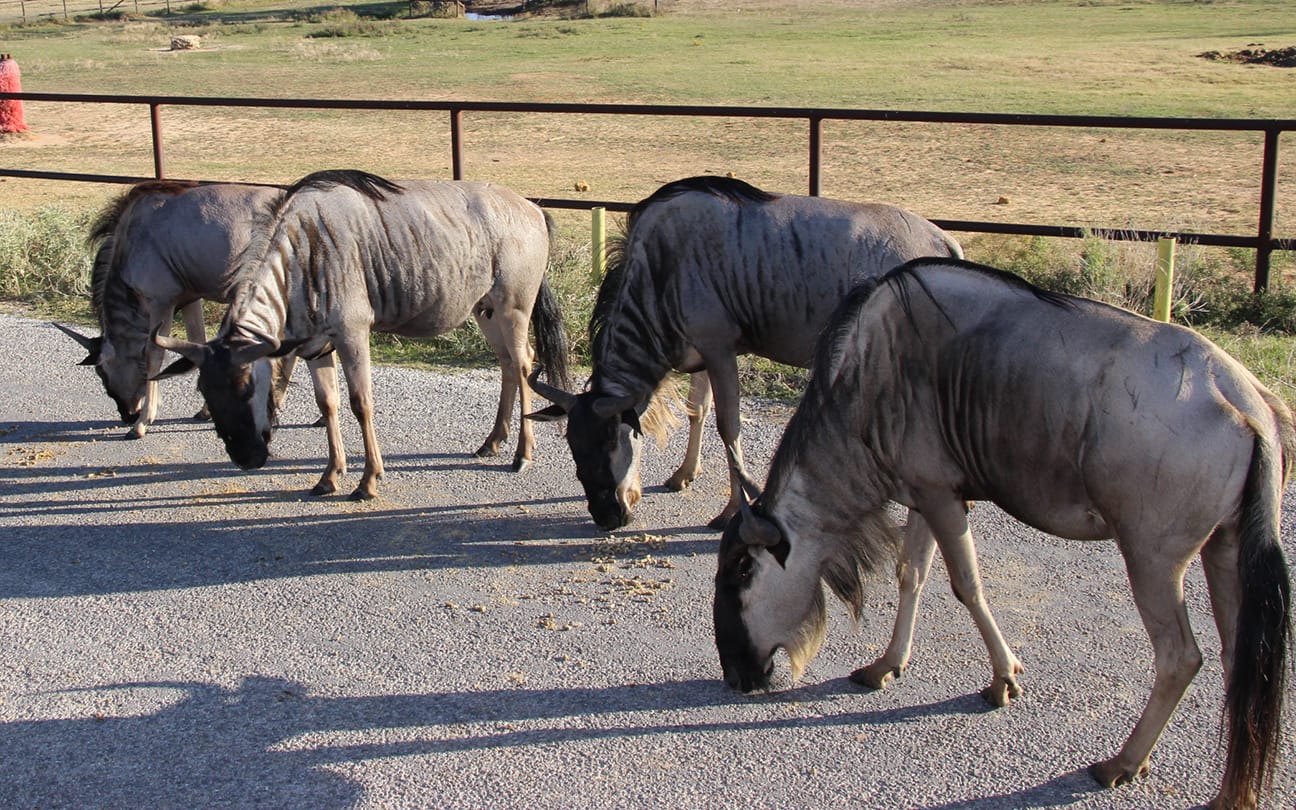 As residents of nearby Glen Rose, the Giraffe Family was understandably familiar with Fossil Rim. But, they would see it from a new perspective this time around.
"We come here every year on the (Somervell County) Free Day, but we've learned a lot we didn't know today," Courtney said. "It's neat getting to hear the information as you go through the park and see these animals up close. You get a lot more out of a tour than driving in your own car. It's awesome because you can ask questions."
The first tour stop was the White Rhino Barn, as Director of Animal Care Adam Eyres handed out plush rhinos and discussed Fossil Rim's white rhino population.
"One of my favorite things was being able to get closer to the (white) rhinos than you could on a normal drive-thru," William said. "It was very educational."
From there, it was back into the Front Pasture and then on toward the Buffer Pasture. Volunteer Chris Paulsen, a Dream Day veteran, was driving the Zebra family around.
"I think Dream Day is the most wonderful thing for families," Paulsen said. "Some have been down on their luck, some have had medical issues, but this gives them a break and lets them know they are loved. It's a blessing for me to be involved with it.
"It's six or seven Dream Days for me now, and each one is different and enriching in its own way. I've never seen a family leave a Dream Day disappointed."
After an encounter with Santa Dan, Mrs. Claus, and The Elf while passing Santa's red truck in the Buffer Pasture, it was on to Main Pasture and eventually the Game Preserve.
Approaching the first giraffe coincided with a visit from Giraffe Caretaker Molly Shea, who passed out plush giraffes and told the families about Fossil Rim's tallest residents.
"The staff and volunteers are always ready to make this event special, plus the sponsors play an important role, too," Paulsen said. "You could certainly say the circumstances were unique for this year's event, but I can point to several years where we have changed the format for one reason or another. We know how to roll with the punches here at Fossil Rim.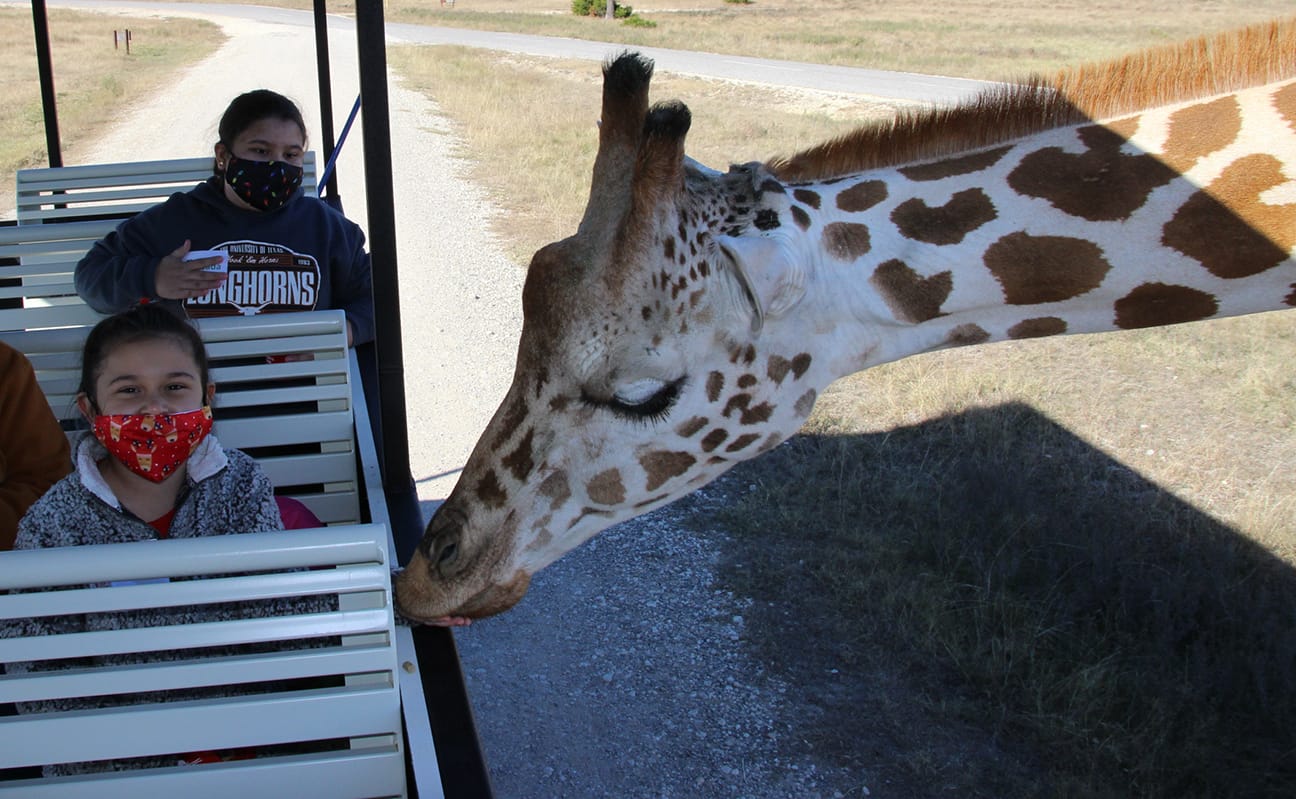 "I enjoyed watching the kids get comfortable on the tour. Sometimes, they are shy at first, but they'll come out of their shell and start asking questions. That's what it's about – the kids enjoying this experience, feeling loved, and learning along the way."
From there, it was time for a trip to Cheetah Hill to meet with Carnivore Curator Jason Ahistus, who distributed plush cheetahs and discussed the cheetah breeding program.
"The girls really enjoyed learning facts about the cheetahs; they enjoyed feeding the giraffe, of course," William said.
The tour progressed on to the Overlook and the Children's Animal Center, where the kids made enrichment items for the goats, as well as the sheep and pot-bellied pig. On the walk to the Activity Center for lunch, the families stopped to watch one of the resident American red wolves that was on the move.
"Breonna said the red wolves are her favorite, but Hailey changes her mind a lot," Courtney said. "It just depends on what she's seeing that minute. It seems like they've enjoyed everything. Just seeing them smile is what matters.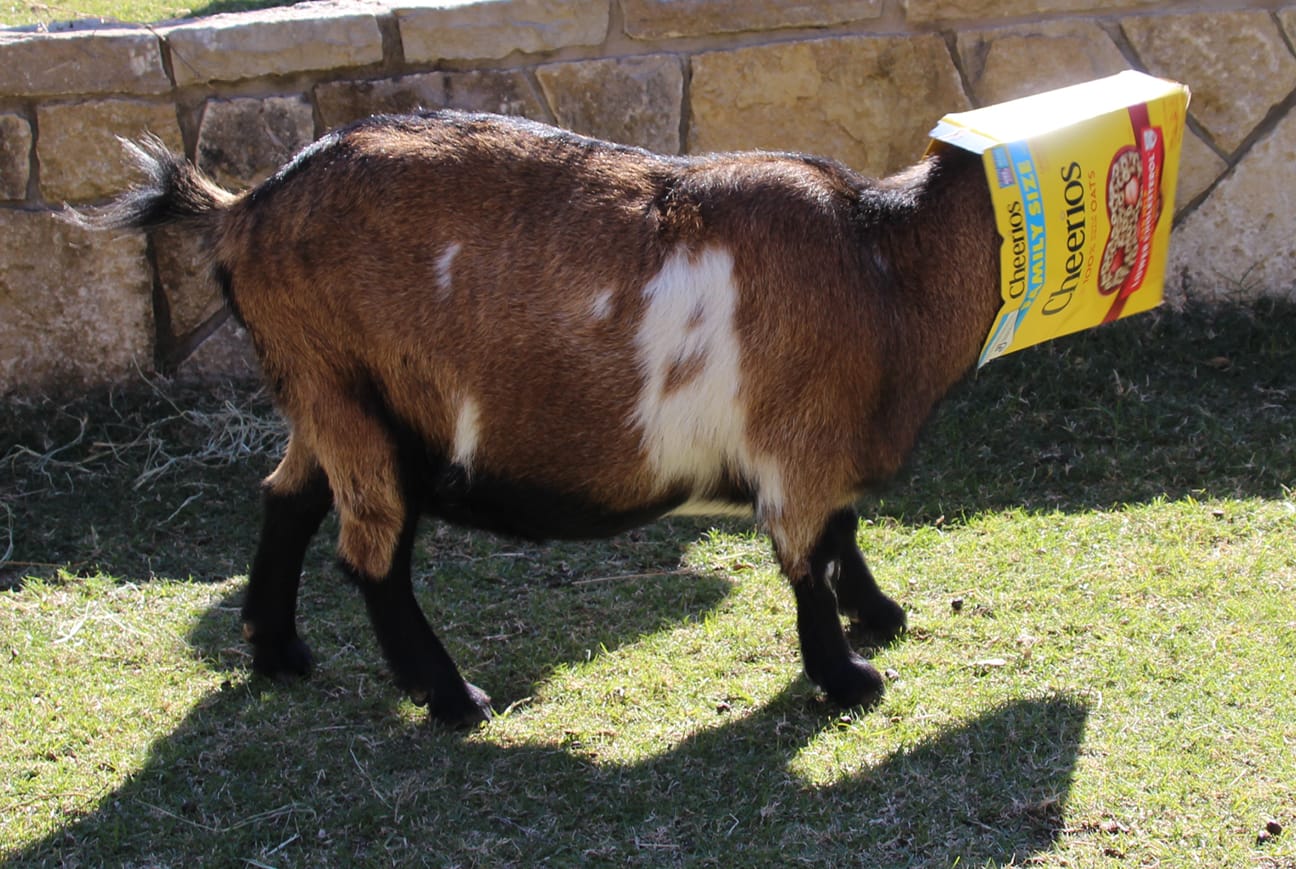 "We don't go to zoos, but we are lucky Fossil Rim is so close and you see happy animals here. This is an amazing place."
After a delicious lunch of soft tacos prepared by the Fossil Rim culinary staff and Mr. Jim's Pizza, it was time for the families to open presents.
As she watched the girls exhibit their unwrapping skills, Fossil Rim Accountant Laurie Rush talked about witnessing her first Dream Day and the part the finance department played.
"Alice (Kiang represents our department) on the Dream Day Committee," Rush said. "We take the requests of things needed for the event, collect donations from the staff, and make sure all needs are addressed. We wrapped all the gifts, as well."
The effort that Executive Coordinator Kristen Hannah, who was also watching the unwrapping, put into all the Dream Day details was not lost on Rush.
"Kristen is great," she said. "She's so selfless and willing to take on anything. She'll make sure an event is organized and doesn't expect a thank you. She and Alice were on top of every detail, keeping us informed."
It made Rush happy to see how smoothly everything went so the families could enjoy Fossil Rim to the fullest.
"I think it's great to get the families outdoors and learning here, plus Santa made an appearance," she said. "We had to do things differently this year and made it work. We appreciate the community involvement of the sponsors so that we can help families in need and put some smiles on their faces. Today's tour format was a great example of how interacting with our staff can teach people more about conservation and the great work done out here."
After the enthusiastic display of present opening, s'mores were made over the Activity Center fireplace. The families loaded back up on the tour vehicles and returned to the pastures, making their way toward the Admission Center to conclude the festivities.
Hannah thought of all the people who helped her ensure a tremendous 2020 Dream Day.
"We could not have done Dream Day without our sponsors," she said. "Even in this challenging and unexpected year, we received support from numerous local businesses and organizations. Whether they were donating funds for the families' Christmas presents, donating gifts, or providing free food, our sponsors went above and beyond in providing a very special day for two wonderful families.
"Staff and volunteers from all areas of Fossil Rim were involved in providing gifts, giving tours, cooking, decorating, setting up and cleaning up, plus making sure the day ran smoothly. This is the first year I have been involved in the planning for Dream Day, and it was great to see the staff eager to be involved. This is one of Fossil Rim's favorite events each year, and many people were quick to jump in and help out where needed."
-Tye Chandler, Marketing Associate