Fossil Rim Wildlife Center has so many different guided tour options that there really is something for everyone.
Since he came aboard in March 2016, Fossil Rim Tours Manager David Whiting has strived to ensure that guests are aware of all their guided tour possibilities.
"The great thing about guided tours is they give you the opportunity to sit back, relax and learn more about the animals," Whiting said. "When guests drive through on their own, they get to see the animals and have the ID guide with some info, but the guided tour is interactive. You can have a conversation with your guide to learn about the animals, the history of Fossil Rim, and some individual animals that might have names, plus the animals pay more attention to tour vehicles than any others.
"We can engage guests more on a guided tour. Those are the people more likely to become members or even volunteers."
The "standard" tour is the Safari Tour, which takes guests through the 7.2-mile Gosdin Scenic Drive. It is available daily at 9 a.m., 10 a.m., 11 a.m., 12 p.m., 1 p.m., 2 p.m. and sometimes 3 p.m.
"The great thing is it's for all ages, from an infant to a senior citizen," Whiting said. "Some of the specialty tours have age restrictions for safety and comfort reasons. The Safari Tour is also ADA-accessible, so guests requiring wheelchairs have the option for a tour.
"Due to the nature of some other tours, they are not well-suited for a guest in a wheelchair. Our Safari Tours are accessible to everyone. Whether it is one guest or 20, we'll gladly give a Safari Tour."
A Crack O'Dawn Tour is an early morning Safari Tour available at 8 a.m. daily during Spring Break and then weekends only from Memorial Day through Labor Day. It is also the least expensive tour.
"The Crack O'Dawn Tour is a great deal," Whiting said. "A lot of times, the animals have not had their main feed from the animal care staff yet, so they get really excited to see our tour vehicle coming by. It's quiet and usually great lighting for pictures. Crack O'Dawn Tours are a great way to beat the summer heat.
"You can book either of these tours online with a minimum of 48 hours advance notice. You can also book them months in advance, and you can cancel your reservation up to 48 hours in advance."
The Behind-the-Scenes Tour combines a Safari Tour with a visit to the Intensive Management Area (IMA), which is otherwise prohibited. It is available daily at 9 a.m. and 1 p.m. September through May, and then 9 a.m. daily from June through August.
"If you aren't staying overnight at Fossil Rim, the Behind-the-Scenes Tour is your best opportunity to see the animals in the IMA," Whiting said. "It's a three-hour tour, and usually 45 minutes of that is spent observing in the IMA. We get out of the vehicle at various points to get a closer look at some animal enclosures. If you are really interested in learning about some of the critically endangered animals we help here, this tour is a great event."
These are the three tour versions that can be booked online: Tickets.
During Spring Break, the Safari Tour, Crack O'Dawn Tour and 9 a.m. Behind-the-Scenes Tour will be the only guided tour options. Spring Break is usually the busiest time of year at Fossil Rim, and a guided tour is the best way for a guest to overcome that issue.
"We have other road options available to us, which is an advantage on days when the park has heavy guest traffic," Whiting said. "We typically choose our route based on where the animals are, but it can also be to avoid traffic. We have a lot more flexibility (than guest vehicles) to give guests a great experience."
The Discovery After Dark Program and Tour includes a guided tour that starts at dusk and continues after sunset, but there is also an after-dark hike after the tour concludes. It is available once a month from April-October.
"The Discovery After Dark is a great event offered by our education and tours departments," Whiting said. "You go out just before sunset after a quick education program to familiarize you with the animals. The park is otherwise empty. Quite a few different species exhibit very different behavior at nighttime; some of those animals that are more elusive and harder to see during the daytime might be out wandering the pastures at night so you get a great view."
If you would like to steer the focus of your tour in a particular direction, an Adventure Tour is the way to go. It is available year-round.
"It's our premier tour event," Whiting said. "You, your group and your guide are on tour for about six hours, and it includes a lunch prepared by our lodging staff. The guide will take you throughout the park; it's a great opportunity for photos and up-close animal viewing. You'll meet an animal care staff member, have lunch with them and go to their specific area in the park to meet their animals.
"It is an interesting opportunity that is really for animal lovers. Our reservation department will usually ask if you want to focus on certain animals, but you are welcome to bring it up when booking."
A Feed Run Tour is an animal care affair available year-round on weekends at 8:30 a.m.
"For approximately two hours, you and potentially one guest will ride with our hoofstock animal care staff and check on all their animals," Whiting said. "You'll have a great conversation with the staff member about what they do, plus see how the animals respond to the vehicle delivering their morning buffet. If you come during the warmer months, you definitely want to go with one of these morning tours when animals are most active."
The Animal Care Specialist Dinner and Tour occurs twice a year – in May/June and September. It includes a visit to the IMA.
"That is given by one of our senior animal care staff members," Whiting said. "You talk to them during the tour and then during a multi-course dinner prepared by our lodging staff. Learn all about the animals and how the staff cares for them."
Photography Tours are available twice per month beginning in March. They last about four hours and are recommended for ages 16 and older.
"Our goal is to set the photographer up for success," Whiting said. "Give them the best opportunities to get the shots they want. We will position the van to eliminate manmade objects in the background, try to get great lighting, and we can spend more time trying to photograph individual animals.
"If needed, we'll wait for 15 minutes to get that perfect shot. Your guide can explain the behavior of the animals to help you anticipate what to expect when you try to photograph a particular species."
For Safari, Behind-the-Scenes or Photography Tours, they can become private tours for $100 extra per group. In order to do so, there is an eight-person minimum for Safari and Behind-the-Scenes, as well as a four-person minimum for Photography Tours.
There are several other tours that add a multi-course dinner into the mix: Mother's Day Sunset Safari Dinner and Tour (May), Father's Day Sunset Safari Dinner and Tour (June), Sweetheart Safari Dinner and Tour (February), and Sweetest Day Safari Dinner and Tour (October). For all tours involving a dinner, guests with food allergies can be accommodated with at least 72 hours of notice.
"Those four are dinner tours hosted by our lodging department," Whiting said. "Our tour guides will pick up the group from the dinner location and take them out on a tour in the early evening; the park is usually quiet at that time. The Sweetheart and Sweetest Day are great date night events."
If you visit Fossil Rim with 10-104 people, a Group Tour is the right call. They are available weekdays year-round except during Spring Break. As with all of the tours on our vehicles, every guest gets a cup of feed for the animals.
"For any church, scout or school group with at least 10 people, a Group Tour is the best way to go," Whiting said. "They get a discounted rate off the Safari Tour price."
There is an alternate version of a Group Tour – the Step-On Tour.
"If your group needs to stay in its vehicle for whatever reason, our guide can do a Step-On Tour and tell you all about the animals and what we do here," Whiting said. "No animal feed is provided on a Step-On Tour, but the group can purchase one bag – or two bags if someone is a Fossil Rim member."
To book a Group Tour or an Adventure Tour, reservations must be made two weeks in advance.
For overnight guests, consider booking a Morning Safari Tour. It leaves at 8:30 a.m. from Foothills Safari Camp after breakfast is served. There is also a Behind-the-Scenes Morning Safari Tour. Both of these tours are discounted from what non-overnight guests will pay.
"For our guests who stay overnight at The Lodge or Foothills Safari Camp cabins, they have access to these two morning tours at a special rate," Whiting said. "When booking, typically you will be asked if you want one of these two tours."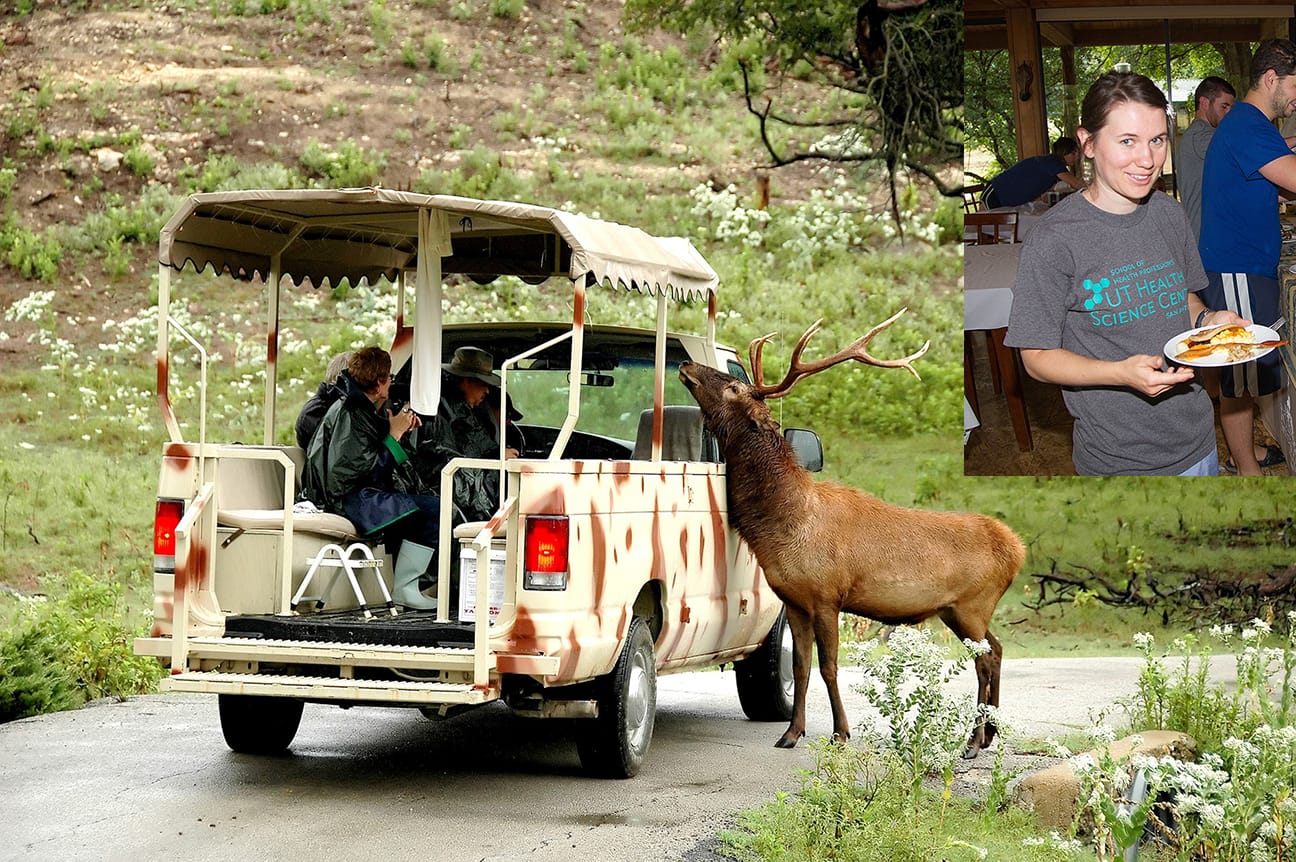 Tours are given in open-air, covered vehicles. Tours will always go ahead as scheduled unless weather poses a safety risk. In that case, guests will either get a refund or a rescheduled tour.
"From mid-March to early May is arguably the best time of year to take a tour," Whiting said. "Just take unpredictable, wet weather into account."
On that note, Whiting said to always check the weather forecast, wear appropriate clothing and guests are welcome to bring bottled water on a tour. It is available for purchase at the Overlook Café and Admission Center. October and November can also be especially good months for guided tours.
"For people who drive through in their own vehicle and wish they could purchase more animal feed, keep in mind that on a guided tour every person gets their own cup of feed," he said.
If guests are heading to Fossil Rim and decide at the last minute they would like to take a guided tour, feel free to call our reservation office to check availability or ask about a guided tour at the Admission Center.
Whiting is confident his tour guides will provide an enjoyable wildlife experience.
"We have a great group of guides – both volunteers and employees," he said. "They really enjoy what they do. All total, we have about 45 people who can give guided tours. Some do it just because they love being out here teaching guests; some have been tour guides here for more than 20 years."
To learn more about guided tour dates, pricing and other details, check out Guided Tours. To make reservations or ask any questions, call (254) 897-2960.
-Tye Chandler, Marketing Associate