Fossil Rim Wildlife Center has always aspired to give overnight guests a great experience, but the bar was raised in 2017.
Nick Itayem made the move from Chicago and became director of lodging in Feb. 2017, immediately beginning a full-scale evaluation of how he could improve the department.
"I wanted to make the lodging experience more upscale," Itayem said. "Not like a five-star retreat, although eventually we're going to get there. When I came in and saw what Fossil Rim had to offer from a wildlife standpoint, I knew we could do better in lodging. Changes were made to make our guests feel like they are in their own home while staying at Fossil Rim and have a better overall experience."
One of the things he has done in year one is sprucing up The Lodge – especially its five unique guest rooms – and each of the seven cabins at Foothills Safari Camp.
"We have freshened everything up at The Lodge – new linens, new beds and more comforts to give it more of a resort feel," he said of what was once the ranch house of original Fossil Rim owner Tom Mantzel. "The purpose of all the improvements was to increase the value of what we offer to our guests, while only making a small price increase from previous years. We heavily focus on customer service and guest relations – a quality-over-quantity approach."
The Lodge also features a full-size kitchen and dining area, two living rooms and a second-floor observation deck. The cabins, meanwhile, are within the two-acre fenced area that is the Foothills Safari Camp, which – like The Lodge – is inside the park's Main Pasture. Each cabin has two twin beds, a bathroom and central heat and air.
"The cabins are for people who want to be a little closer to nature," Itayem said. "There is a beautiful watering hole right outside the camp. It's peaceful with an amazing nighttime view of the stars. Maybe read a book and just watch animals come up for a drink.
"The Lodge is for people who want a little more comfort. With pillow top mattresses on full or king beds, it has more amenities than the cabins for more of a resort feel. We've had people who stay in a cabin for a day and then stay at The Lodge the next day."
A stay at either location makes guests eligible to take either a Morning Safari Tour or a behind-the-scenes version, both at a discounted rate from standard pricing.
"That's a really good aspect of staying overnight," Itayem said. "When I started here, our goal was to get at least 50 percent of our guests to take a Morning Safari Tour. Through working with Tours Manager David (Whiting), that figure is almost 80 percent (as of Feb. 2018). My staff talks to guests about that constantly, letting them know that tour is a great experience.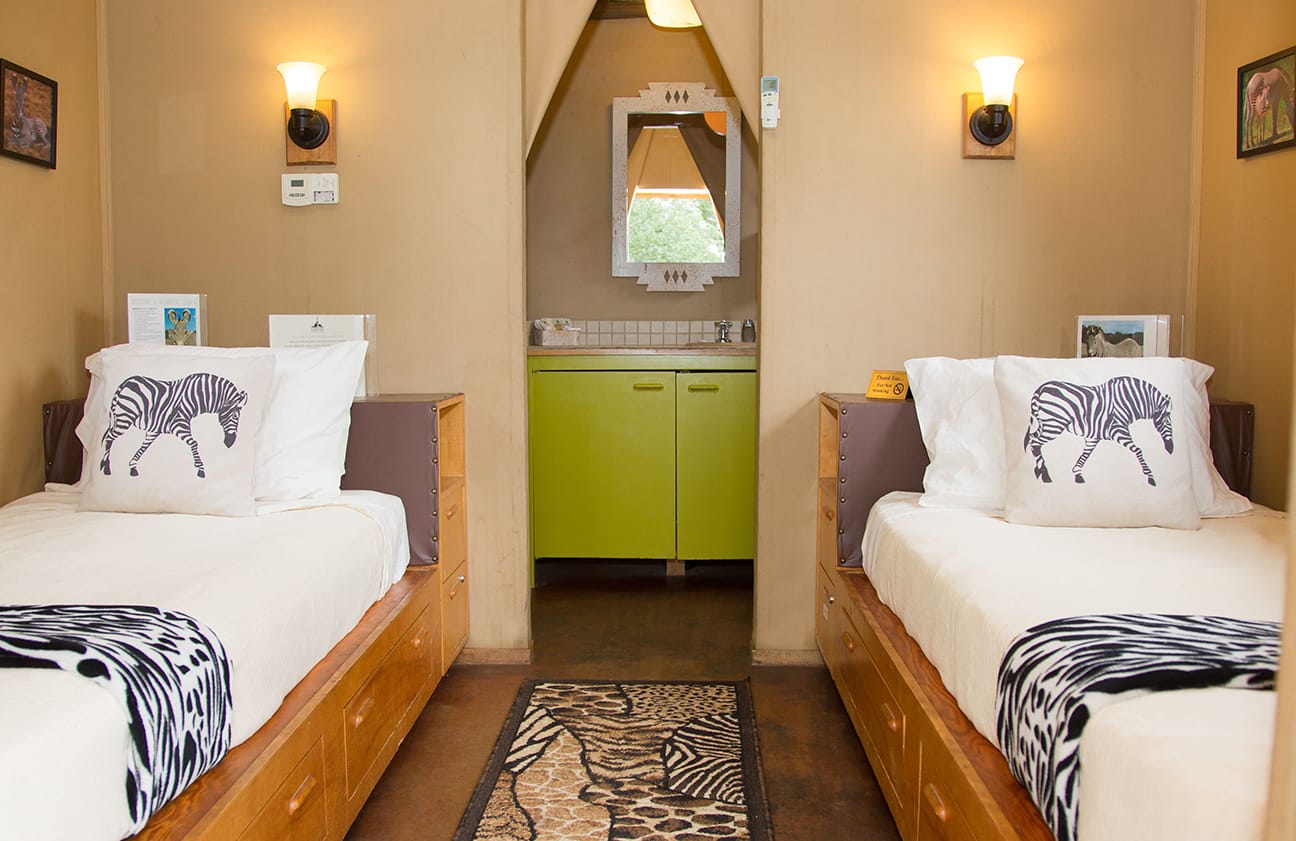 "You get out in the park before it starts to fill up, plus you get a tour guide who can explain to you the history of Fossil Rim, and also what it is that we are doing here with these animals. You get a feel for the passion we have for what we do. The (Gosdin Scenic Drive) in your own vehicle is great; I've done it myself, but given the opportunity we definitely promote the Morning Safari Tour as the best option."
Perhaps the most drastic improvement related to lodging in year one for Itayem has been the food. As he explains, this is Itayem's wheelhouse.
"For me, developing my love of cooking started at a young age," he said. "I grew up in the restaurant business; my family owned a restaurant. My first job there was scrubbing pots and pans. The only way I was able to get into the kitchen and be around the chef was to do the dishes.
"That was the only other person the chef would allow into the kitchen. I say 'chef,' but it was my grandmother – the matriarch of our family and owner of the restaurant."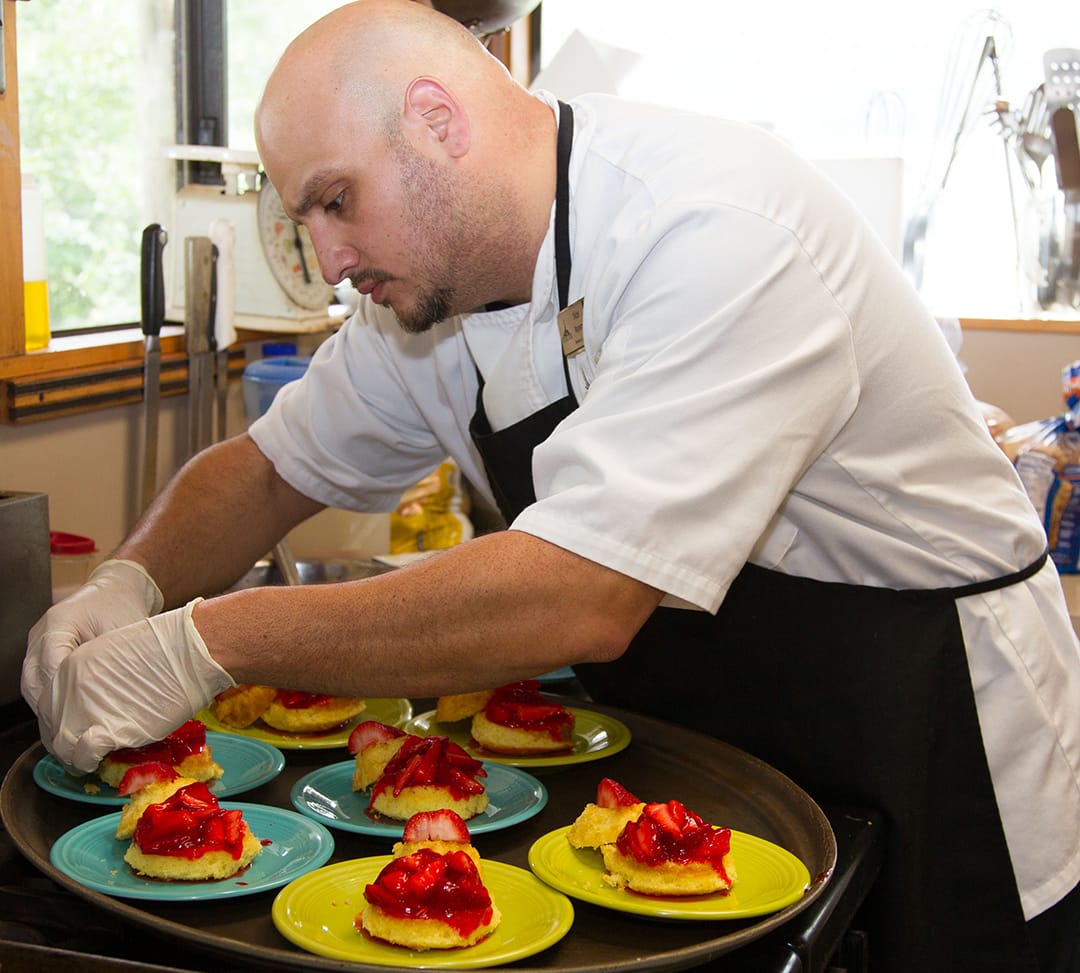 As Itayem grew older, his life journey took him in many directions, but that passion for cooking he developed as a boy lingered.
"I happened to enter the hospitality industry overall and got my college degree in that, because I wanted to be around people and meet new people," he said. "That was the one downside to being a chef in Chicago – little interaction with guests. As my hotel career began, I made a point to work with our executive chefs, planning menus and getting exotic ingredients from around the world. That's kind of when I realized feeding people was really what I enjoyed doing.
"I love the smile on their faces when they eat something so good that they've never had before. I decided being a chef was for me; I couldn't just stay in hospitality anymore."
Itayem's personal realization has benefitted Fossil Rim in a big way. Remarkably, there were zero complaints on the quality of his food in year one.
"It's a matter of personal satisfaction to have someone eat my food and completely enjoy it," he said. "This week, for example, we had a guest who was scheduled to stay three days. My sous-chef made him pancakes on day one from batter I'd prepared, and he was raving about how he's never had pancakes this good.
"He requested that we make pancakes for him every day, so we did. The best way I can make people happy is with food, so responses like that from guests are pretty awesome. Little things like that make our lodging staff feel good."
Variety regarding the food for lodging guests has been one of the foremost changes made by Itayem. A breakfast buffet is included for all lodging guests, while a dinner buffet is available Fridays, Saturdays and some Sundays.
"Breakfast has undergone a huge transformation; we no longer offer just one item every single day and there is always something different to choose from," he said. "Dinner menus are written now, as opposed to one basic menu for every dinner."
While this article would need to be a novel to address all of the food items Itayem might prepare, he did discuss some of his culinary strengths.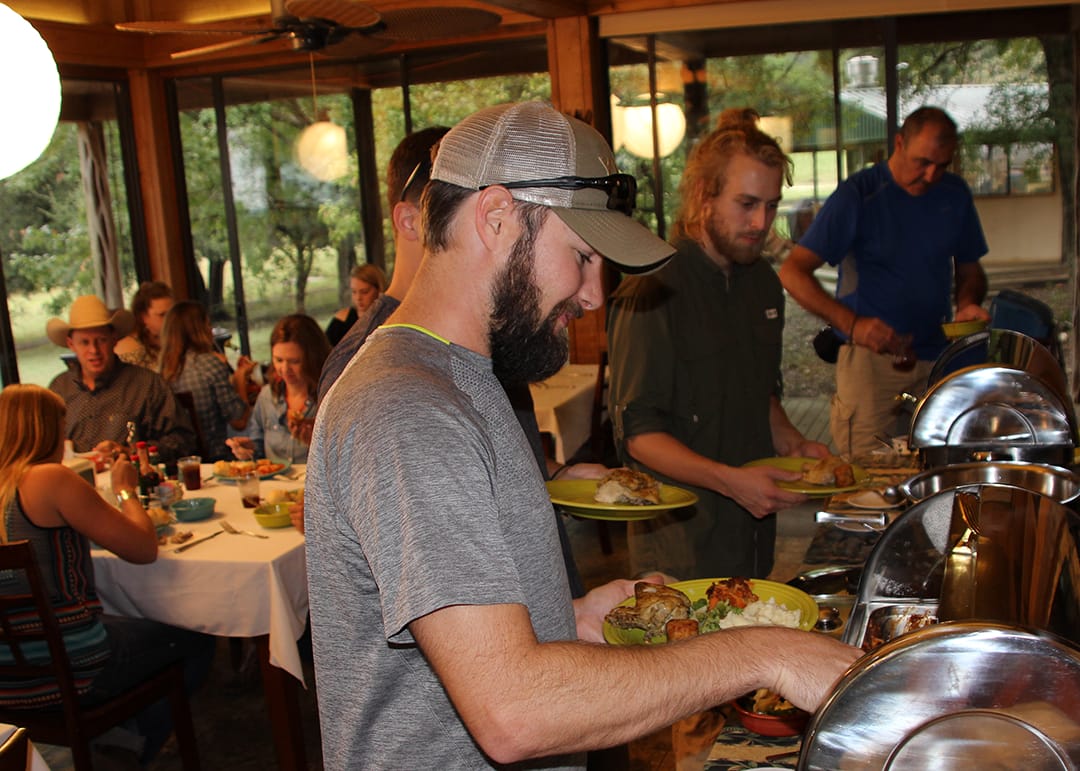 "One of the first things we revamped, after talking with my Event and Office Manager Dawn (Sorrells), was the breakfast," he said. "I think she felt the same as I did about serving the same thing every day. So, making from-scratch items such as cinnamon rolls is something we love, and our guests do as well. We do a cinnamon roll casserole that has been a hit, and have experimented with other types of breakfast casseroles, too.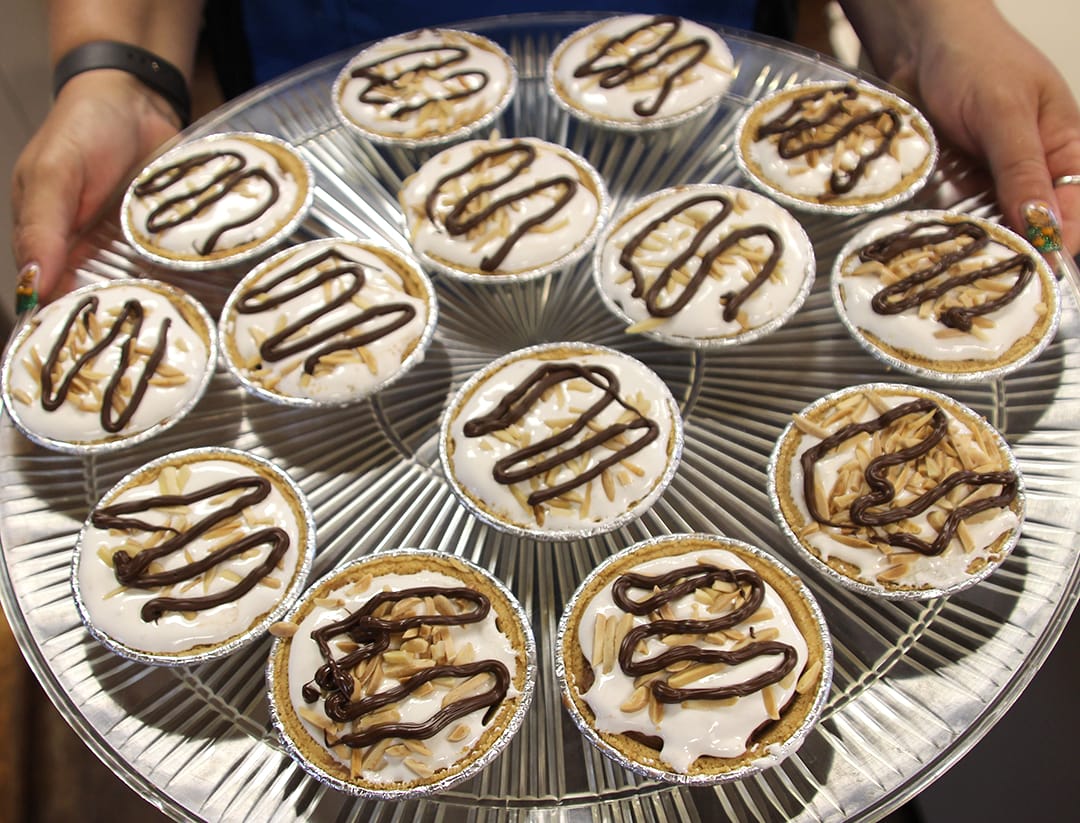 "As far as dinners go, an item that has really been well-received is sous vide chicken, which has amazing flavor and falls right off the bone. People on staff ask me when I will make it again. We've added things like lasagnas and are focusing more on themed dinners, such as all-American classics, barbecue, Italian, and Mexican.
"We are going to be doing German-themed menus, as well. Offering different items that some of our guests have never tried, especially here in Texas, is a goal. We're mixing it up a little bit, and getting a lot of positive feedback."
Itayem was asked why it would be a good call for a guest to opt-in on the weekend dinners.
"It gives people an opportunity to eat somewhere different and maybe have a new experience," he said. "To sit in the glass-walled pavilion, have dinner and be able to observe the watering hole as the animals approach it and antelope run by playing – it's special. Especially for plated dinners, you're going to get that five-star menu feel without paying that five-star menu price.
"Similarly, having breakfast in the pavilion, drinking your coffee as animals interact nearby, isn't an experience you can get in town. What we have here at Fossil Rim is pretty amazing, and we just want everyone to experience what we see."
For guests with some dietary restrictions, Itayem just requests 72 hours' notice.
"I ask that people give us that advance notice for food allergies or dietary needs," he said. "We use as many fresh ingredients as possible, so I go out and shop for those menus about 48 hours in advance. If I know we have guests with certain requirements, I can prepare for that."
This culinary experience can be had without an overnight stay, as visitors can contact Itayem to discuss a custom menu for a private dining event.
"We welcome people giving us a call to talk about private dining events we could do for them at the Foothills Safari Camp, even if they don't stay overnight," he said. "Part of that meal is the ambiance of experiencing Fossil Rim. We can customize a menu based on the type of food a person likes and what their budget is, plus suggest some items we think are a great menu fit based on their feedback."
Itayem also encourages people to contact him for other events like weddings, anniversaries and more. Call the lodging department at 254.898.4268 from 9 a.m. to 5 p.m. seven days a week. To learn more about lodging online, check out https://fossilrim.org/plan-a-visit/lodging/.
Itayem is so pleased with how his lodging staff has bought in since he arrived.
"We haven't had many changes to our lodging staff in my time here, and I think now we have a really great team," he said. "It's ongoing training. I tend to be a perfectionist, so my staff has been challenged and shown patience. For example, when it comes to food my saying is 'if I would not eat it myself, I would never serve it to somebody else,' and I want my staff to feel the same way.
"My team has been amazing in how they deal with our guests. I'm so proud of them, and they buy into what we're trying to do. They have the same passion that I do when it comes to making sure people enjoy their Fossil Rim experience."
-Tye Chandler, Marketing Associate