Fossil Rim has long represented an end goal for Jess Rector, and yet it is also the starting point of her professional path.
The native of Hopkinton, Massachusetts became Fossil Rim Cheetah Specialist on August 8.
"I remember the night before that first day and how nervous I was," she said. "(Carnivore Curator) Jason (Ahistus) gave me a little printout of each cat's diet and where their pan was placed on the table during preparation. He stayed with me for the first week and walked me through everything. The first weekend when Jason left me to do the morning routine alone, I texted my mom about it, because it was such a big deal for me.
"I texted Jason updates throughout that first solo day; it was a bit of a blur. I'm still absorbing everything that I'm learning."
Long before the initial day on the job, Rector had been proving her dependability for months. Back in May, she began tackling the challenges of the Whitfield Collins Carnivore Internship.
"When I was starting to apply for internships my sophomore year of college, I was interested in the great opportunities I found on the (Zoological Association of America) and (Association of Zoos & Aquariums) sites," she said. "I came across Fossil Rim during one of those searches, saw all of the internships it offered, and I marked Fossil Rim as a goal for later on, because I knew I needed to go through a couple more years of college and gain more animal care knowledge before applying for such a competitive internship."
Over this past summer, Rector became steadily more invested in Fossil Rim and its conservation programs. Carnivore interns primarily work with wolves and black-footed cats, but she did get some cheetah opportunities.
"I learned how much more you do here daily than I initially anticipated," she said of the internship. "How much time you spend with the vet staff and the efforts to improve the habitat and well-being of each animal – I realized there is so much more I can be involved with here. Seeing how knowledgeable Jason and (Carnivore Specialist) Tessa (Townsend) are, joining this carnivore team seemed like the right move to reach my full potential.
"Tessa was always supportive of me (as an intern), walking me through procedures before they happened and assisting me along the way. She made me not afraid to ask for help and learn, because some of the things we were doing were completely new to me. Even now, as a full-time employee, I still come across new tasks or projects that I'm not sure how to execute, and Tessa will always help me tackle them."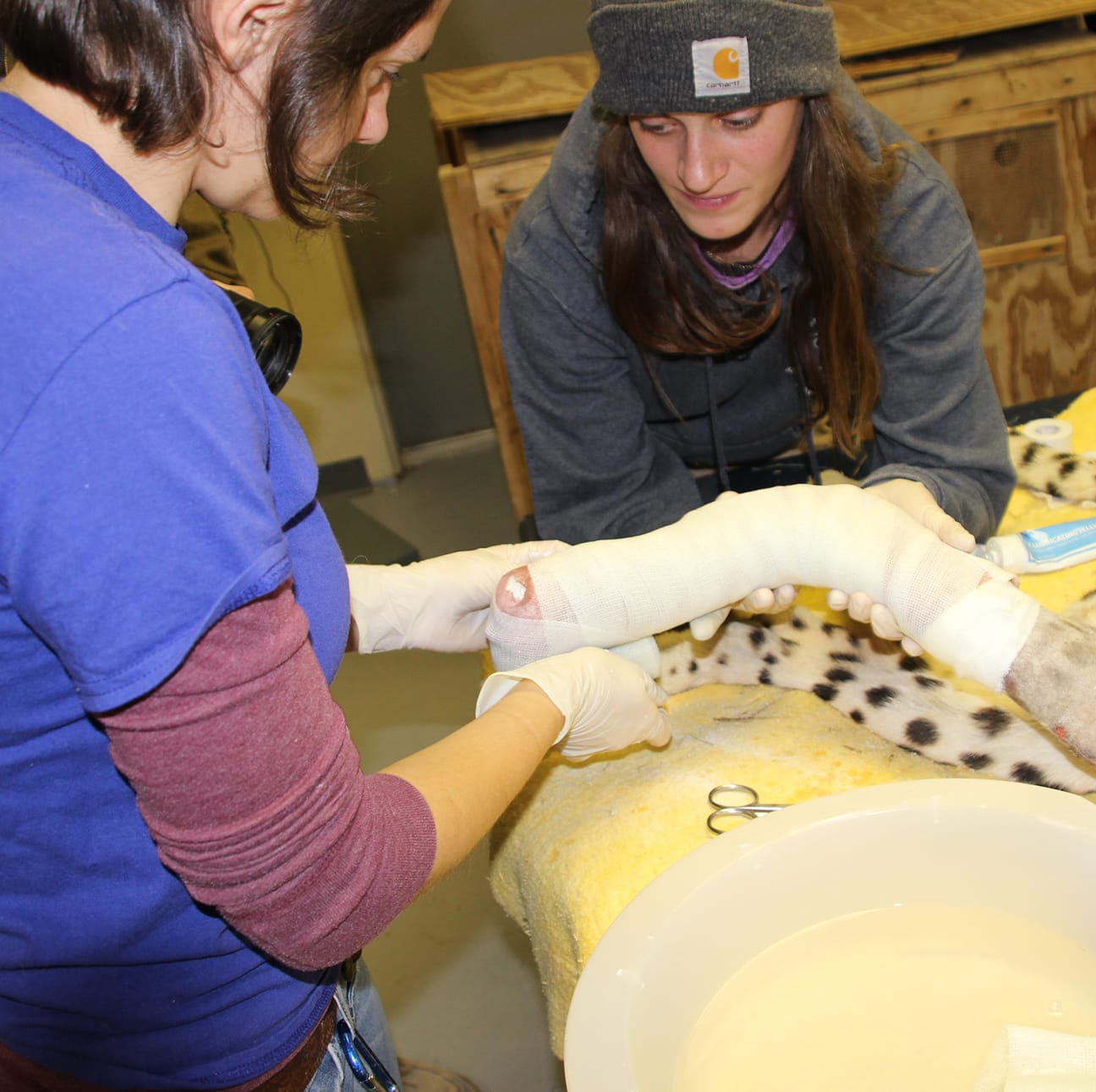 Rector recalls some impactful experiences from her internship.
"My first procedure (to be involved in), a maned wolf (examined under anesthesia), was very interesting," she said. "I hadn't worked with vet staff here previously, so I felt lucky to see how they function and learn from them. They let you assist in the procedure and encourage you to be as hands-on as you want.
"It was very exciting to be able to help with the black-footed cat kittens. Tessa handed over a bit of the responsibility and I got to feed them alone."
Interns are afforded the opportunity to learn beyond the bounds of their departmental focus, and Rector was quick to capitalize on that.
"I really liked the monthly intern talks that we would attend because of the variety of subject matter," she said. "Everyone has something to teach you and is very willing to teach. I shadowed the hoofstock department, and it was interesting to see how differently they manage the animals under their care.
"Often, they have to observe the hoofstock from afar and pick up on subtle differences in behavior or appetite by using binoculars. This is very different than how the carnivore department operates."
Ahistus, Townsend, and now Rector each accumulated experience as a carnivore intern at Fossil Rim before the transition to staff member. In fact, many Fossil Rim staff members were interns first at the facility, with animal care being the primary department for such a move.
"I consider it quite an advantage that I interned here and was able to use it as a springboard to a full-time position," she said. "I essentially got three months of training without even realizing it at the time. So, when I became full-time, it was a lot easier to jump right into the thick of it.
"No one is judgmental when something goes wrong, and I think that makes this a great place to learn. So, I would ask for help and gain more experience with different animals as opportunities came up."
Rector recalls the decision to apply for the cheetah specialist position.
"During my internship, I shadowed (former Cheetah Specialist Alex) Sharkey one day per week," she said. "I loved it. I loved how she knew what an animal's facial expression meant, or she was able to read an animal based on the different spot it was laying in that day compared to the day before, or that she knew all of their different personalities.
"When the position opened up, I told Jason I was interested in applying. I have a soft spot for exotic cats; I interned at the (International) Exotic Animal Sanctuary (in Boyd) and fell in love with the tigers and cheetahs. I worked at a kennel in high school where I learned the importance of being able to pick up on the quirks of the individual animals, and I was eager to use that skill at Fossil Rim.
"I saw a lot of similarities between Sharkey's job and jobs that I've loved in the past. The more I talked to Jason about it, I just knew that Fossil Rim as a whole is a family that I wanted to be a part of. Seeing the same cats every day, getting to know their personalities, and using that to better the population was definitely for me."
Rector has had some awesome moments on staff thus far. Like her black-footed cat memory as an intern, another young animal moment comes to mind.
"When we went in to get weights on the (most recent) cheetah cubs at six months old, Jason explained to me how this would be the last time we would handle them, because in the future, they would just be too big to handle safely," she said.
"When we got in there, they were super calm. Jason walked me through (the process of) getting a weight on a cub as I held it; I didn't think I was nervous, but my legs wouldn't stop shaking.
"When I first did a manual restraint on a red wolf that wasn't under anesthesia with a Y-pole, it was a moment where I felt I was on a good team. Tessa and I had to communicate and Jason had to trust that we had this wolf under control. I remember thinking, 'I'm where I'm supposed to be; I like what I'm a part of.'"
Teamwork comes in many forms. Sometimes, it can just mean keeping each other informed.
"We sit down weekly and try to update each other on everything," Rector said. "Even if I'm not down (in the Intensive Management Area) with the (non-cheetah) carnivores, I know what's going on, just as Tessa stays informed about the cheetahs. I really appreciate that no question is a bad question in our department."
Animal care is not an easy profession – not by a long shot, but it is that ever-evolving challenge that draws many to the field.
"You hear the cliché of 'expect the unexpected,' but after we vaccinated three cats and they each reacted completely differently, it opened my eyes to looking at each cheetah individually and always being prepared to adjust your approach," she said. "You don't necessarily realize the differences are so great in the beginning. As far as animal care in general, I think most people in this field would agree how passionate we are about this.
"It can be hard to step away and give an animal space, but you have to realize what the boundaries are. This is a profession that can consume your life in a good way; it's all rewarding."
How did her life steer toward this heavy animal focus?
"I had a lot of pets growing up," Rector said. "I remember when my first hamster died, I was going to get a hermit crab and my parents said 'No more pets right now.' I cried in the car for hours. I was sure that I wanted animals in my life, forever.
"On holidays, or even if we were just bored, my family was big on nature walks and hikes. My two siblings enjoyed being outside, but it was obvious I was even more into it. I was in Girl Scouts and we did a lot of outdoor activities that I really enjoyed.
"My first job, which was at a kennel, was my very first look into small-scale animal husbandry. I decided I wasn't going to be happy doing anything else."
After high school, Rector headed to the University of Massachusetts Amherst. She graduated in May 2019 with a Bachelor of Science degree in animal science/animal management.
A valuable internship experience also came in her home state.
"My first real animal care internship was at Southwick's Zoo in Mendon," she said. "It was an internship working with birds; I didn't think I was a bird person, but I loved it. It was really cool to be in the zoo setting with people who were so passionate about what they were doing. It inspired me to take a lot of pride in my work.
"I'd also mention an international vet aid trip to Nicaragua I took with World Vets for a week in 2017," Rector said. "I shared a common goal with a bunch of people I didn't know ahead of time. We provided medical care to any local pet for free. It was the most intense thing I'd ever done.
"My group did 150 surgeries in one day, for example, but it was so cool and we were all so invested. That really sparked my interest in learning from veterinarians.
"I also interned at an animal research facility, so I gained some experience being in the veterinary setting. Some programs at my school also got me more familiar with (animal health)."
Having interest and appreciation for the work of veterinarians can be totally independent from the aspiration to become one.
"I knew from a young age that I liked the outsides (of animals), not the insides," she said. "I would gladly take my pet to the vet, but while searching for a profession, veterinary care never became a strong enough passion of mine to fully pursue that route.
"I recently learned how to get a blood sample through tail bleeding. (Dr.) Julie (Swenson) walked me through it the first time, and then (Dr.) Holly (Haefele) went over it with me the second time. They let me know how I can help with a carnivore procedure and will explain a term I might not be familiar with."
Ahistus is appreciative for how invested Rector is regarding Fossil Rim's cheetah program.
"Jess has been a great addition to our staff," he said. "She may not have a lot of experience, but she has a strong passion for the animals, is very hard-working, and eager to learn. I enjoy teaching her and watching her grow. She has only been here for a few months as a full-time staff member, but she has been exposed to a lot of different procedures and scenarios that have really opened her eyes to the bigger picture and what we do here beyond the day-to-day animal care.
"A large portion of her job will be learning the behaviors and management of the cheetahs during breeding season, which she hasn't been exposed to yet. After the holidays when we start that process, Jess will be learning new husbandry techniques and many new cheetah behaviors on a daily basis. I'm excited for her to get her feet wet and jump into the challenging world of cheetah management."
Looking down the road, Rector loves working outside with the cheetahs, but she wants to continue to learn about their Species Survival Plan and the "big-picture aspects" of conservation for the world's fastest land animal. In the meantime, Fossil Rim seems to be simultaneously her destination and launch pad.
"I was very determined, before I started college, that I needed to make a plan," she said. "After I discovered Fossil Rim, I planned out other internships I was aiming for in order to gain all the experience I needed to give myself the best shot at interning for Fossil Rim in the future.
"I applied for Fossil Rim twice and landed it on the second attempt; I'm very happy to be in this position. Little did I know, what once was just an internship goal would become a more permanent one. You could also say I'm really just beginning."
-Tye Chandler, Marketing Associate