At Fossil Rim, combating parasites among hoofstock can be challenging due to large pasture size, large herd size, mixed species pastures, and active breeding programs, among other factors.
Veterinary Technician Intern Brittney Goodwin, partnering with Hoofstock Animal Care Intern Lily Martin, is working on a project addressing fecal egg count daily variation. Oftentimes, decisions on how to treat an animal with parasites are made based on the results of a single fecal egg count (FEC) test. Daily variation of egg count for a given animal over time has been an unknown.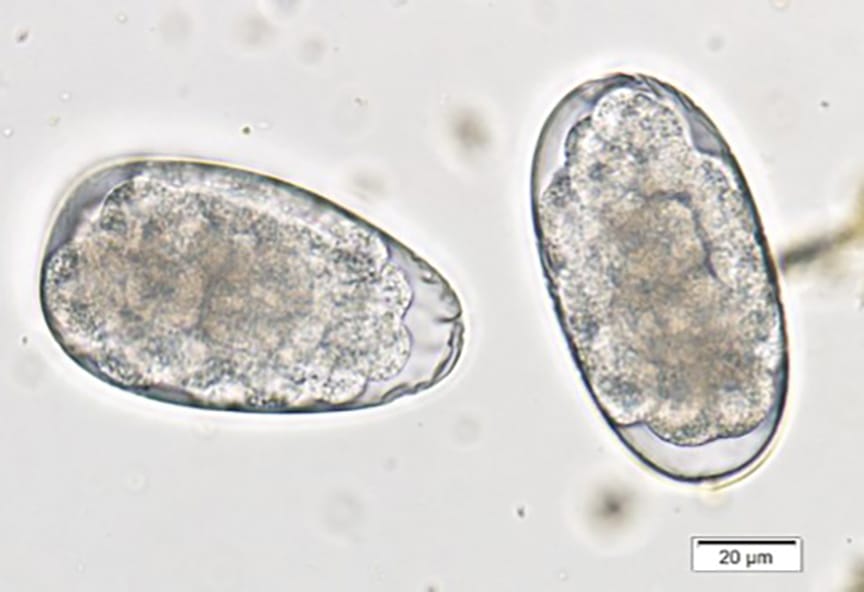 Thus, the goal of their project is to better understand daily FEC variation in captive antelope at Fossil Rim to help make more informed treatment decisions.
"We are roughly halfway done with the project," Goodwin said in late October. "The primary goal is to verify that we can trust a sample test to move forward with treatment. Helping develop a firm plan will improve the quality of life for these animals, plus this is helping the vets out since they are very busy and I am able to set aside time for it.
"This is something they have been wanting to look at for a long time. I'm glad to be able to get it done and positively impact Fossil Rim.
"We are nearly finished collecting samples, and then we can focus on stats. We should be finished with everything in November."
Goodwin talked about finding time to work with Martin and their procedure in the field.
"It's the management between our normal tasks and working together on the project," Goodwin said. "Lily knows where to find the animals and I know how to run the samples. We either collect in the morning or afternoon. We find the animals resting, then encourage them to move on.
"After a few steps, they'll usually defecate and then we drive up to collect the sample. The second-day sample collection is tougher, because sometimes you just can't find that particular animal and if that's the case then you have to start over."
They are testing a number of antelope species, but a few are prone to having higher FEC results.
"Currently, sable and roan seem to have the most variation in their fecal egg counts," she said. "We are also looking at addax, gemsbok, Arabian oryx, and scimitar-horned oryx. With these strongyle eggs, they aren't dependent on the season to become a concern – this is not just a springtime issue.
"At a zoo, staff can easily clean up fecal deposits (as a preventive measure). Here, the animals are kept in large, open pastures and it's not an easy cleanup to treat the animal's environment over hundreds of acres."
After discussion with several colleagues in the field, it was recommended that fecal samples be collected two days in a row from a minimum of 45 animals. Of these 45, 5-10 should have feces collected for five days instead of only two. The longer-term collection should add "statistical power to get significant, legitimate results."
After the samples are collected by Martin, Goodwin performs Modified McMaster tests on each one to determine FEC.
"We take a fecal sample and figure out how many parasite eggs per gram are in it," she said. "I need at least two grams, and then I put the fecal sample into a solution and load it into a slide. Then, I count the eggs in the chamber. I use that to calculate the probable number of eggs per gram in order to know what that animal's parasite burden is."
When an animal is determined to have a high FEC, multimodal control is employed, including use of copper oxide wire particles, use of nematode-trapping fungus, larval development assays and anthelmintic susceptibilities, and judicious use of anthelmintics – antiparasitic drugs that expel parasitic worms and other internal parasites from the body by either stunning or killing them without causing significant damage to the host.
"Moxidectin or Ivermectin are examples of anthelmintics used, although some of the parasites at Fossil Rim have shown resistance to Ivermectin," Goodwin said. "Copper oxide wire particles are a great alternative treatment for hoofstock parasites. The mechanism for how copper oxide works is unknown, but one theory is that the pH of the abomasum causes release of the copper from the particles.
"Then, the worms absorb the copper and it affects the essential biological function of the strongylide, which leads to their expulsion and/or death. You want to avoid the parasite becoming drug-resistant, so it's nice the copper wire particles aren't a drug – they are changing the pH balance in the host's stomach so the parasites can't survive."
Are certain members of an antelope herd more at risk?
"We worry about an animal with a high parasite count because of issues like loss of iron, anemia, or weight loss," she said. "It's common for hoofstock to have some degree of parasites. Our young and old animals are more susceptible to those higher parasite burdens. A key part of this project is looking at the day-to-day (fluctuation in) egg counts.
"If we are going to use Moxidectin, we need to make sure to do so when needed. We only use copper oxide wire particles occasionally because the animal could get copper toxicity if exposed too frequently."
Goodwin is pleased to have gained experience with the Modified McMaster testing.
"Learning the Modified McMaster was new to me," she said. "I've done fecal testing for cats and dogs, but this was the first time for testing feces in my hoofstock experience. You want to rely on the test results instead of just looking at an animal and assuming it needs treatment."
The planning for the treatment is important so that it can be as effective as possible.
"Frequent application of anthelmintics builds resistance (of the parasite)," Goodwin said. "We still use Ivermectin in the species that haven't shown significant resistance to it to this point."
Goodwin has appreciated the teamwork for her project and in general.
"The hoofstock staff is very good at collecting fecal samples from individual animals," she said. "That can be tricky since we have so many animals roaming many acres, but this allows us to treat them individually, giving them the best-possible care. This does require a lot of planning and communication between the vet staff and the hoofstock team, which they are excellent at doing."
Goodwin grew up in Joshua, which is only a 40-mile drive from Fossil Rim. She visited the wildlife center as a girl and even celebrated her 12th birthday at the facility.
"We did a Behind-The-Scenes Tour for my birthday that year," she said. "I've always loved coming to Fossil Rim and it is facilities like this that helped shape my career goals. My parents have also been the biggest supporters of my professional aspirations.
"They always took us on vacations that involved interacting and learning about the environment and the native wildlife. They also encouraged me to make my dreams a reality, no matter how difficult it might seem, and they continue to do so."
Goodwin completed her Bachelor of Science in Marine Biology at Texas A&M at Galveston in 2013. From there, she pursued a career in marine mammal rehabilitation.
"I've done two internships in marine mammal rehabilitation," she said. "The first one was at the Institute of Marine Mammal Studies in Gulfport, Mississippi where I worked a lot with the veterinary technician performing necropsies, running bloodwork, and performing blood draws. The second one was at the Monterey Bay Aquarium with their sea otter rehab program. Both were great experiences, but made me realize I wanted to better understand the medical side of things."
Goodwin obtained her Associate of Applied Science in Veterinary Technology and became a registered veterinary technician in 2017. After working in general and specialty veterinary practice, she once again returned to school.
"I love my work as a veterinary technician, but I really wanted to include more research in my work," she said. "So, this past year, I was a student at the Royal Veterinary College in London and earned my master's degree in wild animal biology in September."
That program gave Goodwin a well-rounded education in conservation and medical care of both terrestrial and marine animals in captive and wild settings.
"This internship with Fossil Rim has really given me the chance to explore both aspects of the career I want," she said. "But I'm not only here to learn; I'm here to help out."
Goodwin is thankful for the time Fossil Rim Veterinary Technician Allyssa Roberts, as well as veterinarians Dr. Holly Haefele, Dr. Julie Swenson, and Dr. Lauren Pudenz are investing in her development.
"They are fantastic," she said. "They make sure you are involved and let you experience as much as possible. Everyone is very knowledgeable and it's been a great team to work with."
Goodwin arrived on September 7 and the plan is for her to complete 2020 as the vet tech intern. Her goal is to become a veterinary technician at an AZA (Association of Zoos and Aquariums) or ZAA-accredited (Zoological Association of America) institute and continue to assist with veterinary-related research. As someone used to visiting Fossil Rim as a general guest who now knows the behind-the-scenes aspects of the facility well, she is quick to point out the work being done for the wildlife center's resident species.
"Maybe some people don't realize the amount of time and hard work it takes to keep all of these animals healthy," she said. "There is a lot of great conservation work going on here, as well, and I try to inform people that this is more than a place to come feed animals."
-Tye Chandler, Marketing Associate