Dale Weiler, a North Carolina native and talented sculptor, developed a love for critically endangered American red wolves in 2018 and has been traveling across the nation this summer with a purpose for sharing his story.
Weiler and his wife, Loti Woods, were able to have an encounter with red wolf pups at the North Carolina Zoo in 2018 and it proved deeply impactful. Visiting a number of conservation facilities that house red wolves, the couple made sure Fossil Rim was a stop on their journey in August.
"I've been sculpting for 25 years," Weiler said. "At first, I was sculpting to sell my work. It didn't give me the joy that it does today."
"I had no idea what I wanted to do after my retirement, but I began to get into conservation work," Woods added.
They fell in love with hellbenders, which are aquatic giant salamanders, and a hellbender was the inspiration for Weiler's first sculpture after the couple began dating.
"He sculpted a hellbender before knowing what he would do with it," Woods said. "After speaking to the North Carolina Zoo, he decided to donate it because that was a species they already had. The animal care specialists got excited about the sculpture and convinced their management to create a new exhibit that highlighted the sculpture. They loved that it was an accurate representation of a hellbender."
Little did they know this would lead to a special wolf opportunity. North Carolina Zoo Animal Management Supervisor Chris Lasher made the offer for them to meet some red wolf pups.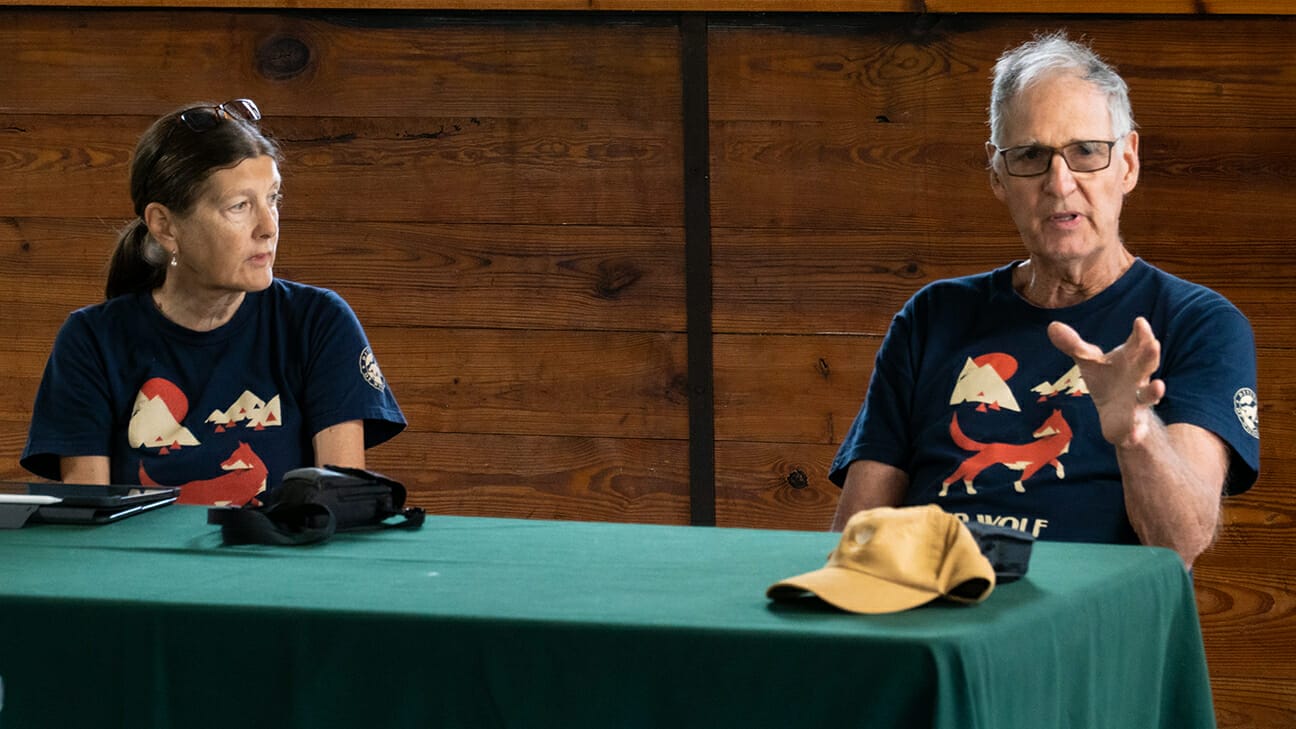 "We fell in love with the species," Woods said. "We are so proud of our native North Carolina species now, but neither of us were aware of red wolves until that point. Dale was inspired to create a red wolf sculpture."
An April 2021 blog post – https://tinyurl.com/2vvvn8je – featured an in-depth account of Weiler's process to make the sculpture that features a mother and her pup, which is called "Just Settling In."
"We wanted more exposure than just having the original piece, so we decided to create castings and donate them to the Red Wolf SSP (Species Survival Plan)," Weiler said. "In total, we have donated 30 and 12 more are planned among the 44 Red Wolf SSP facilities."
One of those 30 castings that have already been donated is located in Fossil Rim's Nature Store.
"We feed off the passion that animal staffers have; we love to meet you," Woods said as they addressed Fossil Rim staff during their visit. "We love the underdog species like the red wolf. We were just at the Texas Zoo (in Victoria) and they have a newly acquired red wolf breeding pair; we are connecting them to Fossil Rim in case they need any advice."
Weiler and Woods want to support conservation however they can, and they are quick to point out how important simply being aware of a species can be.
"People need to get educated about a species, and then they might fall in love and wonder how they can help," Weiler said. "Art is a very powerful vehicle. The key is to get the message out."
"When some Girl Scouts who were visiting our home saw Dale working on the red wolf sculpture, it really made an impact on them and they started doing fundraisers on red wolf conservation," Woods added. "Now, they are doing their one-year project on red wolves. Not only that, the three of them are pushing to make the red wolf the state wolf of North Carolina!"
To the point of awareness, Woods mentioned that some other species were on her mind since the couple was visiting Fossil Rim.
"We are going to learn more about cheetahs and Attwater's prairie chickens while we are here," she said. "We are feeding off of your energy (as animal staff). We want to support your projects and get more people on board.
"You are the underdogs and don't get the exposure that you deserve. We want to help you."
Woods floated the idea of creating a red wolf information hub with detailed information, great photos, and a chatroom where the people who work with red wolves can communicate and share content.
"It would also have a public side where people could get pics and info to promote the species," Woods said. "For example, those Girl Scouts could access it for pictures and information. We want to know what would really be helpful to the animal staff.
"Four years ago, we didn't know what a red wolf was, and now here we are sitting here with you (brainstorming). We can definitely do more for the red wolf together than if everyone is looking out for the interests of their own facilities."
Weiler agreed that the key for the hub would be its ability to benefit the people taking care of the wolves.
"It's not just a matter of collecting current information on red wolves; it has to be useful to you all," he said. "We are two people who care. We want to give back."
Building off the notion of helping the Texas Zoo staff with their red wolves, Fossil Rim Director of Marketing Warren Lewis mentioned that he thought the hub could be a means to enable Fossil Rim carnivore staff, which has been working with red wolves since 1989, to help other facilities with information they may seek.
If someone reading this might have the potential to help Weiler and Woods get the red wolf information hub plan up and running, Woods can be contacted at loti@weilerwoods.com.
Learn more about Weiler and Woods, as well as what they are working for, at https://weilerwoodsforwildlife.com/.
In the near future, Weiler plans to get started on a new American red wolf sculpture at their home back in North Carolina. Hopefully the couple's inspired motivation continues to benefit wildlife conservation.
-Tye Chandler, Marketing Associate