In 2020, Fossil Rim announced big changes to our education department. As part of our goal to encourage an interest and responsibility towards nature, our curriculum needed an overhaul. But how do we take everything we want to teach guests and package it into a curriculum that's easily digestible? Even more importantly, how do we get people interested? We put our own Texas spin on it, of course! That's where Texas T.W.A.N.G comes in.
When you think of Texas, you may picture cowboys speaking with that signature twang. Well, here at Fossil Rim, T.W.A.N.G. stands for Teaching What Affects Nature Globally. Not only does it represent the special charm we think Texas has, but it's the perfect acronym for our mission. At Fossil Rim, we want to reach students of all ages and backgrounds and connect their lives to nature on new scales. Texas T.W.A.N.G programs offer guests interactive and engaging experiences to learn more about the environment. While 2020 postponed our original plans, this year we are finally able to offer Texas T.W.A.N.G programs in full. Our new Environmental Engagement department is ready to pick up where we left of!
Embracing Change
If you've visited Fossil Rim before, you may be wondering what happened to the Education Department. Well, as we began to slowly resume normal operations after quarantine, we took the time to make a few changes. One of the biggest of these changes was the merging of our Education Department with our Tours Department. The Tours Department has always been at the center of learning here at the Rim. By combining their abilities with those of our education team, we are better able to reach the guests on their journey to discovery, learning, and advocacy.
The newly formed Environmental Engagement Department can ensure that our messaging is the same across our facility. We hope to empower our guests to ask questions, learn and engage with our interactive spaces every time they visit. Even purchasing a ticket to Fossil Rim means that you have directly contributed to the conservation of our species!
Why T.W.A.N.G.?
Fossil Rim has been offering educational programs for years now, so what makes Texas T.W.A.N.G. so special? According to Director of Environmental Engagement Jennifer Arledge, the landscape of education is changing, and updating curriculum is key to keeping up.
"Previously, our programs were a la carte and stood on their own," says Arledge. "People still learned, but it was more difficult for them to incorporate the lessons into actionable behaviors in their own lives. With our ability to offer up to 48 hours of instruction on-site, our curriculum allows the participants to be immersed in the learning. "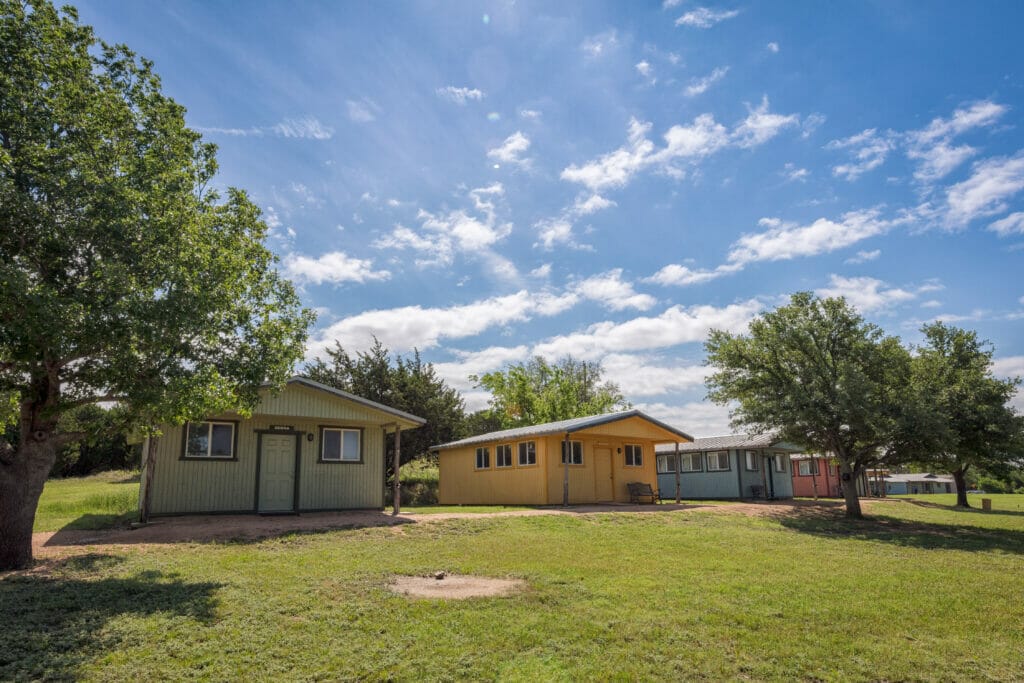 It's no secret that it looks different to be a student in 2022. No matter your age, learning has become easier than ever thanks to the internet. However, this wealth of information can be overwhelming. Through Texas T.W.A.N.G our educators hope to help participants understand, interpret and apply that information in new ways.
When groups participate in one of our many Texas T.W.A.N.G. programs, such as True Texans and Conservation Conundrum, the in-person experience helps them understand the real-world applications of what they've been learning. We want this to inspire them to engage with nature in their own worlds. 
Looking Forward
As programming picks back up, the Environmental Engagement Department is not planning to slow down. In fact, they hope to see Texas T.W.A.N.G find a larger place within our park, with every area guests visit being an opportunity for hands-on learning.
"I would like to see us continue developing opportunities for guest exploration," says Environmental Advocacy Supervisor Will Baker. "From our trail systems, to refurbishing and continuing to build in new areas, just giving guests opportunities to engage everywhere."
Arledge says that the ultimate goal of the department is to further fulfill their mission of helping individuals discover their role and fulfill their responsibilities within the natural world.
"I would like for Environmental Engagement not to be seen as a separate experience but incorporated throughout our guests' visit so that it has a major impact on how they view nature."
As immersive educational resources grow, the team plans to increase people's ability to learn online, through our website and the Fossil Rim app. For years Fossil Rim has been a source of information for the zoological community, but now it's time to extend our reach. By making it as easy as possible for our visitors to learn, we hope to truly become a leader both in conservation and the world of environmental learning.