When there is huge rhinoceros-related news to be shared, there is simply no better occasion than World Rhino Day (Sept. 22).
After a female white rhino calf was born at Fossil Rim Wildlife Center on Feb. 17, the staff is proud to announce that a male white rhino calf was born on Aug. 14!
The mother of the latest calf is named "Ursula", and it is encouraging to see how much stronger her maternal instincts are with her second calf.
"When we started to suspect that our female rhino Ursula was close to calving, we all had thoughts of her last calf, 'Jiwe'," said Fossil Rim Director of Animal Care Adam Eyres about the white rhino born Dec. 4 in 2016. "She wanted nothing to do with that calf, and while this is somewhat common in first-time moms, it didn't make the aspect of hand-rearing that calf any more palatable to us. Fossil Rim rarely hand-rears animals, figuring that nature does what it does for a reason, but with (Jiwe) we knew that wasn't an option, so we decided to give that calf $16,000 worth of milk over the 14 months that we raised him. Now, he is a great, well-adjusted rhino living in our crash (herd) of rhinos."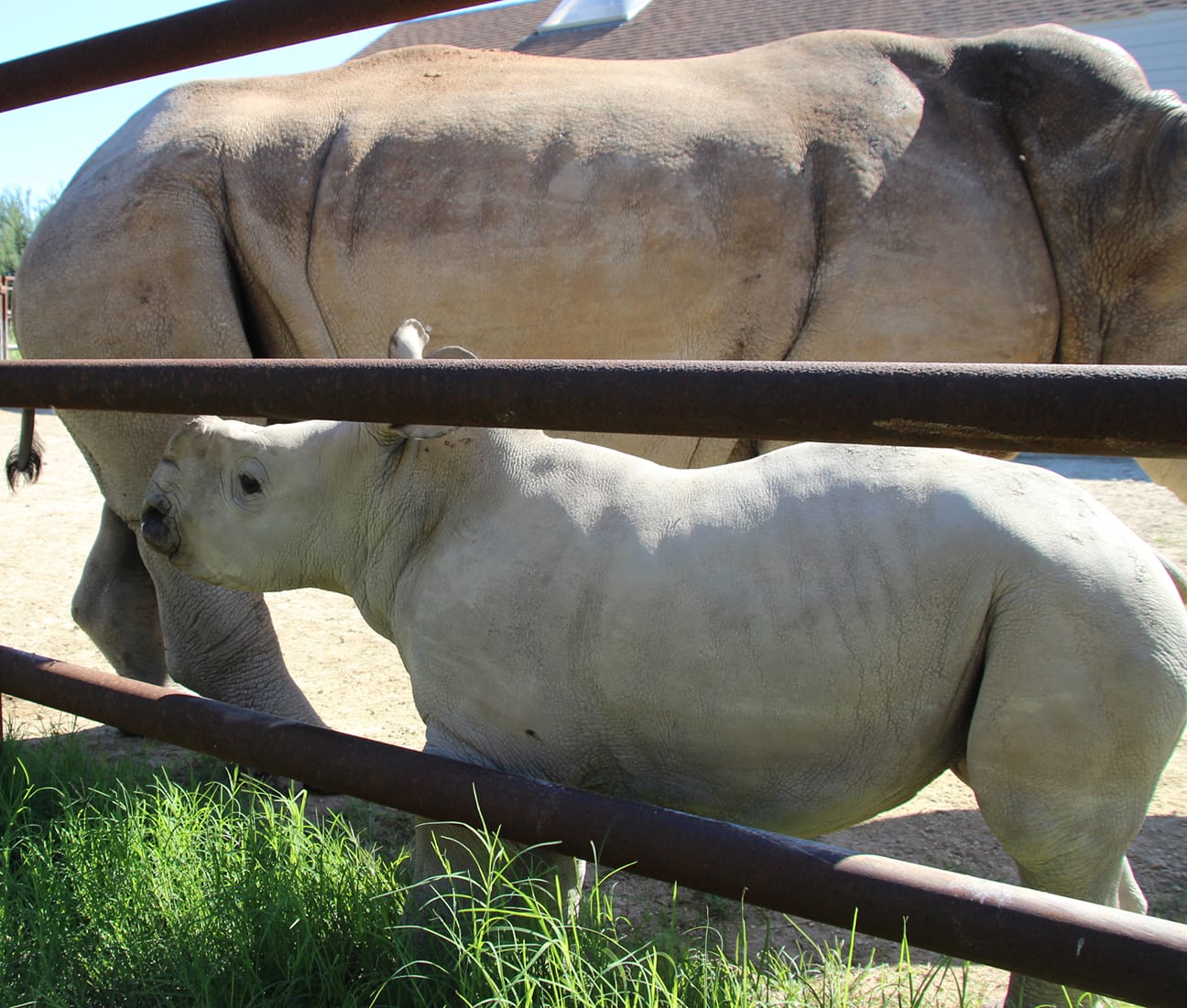 Flash forward to Aug. 14 of this year, and Ursula delivered her second opportunity at motherhood.
"She's a completely different rhino than the first time and has been the perfect mom," Eyres said. "He's thriving, she's calm and protective, and the two of them have been bonding for 30 days in the privacy of the White Rhino Barn."
While the pair cannot currently be seen by the public, that could change in the near future.
"We are optimistic about putting Ursula and this calf into the calf yard along with 'M'Bili' and her female calf 'Xena' within the next 30 days, depending on how well he is growing," Eyres said. "Xena is six months older than he is. Having multiple calves similar in age should provide a lot of fun for both of them, as well as our guests who might get to see them playing with each other once they are in the yard together."
This baby boy does indeed have a name. Thanks to a significant Fossil Rim donor, the calf's name is "Blake"!
"Until the calves are paired together, our guests can visit Ursula and Blake on a Behind-the-Scenes Tour," Eyres said. "For guests staying in The Lodge or the Foothills Safari Camp cabins, they can opt for the behind-the-scenes version of the Morning Safari Tour." 
-Staff Report