On a chilly morning in mid-February, Children's Animal Center emu residents "Einstein" and "Ume" received their annual exams from the animal health staff.
Before the veterinary team arrived, however, Children's Animal Center (CAC) Supervisor Kristina Borgstrom worked on putting the male, Einstein, at ease.
"This is our male emu," she said. "We are getting ready for the annual physical exams for him and Ume. We try to do it while they are awake and without any sedation. What I'm doing now is trying to get our male to be nice and calm for when our vet staff gets here.
"I'm stroking his feathers, which is a nice sensation for him. Einstein likes scratches in general, so this relaxes him. He's a hand-reared male.
"He has a blue throat patch, because this is the breeding season for emus, and it could become even brighter. I'm wearing a blue jacket, which can help him not be as fearful of me."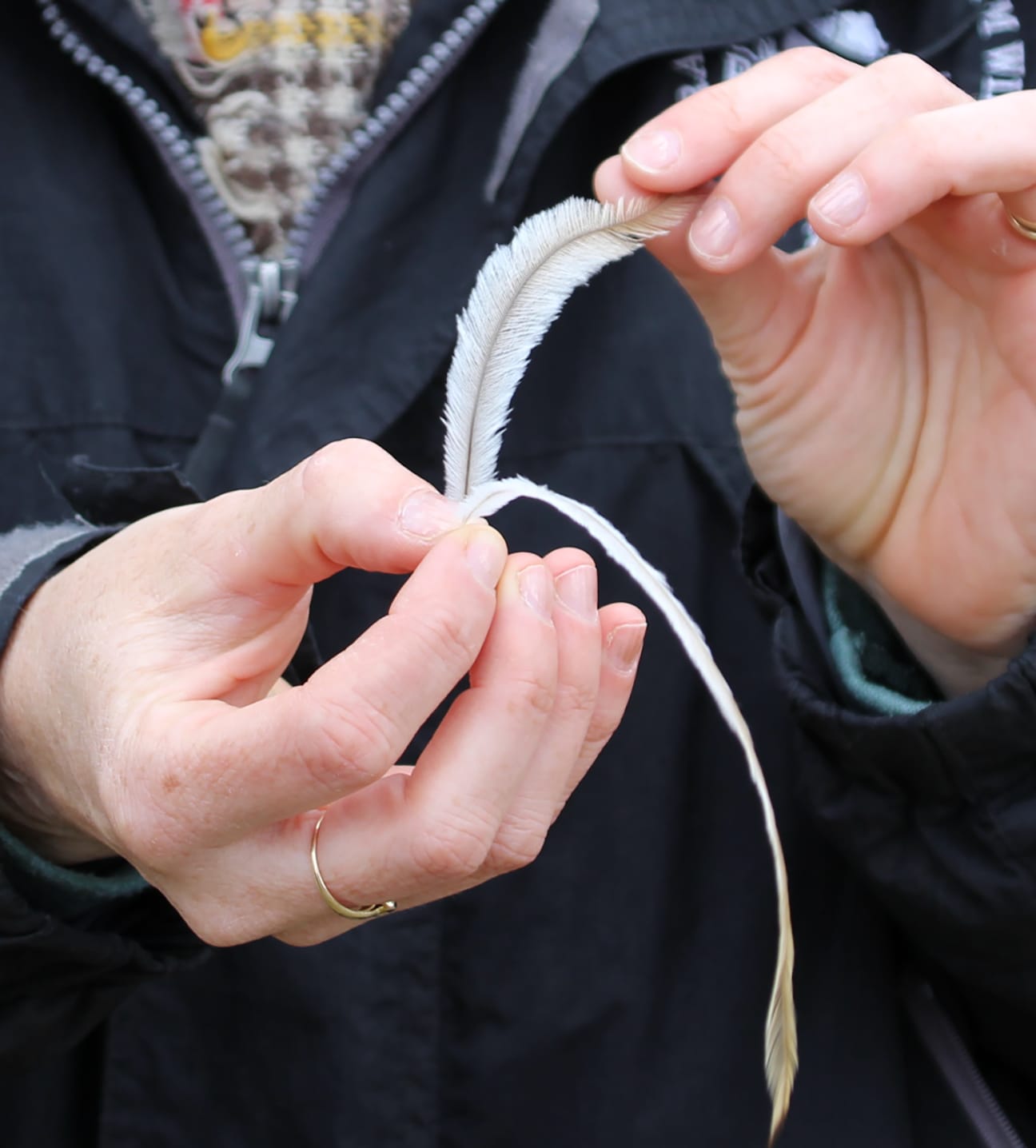 When the veterinarians arrived, Borgstrom and Associate Veterinarian Dr. Julie Swenson restrained Einstein to secure him as Fellowship Veterinarian Dr. Lauren Schmidt conducted the exam. They were careful not to apply weight or downward pressure on the body.
"We restrain our emus by sitting on top of them, which requires a couple of staff members assisting," Borgstrom said. "Emus have very strong legs, so we try to cover them to ensure they don't kick anyone."
As a female, Ume was not as receptive to the feather stroking and her evaluation actually had to be conducted while she was standing up and restrained, but Schmidt managed to work her way through the exam.
"We just did a full, annual physical exam, which includes checking their eyes and any previously noted abnormalities – one has an old feather cyst and the other has an old scar," Schmidt said. "We also took blood samples for a complete blood count and other regular testing like serum chemistry, which looks at electrolytes and liver and kidney function. This annual health panel helps us become aware of any new problems as they get older."
Many of Fossil Rim's animals have to be put under anesthesia during exams, but the animal health team avoids doing so when possible.
"Emus have the potential to be dangerous, but if they are handled safely and comfortably, they can be managed while awake," Schmidt said. "It's the feet that can kick in any direction that you have to watch out for. I trust the people who I'm working with to warn me if I need to move out of the way."
On that note, Schmidt talked about working with the animal care staff, which is much more familiar with the animals than the veterinarians are, during exams and other procedures.
"Since the animal care staff members know their respective animals better than I ever will, they can tell when their animals will be reactive to something and do a better job of predicting behavior than I can," she said. "I appreciate their expertise and ability to handle the animals in order to keep me and the animal safe."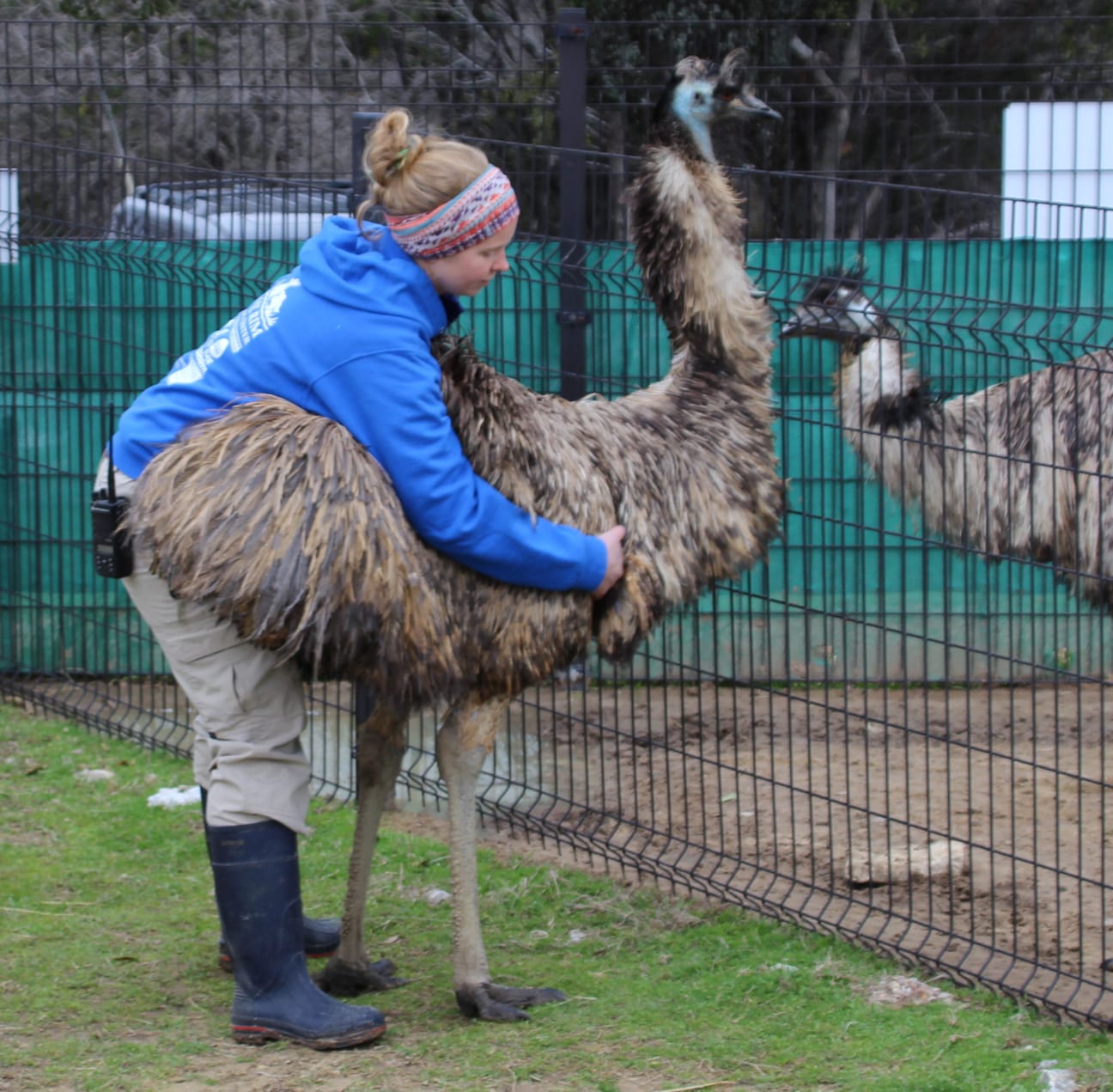 What about examining ostriches or the emus that live in the Buffer Pasture?
"The ostriches are much bigger, however, they aren't as intelligent," Schmidt said. "So, despite being more dangerous, if you put a hood over their head you can get a lot done. If we did have a more complicated diagnostic test, they could potentially be sedated by administering anesthesia through their nose.
"We don't do annual exams on the ostriches here; we only handle them if there is a problem. For example, '18 White' had some feather loss, so we recently covered that up so the other ostriches wouldn't be as enticed to peck at that area.
"The emus are a hearty species, as well, and we don't do annual exams on the emus in the Buffer Pasture. Both of these species are ratites, which are known for being easy to maintain in captivity."
-Tye Chandler, Marketing Associate