With Thanksgiving festivities out of the way, D'Vine Wine and Fossil Rim teamed up for a Gallery Night to feature the paintings of Peter Bruce on November 30.
"I want to give a special thanks to D'Vine Wine for selecting Fossil Rim to benefit from their Gallery Night this past weekend," said Fossil Rim Director of Development Jennifer Smith. "It was a delightful evening featuring the artwork of Peter Bruce, entertainment by Jerry Allen, and Fossil Rim's exclusive wines. Several hundred dollars were raised to benefit our conservation efforts. We are very thankful to everyone who came out to sip and save wildlife."
D'Vine Wine got started in Granbury in 2005, and in 2006 it was purchased by Josh Winters, Diane Hedges, and Tony Hedges.
"I've really seen the partnership grow (since July 2014)," said Winters, who began as D'Vine Wine Manager in 2005. "We've created new Fossil Rim wines a few times, and those have been big hits. We did a Cheetah Port, and we still do the Cheetah Bubbly, which is a really popular champagne that we bring out for these special Fossil Rim events. Then, we have our three staples – Rhino Red, Giraffe White pinot grigio, and Zebra Blush.
"The Zebra Blush is definitely the most popular Fossil Rim wine; it's nice and sweet. We believe the number-one factor in the strong sales we've seen is that we tell everyone that a portion of their purchase goes to Fossil Rim."
Earlier in November, D'Vine Wine staff visited Fossil Rim to make a significant donation from wines sales and take a guided tour. A blog regarding that donation and an interview with co-owner Diane Hedges can be found here: https://tinyurl.com/qmsnafq.
"That day was a great bonding experience, and it gave our staff better opportunities to be able to describe Fossil Rim to our customers," Winters said. "Going out there to feed animals is great, but now we better understand the conservation work done behind the scenes. Before, they were listening to what Diane and I were telling them about Fossil Rim. I didn't realize that none of our employees had actually been through the park before.
"Now, they all have and they plan to go back. That tour was literally the best thing we've done for unity as a staff. We loved it.
"We really enjoyed the aoudad, since they come up so close to the tour vehicle. It was great to have (Fossil Rim Executive Director) Kelley (Snodgrass) on the tour, because he gave some behind-the-scenes history, such as the original purchase of the property. So many cool stories from 35 years ago when they were just trying to figure out how to operate as a public facility.
"Now, look how far they've come. The staff loved seeing The Lodge, too."
As the event's featured artist, Bruce was quite familiar with Fossil Rim.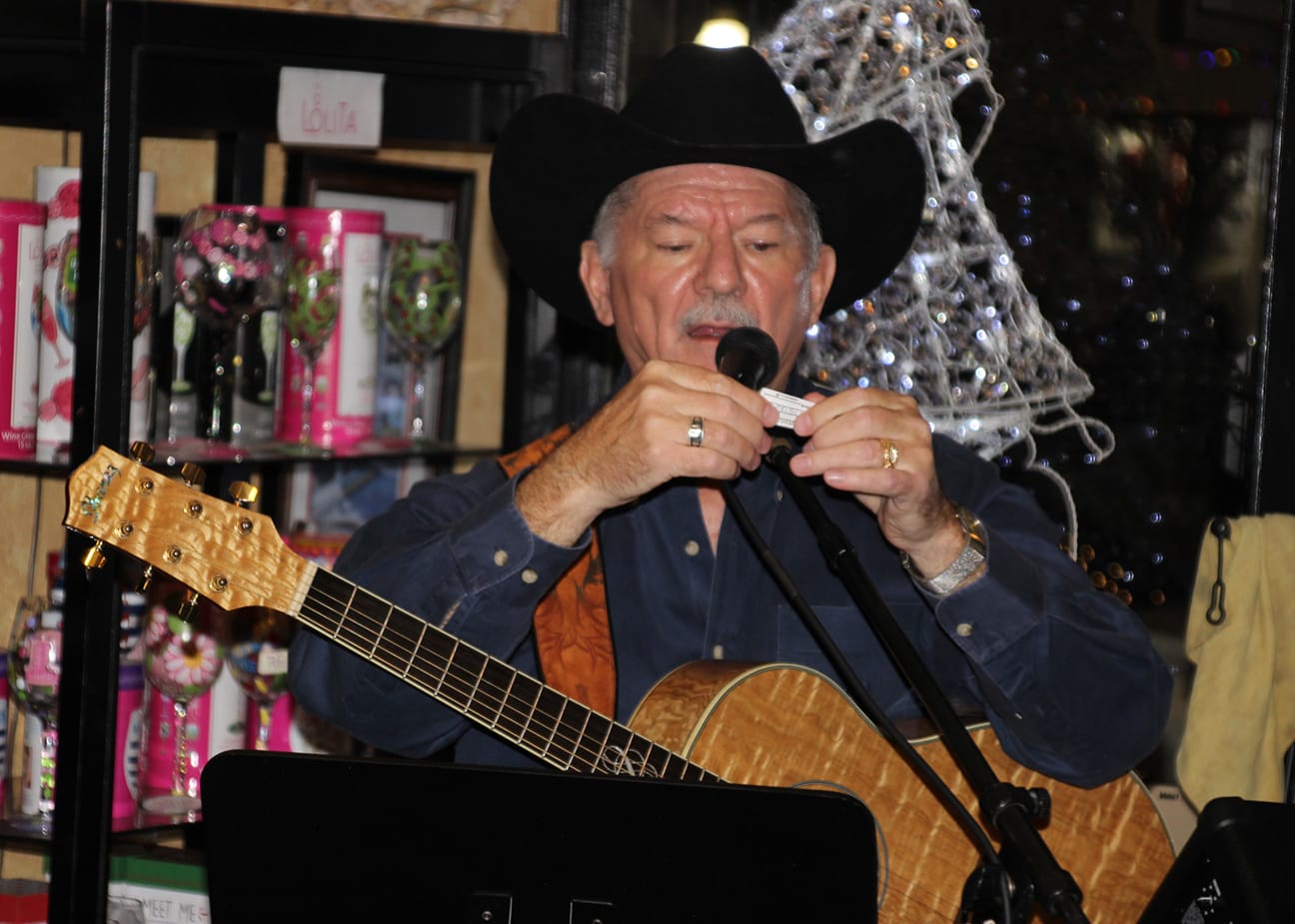 "I first came to Fossil Rim in 1990 when I was invited to come paint by Christine (Jurzykowski), who was owner at the time," Bruce said. "I stayed for three months, and was actually running a game preserve in Namibia in those days. Now, there are a bunch of my paintings at Fossil Rim – in The Lodge and both administration buildings – which I left behind."
Bruce went on to discuss several of the paintings from memory. Two Fossil Rim staff members who were there when Bruce arrived in 1990 – Snodgrass and Director of Animal Care Adam Eyres – both attended the Gallery Night.
"I go to Fossil Rim regularly," Bruce said. "I know some things have changed, but much of it still looks like it did when I first visited. Not only Kelley and Adam, I've also known (Director Emeritus Dr.) Pat Condy for a long time. His wife, Ymke, lived in her early years close to where I did as an adult in Namibia. I have breakfast with Pat every Wednesday."
Bruce enjoyed chatting with guests in the back of D'Vine Wine while Allen sang and played guitar up front.
"This was a great evening," Bruce said. "I got to meet (Tour Guide) Gerry (Burgess), Jennifer, and others from Fossil Rim."
To see more of Bruce's art, go to peterbruceart.com.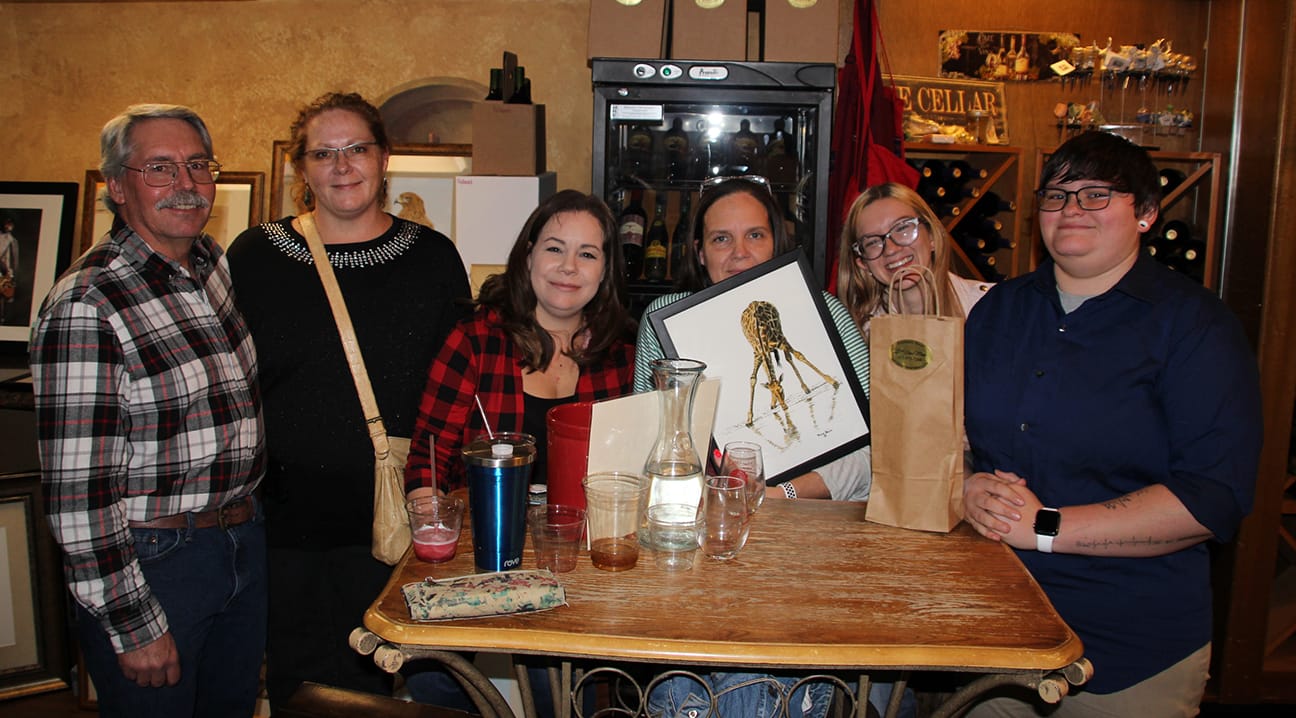 "I'd love for anyone who wants to check out the paintings to go to my website," he said. "They can contact me from there."
While the next cohosting event with Fossil Rim will be announced in the future, D'Vine Wine will have a lot going on in the meantime.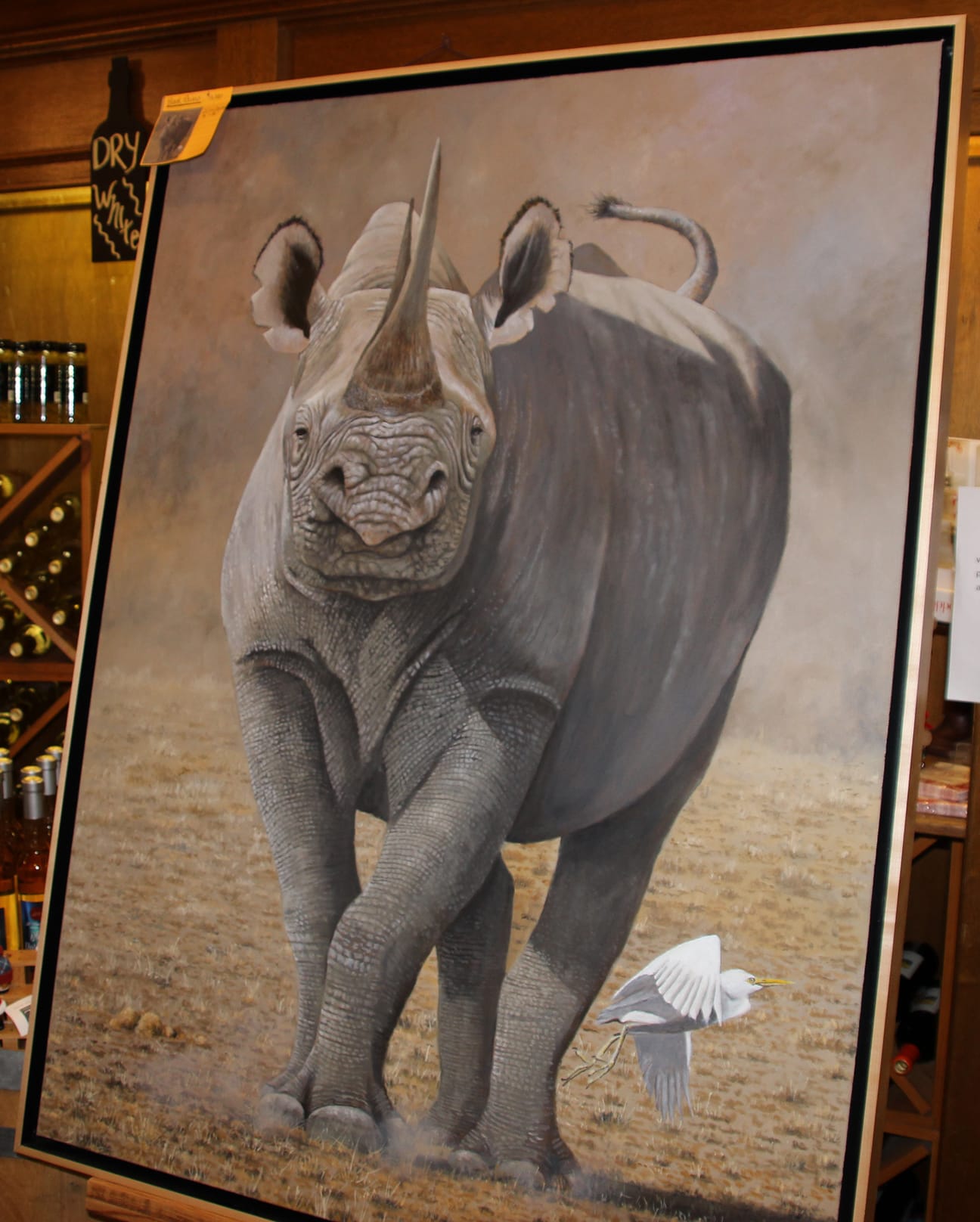 "The Christmas season is big in Granbury and here at D'Vine Wine, and that starts the day after Thanksgiving," Winters said. "We have karaoke nights, which are fun. We'll have a New Year's celebration, as well. Saturday nights are the best time to visit us with live music, and these Gallery Nights are always a great time.
"We have 'Music, Massage & Merlot' on the second-to-last Friday of each month. Irish music is the third Saturday of each month; 10 Irish musicians do a jam session.
"Jerry Allen is always our musician on Gallery Nights. Jerry is really good as far as his music goes, plus he's a great guy in terms of being an ambassador for Granbury."
To purchase a bottle of Fossil Rim wine and support the conservation efforts, check out https://tinyurl.com/yymvken2.
-Tye Chandler, Marketing Associate