It's not every person who could handle working in four different departments of animal care.
In fact, Stephanie Davis is the first person in Fossil Rim history to do so. The new Swing Animal Care Specialist will spend some months each year working in carnivore, avian, hoofstock, and at the Children's Animal Center (CAC).
"I'm excited, because we aren't just talking about one or two departments," Davis said. "We're talking carnivores, hoofstock, birds, reptiles, and ambassador animals. Taking on all of this keeps you on your toes, and I realize it's a lot, but I think I'm very organized and I really value communication with all of the supervisors and coworkers.
"How does each department function and how does each supervisor like things done? Being able to remember that is key."
Setting The Stage
Davis grew up in Irving and Euless, as she graduated from Euless Trinity High School.
"I always liked being outdoors, and I was that kid who brought home every animal I could catch," she said. "I had as many pets as my parents would allow, or tried to hide them until they were eventually found. Mainly dogs, cats, and a pot-bellied pig, but frogs were the main animal I would get caught sneaking in with."
From there, she was off to Tarleton State University, eventually graduating with a major in Wildlife, Sustainability, and Ecosystem Sciences plus a minor in Biology.
At Fossil Rim, Davis was initially a tour guide.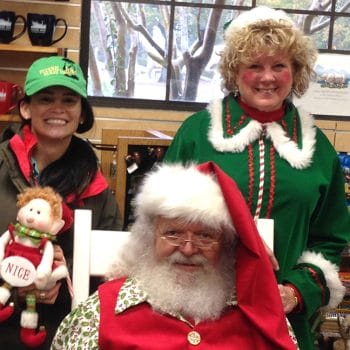 "Being a tour guide definitely got me comfortable with interpreting to the public from an educational standpoint and interacting with the public in general," she said. "(Tours Manager) David (Whiting) is an amazing interpreter, so being able to learn from him was valuable in order to engage with guests myself. Working at the Children's Animal Center will still allow me to use those tour guide skills to educate the public and it still has the animal care element."
Davis then joined the IT department at Fossil Rim.
"I'm a lot more comfortable using power tools after my time on the IT staff, whether that means repairs or building things," she said. "IT is a very hands-on department with their projects. If I need to utilize the woodshop at support (services), I know how to use that equipment, as well. In animal care, you have to fix things, especially at the CAC."
Internships
Before her Fossil Rim days, Davis completed a number of internships. Most dealt with carnivores, but some were hoofstock-related. She gained a lot of livestock experience, specifically cattle. During an internship at a wildlife rehabilitation center in Canada, her first opportunity to work with exotic animals arose.
After her tenure in IT, the next step was the Prairie Grouse Conservation Internship at Fossil Rim.
"I had the opportunity financially to step back from being a salaried employee to do another internship and pursue my passion, which is animal care," Davis said. "I talked to (Intern Coordinator) Tally (Hickey), and she suggested the APC internship. That happened to be the only Fossil Rim animal care internship available at the time, so despite not having bird experience, I decided to find out if I'd be considered.
"I talked to Cara (Burch, Senior Animal Care Specialist – Avian) and eventually was selected. I'm glad I tried, because it enabled me to stay at Fossil Rim.
"The 2019 chick season was interesting. I'd seen previous seasons as a tour guide in the chick building, but didn't yet know all of the details that go into daily activities."
Her next move was to apply for the Whitfield Collins Carnivore Internship.
"Halfway through the APC season, I applied for the carnivore internship," she said. "At that point, (Director of Animal Care) Adam (Eyres) told me he had an idea for a swing animal care specialist role. It wasn't set in stone and would be months down the line if it was approved, but at least I was aware of the potential opportunity."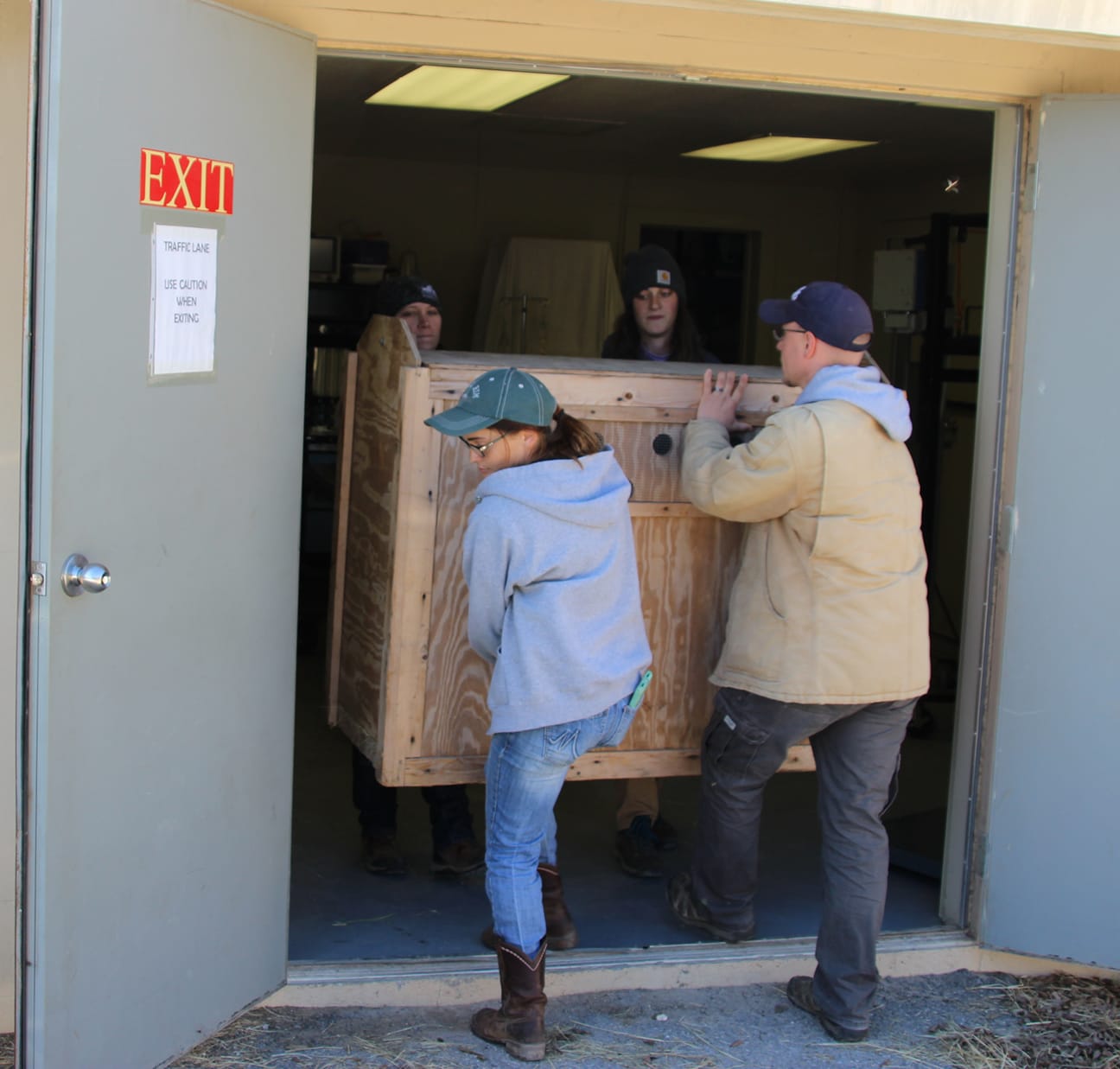 Eyres talked about the decision to eventually offer her the position.
"It was kind of a no-brainer hiring Davis into this position," he said. "She was already well-known to the staff through her time here in tours and IT, plus she had already completed the APC internship – a role we knew we needed more staffing for – and was about to do the carnivore internship – another department that can always use additional staffing. We knew she was a dedicated and hard worker, so it was just a matter of modifying that position description and determining that we could fund this position to allow us to bring her onto the staff full-time."
Davis is grateful that her hard work led to a significant opportunity.
"I thought the possibility of this becoming a reality for me was awesome," she said. "I value every internship I had over the years and use them all in some way now."
This Specialist Is Becoming A Generalist
A number of threatened and endangered species, as well as the people who care for them, are now counting on Davis. That is how she likes it.
"This position is a big responsibility, and I love responsibility," she said. "Knowing that a number of people are trusting me, especially right now at APC (Attwater's prairie chicken in the avian department) as I've received a different role from last year with egg collection and measurement – it's great."
Exactly what percentage of her time is spent in each department will be a fluid situation, but she is just glad to be involved.
"The split on how many months I'll be in each department isn't set in stone," she said. "This is a new (four-branch) role at Fossil Rim. January to March was dedicated to training in hoofstock, plus I worked at training for the CAC. The goal was, before chick season started, to get me trained for CAC and hoofstock."
Carnivore Department
As of late March, Davis said she feels most confident in her knowledge of the carnivore department.
"My job will be to assist (Carnivore Specialist) Tessa (Townsend) with all of the animals other than cheetahs," Davis said. "I'll be an extra hand so we can get more projects done. I haven't been with the carnivore department the past three months while I've been learning these other departments, but after chick season I'll talk with (Carnivore Curator) Jason (Ahistus) about getting back into the routine. Tessa keeps her routine very organized, so I can just hop in and find out what I need to do."
Davis was asked about her favorite species at Fossil Rim. While recognizing it is important to be diplomatic for her position in particular, she did offer an answer.
"That is a hard question, but I've always favored felines growing up," she said. "If I'm choosing, I will say BFCs (black-footed cats) with APCs being a close second. At the same time, I appreciate the adaptations addax have – that's an amazing creature and a lot of the hoofstock species are amazing in that way. I really think all of these species are special in their own way, which makes this position great.
"I'm really interested in the Black-Footed Cat Working Group, and I reached out to (Project Leader) Dr. (Alexander) Sliwa a couple of years ago. We are kind of friends now, and he's answered questions I have about the captive versus wild population based on research being done in the field."
Avian Department
The main reason this department was not ranked first regarding where she is most confident currently is that her role recently elevated.
"I'm learning a new role with egg collection and learning more about incubation," Davis said. "It is great to now be taking care of the (captive) cranes, as well as the APCs. Cara and J.J. (Avian Curator Janet Johnson) carry (wild) crane food in their vehicles. I'm excited to throw some food to the sandhill cranes if I get the opportunity.
"(Sandhill crane) 'Ichabod' knows Cara and J.J.'s trucks and realizes he's about to get some food. His mate is a little more hesitant, but Ichabod has been here so long. Cara and J.J. will sometimes feed ostriches and emus in the mornings, plus J.J. is involved in the conversation if those species ever have medical issues."
Children's Animal Center Department
Davis feels much more confident about her knowledge base of the carnivore and avian departments at this time. Next on that list was the CAC.
"The CAC is interesting," she said. "Their daily routine is a lot more complicated than the other departments, so it took longer to learn. There are different daily routines and you have to learn them all, plus you are dealing with a large variety of animal species in one place. (CAC Supervisor) Kristina (Borgstrom) has everything so organized that I just hop in and know she has the notes for me if anything has changed."
Hoofstock Department
While Davis feels she is playing catchup the most in the hoofstock department, she certainly believes she will get up to speed.
"I have only trained there for three months, so I think that confidence will come with time," she said. "When I knew I might have a shot at this position, my thought was I'd already been trained in APC and was going to be trained in carnivore, plus I was learning how to use various equipment at Fossil Rim. The hoofstock department uses a lot of equipment.
"I thought if I could learn how to use the equipment while I was an intern, that would give me a head start before my official hoofstock training began. For example, a lot of trailer work is involved. I started practicing on backing up a trailer; that was a skill I had to develop.
"I have worked in all pastures, but my schedule isn't set for certain ones yet. For me, I'm trying to become knowledgeable in all pastures, plus I'm still being trained on the pens area."
Staff Appreciation
Over the long term, Davis will be in a better position to get to know more Fossil Rim Animal Care Department members well professionally than anyone other than Eyres because the scope of her position is so wide.
"I think everyone who works here in animal care has, not only experience, but everyone is very driven," she said. "That's just how it goes; no one is lazy. They are great about communicating what I need to do. That makes it easier for me to help them.
"These people are passionate about this career field, and I want to take care of the animals just as well as they do. Through my training, going in and out of different departments, I've seen how organized everyone is.
"Adam has over 30 years of experience, plus Jason and J.J. have a lot of experience, too. It's obvious when you are with her at the CAC that Kristina knows what she's doing. These are the people I can learn from to keep progressing."
The Future
Davis was asked about her long-term goals, but considering every single day is a learning session right now, she does not have much time to look too far ahead.
"I sure hope this opportunity one day leads to further opportunities," she said. "This is the career I wanted, and I wanted it at Fossil Rim. I've been pretty passionate about that; I love this place. This is all so new.
"I plan on being here for a while, but I try to just focus on the present. I can say I have a goal to be more involved in animal programs, maybe even a program leader or studbook keeper, one day. I've talked with (Kordofan Aoudad Program Leader) Molly (Shea) a bit about what it means to be a program leader."
At any given time with the department Davis currently finds herself in, as she rotates to the other three departments there will always be information to get caught up on from the last time she filled each respective role. Such is the life of a swing animal care specialist.
"I want to continue to professionally develop and learn new things about these animals," she said. "You can always learn something new every day."
-Tye Chandler, Marketing Associate