Alex Sharkey has given her all to Fossil Rim cheetahs, and the facility in general, for nearly three years.
She is eyeing new challenges, but not before the Fossil Rim Senior Carnivore Specialist recollects some tremendous times in Texas. Let's flash back to the summer of 2016.
"I heard about this opportunity through Molly," Sharkey said, referring to fellow animal care staffer Molly Shea, considering the two attended Santa Fe College in Florida together with a focus on zoo animal technology. "She reached out to me, knowing I was working with cheetahs (at White Oak Conservation). I was looking to gain more experience with a different facility, so I applied.
"I had three interviews – by phone, Skype, and in person – with (current Carnivore Curator) Jason (Ahistus) and (former Carnivore Curator) Mary Jo (Stearns); it was a good fit. I was offered the job during the final interview, and the rest was history."
Sharkey was asked, in retrospect, how the years at Fossil Rim played out compared to her expectations coming in.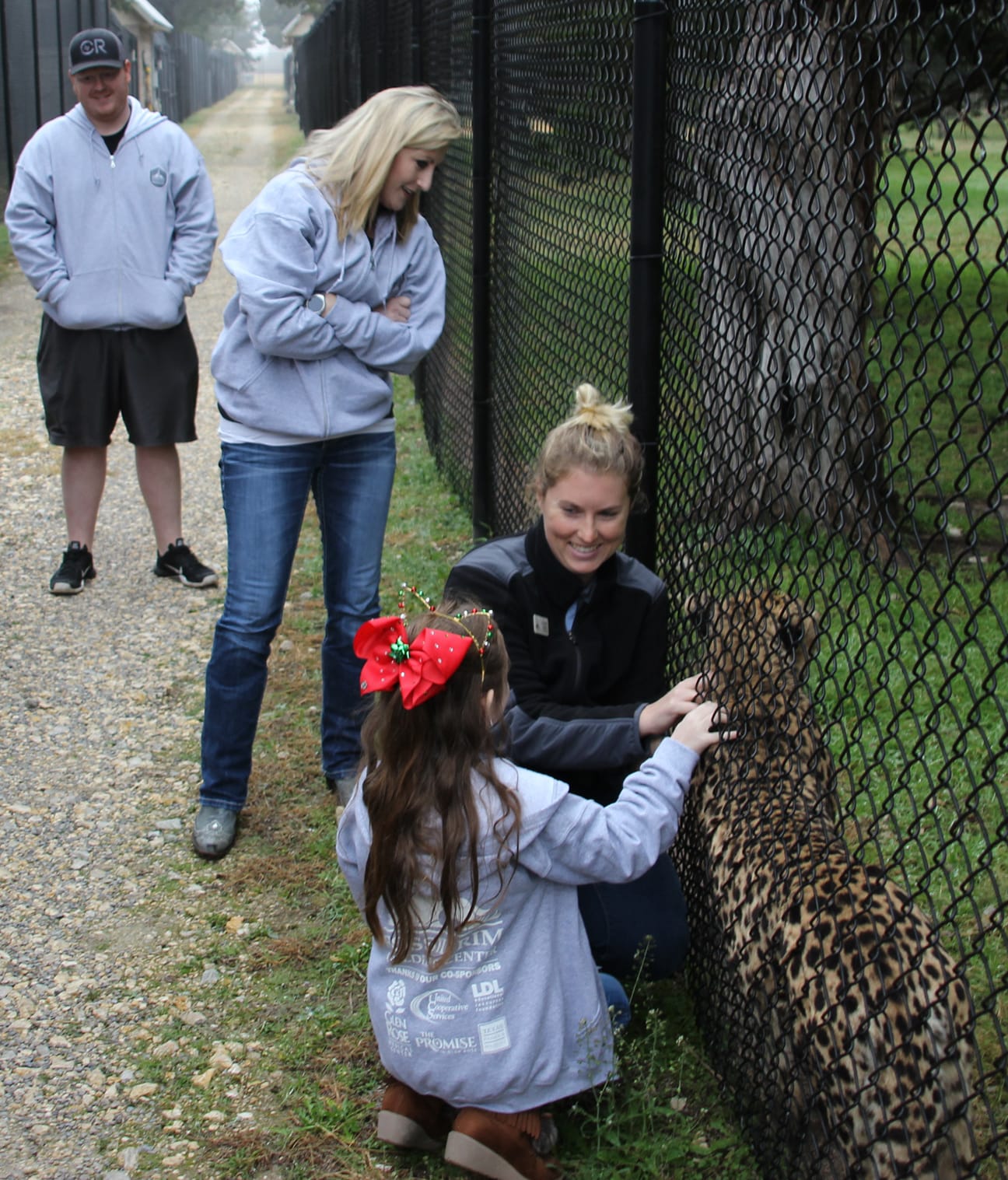 "I came here to gain confidence in my knowledge of cheetahs," she said. "It was really awesome to be part of a program that has been so successful. Being able to be here when we reached the milestone of 200 cheetah cubs born at Fossil Rim was awesome. I learned a lot about cheetah breeding, as well as the birthing process.
"Being able to become a senior animal care specialist (along the way) and take on a leadership role was really valuable experience to me. Gaining experience with immobilizations and other veterinary procedures (while working with animal health) was also important and enjoyable to me."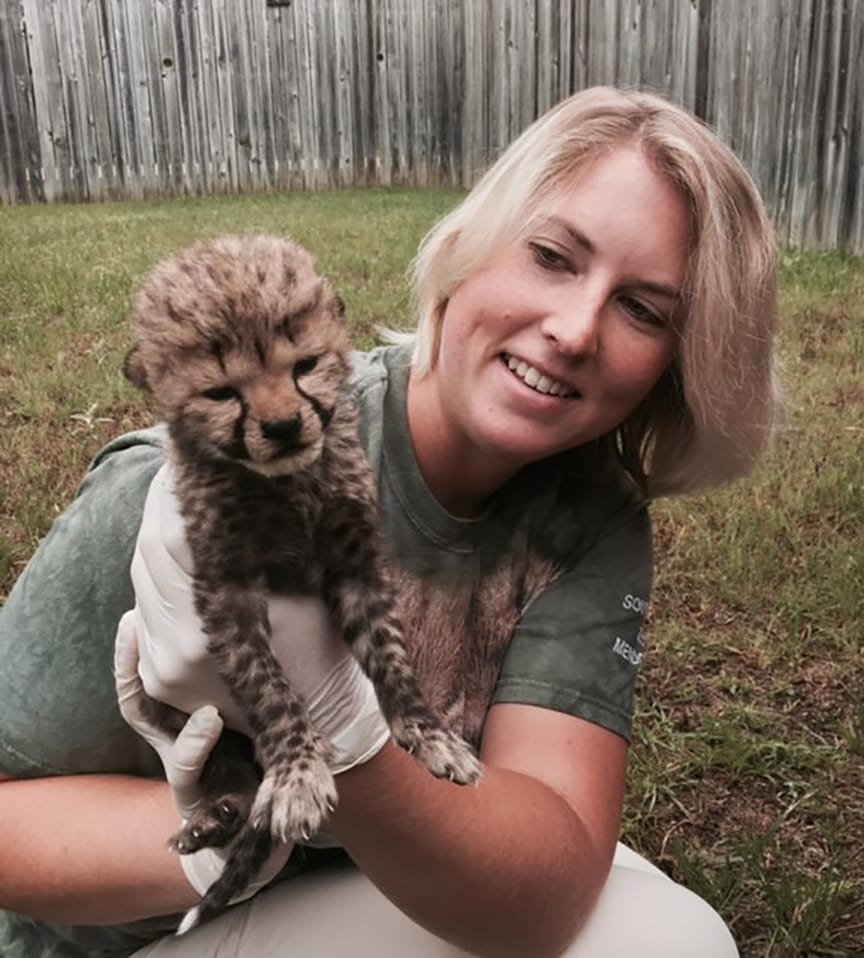 Prior to earning the designation of "senior" in her title, Sharkey's focus was strictly on cheetahs. She joined a small group of people in Fossil Rim history with a primary focus on cheetahs since the program began in 1985.
"I'm really proud to have contributed a method of drawing blood known as 'tail bleeding'," Sharkey said. "I took experience that I gained at White Oak, and I was able to start a conditioning program with cheetahs to obtain blood from their tails while they are eating. If we saw a potential issue that required bloodwork, it was a way to get a sample with minimal stress. I'm hopeful it's a tool the cheetah staff will continue to use in the future."
When Sharkey was promoted to senior carnivore specialist, she became more involved with Fossil Rim's other carnivore species. She had previous experience with maned wolves at White Oak.
"They are very unique and challenging regarding their diet, plus their husbandry is interesting," she said. "I think I'm going to actually miss the way they smell (a powerful, skunk-like aroma)."
American red wolf involvement brought about a memorable road trip for the lady who was born in New Jersey and raised in Florida.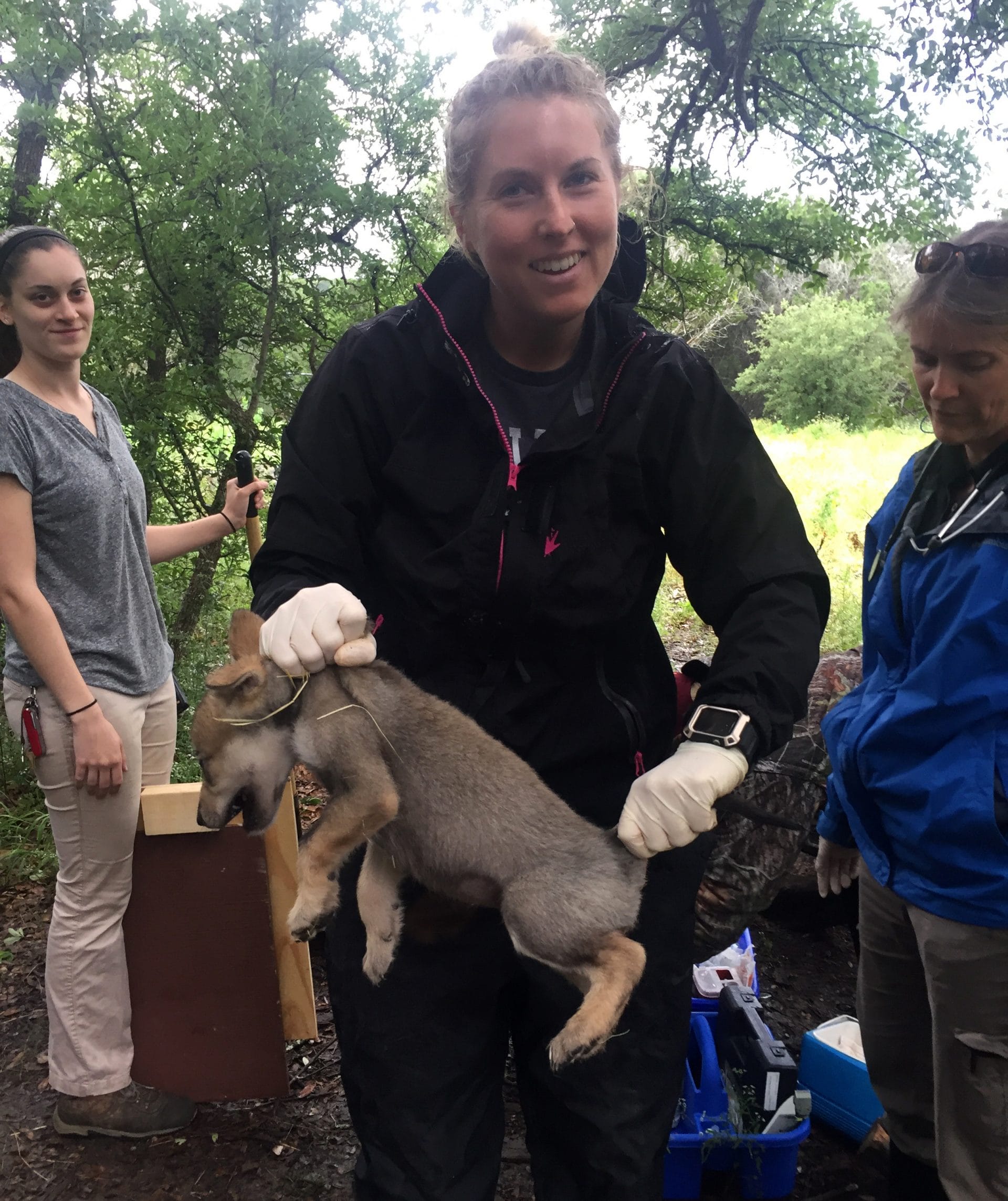 "(Carnivore Specialist) Tessa (Townsend) and I were able to go to Endangered Wolf Center (in Missouri) for a wolf capture-and-restrain workshop," Sharkey said. "We got a lot of hands-on experience with red wolves, plus we picked up two red wolves from the center and brought them back to Fossil Rim. One of them is now in a breeding situation, while the other one came here to live in retirement."
Sharkey was on hand when Mexican wolf "Francina" gave birth to puppies each of the last two years. At age 10 and then 11, the wolf was a great success story because it was the twilight of her reproductive capability and those were her only two litters.
"To see an animal like that, which was an unlikely mother at her age, end up being successful was outstanding," Sharkey said. "The Mexican wolf program was very interesting to me because we are really involved with that program. The experience I gained with the wolves here helped me learn so much about the efforts being made for that species in the wild. Learning about the cross-fostering process and being prepared if we got that opportunity, as well as learning about the breeding process in general, was fascinating."
Last, but certainly not least, Sharkey was on staff when the first two black-footed cats were born in Fossil Rim's history.
"The black-footed cat program was all-new to me," she said. "To feel like I have some degree of understanding about them now and being part of the process of their care is great. Obviously being here for the first-two kittens born in Fossil Rim history was a highlight for me. They are really cute, and it means a lot to us to be successful in that program and help that species' population."
Sharkey will always be thankful to Ahistus for seeing potential in her and teaching her all he could about Fossil Rim's carnivores.
"Jason has been a mentor to me and taught me a lot, plus he trusted that I would figure things out," she said. "I was still relatively new to the field – just three years in – when I started, but I worked to gain that trust. That's definitely not a lot of experience when it comes to cheetahs, because you learn it can be something new every day with them. Jason taught me to be humble when it comes to cheetahs.
"We work with so many facilities, and you find out that everyone across the board is learning something new about them each day. You can't act like you have it all figured out, because they'll catch you by surprise.
"We talked about that early on, and it always stuck with me. That unpredictability can be frustrating sometimes, but in the end, it's so rewarding."
Ahistus values the years Sharkey invested into the carnivore program. As his comments will indicate, she was known by her last name to staff members.
"Sharkey has grown so much in her time here, not only as an animal care specialist, but as a professional and a person," Ahistus said. "It is amazing to see the progression of her abilities over the past few years. I invested a lot of time teaching her everything I could; she learned many different husbandry techniques and became very skilled at them. She also learned how to teach and mentor interns and other staff.
"Moving her to a senior animal care position was very important to me, because I was able to give her the opportunity to play a larger role in our programs. I know it meant a lot to her to get that promotion and showed how much I trusted her. It is sad to see Sharkey leave Fossil Rim, because she was a great asset and leaves big shoes to fill.
"Our carnivore team worked really well together with her in the mix, and we had something special that doesn't happen very often in this field. It was awesome to see what we were able to accomplish together and how she, as well as Tessa, have grown in such a short period of time.
"I wish Sharkey the best of luck in her new position; I hope she takes what she has learned here and passes that knowledge on to her new coworkers. Sharkey may not be working at Fossil Rim anymore, but she will always be part of our animal care family and is somebody I know I will keep in touch with in the future."
Sharkey appreciates how invested Townsend is in the carnivores she focuses on, which are all the wolves and the black-footed cats.
"Our carnivore staff is a close-knit group that works really well together, and that certainly includes Tessa," she said. "We are both really hard workers, and her knowledge of wolves has evolved so much over the years. When she started, Tessa was brand-new to the field.
"I'm so excited to see her career develop in the future. Jason and I had to devote so much attention to the cheetahs, so it's been important to know Tessa is taking great care of the other carnivore species."
Townsend got her start in the carnivore field learning from Ahistus and Sharkey, so it is difficult for her to watch her friend start a new journey.
"Alex Sharkey is one of the best people you'll ever meet," Townsend said. "In her three years here, she has not only improved the carnivore department with her hard work and intelligence, but she has also played a big part in improving the safety of Fossil Rim staff and guests (more details on that below). Her passion for what she does really shows, and Sharkey does an incredible job of inspiring others to be passionate, too.
"Additionally, she is a treat to be around and can brighten up anybody's day. She has been a huge role model to me, and I have become a better person and employee from working with her. I know she'll continue to do great things in her next adventure, but we'll surely miss her at Fossil Rim."
Sharkey's days were not 100 percent animal-related, as carnivore staff tends to a variety of landscaping and facility maintenance issues. Sharkey was also a key figure in Fossil Rim's safety and security committee as a co-chair.
"The safety and security committee was something I didn't expect to be doing, but it was exciting to learn about the safety procedures of our facility and help create new protocols to guarantee the safety of our animals, our guests, and our staff," she said. "Plus, it is important to develop experience outside of just the animal care aspect."
Sharkey mentioned how thankful she is to the animal health staff for letting her be so involved in the medical care of the carnivores.
"The animal health staff knows what they're doing, and it was fun to be involved with so many procedures," she said. "Before entering the animal care field, I was a vet tech. That's part of why I value the work with the vets so much."
Speaking of departments working together for the common good, that is how Sharkey views Fossil Rim as a whole.
"Fossil Rim is so unique, because the departments work together seamlessly," she said. "It's felt like a family unit with all of us here for the same reason. It gives Fossil Rim strength. That is one of the main reasons the decision to say goodbye was so hard."
So, what is next for Sharkey as she departs Fossil Rim with a significantly stronger resume than when she arrived three years ago?
"I'm headed to Nashville and, no, I'm not a singer," she quipped. "I'm starting a new journey at Nashville Zoo as a carnivore zookeeper. I'll get some experience with a different variety of animals, such as Sumatran tigers, clouded leopards, Andean bears, and giant anteaters – just to name a few. Unfortunately, I won't be working with cheetahs, which is really sad for me.
"At the same time, there are some other pretty awesome animals, and I'm going to learn a lot about those programs. I'm from Florida, and that's where my family and my (young) nephew, Sebastian, are, so this relocation will greatly reduce the amount of air travel for me."
Going forward, it sounds like Sharkey will keep a close eye on a certain Texas wildlife facility from afar.
"I will continue to be a great supporter of Fossil Rim," she said. "I love this place, and I'm excited to see where its progression goes from here."
-Tye Chandler, Marketing Associate