A long-term landscaping project for the betterment of Fossil Rim is just getting underway, and some helpful volunteers assisted staff members to hit the ground running on November 16.
"Fossil Rim has started our habitat restoration initiative of Ashe juniper removal," said Natural Resources Manager Caitlin Pyle, in regard to a drought-tolerant evergreen tree that is sometimes errantly called a cedar tree. "Junipers have encroached upon many areas throughout Fossil Rim, and over time we have lost grazing space for our animals. Removing excess junipers and planting grass will help relieve the grazing pressure, which will improve the health of our pastures to the benefit of the animals."
The Texas State Guard Engineers Regiment made the trip to Fossil Rim as volunteers to help with the first wave of juniper removal.
"The Texas State Guard helped us remove a lot of small junipers by hand, and we want to compare the effectiveness of that method to the junipers we remove with machinery," said Natural Resources Management Specialist Vanessa Hays.
This was not the first Fossil Rim visit for the Texas State Guard.
"Caitlin met Warrant Officer Dale Lewis at a TCEQ (Texas Commission on Environmental Quality) workshop for water and wastewater," Hays said. "Originally, we brought Dale and his regiment out to show them our wastewater treatment plant and how it functions, but Dale and Caitlin talked about them returning as volunteers. We hope to make this a recurring project with them."
The work on November 16 was done along the fence line – off to the right of the Gosdin Scenic Drive – between the Buffer Pasture and the Fossil Rim Support Services offices.
"Due to the proximity to support services, it was easy to get machinery over there for the removal," Hays said. "(Director of Animal Care) Adam (Eyres) and (Executive Director) Kelley (Snodgrass) chose that location for this starting point."
Junipers were addressed based on size, while some were left for workdays in the future.
"The best technique seems to be using our skid-steer (loader), which has a pinchers attachment to grab the juniper and lift the entire tree and roots out of the ground," Hays said. "That way, you don't have to worry about regrowth. On small trees, we used grubbing hoes to remove the juniper and its roots. Leaving roots behind isn't an option we are considering.
"There is a size limit of tree that the skid-steer can remove. For now, we are leaving the large junipers alone and focusing on the medium and small trees."
It is not as if Ashe junipers are totally worthless, but the sheer number of them at Fossil Rim is the issue. As Snodgrass pointed out, a few browser species, such as giraffes, will occasionally munch on them.
"Ashe junipers do have their ecological purpose," Hays said. "You actually want junipers on slopes or hillsides, because they reduce soil erosion. They also provide a good habitat for threatened and endangered bird species. The issue at Fossil Rim is the high amount of junipers, because they are reducing grazing space for the animals.
"They are so prevalent that they are a detrimental invasive species here. They consume so much water and have deep root systems, which hurts other plant life. That's why you rarely see much of anything growing underneath them."
Support services staff members Jerry Monroe, Rowdy Brown, and Louis Pienaar were there to help out.
"Jerry and Rowdy drove the skid-steer and front-end loader we used at times, while the volunteers were using the grubbing hoes on the smaller trees and helped drag them all into a large pile," Hays said. "We used the loader to push all the junipers into the pile to be burned at a later date. Louis used a grubbing hoe and showed the volunteers how to properly remove the small junipers."
Animal care staff – Eyres, Ben Jernigan, Molly Shea, and Tim Lloyd – also helped out.
"Adam drove the front-end loader for a while, and I did later on, as well," Hays said. "The animal care staff came to make sure the animals stayed back while we were working, plus they helped pile up the removed junipers."
Volunteer Coordinator Will Baker made sure the efforts were organized throughout.
"Will is definitely the right person to lead our volunteer program, because he's so amiable and organized," Hays said. "We knew he'd have the volunteer group on the same page so Caitlin and I could focus on the project details for an efficient workday."
The tours department and Overlook Café staff also chipped in.
"The tours department was kind enough to provide us with use of the new zebra van so that Caitlin and I could give the volunteers a guided tour," Hays said. "Our café staff served the volunteers lunch on short notice. The Texas State Guard was very impressed with how good the food was."
Marketing Associate Garrett Gosdin came to the park on his day off to get some video footage and photos.
"The eight volunteers from the Texas State Guard did a great job to help us, so we definitely want to recognize them and all of our valuable volunteers," Hays said. "Because this will be a long-term, intensive project requiring several departments, this is a great opportunity for teamwork to help the native landscape and our animals."
The animal residents would undoubtedly be excited about the grass to be planted if they realized it was part of the plan.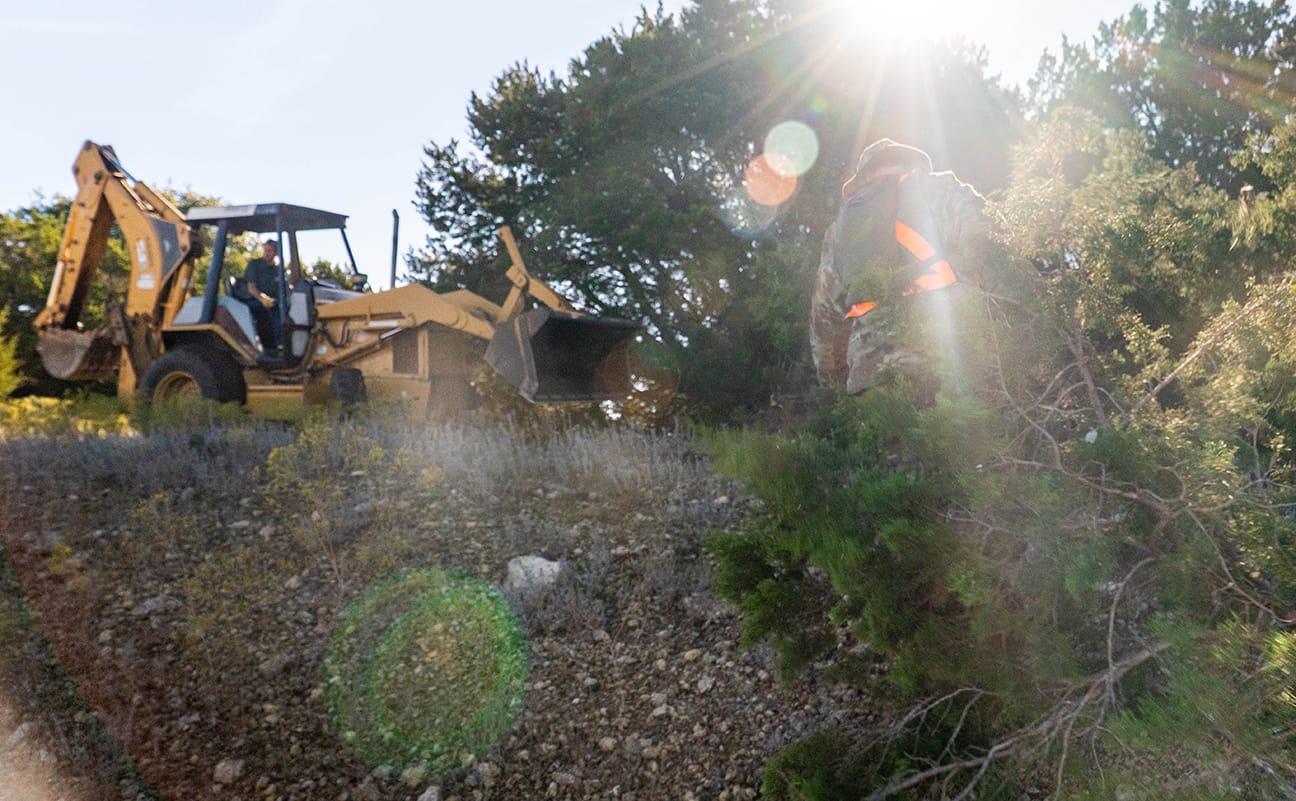 "We will use a native seed mix to provide better grazing opportunities for our animals," Hays said.
Pyle said the Texas State Guard volunteers are looking forward to returning for a second round of Ashe juniper removal.
"It was hard work in an eight-hour day together, and we were determined to remove as many junipers as possible," Hays said. "This project is something many of us have wanted to get started on for a while, so to do so with some positive results was really satisfying."
-Tye Chandler, Marketing Associate