Paige McNickle had no idea she'd end up at Fossil Rim. Her nearly 24 years in the zoological field were a result of feelings and coincidences, formed while she sat at a desk and studied aeronautical engineering. She had started college already, began internships for her future career, but it didn't quite feel right.
"I hated being chained to a desk and being inside," says Paige. "Suddenly we had a family accident and I had to take a break to take care of my dad. After that, I realized I didn't want to go back."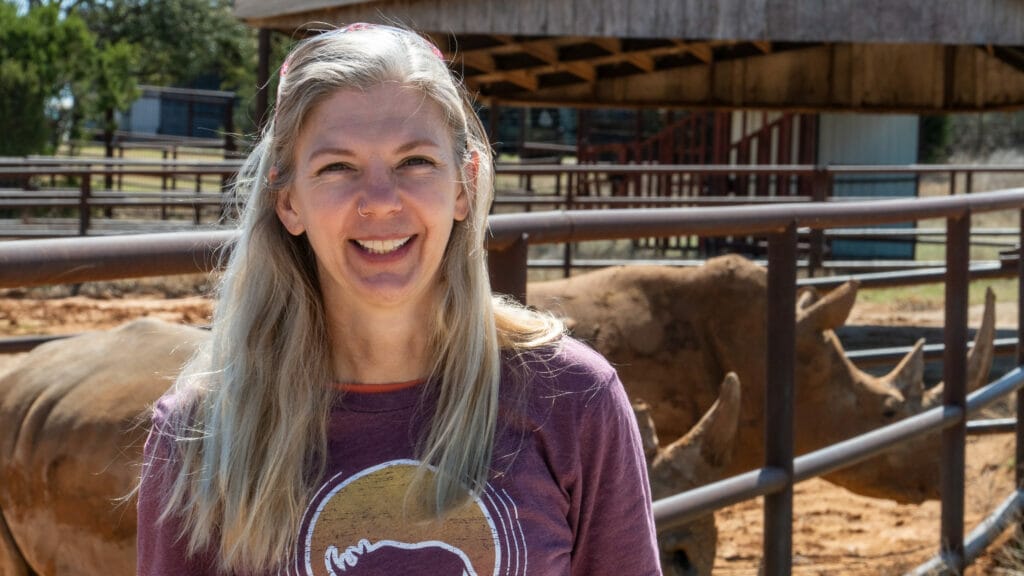 Just like that, Paige says she changed her major, quit her job, stepped out of her internships and restarted her life working  at a zoo in Phoenix. Though zoology and aeronautical engineering could not be more different, Paige says it wasn't a new realm for her. Her grandparents owned a beef farm that she helped out at. This meant her summers were already spent in the sun working with plants and animals. At the zoo, this experience came in handy. Staff wanted Paige to take on a more permanent job, but her sights were set on field work abroad. In a last ditch effort to get her to stay, Paige was introduced to one of the zoo's rhinos, and the rest, she says, is history.
Years of Dedication
As Fossil Rim's new Curator of Hoofstock and Rhinos, Paige calls on the lessons she learned during her career. She worked with animals from primates to avians, but it was the rhinos and warthog that awakened her passion for hoofstock.
"They're incredibly smart, and the ones I worked with wanted to interact with you," says Paige. "They were teaching me."
Time passed, and eventually it had been over 20 years since her big career change. Paige originally didn't want a management position— she loved the day to day hands-on work with animals. However, she was beginning to realize that it was time to take a formal leadership role and begin passing on the knowledge she'd amassed.
"When I started in zoos there was a big shift happening, so I got to learn from the old guard right before they left," Paige explains. "All of the things they learned, mistakes they made, skills they learned, I didn't want those to be lost."
Luckily, the perfect management position was just about to open up. Even better, it was at a place where Paige had been spending her free time for years.
"I knew about Fossil Rim, and I met Adam Eyres (our Director of Animal Care) at a conference in 2009."
After that meeting, Paige spent time traveling between Texas and Arizona. She learned about procedures and other methods done at Fossil Rim that were unique in the field. When the position of Curator of Hoofstock and Rhinos opened up, she threw her hat in the ring. After some consideration, she was offered the job, and Paige McNickle permanently moved to Texas to begin a new chapter.
Life at Fossil Rim
What does being a curator entail at a facility like ours? Paige says it's a hodgepodge of things that surrounds leading a team and helping the director. It's her job to make sure that our animal care staff stay focused, and that daily tasks like maintenance get done. She also helps reach out to other facilities to coordinate animal transfers and more. There is always something to be done, and people to help.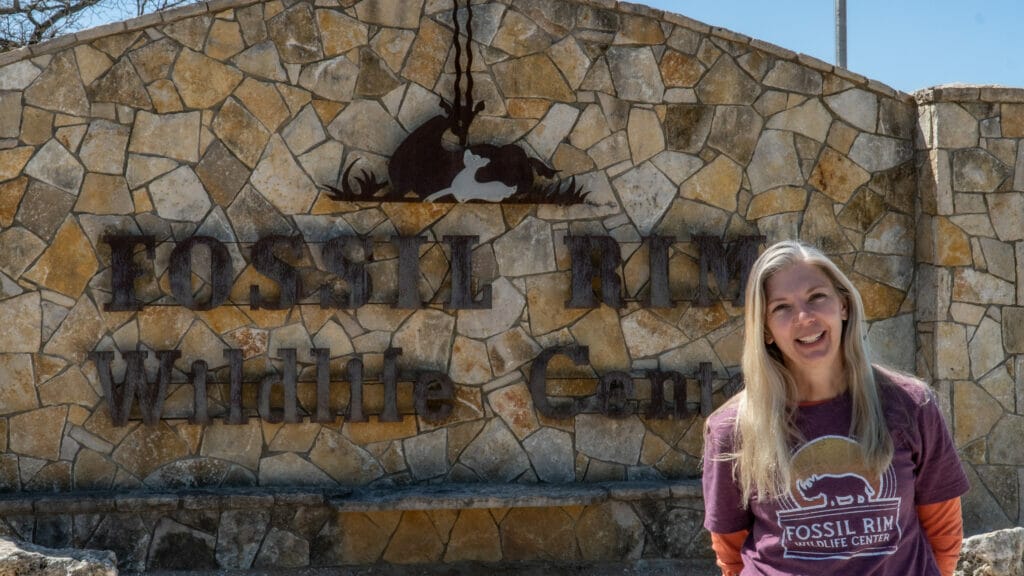 "It's humbling to be the person coming in and asked to learn new ways and new things " Paige admits. "It's hard, but I also think it's something people should do more often because it reminds us what it's like to be the student."
Now that she has spent some time adjusting, Paige is looking forward to the future of her career here. She says that the curator before her had the chance to grow with and develop the role she's jumping into, so she is hoping to further their hard work by continuing to pursue her passion of leading a team and protecting our wildlife.