After 34 years of hard work for the cheetah species, Fossil Rim Wildlife Center has now produced 201 cubs!
On April 11, "Charlie" gave birth to five cubs (four males and one female), and they are all doing well. Since the program began in 1985, more than 60 litters combined to account for the 201 cubs. With the addition of these cubs, there are currently 26 cheetahs at Fossil Rim.
"Exceeding 200 cubs is a huge accomplishment for Fossil Rim," said Carnivore Curator Jason Ahistus. "But, more than any number goal, we're working daily to save a species."
Despite nearly three-and-a-half decades of cheetahs at Fossil Rim, the only people heavily interacting with the species daily have been Kelley Snodgrass, Mary Jo Stearns, and now Ahistus and Senior Carnivore Specialist Alex Sharkey.
"Many factors went into this milestone and one of the most important is the carnivore staff – from the beginning of our program to the current staff," Ahistus said. "Cheetahs are very difficult to manage properly and to have breeding success with. It really takes dedicated staff to put in time to learn the species, the behaviors, and constantly learn more through the ups and downs that come with cheetah management.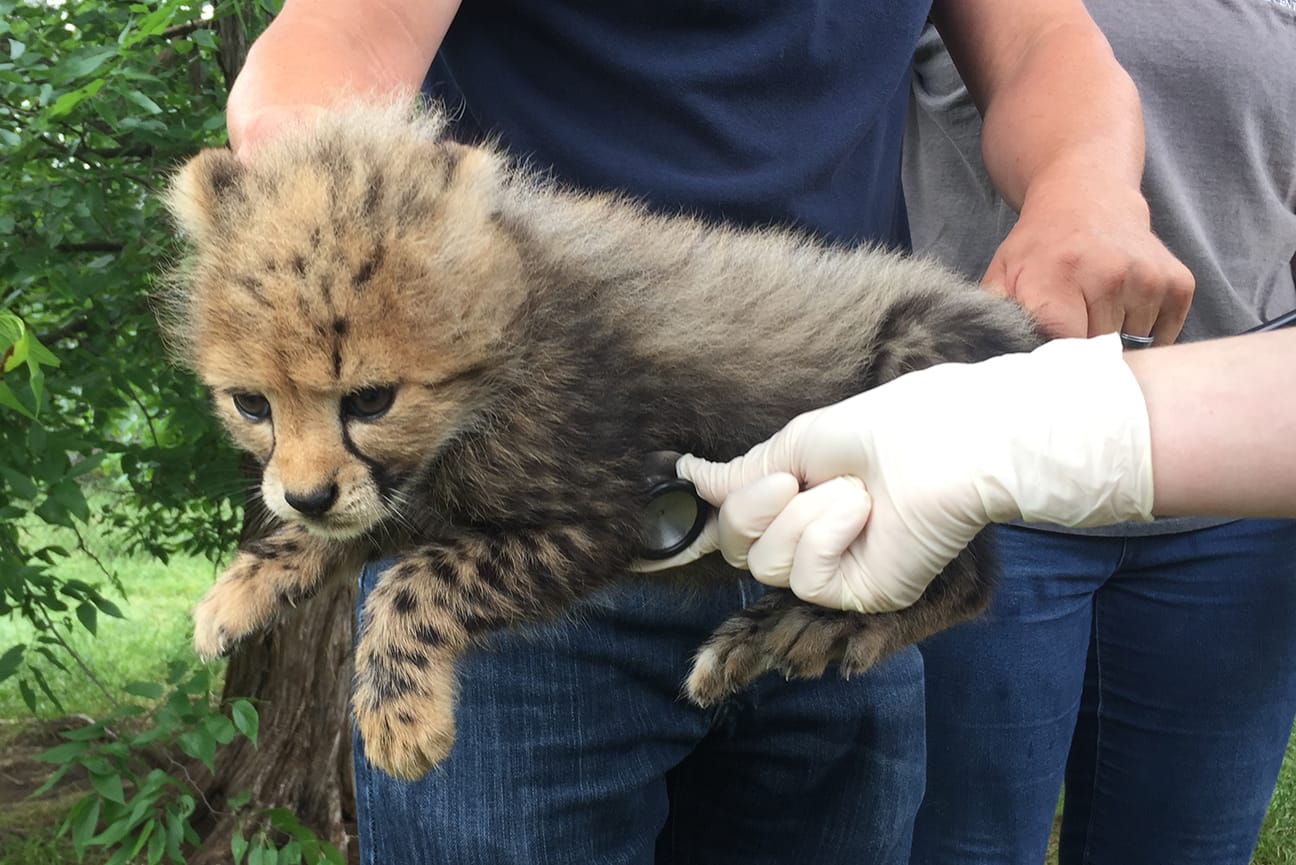 "We also have our vet staff; we wouldn't have this much success without them and their knowledge and expertise dealing with cheetah health issues and veterinary care. You think about our cheetah facilities themselves; we wouldn't have the production without those facilities and the people responsible for their upkeep – animal care staff and support services staff.
"Part of our success also stems from education of the public. Our efforts as a facility overall for cheetahs are so much more important than reaching a given number of cubs."
Charlie is a four-year-old female from Smithsonian Conservation Biology Institute (SCBI), and she is a first-time mother. The father, "Beau", is five years old and came to Fossil Rim with his brothers from the Phoenix Zoo. This is his first surviving litter.
"This is an important accomplishment for Beau and Charlie in terms of helping their species, but it is also important for us in the cheetah program to know they can each do their part for cub production," Ahistus said. "Thanks to experience gained through the years, both good and bad, we've really learned how to increase production and put each cheetah in situations that will allow them to be more successful. Sometimes, we send proven breeders from here to other facilities. They can breed to help those facilities, while we'll take on some of the challenging cats here that haven't produced before and count on our experience."
According to Sharkey, Charlie and Beau were introduced and bred on Jan. 7 after Charlie was moved from the Jim Jackson Intensive Management Area (IMA) to the Robert B. Haas Family Cheetah Conservancy (Cheetah Hill). She added that the pair spent the rest of the day together and then overnight after breeding was observed, but they were separated the next day to avoid aggression toward each other.
After the separation, Sharkey said the carnivore staff collected fecal samples from Charlie for 10 days to determine if she ovulated. Ovulation is confirmed by tracking the hormone levels in the feces, and if the vet staff confirms ovulation, then there is a "good chance" the female is pregnant.
Sharkey pointed out that, 58 days after breeding was observed, the veterinarians took radiograph images of Charlie's abdomen while she was eating. At least four cubs were confirmed at that time.
"Radiographs are very important to confirm pregnancy and determine litter size," Sharkey said. "If we only confirm one cub, then we can plan for the potential of cross-fostering or hand-rearing. In this case, we were at a comfortable number and crossed our fingers that Charlie would have great maternal instinct."
Charlie encountered some adversity in the first few days after giving birth, but her instincts eventually served her well.
"It was Charlie's first litter, and a lot of first-time moms are highly stressed," Ahistus said. "It takes a while to learn how to properly care for the cubs. She had a steep learning curve, but figured it out after a rocky road the first few days. Charlie and her cubs are doing great, and the cubs are exploring their yard more and more each day."
In the near future, the cubs will continue to live in the birthing yard and will be difficult to spot from the Gosdin Scenic Drive.
"In the next 2-3 months, they'll be moving out onto the tour route," Ahistus said. "To see cheetahs to a greater degree than driving by the facility, the option is an Adventure Tour. That could mean walking through the facility with me or another member of the carnivore staff, learning about our cheetahs and how we manage them. People with an interest in our cheetah program could request it as a focus of their Adventure Tour."
With the birth announcements of black-footed cats, Mexican wolves and now cheetahs this spring, hard work is paying off for Ahistus, Sharkey and Carnivore Specialist Tessa Townsend.
"Fossil Rim has been a leader in cheetah conservation for the past couple of decades, and we are constantly working to improve cheetah management, not only at our facility, but throughout North America, by training staff from other facilities and offering advice and assistance in the many challenges and problems that arise while managing cheetahs," Ahistus said. "It is truly an honor to be involved in such an amazing program and organization. I look forward to continuing the work we do with this species and all of our other programs. Kudos to the staff, interns, and volunteers – both past and present – who have aided in Fossil Rim's success with this species."
-Tye Chandler, Marketing Associate