If someone were to make a list of the coolest offerings at Fossil Rim Wildlife Center, it should not take long before the words "Discovery After Dark Program And Tour" are penned.
The dynamic duo of Andrew Bullard and Cassidy McDonald recently went in-depth on how awesome Discovery After Dark (DAD) is and why.
First of all, it is essential to understand what the event entails. It begins with an interactive learning experience, followed by a guided sunset and after-dark tour with red spotlights, then wraps up with a nature hike. The entire experience lasts about three hours.
"I think this tour is really cool because it shows you the park in a different light – or lack thereof," Bullard said. "A lot of the animals behave differently, led by the (mountain) bongo. I think, even more so than a day tour, this makes you feel like you're in Africa.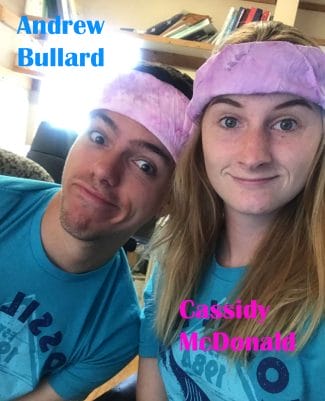 "At the same time, a lot of Texas natives (animals) tend to be part of this tour, while you won't see most of them during the day. I should also mention the sunset will be really pretty."
McDonald said the DAD is the favorite Fossil Rim event for her to work, as well as Bullard.
"Sometimes, we see the giraffes in places I've never seen them during the day, especially up on Cheetah Hill near the cheetah yards," she said. "Other animals will show up in unusual places, while some will obviously be asleep. The Texas natives really come out to play.
"We see skunks and raccoons. One time, I counted 32 jackrabbits, which is still the record, I think."
If you have visited Fossil Rim before and wished there were fewer vehicles, this is the tour for you.
"Being alone in the park with just our one or two vans is really cool, because we have the whole place to ourselves," McDonald said. "We are the only people there except security and the people at The Lodge and Safari Camp who are staying overnight."
What about the atmosphere in the park for this event?
"We hear a lot of frogs, I've noticed," Bullard said. "The atmosphere is different. We're out with the spotlights, which I think adds to the safari feel."
As previously mentioned, the spotlights use red filters.
"The spotlights help us see the animals out in the park, as the light reflects off their eyes," Bullard said. "They are red spotlights so they don't disturb animals that are bedded down with bright, white light. The red is less harsh to them."
In fact, usually the children on the tour take turns being in charge of the spotlights.
Mountain bongo are the unofficial "spokesanimal" of this event, but why?
"The bongo are so much more active during this event, since they are crepuscular (active at dawn and dusk)," Bullard said. "You get a close encounter because they will actually come up to the van, compared to during the day when they are hiding in the trees. I think that's why they are a great animal to represent this event."
Also in the Buffer Pasture, McDonald mentioned that the greater kudu are less shy than they would be on a day tour.
As for the new addition to the event, what about the after-dark hike?
"After we discussed DADs with (Director of Education) Jennifer (Arledge), we felt there was something missing from this event," Bullard said. "We could provide another cool, after-hours activity, and adding a hike is a good way to incorporate more of the nighttime Texas experience. We want to hear more animal sounds and see more stars. Sometimes, you get a great view of the Milky Way, which is really cool."
Like seeing the Texas native species, stargazing is something "big-city folk" may not have done before.
"We often have guests from Dallas, Fort Worth, Waco or another larger city, so giving them the opportunity to really appreciate the stars – we've heard guests on camp nights say it's amazing to see all the stars," McDonald said. "A DAD is a great time for the stars to shine. It's mostly a nature walk, but if the group is really feeling it, we'll turn it into a real hike."
McDonald said there is a gray fox and a pair of armadillos that live close to one of the trails and might be likely to make an appearance.
"Of course, it's not required that anyone do the hike portion," Bullard said. "If you want to stay a little later and do a bit more stuff with us, that's an option."
To hop out of order, considering it is the opening portion of the event, what about the "interactive learning experience"?
"We talk about animal senses and how they adjust at night because their eyes don't work as well," Bullard said. "We talk about animal adaptations to survive at night. We do a couple of fun activities showing how our senses compare to animals that we could potentially see out in the park. Humans are great, but these animals are better equipped to be active at night."
McDonald said to expect a discussion about the adaptations of the Texas natives. Those species are featured more in this event than just about any other Fossil Rim offering.
"I love when we have kids who have never seen skunks, raccoons or other nighttime creatures before," McDonald said. "Sometimes they are scared, but not so much after we see those Texas natives and talk about them."
The pair were asked about a memorable moment from the two years they have given the DAD tours.
"My favorite memory of a DAD, besides trying to count jackrabbits, is when I got stuck within the addax herd," Bullard said.
"All of the addax were asleep, they woke up and surrounded our vehicle and just would not move," McDonald added. "They thought it was midnight snack time."
"I didn't know what to do," Bullard said. "We couldn't call animal care (staff) because they were at home. It was really cool to see the entire herd there.
"To have (dozens and dozens) of a critically endangered species is a testament to what Fossil Rim is doing. Eventually, we were finally able to move on."
The April DAD is full, but other installments in 2019 include May 10 at 7-10 p.m., June 14 at 7-10 p.m., July 12 at 7-10 p.m., Aug. 23 at 6:30-9:30 p.m., Sept. 13 at 6:30-9:30 p.m., and Oct. 21 at 6-9 p.m.
"DADs are great in the summer because the heat doesn't affect this event," McDonald said. "The animals that were hiding from the heat of the day will be out and about."
Participants meet at the EcoCenter, located at Fossil Rim's Overlook area. The cost for a DAD is $35 per person.
"I think this event is one of the best deals at Fossil Rim by far," Bullard said. "You get a full guided tour, plus an educational class, plus a hike – all for $35," Bullard said.
DADs are for people age five and older. For reservations, call (254) 897-2960.
"This is a cool, once-a-month event the whole family can enjoy," Bullard said. "If you are on a date, this is a great option for that, as well."
-Tye Chandler, Marketing Associate