Scientific Name
Acinonyx jubatus
Species Survival Plan
Yes
Habitat
Savannah and open woodlands
Predators
Lion, hyena and man
Food
Wild - small antelope, the young of large antelope, warthog, hare and game birds
Captivity - commercially prepared meat with added vitamins and minerals, rabbits and deer
Originally Native To
Africa, small remnant population in Iran
Height
Over 36 inches at shoulder
Characteristics
Yellowish-gray coat with black spots; face marked with dark lines from corner of eyes to corner of mouth; long legs and very long white-tipped tail
Gestation Period
93 - 94 days
Offspring
Litters of 1 - 7
Lifespan
Wild 7 - 9 years
Captivity 15 years
Social Behavior
Solitary animals; males are territorial and brothers form small, permanent groups; females tend to avoid each other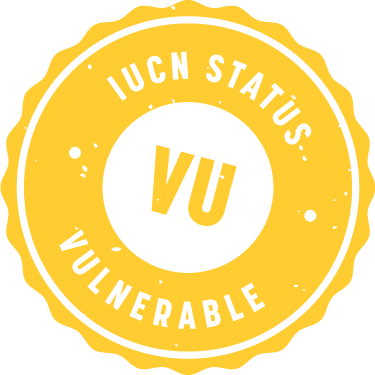 The sleek cheetah is built for speed and can accelerate from 0-45 mph in 2.5 seconds, reaching a top speed of 60-70 mph. However, it can run only 300 yards at peak speed.
The oversized nostrils, flexible spine, enlarged heart and increased lung capacity make it the swiftest hunter on land. Blunt, semi-retractable claws and special paw pads grip the ground like cleats for traction, and the long muscular tail acts as a rudder to counteract its body weight during a chase. With a footprint that has claw tips visible, it looks more like a dog's print than a cat's print.
A greyhound-like body is streamlined over light bones. Cheetahs have small collarbones and vertical shoulder blades, which are not attached to the collarbone, as well as hips that swivel on a flexible spine. These structural adaptations help lengthen their stride and provide superior acceleration.
A cheetah's stride at top speed (23 feet) is about the same as that of a racehorse running at 43 mph, but a cheetah will complete four strides per second. Cheetahs are completely airborne almost half their running time. Prey is hit from behind with a downward stroke of the forepaw.
The cheetah lunges for the throat and secures a grip on the windpipe to suffocate its prey. Small canines only penetrate a shallow depth, but its skull is designed to give the cheetah a vise-like grip. The smaller teeth also accommodate larger nasal passages that enable quick air intake.
A cheetah's eyes have elongated retinal foveas, giving them a sharp, wide-angle view of their surroundings. Their small, flat-faced heads allow their eyes to be positioned for maximum binocular vision.
A cheetah's spots may serve as camouflage for both hunting and hiding from predators. Like a human fingerprint, a cheetah's spots and the ring pattern of its tail are unique, enabling researchers in the field to identify individuals.
Even with all these adaptations, only about half of chases for prey are successful. Without large teeth, cheetahs' fighting abilities are limited. Larger, stronger cats like lions easily overwhelm them, so cheetahs tend to opt for flight versus fight.
Cheetahs will only eat freshly killed meat and lose many kills to larger predators such as lions and hyenas, or even groups of vultures. These predators will also kill cheetah cubs and account for an extremely high percentage of cub mortality in the wild, but cub mortality is also high in captivity.
While most cats are nocturnal predators, cheetahs are primarily diurnal, hunting in the early morning and late afternoon. Since they depend on sight more heavily than smell, they like to scan the countryside from a kopje, or the top of a termite mound.
Cheetahs eat small antelope including springbok, steenbok, duikers, impala and gazelles, as well as the young of larger animals including warthog, kudu, hartebeest, oryx, roan, and sable. They also eat game birds and rabbits.
Female cheetahs without cubs live a solitary life with large territories, which often overlap with related adult females. Males and females come together only during breeding episodes that can take place any time during the year. The male plays no part in rearing offspring.
Cheetah litter size generally ranges from 1-6 cubs. A cheetah mother will keep her litter for about 1.5 years, teaching them to hunt and care for themselves. The males will then disperse together and usually live as a coalition for life.
Female offspring will stay together for about six more months, but will then become solitary except when they have a litter. However, they will usually still occupy the same range as their mother.
Sexual maturity occurs at 18-23 months. When males reach sexual maturity, they seek out an area far away from their mother. Coalitions will claim a territory in an environment that is likely to attract herds of gazelles, such as an area near water.
Communication among cheetahs is achieved with a series of purrs, barks, growls, chirps, and hisses that are unlike those of any other cat. A non-roaring cat, the cheetah can sound exactly like a bird – especially when young.
Fossil Rim has played an important role in the conservation of cheetahs since 1986 when the first litter of babies was born. Breeding success has been historically difficult in the captive population.
Cheetahs have very low levels of genetic variation compared to other mammals, making them susceptible to disease. This genetic similarity may have developed due to a several population reduction that occurred about 10,000 years ago.
There are approximately 7,000 cheetahs in the wild. The global captive population is roughly 2,000.
Fossil Rim has diligently worked to provide a comfortable, stimulating living environment, multiple mate choices (especially important for cheetah females), a varied diet, large enclosures, and the least amount of stress possible.
Fossil Rim has two cheetah areas that combined can house 25-plus cats. One area is located on the Gosdin Scenic Drive and the other is in the Intensive Management Area.
ANYTHING YOU GIVE HELPS THE ANIMALS
As a private nonprofit corporation, Fossil Rim does not receive national or state government support. Every cent spent or donated here goes in some way, directly or indirectly, toward the care of our animals.