The sky may have been dreary above Fossil Rim on Nov. 5, but the forecast definitely called for fun.
Brave youngsters from a Wish with Wings and Ronald McDonald House Charities were on the scene to embrace amusement and put aside their medical battles, if only for a day. Between the children and their families, Fossil Rim hosted about 60 people for the event, which was sponsored by Sportsmen's Club of Fort Worth.


"This is our fourth year to visit Fossil Rim," said Lesley Irwin, a Wish with Wings community outreach manager. "This is a day for these kids to get away from the hospitals and everything they go through, so they can just enjoy the animals and being a kid without any worries."
While each child may face his or her own hardships, they are all tough as nails by necessity.


"It is unbelievable what these kids go through, as far as the adversity they deal with," Irwin said. "The joy and happiness we try to give them, along with Fossil Rim hosting us – it's an outstanding program."
Irwin does not have to speculate about the enjoyment of this annual event.
"These families love this," she said. "We have one family who looks forward to coming back every year, and a lot of families ask when they can come back."


Some of the visitors thought the rainy conditions could be a problem, but not so fast.
"The animals really liked this cool, rainy day, which surprised me," Irwin said. "It's a lot of fun."
Fossil Rim's Stephanie Longinotti gave one of the two guided bus tours.
"To see their smiles is what makes my whole day," Longinotti said. "For them to get away and forget some of their problems for a day – that's what this is about. It is fulfilling to be able to be part of their experience."


There were some interesting characters on her bus. One third-grade girl, for example, is not a fan of most stereotypical children's food items but is a huge sushi enthusiast.
"You do meet a variety of kids at these events, and they all seem to be taking their problems in stride," Longinotti said. "It's a lesson for all of us, I think."
After the guided tours gave way to a pizza lunch, a father and grandmother shared how their favorite young man was enjoying the experience.


"This is Landon's first time here," said his father, Robert Kimich, about the three-year-old boy from Plantersville. "It has been awesome. It's very important to have a day like this, because he spends the rest of the week in the hospital."
"Landon really enjoyed the giraffes and deer," said Patricia Kimich. "He was diagnosed with cancer at seven months, and has been in treatment for three years. He is a very tough, little guy. Landon had chemo a week earlier, and now he's up running around."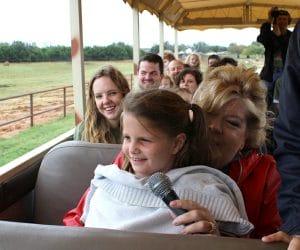 Landon was one of the children attending from Ronald McDonald House Charities.
"We really appreciate Ronald McDonald House, and we've been staying there over a year, off and on," Patricia said. "It's our home away from home. For them to help us be a part of an event like this is great."
After lunch, each child and their siblings were able to choose a free toy from the Nature Store. From there, the crew headed off to Wolf Ridge Nature Camp to make enrichment toys for the Children's Animal Center goats and the resident Vietnamese pot-bellied pig.
"Preparation starts around January each year for this, as far as planning," said James Morgan, assistant director of education. "About four months out from the event, we start to get all the details set. We work with Simple Simon's Pizza, plus several departments at Fossil Rim like development, marketing, tours and our Overlook Café."


Events like these often show seamless teamwork within the education department.
"We all have roles, and these events are a team effort," Morgan said. "Mark (Phillips), Katie (Hunholz), Caitlin (Pyle), Ellie (Helton) and me – it really helps that we're all on the same page. We have a facility where we are able to host a great day for kids and give them experiences they probably won't see anywhere else. We love to see them enjoying the safari experience."
Pyle, a conservation education intern, discussed the day with a broad smile as the group headed to visit the Children's Animal Center and gave the animals the just-made enrichment items to cap off the day.


"It was so fantastic to be a part of a Wish with Wings and get to meet these kids and families," Pyle said. "We wanted to make it an exciting event for them. This is all about teamwork in our education department. Bringing Fossil Rim to these kids was special."
As the goats and pig gleefully tore into the Cheerio and hay-filled presents the children made for them, Pyle knew the day was a success.
"Here we are giving this awesome opportunity to these kids, and now they give back to our animals with these enrichment toys," she said. "It warms my heart to see it come full-circle."
-Tye Chandler, Marketing Associate