Located halfway through the Scenic Wildlife Drive at the Overlook, the Children's Animal Center (CAC) is always free to the public and can be separate from visiting the rest of Fossil Rim Wildlife Center if visitors so desire.
"We have visitors from the local community, as well as people who just pass through to check out our animals," said Amber Wiedeman, CAC supervisor for the last three years. "It's a good facility for people to stop in, relax, learn about and enjoy the animals."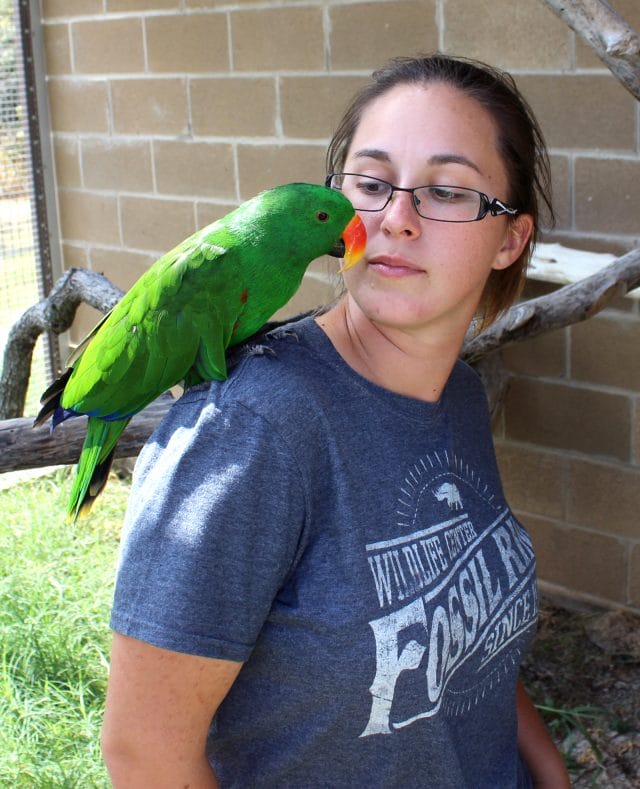 Aviaries take flight
Bird species play a prominent part of the CAC experience.
"Since 2010, we have steadily improved the CAC, including the construction of new aviaries that now house longtime residents," Wiedeman said. "Visitors will see two bare-eyed cockatoos, two blue and gold macaws and one Eclectus parrot. Two additional aviaries should be completed this fall, along with a flight specifically built to house a small group of Attwater's prairie chickens. This will give visitors the opportunity to see one of the most endangered species of birds, as well as a native of Texas."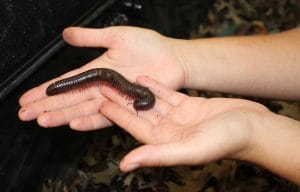 Funding contributed by guests has significantly helped support the facility improvements to date.
"We plan to add another Texas native bird species for education and awareness once the new flights are completed," she said.
CAC hosts variety of residents
Visitors on the lookout for much larger birds will find two emus at the CAC.
"Einstein, who is well-known by our repeat guests, has been here since 1995," Wiedeman said. "In 2014, we added a female named Ume. A couple of years ago, we had six emu chicks that were hand-reared at the CAC where guests could watch them develop. Ume is the only one that stayed while the others returned to the pasture."
There are program animals housed near the CAC, including a western hognose snake, a corn snake, African giant millipedes and a Chilean rose-haired tarantula.
"I help with the care and management of the program animals for our education department," she said. "Once we get the barn redone, the intent is to have those guys on display. That way, guests can see them anytime they want and not just during program demonstrations."
There are two Texas tortoises and two African spurred tortoises. The Texas tortoise is the only tortoise species native to Texas. It is listed as a threatened species.
The African spurred tortoise is much larger, capable of growing up to 200 pounds. These two species differ in other ways, including the fact that the Texas tortoise hibernates and the African spurred tortoise does not.
Hamlet the Vietnamese pot-bellied pig is a longtime resident.
"Hamlet has been here since he was a baby in 2009," she said. "He needed a home, and we thought he would be a good educational ambassador."
Pot-bellied pigs are very intelligent and can even be taught for target training to help with care of the animals, such as checking their feet and ears regularly between annual physicals.
The most populous animals at the CAC are goats, a number of which are Nigerian dwarf goats.
"Especially with the goats, a lot of kids don't otherwise get the chance to interact with an animal like that," Wiedeman said. "It's good to explain to children how, like giraffes, goats are ruminants because they have four-chambered stomachs."
While goats are fairly common in the region, they are another good ambassador species and comfortable around CAC visitors.
Education and training
There are a number of creative signs hanging throughout the CAC that help make learning interesting for children and adults alike. A large sign hanging beside the entrance to the outside animal area, which was a project done by a former intern, compares ostriches to emus.
"Part of our mission here at Fossil Rim is educating, and a big part of that is our internship program available to train future professionals in this field," Wiedeman said. "These individuals who come to participate in the program not only learn about the care and management of the species they work with, at the CAC in particular they learn to pass on that knowledge to the public."
Intern contributions are on display throughout the CAC.
"Some of our intern projects are set up as education projects to help encourage kids to learn more about these animals," Wiedeman said. "'Antlers versus horns' is actually a common question, and we explain that, as well as the pseudo-horn of a rhino. We explain 'turtle versus tortoise,' too. As for our interns, they also complete an animal project during their time here, in addition to an education project."
There are special activities often scheduled at the CAC. To check out what's coming up, call 254.897.2960.
"Our goal here is to educate the public, but people can also have a fun experience interacting with these animals," Wiedeman said. "Come ask questions. I love talking to people about our animals."
-Tye Chandler, Marketing Associate