The mix of motivation and energy led to a lot being accomplished on Good Friday during a corporate volunteer project at the Overlook.
Volunteers from SAP Concur, a company that provides travel and expense management services to businesses, made their biannual visit for the benefit of Fossil Rim. They teamed up with Fossil Rim's Support Services Department and Natural Resources Department to give the picnic area on the far side of the Overlook Café a makeover.
"This picnic area often gets overlooked, so we were hoping to make it more welcoming where people would want to come over here," said Natural Resources Manager Caitlin Pyle. "It's a big area for families to bring their own lunches or have birthday parties. Our education camps can come have their lunches here, and maybe our volunteer groups. This is a good spot to be among Texas plants and wildlife, appreciating nature and the good weather.
"Guests were occasionally coming over to this area, but it just wasn't being utilized like we knew it could be. We have big plans to turn this space into a place people want to be, and there are future projects coming down the line that I'm working with support services on in that regard."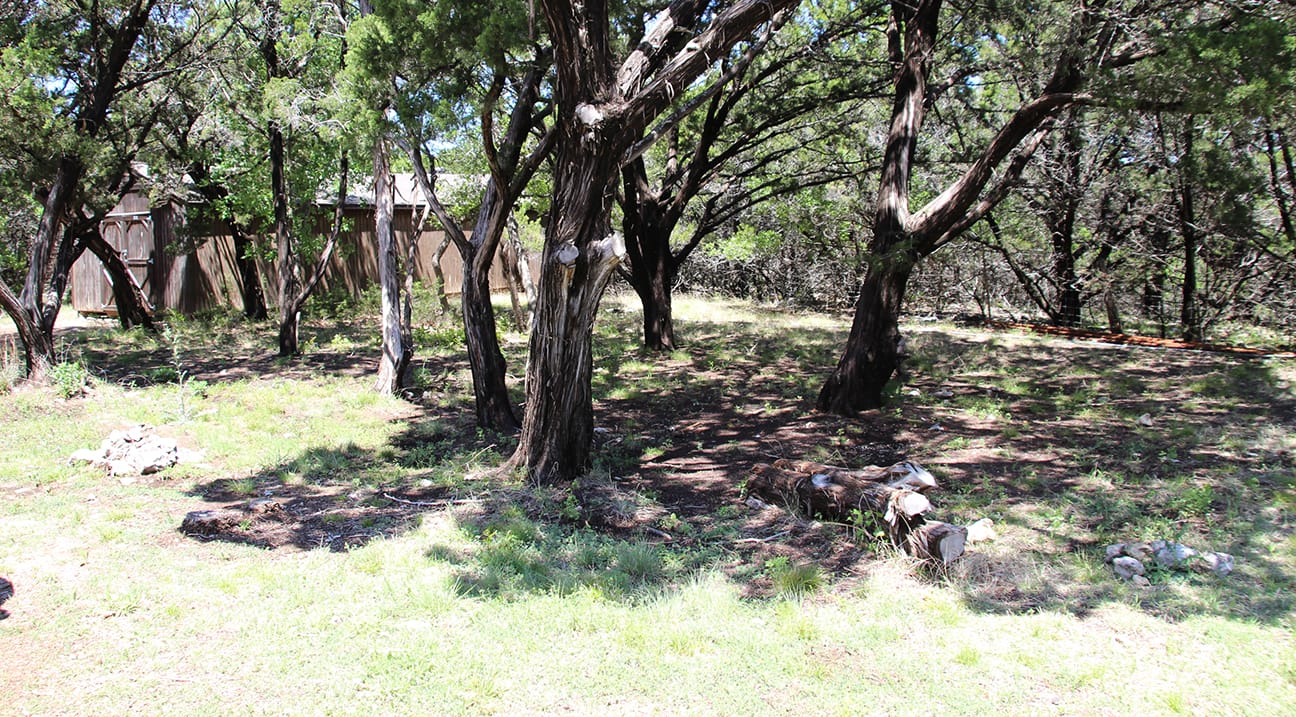 In advance of the Concur volunteers making the trip, Fossil Rim staff spent the previous days planning the project.
"This project has been something under consideration for a while, and now we were able to make it a priority," Pyle said. "When I told support services that we had dozens of volunteers coming out, they were ready to make this happen. Chris (Boyd), Jerry (Monroe), Richard (Freeland), Rowdy (Brown), and Louis (Pienaar) devoted their day to this project and were here working 90 minutes before the rest of us. We've been excited and prepping for this all week.
"We had the perspective of the engineer, the carpenter, the landscaper, the biologist, the educator – everyone has their part to play and it makes for a better project. One of the strengths of Fossil Rim is pooling our efforts to accomplish goals. This is a public space at Fossil Rim and it reflects on all of us, so everyone wanted to do their best for the organization."
Some people were working to repair and upgrade old picnic tables, some were trimming trees and loading branches into a trailer, while others were spreading mulch throughout the picnic area.
"The tree trimming created an opportunity to collect some browse for the giraffes, and our volunteers thought it was especially cool to help with that," Pyle said. "Support services brought in six trailer loads of mulch from the Somervell County Transfer Station. We are able to take that mulch for free as part of their wood recycling program.
"A lot of our dead wood is taken to the transfer station to be turned into mulch, so it's come full-circle. Mulch is a natural ground cover that will slowly break down and create more fertile soil underneath."
Like a swarm of worker bees, the Concur volunteers were all over the place, tackling any task that was asked of them. Most of the adult volunteers brought their children, who did not hesitate to get in on the action.
"These Concur volunteers are so hardworking," Pyle said. "It is great to see these families enjoying their time together as this space changes before their eyes. Another aspect of the Concur group is the enthusiasm they bring. This is a workday, but these kids are getting to spend the day out here in nature appreciating it.
"It must be like a field trip for some of them. When you have children volunteering, sometimes the planning can be more difficult, but within this project there are a lot of kid-friendly duties.
"We've had them collecting rocks and placing them around the trees, plus collecting smaller branches to put in the trailer. While this is going on, some of the younger kids from Concur are volunteering at the Children's Animal Center, helping with food prep for our ambassador animals and making paper mache balloons for animal enrichment during our Earth Day festivities."
As Pyle was explaining the project, a visiting family came over and sat down for lunch at a picnic table that had been repaired just minutes earlier.
"We have several corporate volunteer groups, such as Mazuri (Exotic Animal Nutrition), but the enthusiasm you get from Concur volunteers is as good as you'll find," Pyle said. "I know some of these volunteers from previous projects, and it is so great to develop that familiarity. We'd love to have other corporate groups join us in the future."
It sounds like the role of support services in volunteer projects will continue to expand.
"It is becoming more common that our support services department gets to team up with the public," Pyle said. "The education department asked them to help with Badgefest activities for a (Girl Scout) woodworking badge, and I heard that everyone involved enjoyed that."
How did the project go from the Concur perspective? Darin Richolson, lead consultant on Concur's Implementation Services Team, made his second trip to Fossil Rim as a volunteer. He was a tree-trimming extraordinaire.
"We have what are called 'Concur SAP Care Days'," he said. "We get one day per quarter to go volunteer for our favorite charity; this is done throughout our company around the globe. Our group here from the Dallas-Fort Worth area consists of people from our main Allen office and our remote team. We have 'engage ambassadors' that arrange our participation in events like this."
Even as he was working as hard as anyone, Richolson noticed the bevy of activity all around him.
"I think we had 30 people signed up to volunteer today, but it seems like 60 with all the work that we've done," he said. "I'm interested to see the before-and-after picture. It's been great. Lots of mulch moved around, trees trimmed, plus the weather is awesome today."
Richolson's teenage daughter was right there helping him out every step of the way.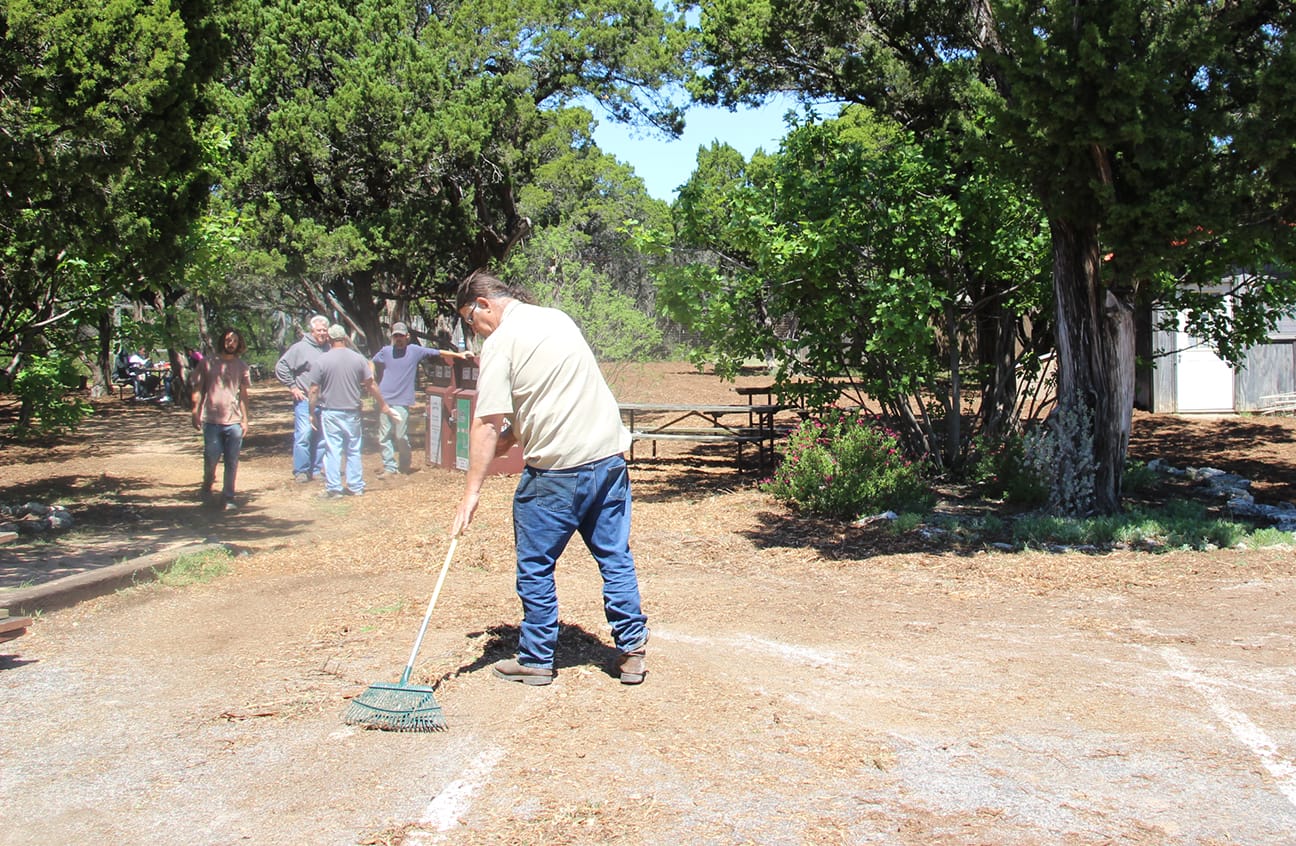 "I think it's always good to be able to teach your kids to give back," he said. "When I was growing up, I didn't have many (volunteer) opportunities like this, but I want my daughter to have these experiences and volunteer for things she is passionate about. It is a huge plus that this visit ended up on Good Friday.
"My daughter wanted to help the last time we came, but that was on a school day. I think that's why we have so many kids here; this is well-timed."
For safari purposes, Richolson estimated he has visited Fossil Rim with his daughter "about a half-dozen times".
"We've been visiting Fossil Rim since she was a little girl, and she's 17 now," he said. "The Overlook facilities have undergone some great changes over the years. We love going through the park, feeding the giraffes; it's a lot of fun. It's neat that Fossil Rim is helping these species and then taking some of them back into the wild (for reintroductions)."
Richolson hopes to continue volunteering at Fossil Rim in the future.
"We make this trip as a volunteer group twice a year in the spring and fall," he said. "It's a little different than some of the other volunteer events we do, plus we get to go see the animals at the end of the day. It's a lot of fun."
-Tye Chandler, Marketing Associate