Selina Zalesak was more familiar with Fossil Rim than most veterinary preceptees upon her arrival, and she knew there was a lot to be gained from six weeks of hard work at the wildlife center.
The Baytown (TX) native, who was at Fossil Rim from Jan. 21 to March 1, enjoyed visits from Dr. Julie Swenson to her university on several occasions.
"Julie has visited my vet school at Texas A&M to help us with some labs and she's spoken at our meetings," Zalesak said. "I've continually invited her back to talk to the various clubs I'm an officer in. I first found out about Fossil Rim when my now-husband brought me here to propose to me at (Foothills) Safari Camp. I fell in love with this place at that point, so I was really excited when Julie visited us.
"I talked with her at A&M and got the opportunity to come visit the animal health department a couple of times before this preceptorship. Every year, we bring students who are interested in exotic medicine on a Behind-the-Scenes Tour here.
"Julie's visits have really helped Fossil Rim become well-known among those in the veterinary program at A&M. The tours department here has been very helpful in coordinating tours for us when we travel here from the university."
After earning her undergraduate degree at Texas A&M University at Galveston in marine biology, Zalesak headed to College Station for veterinary school. She will graduate in May.
"Compared to most of my other externships, this has been a lot more hands-on," she said. "It's been a much more immersive experience than a lot of student programs out there, and that's fantastic. You feel supported by the people here, but at the same time, you are challenged to grow through the various experiences."
She was asked about some of the most memorable events from the month-and-a-half at the wildlife center.
"Getting to pet a baby rhino is definitely a peak experience," she said. "There are two babies playing together and they are so sweet. Getting to work with maned wolves has been fantastic. Also, getting to play an active role in cheetah reproduction for the electroejaculation study was incredible; the breeding program here is so important to that species."
Her favorite species at Fossil Rim is black-footed cats.
"My favorite individual animal is a sable whose horns are actually backwards, but she is still beautiful," Zalesak said.
Shortly before returning to school, she did a presentation on carnivore vaccines for Fossil Rim staff, interns and volunteers.
"It was a great learning experience for me, and hopefully it helped some people understand how we choose the vaccines we do," she said. "There are a lot of considerations for these exotic species. You want to be careful to not actually cause illness when you vaccinate. It was nice to share what I'd learned with people and have some meaningful conversations after the presentation.
"The whole reason it piqued my interest is my very first week here we vaccinated the maned wolves. They have some unique vaccine requirements as a species unlike any other. It was nice to discuss their vaccinations with the people who take care of them and have everyone on the same page."
It was not just the animal health department that helped Zalesak maximize her time at Fossil Rim.
"(Dr.) Holly (Haefele), Julie, (Dr.) Becky (Eddy), and (Veterinary Technician) Allyssa (Roberts) have been so helpful and taught me so much," she said of the animal health team. "I really appreciate their time invested in me. Across the board, this is one of the best animal care staffs I've ever had the opportunity to work with. Everybody is fantastic, helpful, and super knowledgeable.
"I have to give a shout-out to (Director of Animal Care) Adam (Eyres). He was great to allow me to get some animal care experiences. Even if you go to watch a procedure, Adam will always give you a job to do, and I really like his willingness to involve people at all levels.
"I got to shadow (Senior Animal Care Specialist – Hoofstock) Justin (Smith) in a previous visit here, and he is so knowledgeable that you see him predict some of the animals' behavior. Also, thanks to (Animal Care Specialist – Hoofstock) Tim (Lloyd) for letting me help him with his electroejaculation study in addax."
As is the case for any young, aspiring professional, it is reassuring for Zalesak to have a plan after graduation.
"I have four more clinical rotations back at Texas A&M University Small Animal Hospital before graduation," she said. "I have taken a job in Denver with a private practice that sees small and exotic animals and also works with wildlife rehabilitation organizations. I'm really passionate about conservation medicine, so in addition to my day job, I hope to start working with field conservation projects and going out as a volunteer to assist from a veterinary perspective. Hopefully, in the long term, I am able to steer my career in that direction."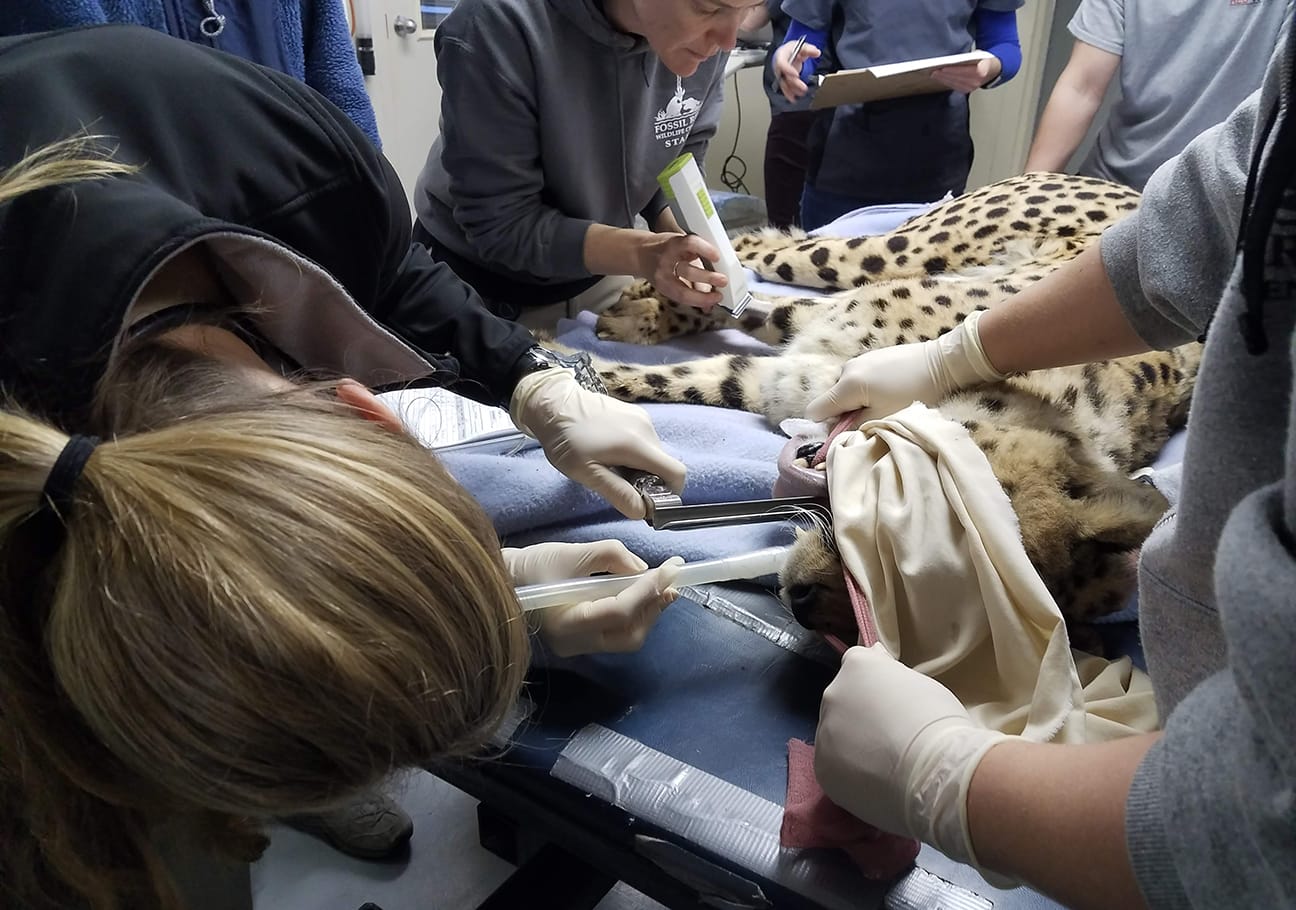 Zalesak pointed to some of the ways her skills have improved as she gears up for her professional transition.
"In this environment, I learned to stay calm in stressful situations and be aware of everybody's job and what role they are playing," she said. "I saw that good communication is very important to keeping everybody, including the animal you are working with, as safe as possible. Some technical skills, like jugular blood draws and catheter placements, I got much more confident in here due to numerous opportunities.
"I learned a new surgical procedure called an epididymectomy, which is a potentially safer and faster alternative to vasectomies. I'd never seen the procedure performed, and it had never been done here. The individual animals we performed it on seemed to be fine afterwards."
Her consistent communication with Swenson has likely steered several veterinary students at Texas A&M in the Fossil Rim direction, but Zalesak recommends the preceptorship experience to everyone.
"Definitely apply, because this is a fantastic opportunity – one of the best you can get," she said. "Apply early, because it is a highly sought-after program. Reach out and see if maybe you can talk with one of the veterinarians, or maybe even visit them with scheduling allows."
For general guests just discovering Fossil Rim, she has a tour suggestion.
"I would recommend the Behind-the-Scenes Tour to anyone, because if you are really interested in conservation, you should definitely visit the Intensive Management Area to see the species Fossil Rim is working with," she said.
-Tye Chandler, Marketing Associate