Gerry Burgess has been a volunteer at Fossil Rim Wildlife Center since 2007, but his interest in the facility began decades earlier.
"I've been coming to Fossil Rim since it opened in 1984," the tour guide said. "When I returned home to Texas in 2007, someone mentioned that if I volunteered at Fossil Rim, I'd get to go out there for free. I thought that sounded great, so I came out for training and learned more and more about what they do. I've stuck with it ever since."
His appreciation for Fossil Rim has really enhanced the experience Burgess is able to provide as a tour guide.
"I'd always enjoyed coming to see the place from the tour van perspective, as opposed to driving through in your own car," he said. "You learn much more that way. I've learned so much about Fossil Rim in these 10 years.
"You learn more all the time, seeing some animal behavior you've never seen before. You never know what you'll experience."
Burgess got his start as a tour guide, and that's what he focuses on now, but there have been a number of other contributions along the way.
"I've helped with a lot of education camp programs," he said. "They dealt with activities like archery, kids making their own costumes and presenting a play to their parents at the end, all aspects of conservation, and a meet-the-staff camp where they learn more about what those people do."
The excitement he tried to help bring to the camp experience still proves beneficial today.
"Some camps were three to four days, while a tour is only part of one day," he said. "So keeping the kids interested during camp was great prep for being a tour guide. I've helped the marketing and membership department by giving VIP tours to donors. I've also done tree trimming, worked at the Children's Animal Center, cleaned up Attwater's prairie chicken aviaries during the winter, worked on tour vehicles – anything that needed to be done."
Through it all, educating visitors stayed at the forefront of his mind.
"Giving tours is my favorite thing, especially with groups of people who are really interested in what Fossil Rim does," Burgess said.
Burgess mentioned a few fellow volunteers he has spent significant time with over the years.
"When I started volunteering, Bob Coleman and I did most of the tree trimming on the roads, and we also did Murder Mystery Tours together," he said. "I also spent a lot of time working alongside Trich Zaitoon and (the late) Jan Bussey."
A resident of Pecan Plantation, which is just a few miles down the road from Glen Rose, Burgess is able to volunteer often.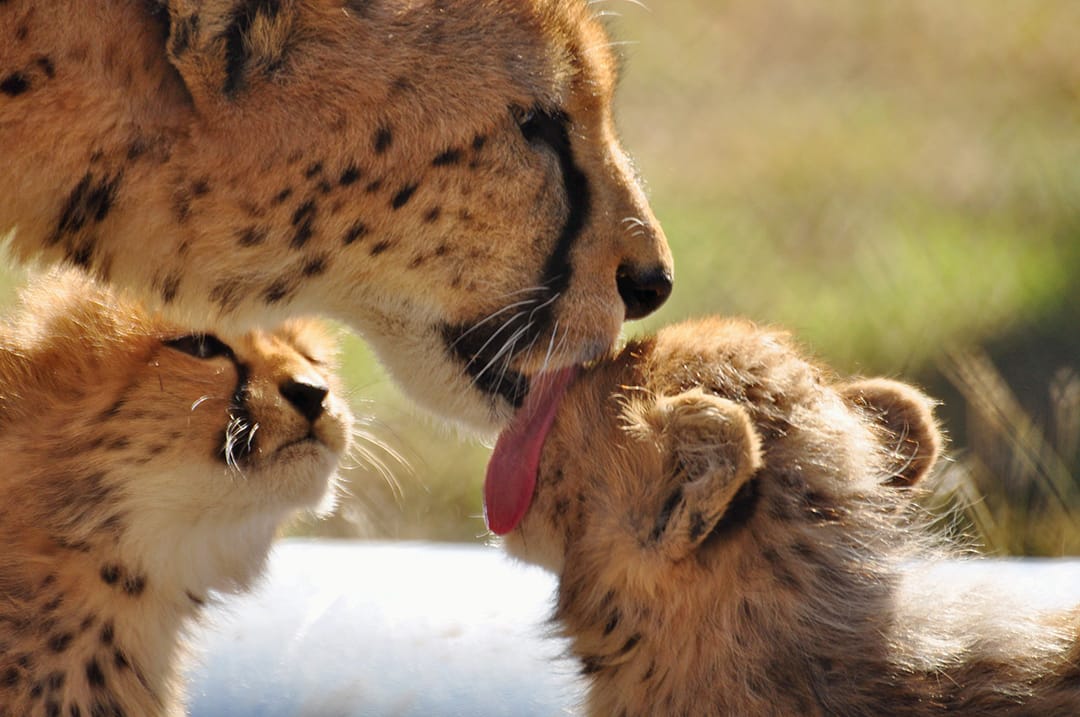 "Cheetahs are one of my favorite species, and the same for rhinos," he said. "I also really appreciate all of the work that is put into the Attwater's prairie chicken program; it's something that a lot of people don't even know we have."
As someone who explains Fossil Rim's mission to guests, Burgess addressed that opportunity.
"Fossil Rim staff believes in every facet of the mission, and as we go around I get the chance to explain to guests how they are striving to carry it out each day," he said.
Look for his enthusiastic wildlife education on a guided tour during your next visit.
-Tye Chandler, Marketing Associate