Preceptees who join the Fossil Rim Animal Health Department always seem to emerge from the experience more prepared to tackle the professional world of veterinary medicine.
That was definitely the case for Los Angeles native Amanda Rappaport, who was at the wildlife center from March 12 to April 19. She is set to graduate from Midwestern University College of Veterinary Medicine in Arizona on May 29.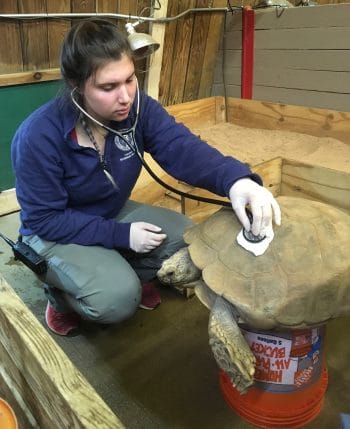 "This was an amazing experience," Rappaport said. "I'm really sad about leaving. I told all my intern roommates I'm going to cry when I drive away. I wish I'd stayed eight weeks instead of six.
"There was definitely a change in my skills and knowledge. Plus, this place is really fun and thrilling to work and learn."
Preceptees find their way to Fossil Rim through various avenues, and Rappaport has the internet to thank.
"I was looking for rotations in the field of zoo medicine, and so you can search the internet for opportunities," she said. "I Googled 'Fossil Rim'. From there, I contacted Dr. (Julie) Swenson and sent her my resume with a recommendation letter."
With this being her first preceptorship at a wildlife center, Rappaport reflected on the experience.
"If you are going to be working with Julie, you should really study your taxonomy," she said. "That was really important for my six weeks. Understand that you are going into a facility where you monitor the animals and see how they are doing.
"You don't do a hands-on procedure at the first sign of something very minor, as you might in a zoo. Plus, there is more of an effort here to keep the wild behaviors of these animals. And the giraffes are awesome here; (preceptees) should know that, too."
When asked about memorable experiences, Rappaport began to reel them off.
"I'd definitely mention the neonate exams – addax, scimitar-horned oryx, Arabian oryx, sable – babies are adorable," she said. "Being part of the (hoofstock) immobilizations to treat parasites and assist with the (scimitar-horned oryx) collaring research project. Interacting with the reptiles and insects at the Children's Animal Center (CAC).
"I held a tarantula for the first time; I had been scared, but I don't think they are that bad now. The tortoises aren't handled by animal health that often, so that was neat.
"I learned a lot from the necropsies we performed. And we were invited to a couple of other zoos for necropsies, so it was interesting to see different perspectives. A big part of finding out why an animal died is using that info to prevent it from happening again."
Rappaport already revealed her fondness for the Fossil Rim giraffes, but what about other species?
"I love wolves, especially Mexican wolves," she said. "Unfortunately, I didn't get to see them here because of their breeding season sensitivities, but to know they were close by and being helped here made me happy. Blackbuck are fun, especially for the males and their interesting courtship behavior."
Rappaport spent most of her time with Fossil Rim's three veterinarians and the veterinary technician.
"The animal health staff was really supportive and patient," Rappaport said. "They taught me clinical skills along the way, such as drawing blood from an array of animals when the conditions might not be ideal. They are all good teachers.
"I learned a lot about fecals and interpreting bloodwork, plus the importance of mineral panels. There's an emphasis on taxonomy; I learned rhinos are more related to horses than to bovine species, which surprised me.
"I worked with a lot of people in animal care, as well as the animal care interns. There were a lot of hoofstock research projects I helped out with. I tried to teach the interns some things I learned from the vet staff, such as explaining necropsies."
Shortly before her term ended, Rappaport gave a presentation to staff and interns entitled "Creepy Crawlie Medicine".
"I looked at the anatomy and medicine of tarantulas, crabs, and honeybees," she said. "Hermit crabs are a big part of the pet trade, and there isn't as much known about (their medical treatment) in captivity as you might think. Tarantulas are becoming more popular with hobbyists, so their medical care demands are growing.
"Honeybees are important in general. It's now illegal to give them antibiotics or medication without a vet prescribing them, so it's more important for vets to know how to treat them.
"After visiting the CAC and seeing the tarantula and Halloween moon crab, I thought this topic could be helpful for Fossil Rim. I added honeybees because I really like them; I wore antennae during my presentation."
After graduation, Rappaport has her plans in order.
"I have a rotating small-animal internship in Albuquerque for one year," she said. "Hopefully, over the long term I'll be working in wildlife medicine, conservation, and rehab. I would love to get involved at a facility similar to Fossil Rim. Exotic animal medicine is sort of like a puzzle, because there isn't as much known about these animals, and I really like that."
Rappaport thought about how her Fossil Rim preceptorship will pay dividends professionally.
"I'm much better at venipuncture now for IV injections, blood draws and anesthesia reversals," she said. "I felt iffy about it before, but I'm more confident now and could help a vet tech out and do my part. It's a clinical skill I really wanted to address when I came here. Drawing blood from an animal that is awake and moving in a drop (floor) chute is something I failed to do at first, but I improved.
"I also gained confidence in procedures in terms of being near these animals. For example, during an immobilization, don't stand in front of the animal's feet. Understand how to be safe around wild animals."
As someone who did not visit Fossil Rim as she was growing up in California, Rappaport knows it can be quite the experience for first-time guests and she hopes they will see the big picture.
"This place is really important for helping save a lot of endangered species," she said. "Scimitar-horned oryx, Mexican wolves, red wolves, and more. These animals are here for you to see them, but they are also here to help protect the future of their species in the wild. Conservation is the top priority here."
-Tye Chandler, Marketing Associate