After months of preparation, Fossil Rim Wildlife Center's Amber Wiedeman could kick back and relax with a smile on Saturday night.
After all, her creation – the Sixth Annual Halloween Spooktacular Extravaganza at the Children's Animal Center (CAC) – had just wrapped up its best installment thus far on Oct. 28. Wiedeman's gratitude was evident in a staff email she sent out the following day.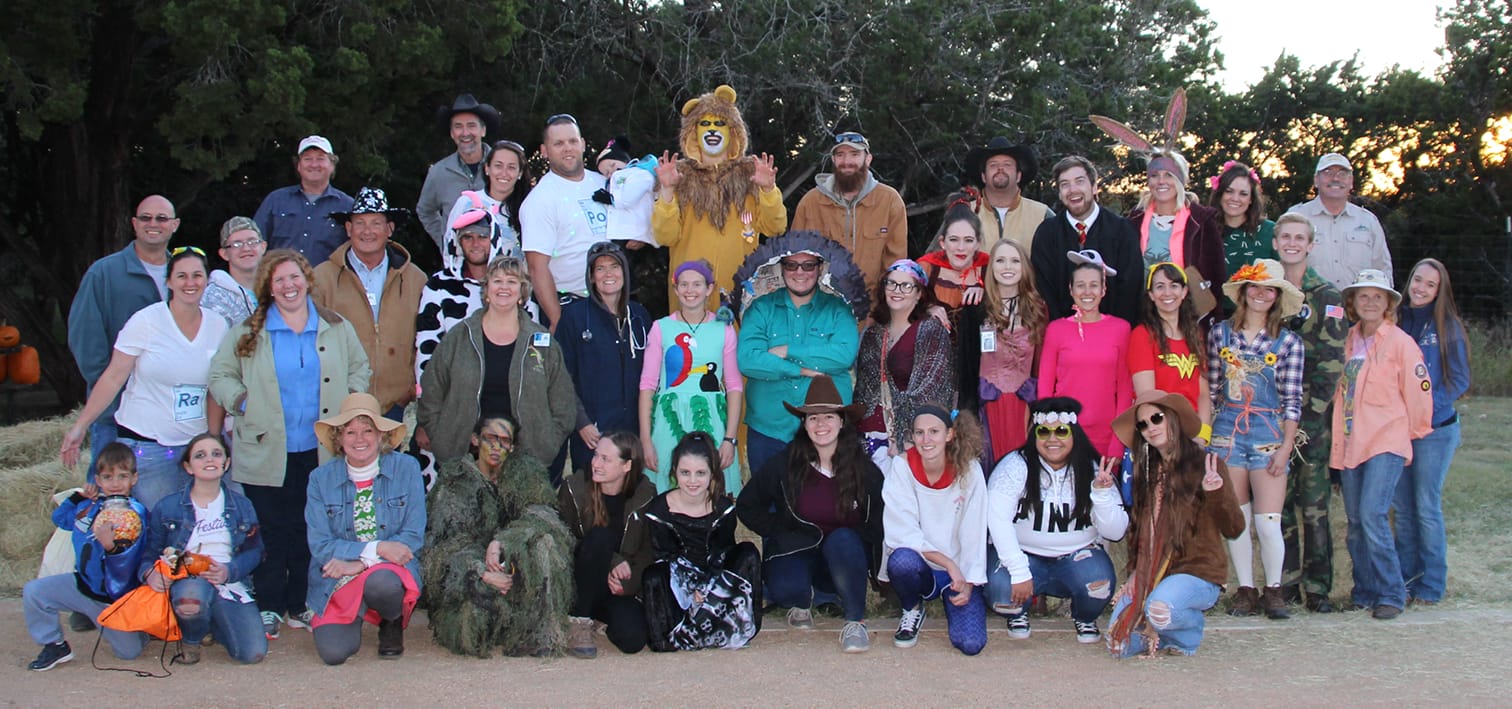 "The event was different this year in that we had more games than ever and needed more manpower to make things run smoothly," Wiedeman said. "Our volume of guests was much larger this year, so I'm glad we were able to accommodate them. Fossil Rim had several other events going on that day, and some of those people really pushed to be able to help us out, too. I am so appreciative to everyone."
One major change this year was condensing all of the roughly 30 activities to inside or near the CAC.
"From talking to guests, it was a nice change to have everything inside or in front of the CAC," she said. "It made organization easier, especially for prize refills."
While the event was free, donations were welcome. There was also a bake sale and animal art – done by CAC animals – available for purchase. Wiedeman said the event raised approximately $1,700.
"That amount is the total estimate of wonderful donations, plus from our bake sale and animal art," she said. "That's a few hundred dollars more than we raised last year. People were very kind. We will use the funds to renovate the CAC; right now, we are redoing our tortoise yards."
Wiedeman talked to some familiar faces who have become regulars at the Spooktacular each year.
"I keep hearing how happy people were that we continue to have this event," she said. "Their kids look forward to it every year. There are some from the local community, but the guests have branched out pretty far from Glen Rose now."
She also made sure to get feedback from some first-time visitors.
"One guest brought her kids for the first time," Wiedeman said. "She told me it was a nice and friendly atmosphere. The amount of different activities we had really catered to the different ages of her kids. I was being told by new guests how our event was creating memories to last a lifetime."
With so much for kids to choose from, Wiedeman pointed to some big hits at the event.
"Sara's Story Corner is a hit, both with kids and adults," she said of a singing and dancing activity with volunteer Sara Paulsen. "It was a top talked-about activity once again. Having the outreach animals on display (in the CAC) was great. The CAC Supervisor Kristina (Borgstrom) did a great job with that. The Hay Maze, which was put together by our Hoofstock Animal Care Apprentice Timothy Lloyd, was barely set up before the event started, and the kids were all over it from the get-go.
"Our Werewolf Watering Hole Woes game was a popular one. Our CAC Intern Bailey (Gensheimer) made it – the one where you toss ping pong balls into fish bowls that each represented a different Fossil Rim species. That was the game that Tessa (Townsend) was mainly working after Bailey had to come help me with prize refills."
With so much to be done, Wiedeman requested some outside help as the event drew near.
"We had some Fossil Rim members offer to help out with the event, which was fantastic," Wiedeman said.
Fossil Rim needs staff, volunteers and interns to team up to pull off several major events each year, and the Spooktacular has definitely evolved into one such occurrence.
"Everybody stepped up to make this year's event take off," Wiedeman said. "I can't even begin to explain my gratitude to work with such a wonderful group of people."
Fossil Rim heavily promoted the Spooktacular for weeks, so guests were undoubtedly expecting a lot.
"As we were getting closer to the event, I was getting nervous like I always do, but we always meet our goal and it sounded like we surpassed guest expectations with this one," she said. "To first-timers and repeat guests: we want to keep you coming back! Thank you to everyone who came out to support the Spooktacular. We look forward to seeing you again next year!"
-Tye Chandler, Marketing Associate