Sydney Jones can see the finish line of her veterinary studies, but in the meantime, a preceptorship at Fossil Rim worked wonders for her education on a variety of fronts.
Set to graduate from Texas A&M with a doctorate in veterinary medicine in May 2020, the Houston native who grew up in Sugar Land was at Fossil Rim from November 4 to December 13.
"I have always been interested in animals," Jones said. "I idolized Steve Irwin when I was young. The concept of having to euthanize an animal was tough for me to accept, but in college I realized that zoo veterinarian fit all of my interests. Working with animals in some fashion has always been where I was headed."
Jones did her undergraduate studies at the University of Wyoming while on a soccer scholarship, focusing on zoology and environment and natural resources. From there, she headed back to Texas.
"I had a couple of older friends in vet school who were talking to me about Fossil Rim, plus (Fossil Rim Associate Veterinarian Dr.) Julie (Swenson) came in 2017 and did a presentation about the scimitar-horned oryx (reintroduction) project in Chad and the learning opportunities available at Fossil Rim," Jones said. "I talked to Julie about (the preceptorship) then, and she said I'd better apply now, which I did. This preceptorship is well-known for being a high-quality opportunity where you get a lot of experience from willing teachers, so I didn't waste any time, because the applicant list is highly competitive."
Jones reflected on some of her memorable experiences in the Fossil Rim Animal Health Department. Prior to the preceptorship, she had visited the facility once last April for a Behind-the-Scenes Tour with one of her school groups.
"Catching the Mexican wolves was really neat," she said. "We were removing the two older pups from the pack, and other wolves were running past. It was great practice for my blood draws in a high-pressure situation. The day we did that was actually my birthday.
"I think of the morning we had to do surgery on the cheetah 'Meadow' after she'd fractured her foot the evening before. It was a six-hour surgery. From when we initially went out to check her injury, then through the whole surgical process, and later the changing of casts – what an interesting experience.
"I also think of all the hoofstock experience I got with the veterinarians. I didn't have much experience with that sort of animal before I came to Fossil Rim, and then I felt more confident about it. We especially worked a lot with scimitar-horned oryx and addax."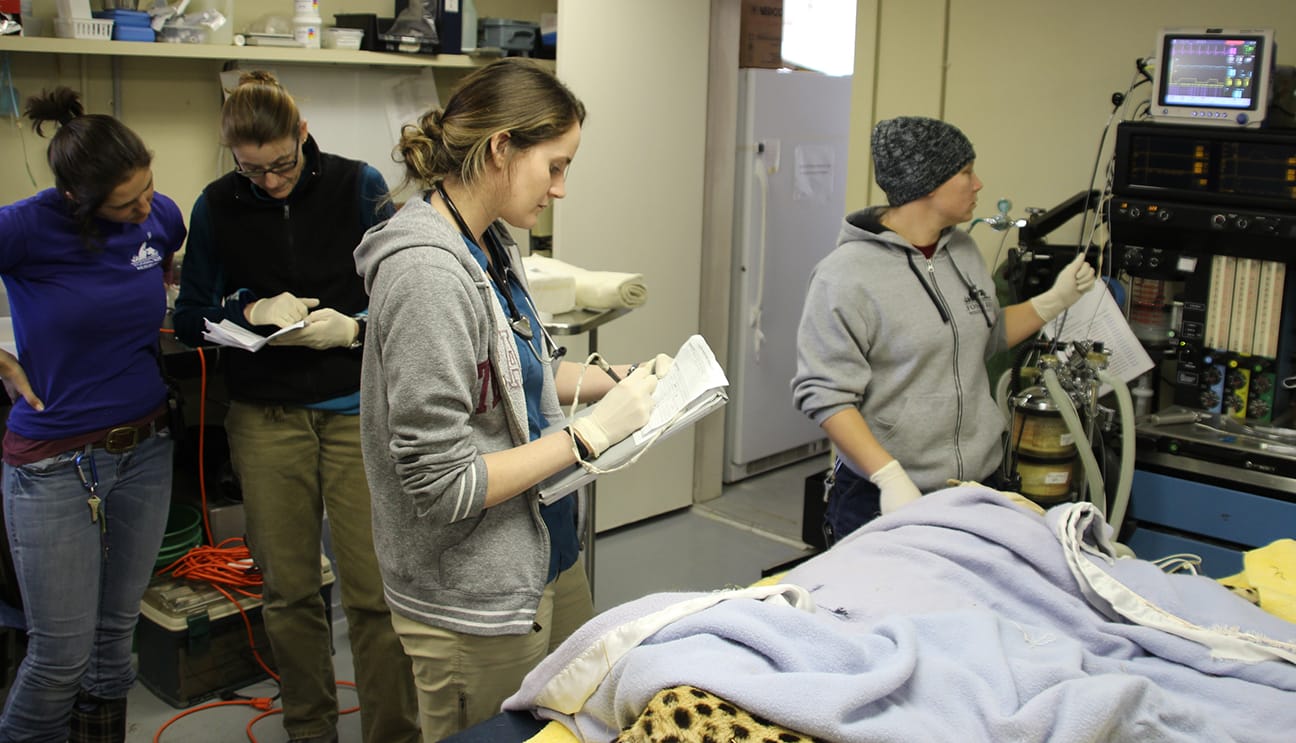 Speaking of working, the ability to do just that was one of the main takeaways for Jones.
"The vets let me do a lot more than I expected to," she said. "At Fossil Rim, there are so many opportunities for hands-on experience. Even though I felt like I knew a lot about this preceptorship, that aspect still surprised me."
Like just about anyone who has ever visited Fossil Rim, Jones has her favorite animal species.
"The giraffes are my favorite," she said. "(Animal Care Specialist – Hoofstock) Becca (McLachlan) showed me around the giraffe barn and I got to help clean it out and feed them. We handled one of the ostriches, which was fun. I really love ostriches, and I did my presentation for staff and interns on ratites.
"I also love the waterbuck, and the waterbuck bull dealt with an injury and pneumonia during my time there, so we immobilized him and treated him. He's doing well now."
Jones expanded a bit on her ratite presentation, which deals with ostriches and emus at Fossil Rim.
"I was reviewing ratite handling and anesthesia, so I talked about natural history, anatomy, physiology, and anesthetic considerations," she said. "Ratites are pretty unique when compared to most animals at Fossil Rim. They don't have many medical issues, so they aren't handled very commonly by the vets.
"But, it's important to stay up-to-date on proper techniques for when it's necessary. Both ostriches and emus are fairly aggressive species, so if they lived in the same pasture, I'd speculate there might be some conflict."
Jones enjoyed learning from the veterinary staff of the aforementioned Swenson, Dr. Holly Haefele, Dr. Lauren Schmidt, and Veterinary Technician Allyssa Roberts.
"Working with them was fantastic," she said. "The thing that stood out to me is everybody gets along so well. I'd never been with a group that has essentially zero conflict, and if there is, it's healthy disagreement for problem solving. Everyone was willing to teach me, quiz me, and make sure I was getting experience. I learned a lot of vet medicine in every area – lab work with Allyssa, darting techniques with Lauren, medicine with Julie and Holly, plus conservation – pretty much everything I was hoping for."
Jones discussed some ways her veterinary skills have improved from the six weeks at Fossil Rim.
"There are a lot of veterinary aspects I feel more confident about since I arrived at Fossil Rim," she said. "Taxonomy, because Julie quizzes you on it daily. That was fun, because I learned it in undergrad, but didn't truly have it down until Julie helped solidify it.
"I got a lot more experienced at blood draws, catheter placement, reading fecal sample testing for hoofstock and carnivores, plus reading bloodwork. We did journal club a lot, which was really helpful to analyze articles."
She is excited about the future.
"Hopefully, I'll specialize in zoo medicine, so I'm applying for internships and want to eventually do a residency similar to what Lauren is doing now," she said. "I hope to incorporate conservation into that, and I'd love to work internationally in small communities."
For those hoping to follow in her preceptee footsteps, Jones had some advice beyond applying well in advance.
"Expect to get dirty, muddy, and smelly, because you will be working hard," she said. "Be prepared for plans to change. The schedule was very fluid, which is the nature of vet medicine in general. That made it more fun, I think.
"The housing is good; you will be several miles from the nearest small town, but there is a grocery store, among other things."
As someone who made her first Fossil Rim visit in 2019, Jones remembers well what it is like for newcomers.
"Make sure you give yourself enough time to go through and see as much as possible," she said. "Don't rush; there is a lot to learn about conservation in a free-range wildlife park."
-Tye Chandler, Marketing Associate