Some restaurants lean on their ambience, while others point to the quality of their menu items.
For Overlook Café Manager Jennifer Hendon-Hooks, she takes the approach that her work is never done as long as there are customers who don't think of the café as delivering in both respects. In fact, she wants to make sure each customer is satisfied on a myriad of fronts.
"I want the guests to have the best customer service we can provide," she said. "I want them to feel welcome and know they can ask questions if they need to. I want them to have the best food we can make and I want it to look good and taste good; I want them to have the best value for their dollar.
"No matter what item they order, it's important that it's fresh and good so they'll want to order it again next time. That way, being able to sit outside and watch the giraffes in the Game Preserve is a big plus about the café and not the only reason to come in here."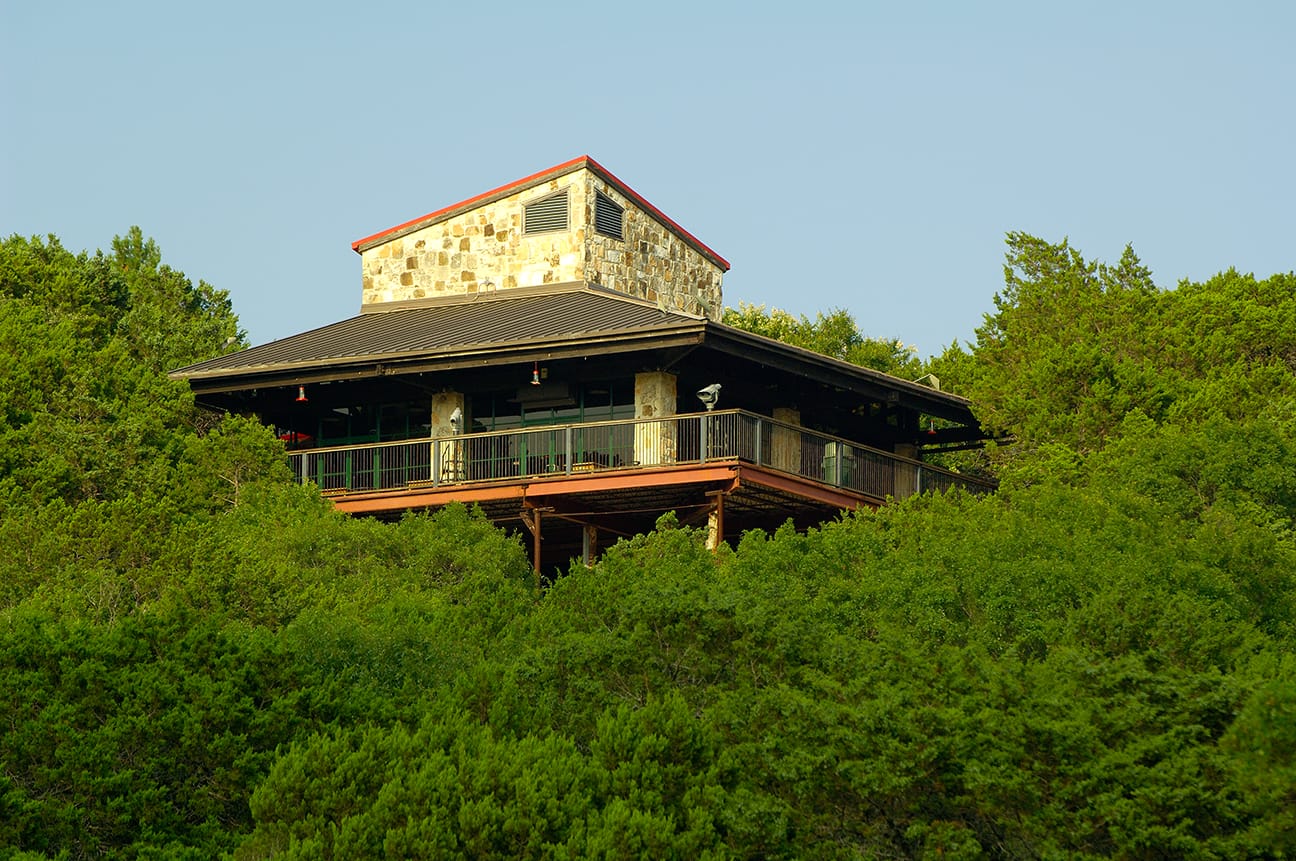 Speaking of the café's outside atmosphere, Hendon-Hooks is a huge fan.
"I've got to rate being able to eat out on the observation deck on a good weather day a '10,'" she said. "I definitely eat my meals out there on those days. Even when you go out there often, you always recognize that it's an awesome view. On the days we have hummingbirds flying around from feeder to feeder, it's even better.
"There are so many varieties of birds you see flying around the café, and they are so beautiful. We even have pasture animals come right up here by the café like zebras and deer."
If, for some far-fetched reason, guests do not want to do their outside dining on the observation deck, there are picnic tables just a few feet from the café in the shade.
"As long as people return the food trays to the trash and recycling receptacle, we are fine with them taking their food orders to those picnic tables," she said.
Hendon-Hooks got her start at Fossil Rim in May 2018 working in the Admission Office. Her tenure as café manager began in December 2018. Before she takes a dive into discussion of food at the café, let us learn more about her background and interest in Fossil Rim's multi-faceted mission.
"I received my Bachelor of Science (Degree) in Wildlife Biology from Tarleton State University," she said. "That's part of the reason why I'm very interested in what animal care, animal health, and natural resources do here. I'm very proud to be involved with supporting endangered animals and conservation of natural resources in any way I can. We have three current Tarleton State students on staff, so don't be surprised if some of us are wearing purple when you stop in for a meal.
"I've worked offshore on an oil platform in the Gulf of Mexico as a galley hand, assisting the main cook. My family owned a restaurant in Stephenville called 'The Dawg House' that I managed. Unfortunately, we opened not long after the September 11 tragedy and the economy took a hit that our restaurant didn't survive.
"Those are just a couple of points in my food service history; I had the restaurant experience needed and I knew I could do this, so I decided to apply for manager. I'd been able to interact with people while working in admissions, but here – when we aren't busy – you have a little more time to talk to people and answer questions about the animals and the park, as well as learn about the guests. Plus, I have the best view in the park."
That customer interaction is the other key reason why she is an avid follower of Fossil Rim social media and stays current on what the different departments are up to.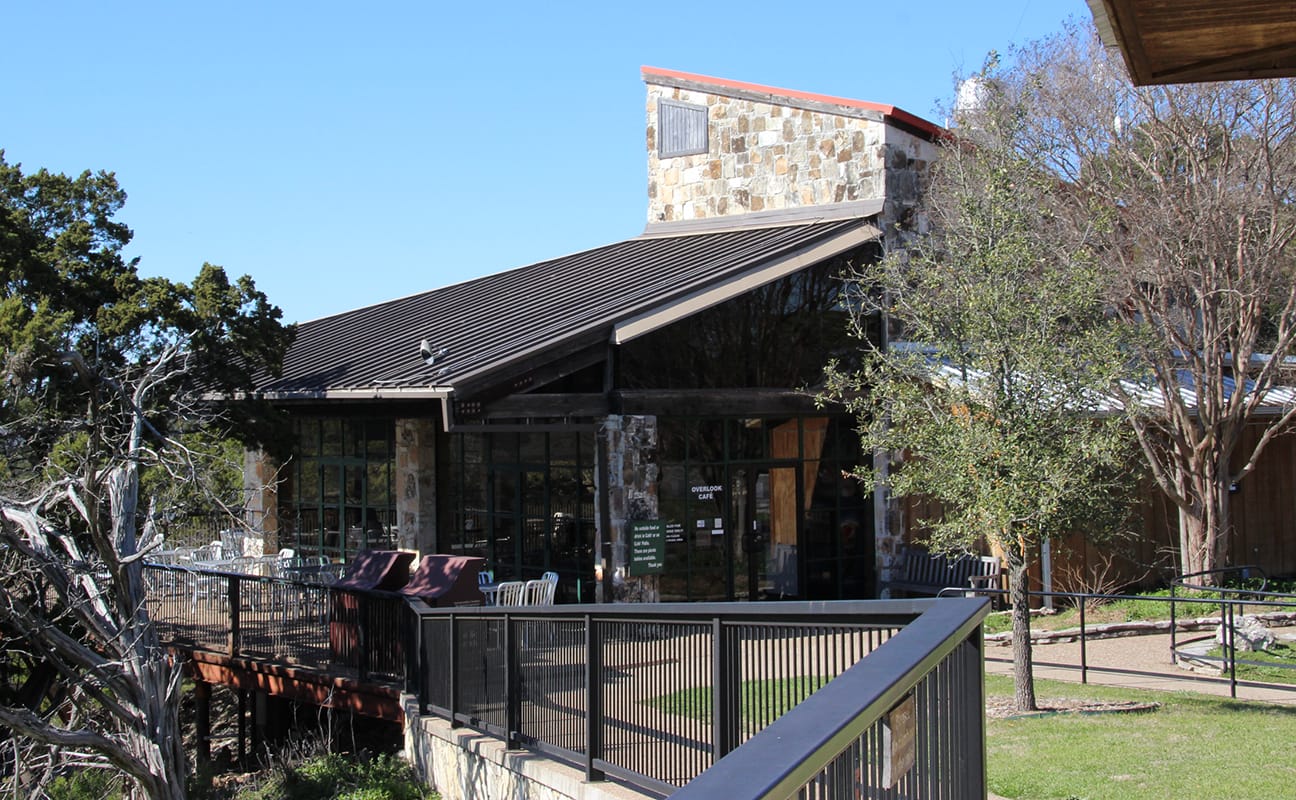 "I want to know what is going on at Fossil Rim," she said. "There is so much happening with the different species, so I like to keep up to date. When the customers ask questions, you want to feel like knowledge is power."
Director of Tourism Donna Steakley decided to give Hendon-Hooks her managerial opportunity at a time when the café needed to improve in so many ways.
"I love Donna," she said. "If I come to her with an idea and provide all the needed information, she backs me up on it to see if it works. Her support began on day one by giving me the chance to become manager, because there was a lot of work to do. I couldn't ask for a better boss."
The café staff includes Juanita Kalem, Robert Graham, Randall Fouts, Rebecca Blake, Carla Zimmerman, Nick Lara, Karlye Steadman, and Rosa Portillo.
"I have a really great team," Hendon-Hooks said. "It's not about me. Together, we are what makes the café great. They know I expect great customer service and smiles."
In fact, the manager feels like the two most significant improvements made during her tenure at the café have been the aforementioned customer service and cleanliness.
Okay, now let's turn our attention toward the menu, which offers burgers, sandwiches, wraps, salads, Tex-Mex items, kids' meals, side items, and beverages. For Fossil Rim's Spring Break period (March 7-22), the Tex-Mex items will not be available.
"We won't sell Taco Salad, Cheese Stacks, Chicken Stacks, Deluxe Nachos, and Soft Tacos during Spring Break due to heavy anticipated guest traffic," she said. "We are a made-to-order restaurant, not fast food, but we are still going to do our best to make sure guests have a positive experience during those very busy times."
Food items will be sold in two locations other than the café during Spring Break daily from 11 a.m. to 5 p.m.
"At the (Admission Center), we will offer barbecue sandwiches, baked potatoes with chili/cheese/sour cream, (Fossil Rim) Jr. Burgers, chips, Whole Pickles, popcorn, cookies, and drinks," she said. "At the snack shack (on the other side of the nearby Nature Store at the Overlook), we'll have Nachos, Frito Pie, Hot Dogs, chips, Whole Pickles, and drinks. Having those two additional locations will help us in the café and bring the wait times down, so it's important people know they are there."
During the winter, the Overlook Café began to offer special hot-lunch items and desserts on Thursdays.
"On cold days, soup, chili, jambalaya, and items like that are in demand," she said. "We have finished with those for now, but will resume with those specials next fall."
It just so happened that during this interview, Fossil Rim Chief Financial Officer Tom Clark was in the café capitalizing on National Chili Day, mentioning that the chili was his favorite Thursday special item.
Hendon-Hooks said the top-three menu items in terms of sales are the Patty Melt, the Philly Cheesesteak, and the (half-pound) Fossil Rim Burger with cheese. What about if a first-time customer came in and she only had one chance to make a great impression?
"I'd ask if they would try the Philly Cheesesteak," she said. "It's filling, it's savory, and I think the meat is excellent. That's my personal-favorite item."
What about the best item that most people do not know about?
"I'd go with our Guacamole and Chips," she said. "Our guacamole is fresh and homemade, just like we make our own pico de gallo. During the offseason (September-February), we make our own tortilla chips, as well. When you make your own chips, they last longer, hold cheese better, and taste better."
The café has a gluten-free fryer.
"In today's society, a significant amount of the population is vocal about having some form of gluten sensitivity," she said. "Because of that, we have some gluten-free items like Nachos, Guacamole and Chips, as well as chips and salsa, plus we can do Fossil Rim Burgers with no bun or the Philly Cheesesteak or Chicken Philly with no bun. My daughter has celiac disease, so I understand the importance of having some gluten-free items.
"For vegetarians, our Garden Burger is excellent. For vegans, our Browser Salad with balsamic vinaigrette is an option. We are preparing these items fresh so we can accommodate you; just let us know your requirements when placing your order."
The café menu is always available online at https://fossilrim.org/the-overlook-cafe/. The café phone number is (254) 898-4263.
"We encourage people to call ahead with their orders, unless it is an obviously busy day," Hendon-Hooks said. "Hopefully people realize you can always visit the Overlook area for free without going into the park. They are welcome to call an order in and come pick it up. We love our customers from Glen Rose, Kopperl, Stephenville, and other towns who make the trip for lunch and an awesome view."
Please note that call-in orders cannot be done during Spring Break (March 7-22) due to higher customer volume in that period.
Nobody takes it harder than Hendon-Hooks when a customer has a bad experience at the café, but she wants to be the first to know.
"If someone visits for a meal and doesn't have a good experience, for whatever reason, I would just hope that they will give us another chance next time," she said. "Maybe they caught us at an especially busy time. If they have a problem, I want to get that feedback so we can work to fix it.
"Guests will come back for the animals anyway, but I want the café to be a repeat destination for them, as well. We are a part of Fossil Rim and everyone who works here is part of one, big team."
What is on her mind regarding the café for the rest of 2020?
"I'm just focused on Spring Break right now, but I look forward to bringing back our Tex-Mex items after that," she said. "I enjoy hosting the (dinner-and-tour) special events up here like the ones we'll have for Mother's Day and Father's Day. It's even more beautiful up here at sunset, and we provide an intimate setting for those dinners."
-Tye Chandler, Marketing Associate