Some people may just think of Fossil Rim Wildlife Center as a "drive-thru zoo," but that's not at the heart of the facility's purpose.
There are two litters of cheetah cubs that will be available for public viewing this spring, and it's the reproduction of this and other threatened and endangered species that staff members are striving for.
"The breeding is the most important thing we do here – not just with the cheetahs, but Fossil Rim as a whole," said Jason Ahistus, senior carnivore specialist. "We are one of the top few cheetah breeding facilities in the U.S., and we are saving a species from extinction."
The cubs in question
Eight-year-old father "Frankie" and five-year-old mother "Asanti" have a litter of four cubs at the Cheetah Hill facility that are seven weeks old after being born Sept. 8. Meanwhile, five-year-old father "Lavani" and five-year-old mother "Gracie" have a litter of three cubs at the Intensive Management Area (IMA) cheetah facility that are 10 weeks old and were born Aug. 18. It's the second litter of cubs for all four parents.
"As the older litter, Gracie's cubs are more dependent on meat," Ahistus said. "Asanti's cubs have only been eating solid foods since they hit six weeks."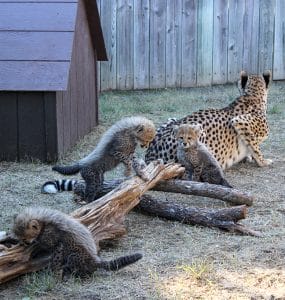 Although the method changes as they grow older, it is important that keepers are able to tell who is who among their cheetah population. While older cheetahs can be differentiated by the last 4-6 inches of their tails, which are unique like fingerprints, cubs can be visually identified by shaving a small area of their fur on various locations of each animal.
The cubs are shaved during veterinary procedures at six, nine, 12 and 16 weeks of age. During these procedures, the cubs are also weighed, dewormed, vaccinated and at six weeks old they are given a transponder.
"As opposed to an ear tag for hoofstock, we put a microchip transponder in their ear at six weeks old to serve as a permanent ID," he said.
As three-year-olds in 2013, Asanti and Gracie gave birth to their initial litters three weeks apart just as they did this time. "Bruce," a 10-year-old, was the father in both cases and is responsible for 15 cubs overall. He is the only known hand-raised male to successfully breed in the U.S.
"Each of those moms was cycling three weeks apart in 2013 when they bred with Bruce," Ahistus said. "Breeding at age three is a challenge in itself. We strive for it, but it doesn't happen often. It was great, because it set them up for litters at age five, seven and – if needed – nine.
"Females usually only have five effective years of breeding, so we don't want to waste their prime years. They were with their first litters for 1.5 years before we separated them from the cubs. Their cycles remained three weeks apart for these litters, and you don't see that happen very often."
It takes teamwork
Ahistus, a Wisconsin native with an ecology degree who arrived at Fossil Rim in 2008, has long been part of a two-person cheetah team that recently added a member. He works alongside Mary Jo Stearns, carnivore curator, while Amy Usewicz, animal care specialist, joined the team this year.
"Mary Jo and I talk a lot," Ahistus said. "She supports my decisions. Getting positive breeding results just builds trust with her and (Chief Operating Officer) Kelley (Snodgrass)."
A number of decisions about the cheetah come down to judgement calls by the duo based on their years of experience.
"It's nice to have someone there you can bounce ideas off of," he said. "You don't always know what you're going to do for a situation, so it's good to hear 'that's a great idea' or have them bring a potential problem to light. Generally, we're on the same page. Documentation is a big deal, because we don't always see each other and (cheetah are) a very challenging species.
"Cheetahs have lower stress levels with less than four keepers, according to a recent study. Most breeding centers have a keeper staff of one or two. Therefore, they know each cat very well and their subtleties."
Embracing the challenge
Cheetahs aren't without challenges when it comes to breeding, so the Fossil Rim staff is proud to have overseen 164 cubs born since efforts began at the facility in 1986.
"To be able to produce that many cubs is impressive, because there are only a handful of breeding centers in the United States," Ahistus said. "In order for this population to survive, it comes down to the production of these centers. We've been especially successful the last four or five years, and hopefully that will continue so we reach 200 cubs in the near future. That will be a milestone figure I think.
"Cheetahs are one of the hardest animals to breed in captivity, hands down. You really need to pick up on the subtleties of each animal and how to manage them properly.
"They are high-stress animals with a lot of potential health issues, so you have to care for them. I think the production says a lot for our facility and our dedication over the years."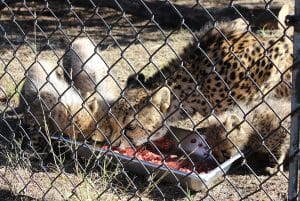 While the Fossil Rim staff strives to produce two cheetah litters per year, there have been at least three litters born each of the past three years.
"I know they were also very successful in the late '80s due to a male cat named 'Simba' and had more than 20 cubs one year," he said. "Since I've been here, 19 were the most we've had."
In the early '90s, Fossil Rim attempted to breed cheetahs through artificial insemination with mixed results.
"In that era, we were trying to perfect an artificial insemination technique for cheetahs," Stearns said. "There was a successful A.I. done at the Caldwell Zoo in Tyler before we tried, but unfortunately that cub did not survive. We had two successful A.I. attempts at Fossil Rim. One in 1992 resulted in a litter of three males and one female that all survived.
"We also had a litter of one in 1995 where the cub didn't survive. Most successful A.I. litters consist of one or two cubs. The technique has not been successful in recent years, and the last living A.I. cub that was born in 2003 died earlier this year."
Fossil Rim is one of nine cheetah breeding centers in the U.S.
"The Breeding Center Coalition was created in 2012," Ahistus said. "We tackle different issues related to breeding, behavior, health, etc. As far as cubs, you can find out who is due (to give birth) when, help facilitate fostering cubs or give people avenues if they have to hand-raise animals. It facilitates the movement of animals to different breeding centers.
"As part of the SSP (Species Survival Plan) for cheetah, we have a wide variety of age classes at Fossil Rim. That allows us to breed every year without being so reliant on other facilities. We have a self-sustaining model."
The concern of needing to send a cub to a foster mother at a different location is not extremely rare.
"A cheetah has never raised a single cub, which we call a 'singleton,'" Ahistus said. "It becomes a judgement call of when to pull it, because it needs the mother's milk, but you don't want to leave it so long that she could potentially harm it. We want the mom to raise it, because hand-raised cats don't breed well. If needed, we'll fly a singleton to another facility and it becomes a foster cub in a litter."
According to the IUCN Red List of Threatened Species, cheetahs are classified as "vulnerable" with a decreasing population trend. With so much on the line, it is crucial that their keepers are motivated to provide the best care possible.
"Animal care is something I always wanted to do, and I've loved cheetahs since I was a kid," Ahistus said. "No matter how bad a day you are having (as an animal keeper), seeing one of your animals do something notable can put a smile on your face. As far as working with cheetahs, I consider this the pinnacle of my career."
A follow-up article to this story will be posted soon addressing Cheetah Hill, the IMA facility and cheetah diet among other topics.
-Tye Chandler, Marketing Associate