There are several new additions to the education department at Fossil Rim Wildlife Center, so there is no time like the present to learn more about them.
Maddy Herron is now Camp Manager, Cassidy McDonald is Programs Coordinator, and Andrew Bullard is Volunteer Coordinator.
Born in Indianapolis, Herron has also lived in Illinois, Ohio and Texas. Unlike the other two new staffers, she was not previously a Fossil Rim intern.
"I am thrilled to be a part of the Fossil Rim team," Herron said. "I am ready to inspire curiosity and compassion towards the environment. I hope to build upon the existing educational programs to establish long-lasting relationships with our visitors."
Herron is enthused about the direction of the education staff.
"The energy and excitement on the education team right now is very high," she said. "The education staff, along with all of the Fossil Rim staff, has been more than welcoming and encouraging."
It will no doubt be beneficial to her role that Herron knows what is required of successful youth camps.
"As a child, I attended many camps in the Houston area that helped instill a curiosity in science and nature," she said. "Now, as an adult I hope to share my enthusiasm for animals and nature. I have worked as a camp counselor at Texas State Aquarium, I worked at Aullwood Audubon Center and Farm, and I spent nearly three years at the Brazos Valley Museum of Natural History.
"At Aullwood, we designed camps and taught educational programs to encourage conservation and inspire passion for nature and the outdoors. At the museum, I designed programs and camp themes to help make learning fun and encourage natural curiosity."
Herron said her favorite Fossil Rim species, at least currently, is the Attwater's prairie chicken.
"I love sharing the hard work to save this native species with our guests, and I think these birds have the ability to bring the conservation message close to home for many Texans," she said.
Herron also commented on what she sees Fossil Rim staff trying to accomplish.
"I believe that Fossil Rim is the perfect combination of education and action," she said. "We not only educate others about nature and conservation, but we participate in conservation efforts globally and in our local community. Action and education are critical to creating lasting impact."
Born in Wharton, Texas – just southwest of Houston – McDonald is energetic about her opportunity, as well.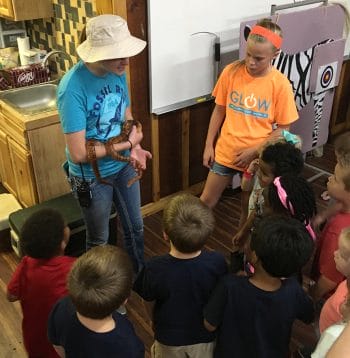 "I am really excited to have a full-time job as an educator because I love sharing knowledge with the world," McDonald said. "I think one of the most important things I want to do is to move all our program materials into our brand-new activity center. With the wonderful facilities we have now, we can revamp our whole department. I'm thrilled that with this position, I will be able to create new programs and events, but I can also educate hands-on through minicamps and outreach programs."
McDonald came aboard as an education intern to lay the groundwork for this opportunity.
"I was drawn to Fossil Rim's internship program because the educational opportunities here seemed right up my alley," she said. "Once I arrived, I fell in love with my education team and the facility as a whole. As an intern, I always tried to go above and beyond what was expected of me.
"I tried to help the department in any way possible and learn things quickly. I was fortunate, because I believe I work well with my coworkers, so I think feeling like 'part of the team' helped. I'm excited to grow with the help of my fellow education staff members."
McDonald said her favorite Fossil Rim species is a fluid situation.
"I keep changing my favorite animal nearly every week," she said. "I loved giraffes the most at first, but now I love blackbuck, roan and even Madagascar hissing cockroaches."
She believes in what Fossil Rim is striving for as an entity.
"I love Fossil Rim's mission," McDonald said. "I think all five parts are crucial, and I am very excited to aid in the education part of the mission. Public education ties the rest of the mission together and shows the people what we do with our conservation and research."
She may not have seen this opportunity coming, but McDonald intends to capitalize on it.
"When I started this internship, I hoped it would be the last stepping stone I needed before launching into a full-time career," she said. "I had no idea that career would be here, though. I'm glad it is."
Also an education intern who worked alongside McDonald, Bullard is from Grand Prairie, Texas.
"Fossil Rim has always had an important place in my heart," he said. "I've been coming here since I was a kid, and there are some embarrassing home videos to prove it. I'd been meaning to come back and see it after graduating college, but I didn't think it would be in an official capacity.
"I was looking at potential jobs. Some of my friends had recently been to Fossil Rim, which gave me the idea to see if they had any openings. I was hoping to get great experience as an intern and make my resume more competitive by working at an AZA-accredited institution.
"I had no idea I would end up getting an actual job here, even though I was hoping for it. I am so excited to be a part of the Fossil Rim education team."
Bullard feels like showing his ability to collaborate with others early on was important.
"Cassidy and I work really well as a team, and I think seeing us work together and revamping some of the other programs showed that we were really dedicated to making the education department the best it can be," he said.
Bullard appreciates how the veterans on staff have welcomed the new team members.
"There are great mentors on the education staff and I look forward to working alongside them," he said. "We are constantly bouncing ideas off each other in order to expand our current programs and think of new, creative ways to educate our guests. I love being able to work in a place where you never know what all you are going to do that day. It's always different and always great."
The new Volunteer Coordinator said gemsbok are his favorite Fossil Rim species, but he also made sure to mention sable antelope, waterbuck and wolves. It is that sort of interest in the wildlife center that will enable Bullard to give his all to the education department.
"From the perspective of our department, Fossil Rim's mission is to educate the public about the conservation of natural resources and endangered species," he said. "Through education, we hope to engender a newfound appreciation for the environment and wildlife, which hopefully will translate into our guests being conservation-minded during their daily lives."
-Tye Chandler, Marketing Associate