Carol Lee was living in Dallas years ago when the urge to relocate arose for Lee and her husband, Greg.
"I used to be a researcher at a hospital," the current volunteer at Fossil Rim Wildlife Center said. "Greg said, 'Let's look at where we might want to move.' My daughter suggested we check out Glen Rose, right after she had taken her kids to Dinosaur Valley State Park. We did visit Glen Rose and really liked it."
A few years after the move, a friend made a fateful suggestion in 2005.
"I'm a Texas Master Naturalist, and we are obligated to do some volunteering," Lee said. "I wondered where I would get all the hours I needed? Jan Bussey suggested Fossil Rim after we'd met through our Master Naturalist group. I fell in love with this place and had a year's worth of hours in about six months."
As it turned out, a particular day of the week would come to be known as Fossil Rim day for her.
"I didn't want to be a tour guide, but when I started as a volunteer I said, 'If I show up every Wednesday at 9 a.m., can you find something for me to do?'" Lee said. "I did whatever they needed. Everyone who knows me knows that Carol goes to Fossil Rim on Wednesday. That's the day my friends will show up to visit."
Early on, she worked frequently with the education department to help them get ready for camps. Lee also spent time on the top floor of the main admin building striving to get it more organized.
Lee contributed to a particular project for several years.
"Curt Decker, now in IT but a naturalist at Fossil Rim back then, asked me to help with his project for Conservation Centers for Species Survival, as well as asking Donna Hagar," she said. "We did a lot of plant identification. I documented every single plant we found with a photo. We needed one more person, so we got Shirley (Smith) to join us.
"She kept written records of everything, while Donna and I were identifying. We were a team that followed Curt around for years, and we became known as the 'Plant Ladies.' Our friend Joyce made us signs for the sides of our cars that said 'Plant Lady' with a flower on them.
"It was a special time when it was the four of us. Everyone played their part. After Curt's project, we still put in a lot of work planting some gardens – including in the Nature Store parking lot."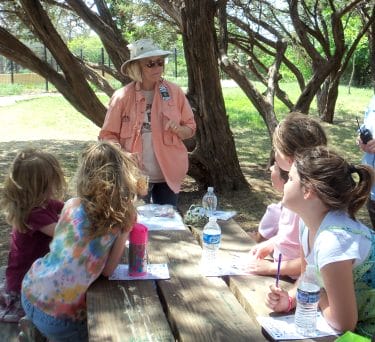 While the animals steal the show for nearly all visitors, Lee is quick to point out the scenery at Fossil Rim.
"This is a beautiful place," she said. "Curt took us everywhere on these 1,800 acres, because we needed to document all the plant life. During that time, I really learned how gorgeous it is here, as well as the contrast in different areas of the park."
Lee said she has also helped Daniel Branham in Fossil Rim's Support Services Department, as well as fellow volunteer Chris Paulsen, whenever they have needed it for plant-related projects.
Lee's next big adventure at Fossil Rim was a transition she has stayed with to this day.
"The Children's Animal Center (CAC) needed help, so I came here and I just love these animals," she said. "I like kids, talking to people and finding out where they come from. We've had kids come in who won't touch (a nontraditional pet), but you get them playing with the goats and feeling more comfortable. I think this is good education for a kid from the city to realize there is more out there than dogs and cats."
Lee really cherishes her time with these goat greeters.
"I think the prettiest animals at Fossil Rim are the maned wolves, but I also love the goats here at the CAC," she said. "They are so affectionate. It's amazing how city kids will gravitate to the goats, which stand there and allow children to pet them. 'Angel' is my favorite."
While she may not be a tour guide, Lee promotes Fossil Rim both on and off the property.
"When my friends ask me what Fossil Rim does, they are impressed there is a place in this area that has such high ambition to conserve wildlife," she said. "It's something I preach blatantly – conservation in general, and I try to recycle as much as I can and get those around me to do the same. That type of attitude can be contagious."
Fossil Rim as an entity can really benefit from the upcoming North Texas Giving Day, which is slated for Sept. 14.
"There are a lot of places that need money," Lee said of the decision-making process on North Texas Giving Day. "You have to look at the future, and you can see we have a future here with all these creatures we have saved. I think when people visit a place like this, it can change attitudes.
"I encourage people to bring their kids or grandkids and see how it affects them, but come on Wednesday because I'm here! All of the money you donate here goes to help the animals in one way or another."
To learn more about North Texas Giving Day, check out https://northtexasgivingday.org/.
-Tye Chandler, Marketing Associate