Samantha King is steering her career path toward the wildlife side of animal health, so she zoned in on the chance to be a veterinary preceptee at Fossil Rim.
The native of Ellington, Connecticut was in Texas from Oct. 16 to Nov. 22 for her preceptorship.
"I went to school for zoo science as an undergrad and had previously worked as an animal keeper," King said. "I'd heard a lot about Fossil Rim and read articles on the conservation done here, including the contribution to the scimitar-horned oryx reintroduction in Chad. I was looking for vet externships and I saw that Fossil Rim provided housing, so I was really interested.
"One of my favorite parts of veterinary medicine is anesthesia and immobilization, and Fossil Rim does a lot of that, so I was attracted to the opportunity. It's been cool to see the nontraditional zoo side with these large hoofstock."
It is not a given that someone entering the animal health arena would have the animal care experience that King does.
"Most people who go into vet medicine want to do small animal medicine as opposed to zoo medicine, but not me," she said. "I used to be a keeper after getting started in high school, but I realized that I could do more if I went to veterinary school."
King is in her fourth-and-final year of veterinary school.
"I decided to attend Delaware Valley University in Pennsylvania because it is one of two schools in the U.S. with a zoo science program," she said. "While in the program, you have to work at an AZA-accredited institution one day per week as a junior, so I worked at Adventure Aquarium in New Jersey. I went to Delaware Valley for three years and was accepted to vet school a year early. I'd already decided this is what I want to do (professionally), so I couldn't turn down the opportunity to get an early start."
Fossil Rim Wildlife Center spans 1,800 acres, and King did not fully grasp the sprawling expanse that awaited her until she set foot inside the sanctuary.
"I didn't realize how big Fossil Rim is, so that caught me off-guard in a good way," she said. "The fact it can take 30 minutes to find your patient because of how large the pasture is and how the animal is free-ranging – that's wonderful to me. I think there is a place for both zoos and places like Fossil Rim, so it was really interesting for me to see this side of things. I was telling my mom about the time the vet staff was driving around looking for a certain giraffe and we couldn't find it because the herd was in a valley not accessible by road; there aren't many places where that can happen."
Compiling a lot of experiences into just over a month at Fossil Rim, King pointed out some of her most memorable moments.
"Getting to do a vasectomy on a fallow deer was neat because I'm so interested in surgery and immobilizations," she said. "I was able to talk about the procedure with the vets, read a textbook about it, watch the vets do it and then do it myself all in the same day. It was cool to implement everything I'd learned.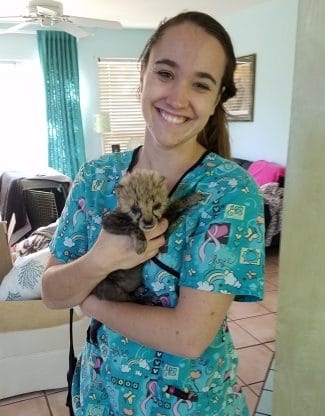 "I have to mention bottle feeding 'Jiwe' because I won't forget bottle feeding a baby (white) rhino. I also really enjoyed my time with (Dr.) Julie (Swenson) in the van. It's amazing how much you can learn just by talking to the vets on those drives.
"Julie taught me a lot about taxonomy, and she has so many fun facts that she can share. You think about how long it takes to get from point A to point B in the park – you can learn so much from Julie or (Dr.) Holly (Haefele) on those trips."
When it comes to her favorite Fossil Rim animals, King goes big.
"I really like giraffes," she said. "I hadn't been able to work with rhinos much previously, so that was a great opportunity."
Shortly before her time at Fossil Rim ended, King made a project presentation to staff and volunteers.
"I was interested in inflammatory bowel disease (IBD) in our maned wolves, because it's been a chronic problem for the maned wolves here and we are constantly modifying treatment," she said. "I tried to find anything helpful in recent literature. I talked to Holly and Julie about a drug I found that they hadn't used before, so it sparked my interest. There was a lot of literature on probiotic use for dogs, so I looked into it.
"Hopefully I'll work with wolves again in the near future, but having knowledge that's also applicable to dogs and cats is helpful. As for the study, the most interesting finding to me was VSL#3, a probiotic, which has been used to cure IBD in humans. It is very expensive, but it seems very beneficial and could be tried here for trial therapy or research."
King was very pleased with the learning environment fostered by the staff.
"Everyone was wonderful," she said. "I had an awesome time living with the interns, (Veterinary Technician) Allyssa (Roberts) drove me around, Julie and Holly are both wonderful to answer any questions about Fossil Rim and where I'm going (professionally) in the future. All of the animal care staff was very helpful and nice to answer my questions."
King talked about where her professional path will lead going forward.
"I take my national (veterinary) board exam in early December, so I've been doing a lot of studying while at Fossil Rim," she said. "It was nice to tell my friends back in the cold in New England that I was sitting out in 80-degree weather watching wildebeests. I'm hoping to get a private practice job after graduation, and I'm currently talking to a sanctuary in Pennsylvania that works with wolves.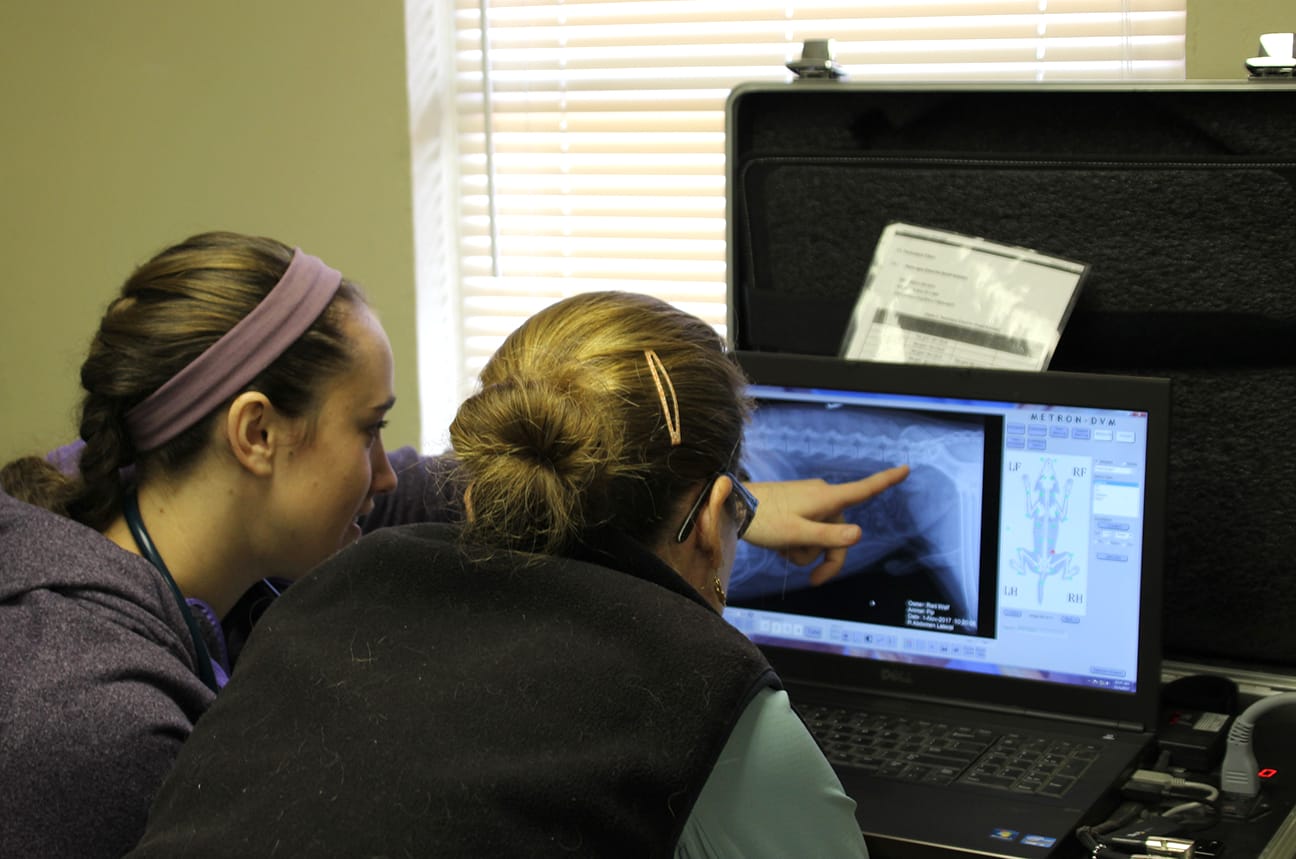 "I may take over as their vet once I graduate. I really want to practice zoo medicine at a place like Fossil Rim full-time."
King discussed how her time at Fossil Rim will potentially impact her career pursuits.
"Connections are really key in the animal health field, so I think getting to know some vets in the field here will help," she said. "I think they'll answer questions I might have in the future to be a reference for a case. I'm a very visual learner, so being able to see and do things with vets who stay busy will definitely help what I learned stick.
"I'd never seen strong opiates used before for immobilizations, so doing so here was really interesting. You need drugs that work quickly in the Fossil Rim setting."
King would recommend Fossil Rim to prospective preceptees.
"I think it's a great experience," she said. "You'll learn a lot from day one – we did an immobilization and moved a scimitar-horned oryx on my first day, and then they asked me to reverse the anesthesia. There is such a wide variety of species here, and especially if you are interested in hoofstock or immobilizations, this is a great place to learn."
For people who might only be discovering that Fossil Rim exists, King said it should be experienced in person.
"Guests should know how unique it is for them to see these animals up close and not behind fences," she said. "It's so beautiful, and having to hunt to see some of the animals is a good thing. Bring a pair of binoculars – make an adventure out of it."
-Tye Chandler, Marketing Associate