After months of Fossil Rim supporters purchasing entries for the chance to win a 2021 Jeep Wrangler, one woman won big.
Kate Wells had her name randomly selected by rallyup.com at noon on April 5 to win a vehicle valued at more than $41,000. From December 4 to March 31, 2,006 people purchased 167,949 entries, as only one entry would crown a winner in Fossil Rim's "Jeepstakes."
Fossil Rim staff was in Weatherford for the announcement, which was made on a Facebook Live video from the Roger Williams Chrysler Dodge Jeep Ram dealership. While Wells was obviously a huge winner of the Jeepstakes, so were Fossil Rim's conservation programs. After all, the Jeepstakes fundraiser ended up bringing in $101,682 for Fossil Rim.
Patty Williams, president of Williams Chrysler Dodge Jeep Ram, explained how the Jeepstakes came to be. Her husband, Roger, is chairman of the dealership, while their daughters, Sabrina and J.J., also work for the family business.
"Roger had wanted to visit Fossil Rim again and we were interested in taking a tour," she said of their most recent visit. "After it was over, we were talking about how Fossil Rim is such a neat place and we wanted to help. (The) COVID-19 (pandemic) had really just started and it could've meant a downturn for Fossil Rim, so we wanted to see what we could do. It's a great cause with the opportunity to help so many animals, and we found out that Fossil Rim had never done a vehicle fundraiser like this before."
Helping species of all sorts has long been a priority for the Williams family.
"We donated a Jeep to the Weatherford Parker County Animal Shelter for funding of their medical facility expansion," she said. "Our family has always been interested in helping rescue animals. We have rescue horses and donkeys, plus both of our daughters serve on the board for Saving Hope Animal Rescue.
"We've been involved extensively in Parker County, and in the Metroplex overall, for animal rescue. We have also helped Cook Children's Hospital with fundraising."
It was definitely a calculated decision for the dealership to choose a Jeep Wrangler as the fundraiser's prize.
"Thinking about a fundraiser for Fossil Rim, we felt that the Jeep Wrangler brought a safari feel," she said. "One time in the past when we were involved with the Fort Worth Zoo's Zoo Ball, we also decided to contribute a Jeep Wrangler. It's one of our best-selling vehicles and we thought people would get excited about it being the prize."
When helping an organization with fundraising, the key for the Williams family is that it must be a cause they feel strongly about.
"We appreciated the support Fossil Rim gave us during this campaign on their website," Williams said. "Each year, we try to vary the type of organization for a vehicle donation, but the key is finding a cause we believe in."
Fossil Rim Director of Development Jennifer Smith is thankful for the fundraising opportunity that the Jeepstakes afforded the wildlife center.
"As a nonprofit organization, Fossil Rim can't thank the Roger Williams Dealership and the family enough for donating a Jeep to allow us to raise money to save species and the land they live on," Smith said. "In addition, this campaign would not have been as big of a success without our supporters. Together, we will create a better future for wildlife."
Fossil Rim Director of Marketing Warren Lewis has been impressed with the willingness by the folks at the dealership to lend a helping hand.
"When Patty, Sabrina, and J.J. make a decision to do something, look out!" Lewis said. "Not to mention they have a staff just as committed and determined to make things happen for the greater good. We couldn't be more thankful for their generosity to Fossil Rim and our mission."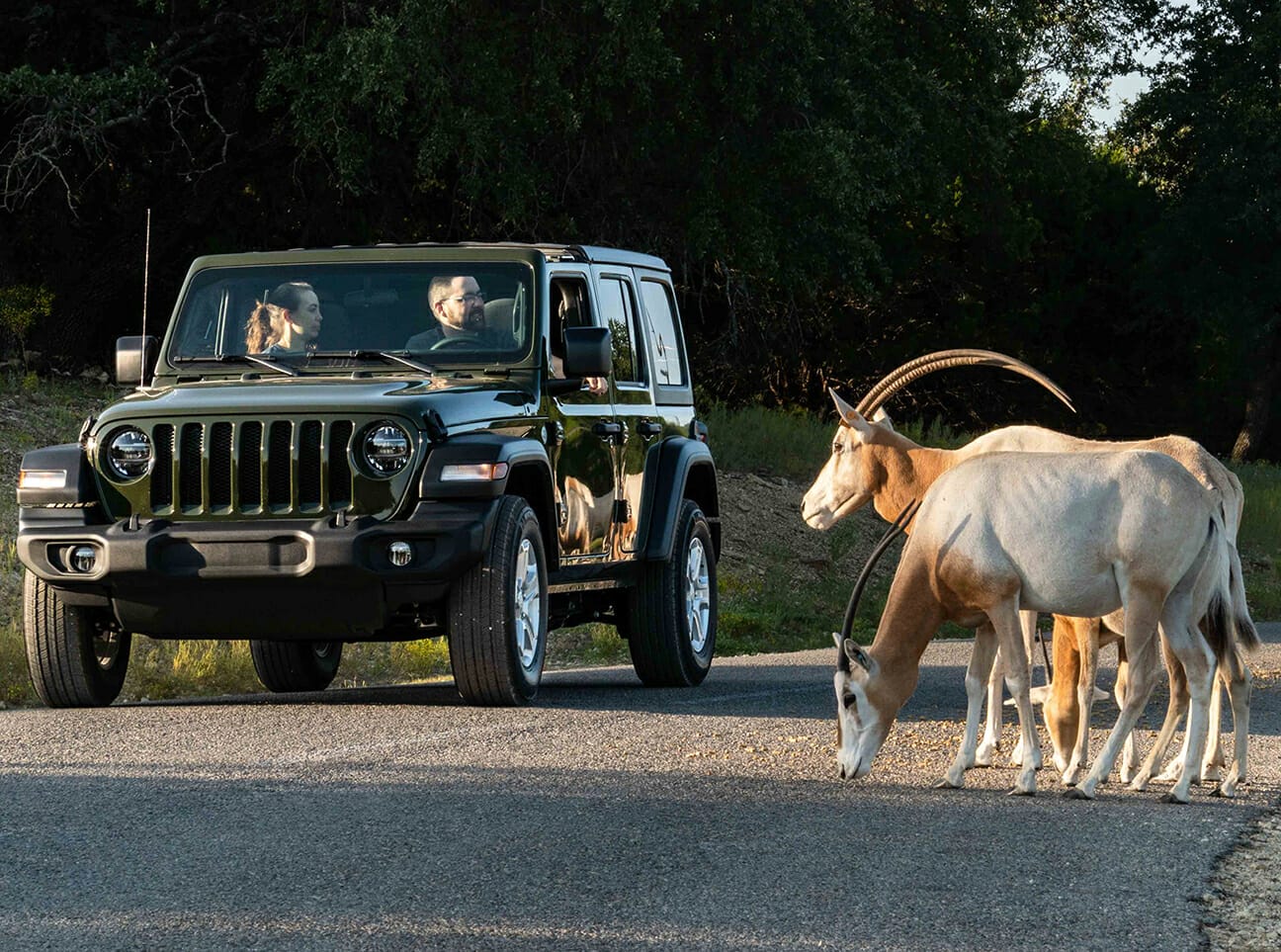 Fossil Rim Executive Director Kelley Snodgrass was all smiles at the dealership, as he thought about the boost provided by the Jeepstakes fundraiser.
"Fossil Rim is sincerely grateful to the Williams family, the Williams Chrysler Dodge Jeep Ram dealership of Weatherford, and all the folks who entered the Jeepstakes," Snodgrass said. "Through your generous and meaningful contributions, we are better equipped to carry on our mission to conserve wildlife, protect nature, and provide educational experiences. Thank you!"
Fossil Rim is a place to have fun, but there is also serious work being done, as Williams has come to realize.
"We've really enjoyed the tours we've done at Fossil Rim in the past and are excited to go back," she said. "Going to see the rhinos, feeding the giraffes – it's just so much fun. I think what Fossil Rim does is important because so many animals are now at risk, needing help with reproduction. Fossil Rim is so much more than we had imagined it to be.
"I think Fossil Rim's involvement internationally is very impressive, and I think more people should be aware of it. That cooperation across the world will increase the chances of these species surviving."
-Tye Chandler, Marketing Associate