Oftentimes, when an officiating crew is seldom mentioned during a football game, the referee and company are considered to have had a good showing.
One could argue the same is true of a company's information technology (IT) department.
"If people are able to do their jobs, but don't know how we are involved, then most of the time we've done our jobs well," said Director of Information Technology Scott Hughes. "We try to put a staff member in position to potentially not need to ask us for anything, but we do approximately 20 updates to these computers per month without most staff even knowing it happened. If we have to take the (computer) network down, we try to do that in off-hours to disturb as few people as possible.
"That often brings holidays into play. Curt (Decker) and I have both been on a network tower at 3 a.m., because that's when you can get a task done and affect the least amount of people.
"We've crawled through attics at midnight because it was too hot to do so during the day. I have a cot in my office, and sometimes it's a 'do what you've got to do' situation."
Hughes was hired as IT director in 2006. Web Administrator/IT Tech Steve Johnson was hired in 2009, after Hughes worked solo for three years. Systems Administrator Curt Decker joined the department in 2011, while IT Tech Maia Howard came aboard in 2017.
"I was the first full-time IT director, after we'd previously had directors in a part-time role," Hughes said. "If I work on something, Curt knows about it, and vice versa. If something happened tomorrow and one of us wasn't here any longer, the other one has to be able to keep both of our jobs going. Steve primarily focuses on web-related duties, while Maia takes on more administrative tasks as she continues to learn within the department."
As Hughes explained, the department has a priority list based on three elements.
"The first consideration is always safety, and that means the handheld radios used by our staff," he said. "They are the last line of communication, and we have to keep them functioning. If the network goes down and computers aren't working, the staff can still do what they've got to do to care for these threatened and endangered animals.
"The second consideration is point-of-sale. If we don't have our point-of-sale system up, a customer can't pay and take a guided tour, eat at the café, or anything else.
"The third consideration is the internet access for our staff, such as in the admin buildings. Our relationship with the customers and being able to serve them when they have traveled here is more important than our staff being able to access the internet, if that choice ever has to be made."
Out with the old, in with the new
Hughes was asked about his department's greatest achievement over the past dozen years.
"We didn't have a network in 2006," he said. "The Lodge, for example, had two computers with no way to communicate to each other directly. All they could do was connect via dialup and send an email to the other computer, which took so long it was useless.
"To email a very simple file from the Overlook to admin took 15 minutes. In my first year, I worked to ensure that 15 minutes became 30 seconds."
Including 600 acres from the adjacent High Hope Ranch, Fossil Rim's network encompasses 2,400 acres.
"We now have 14 network towers on property," Hughes said. "A signal travels from tower to tower and then to our various buildings that require web access.  The network is the infrastructure that allows you to plug in a computer to a server and communicate with other devices. Our LAN (local-area network) connects to the WAN (wide-area network), aka the internet."
A small concrete box on the edge of Fossil Rim property is a crucial cog in the network's functionality.
"The WAN box is a backup data center and the entry point for the outside world via a substantial amount of fiber-optic cable," Hughes said. "This box and a tower beside the Overlook Café are the two most important components of the network. The only way we lose the network now is if the signal entering the WAN box goes down.
"The network as it is now was years in the making, and we continue to modify it. In the future, we want to introduce a satellite link at the Overlook, and it will be able to keep our service to customers going even if we temporarily lose service to the WAN box."
The creation of the network helped Fossil Rim avoid a massive bill that the nonprofit would not have been able to foot.
"We pay a monthly bill, but it didn't actually cost us anything to have fiber-optic cable run to that WAN box," Hughes said. "If we were to run fiber from the outside world just to the admin buildings – about 1.2 miles from the WAN box – it would cost $275,000. If we tried to run fiber throughout the park for a 'normal, standard network', it would cost $4 million. Instead, we spent $6,000 to set up the towers.
"If one tower goes down, the signal goes through other towers until we can get the one repaired, and we can continue to serve our customers in the meantime. The most unique thing about our jobs is the network, because most IT people, for example, network the third floor of some building instead of thousands of acres."
On a much smaller scale, being frugal was a key consideration when addressing the need for phones at the Attwater's prairie chicken (APC) facilities within the Intensive Management Area.
"At one point, there were no phones for the APC staff and they could only communicate with us via the handheld radios," Hughes said. "It's a remote location in the park, and I got a quote that running phone lines there would cost us $42,000. We could not afford that, but we figured out that we could give their building computer access through the network and change all of our staff phones on property, which were outdated and needed to be replaced anyway, to IP-based phones. That ended up costing $500 to get them phone access."
As everyone knows, the world changes so rapidly in the age of technology.
"If staff members needed to order a new part to some machine 15 years ago, they'd have to find it in a catalog, call on the phone and have it shipped here," Hughes said. "There was no computer involvement. Now, they can find the part online, order it and watch a video of how the part works and how to install it. The world has definitely changed around us.
"When I got here, we had about 30 eight-year-old Macs. We had one ISDN line – about twice the speed of dialup – at admin. Elsewhere in the park, it was dialup internet."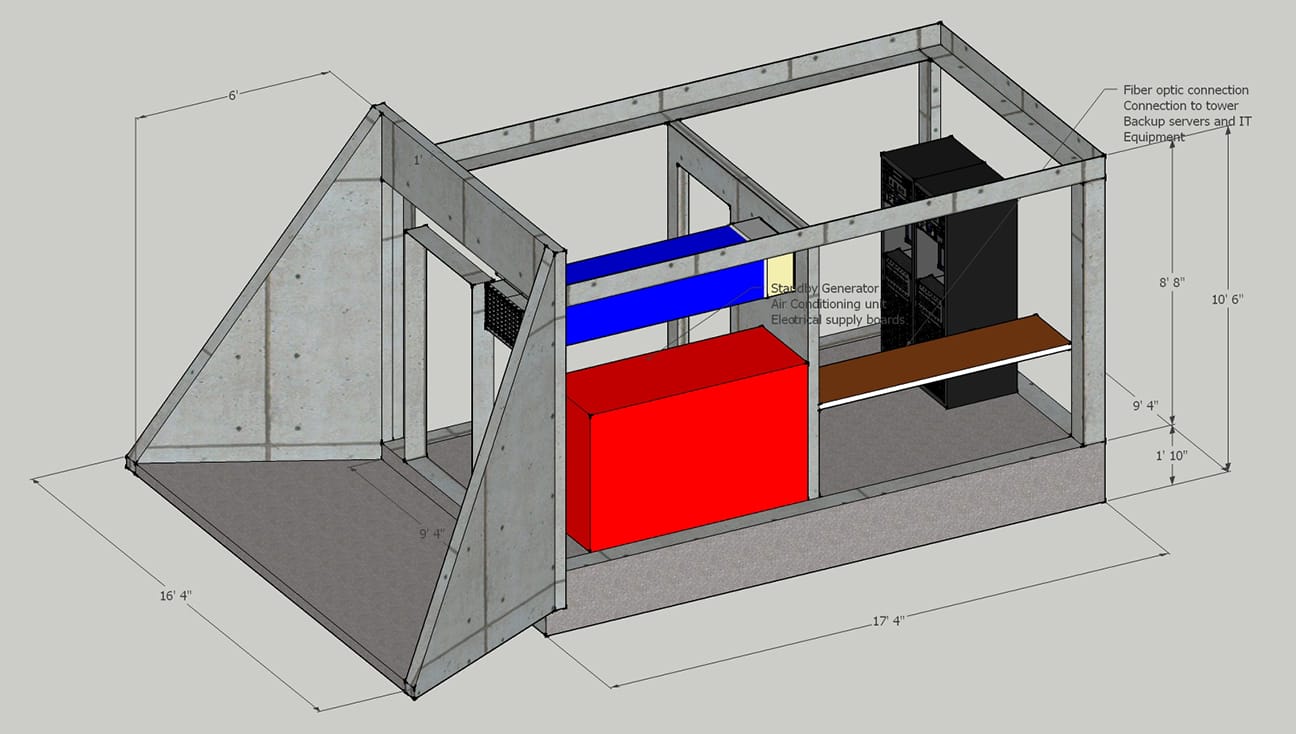 IT supports full spectrum of departments
Fossil Rim is a multi-faceted conservation facility with a lot of departments under its umbrella, so Hughes discussed the role IT plays for each one.
For the finance department, IT provides support for QuickBooks, Paycor and an array of other financial programs.
"If they need a new program, we help them evaluate what will be the best fit," he said. "Their purchasing officer uses Helpdesk a lot. It provides a history of suppliers for each order and has proven to be a huge benefit for the new people we have had step into that position."
Helpdesk.com will provide an example of what Hughes is referencing as a far superior alternative to email for organized task assignment, discussion and completion, but Hughes and his team actually created "Fossil Rim Helpdesk" specifically for the organization.
For the marketing and development departments, IT helps support Fossil Rim's website, as well as applications to facilitate social media and gather/sort customer data.
"We provide support for online membership sales, plus we've given development access to see who stayed at The Lodge, who took a guided tour, etc.," Hughes said. "I'd also mention Garrett (Gosdin) and his video production. He requires more hardware and software than anyone else on staff, so we make sure to provide him support, as well."
Considering it applies to the second entry on Hughes' priority list, of course he is always mindful of the tourism department.
"We assist with point-of-sale, inventory, reservations, all functionality of their cash registers, plus maintaining that line of communication with customers via email and phones," he said.
Heavy on multimedia presentations, the education department counts on IT.
"We provide substantial support for education," Hughes said. "They do a lot of programs, which brings point-of-sale into play. If they need equipment for a presentation, we help with that. We support the projects of their interns, many of which require IT.
"The other main instances where we assist with presentations are for meetings at the Safari Camp. We work to make it seamless. It's easy to say, but takes a little while to get there sometimes."
The animal care department has very important records that need to be both secure and organized.
Hughes pointed to the need for some specialty applications such as PopLink, which is utilized by Giraffe Caretaker Molly Shea. It was created by Lincoln Park Zoo scientists to track data on individual animals over their lifetimes and use that data to help with their management.
"Sometimes, the older, government-run applications don't even run on current hardware, but we still need to make sure our staff has access to them," he said. "We helped the staff in their transition to use ZIMS (Zoological Information Management Software). When I first started here, ZIMS was only on a small, out-of-date computer with data input via floppy disk. We put that data on a server with backup disks.
"I asked the APC staff where their data was – on paper in a drawer. Curt built the initial database, and now it's all online and they can keep track of everything from egg to death; they want to know a lot."
The animal health department has high-tech machines of crucial importance, while the installation of surveillance cameras have been a significant development for both animal departments.
"We support all of animal health's hardware – blood gas machine, x-ray machine and its server, ultrasound machine, just to name a few," Hughes said. "We have installed cameras in the White Rhino Barn, Black Rhino Barn, Giraffe Barn and two of the cheetah birthing yards. There are seven cameras in each of those cheetah yards, so staffers can actually watch a birth on their smartphone while off property.
"They used to be unable to watch births at all. This has allowed the staff to learn more about birthing behavior, plus it is less intrusive and enables the mother and cubs to be left alone after birth unless something is wrong and requires intervention."
Paycor is also a key software application utilized by the HR department.
"All of the HR email, and some finance email, is encrypted so it's secure," Hughes said.
Hughes emphasized how important the Helpdesk system is for the support services department.
"We created Helpdesk so everyone is accountable and there is an archived record of all requests," he said. "You can look up the history of a ticket for all details. It's a good way to communicate and superior to email, for example, as support services receives requests for repairs and projects."
Bracing for spring break
The heavy guest traffic each March during spring break season creates some conundrums that IT plans for well in advance.
"That's a time when our departments dealing with the public go to max capacity," Hughes said. "If the network went down during that time, we couldn't function. IT usually helps park cars and such during spring break so that we can help out, but we are still available if something goes wrong. Our real work is in the couple of months leading up to spring break.
"An example is that the café now has a display system so the staff can see orders in the kitchen on monitors. On busy days, it will show them the overall number of an item across all orders, which is a big time saver.
"For example, if there are 13 burgers across multiple orders, you know instantly that 13 patties need to be on the grill. That one function changed the café; there used to be lines out the door on busy days."
Network tower considerations loom large
As you might imagine, safety around the wildlife is key when IT travels into the park to work.
"There are several of our towers that are set up in animal traffic areas, and we have to get out of our trucks to get to the tower," Hughes said. "You have to learn when you can get out, otherwise you could get hurt or hurt an animal. For some places, like the Black Rhino Barn, we let animal care know and maybe they stay with us to keep an eye on things. When you are by yourself, it is with animal care's permission, but you still watch over your shoulder.
"Once, we were working in the alleyway at Cheetah Hill and a young cheetah rushed the fence when my back was turned. I learned I could jump about five feet into the air that day. As long as you follow procedures and protocols – like any other job, you'll be fine."
Speaking of following protocol, the tallest of the 14 network towers is 112 feet and it is situated on a 300-foot cliff, so it would be fair to say safety is always under consideration. There are a variety of reasons a tower climb is needed, such as installing new equipment or repairing/removing old equipment.
"We have harnesses we wear with rope; there are two hooks and you always have one hook on the tower," Hughes said. "If you slip and fall, you fall two feet instead of 60."
"When climbing, you always have three points of contact on the tower," Decker added. "Once you are ready to work, both hooks are in and your hands are free. If I were to mention an element of danger regarding the towers, in the summertime, wasps are attracted to the signal the towers emit, for whatever reason."
Professional problem solvers
Perhaps the only beings more reliant on logic than Star Trek's Spock are IT professionals.
"If someone were interested in pursuing an IT career, make mathematics and science the focus of your education," Hughes said. "In the end, our job is to solve a problem. The strongest skill required for our department is problem solving through logic. Study and plan what it is you are trying to accomplish, and then figure out how you will get there.
"Working in the IT department can often present you with a real-life word problem. It's up to you to figure out how to solve it."
-Tye Chandler, Marketing Associate