After a well-received initial joining of forces with Fort Worth's HopFusion Ale Works, there is much more to come for the brewery and taproom where Fossil Rim-related matters are concerned in the coming year.
Fossil Rim supporters may recall that on October 12 in 2019, American Red Wolf Ale debuted at HopFusion during the "Learn. Pour. Protect: American Red Wolf" event where Carnivore Curator Jason Ahistus and other Fossil Rim personnel visited with HopFusion patrons and educated them on the challenges facing the critically endangered red wolf. Funds raised from the event were donated to Fossil Rim conservation efforts.
Now, we are proud to announce that HopFusion is working on five beers in 2020 based on Fossil Rim species! The first beer launch, slated for February 8 at HopFusion from 12-4 p.m., will mark the debut of "Sable Stout" beer. Other beers planned for this year will be based on Attwater's prairie chickens, giraffes, rhinos, and gemsbok.
"The day went better than we even expected," said HopFusion Cofounder and Co-owner Macy Moore of the red wolf beer launch. "We ended up pouring 150 pints that day, and the glassware was very well-received. The community came out to support it, which was great to see.
"It was really cool to have many people from Fossil Rim come up for it and have Jason talking about the red wolf. All in all, a great collaboration day for us and the first time we'd ever done an animal-related event like that."
HopFusion Cofounder and Co-owner Matt Hill was also very excited about the October event.
"Plenty of people who came in after the actual event saw that it was a red wolf beer and liked the idea of supporting the species," Hill said. "The conversations kept going as long as we had the beer on tap. People who didn't know much about that animal were learning. We raised $843 for Fossil Rim from the sales of that beer overall, and hopefully those amounts continue to grow as we do more of these collaborations."
The American Red Wolf Ale, based on an Irish-style red ale, was very popular with HopFusion patrons. The red wolf pint glasses sold out quickly, so many more glasses will be ordered for future events. In the eyes of Moore and Hill, the support for the first Fossil Rim-themed beer "was exactly what we were looking for."
A huge HopFusion fan, Ahistus thoroughly enjoyed discussing the red wolf many miles from Fossil Rim.
"Since the American red wolf is one of my favorite species, it was exciting to start this partnership with the release of the American Red Wolf Ale last October," he said. "Through that process, I have enjoyed talking with and learning more about the HopFusion staff and teaching them about Fossil Rim and the conservation efforts we are involved with. I'm excited to move forward with our collaborative plans for 2020 and watch this partnership grow in the coming years. Through this partnership, HopFusion is able to play a role in animal conservation and that is very important to everyone at the brewery."
Moore and Hill explained why this burgeoning relationship with Fossil Rim is happening.
"I think one of the reasons a craft brewery is so different from many other small businesses is the interaction with the community," Moore said. "I think this fits right in line with our purpose, in terms of giving back to the community and engaging with them. Fossil Rim is our extended community in my eyes, so this went right to the heart of what we're here for."
There has been interest from the Fossil Rim side for a while.
"A big trend right now is zoological facilities teaming up with local breweries to raise money for conservation," Ahistus said. "Since HopFusion is my favorite brewery, I really wanted to start working with them. The point was to do something for conservation and reach a wider audience. When the idea was shared with Fossil Rim and HopFusion, everyone jumped on board."
Hill said folks from Fossil Rim are no stranger to the brewery in their free time.
"Jason comes in here all the time, (Director of Animal Care) Adam (Eyres) is a familiar face, and a number of other Fossil Rim staff members visit us, as well," Hill said. "They welcomed me and my son out to Fossil Rim to check everything out, so it definitely made sense to partner with those guys. Getting so close to the giraffes where they eat out of your hand definitely made an impression. We fed all the animals that approached the vehicle.
"Jason gave us a special tour of the cheetah facility; it was wild and certainly a highlight. Two cheetahs came up to the fence silently and they were definitely hunting. My son would move, then they'd move (accordingly).
"He did get to touch a friendly (hand-raised) one, too. We got to feel the roughness of the rhino's skin, but also how soft it was in some areas, which was very interesting.
"We got to see the Attwater's prairie chickens, as well. To see many animals up close and realize how much land there is was a memorable experience."
Hill was asked what he would tell HopFusion patrons who have not visited Fossil Rim.
"It's an excellent place to take your family," he said. "I know that visit we had is one my son will remember forever. Everyone is friendly, and you'll probably see a lot of animals out and about. It's about a 70-minute drive from (HopFusion)."
Moore said the plan is to brew four barrels of beer – 31 gallons per barrel – for each variety of Fossil Rim beer, which is what was done for American Red Wolf Ale.
"That one was on the tap wall for a couple of weeks before selling out," Moore said. "We will continue to offer the glassware for each beer until it sells out, along with any other related merchandise. Even if someone wants to call us before coming down here in the weeks after one of the Fossil Rim beer launches, we can let them know if we still have some of the beer. We expect each batch to last 2-3 weeks."
It is not out of the question that at least one of these Fossil Rim beers will one day be canned and available for purchase at your local stores.
"If we were to potentially can one of these beers, this would be the thought process," Moore said. "We'll consider the style of beer (and its commercial viability), how well it moves in the tap room, is it a style we could ramp up production on, and is it a style that we can (feasibly) put in a can? There are quite a few variables, but it will be under consideration."
The folks at HopFusion hope to see you at these Fossil Rim beer launch events, beginning with Sable Stout on February 8.
"Come on down to HopFusion on those launch days, meet the team from Fossil Rim, and learn more about the animal species we are highlighting for that beer," Moore said. "You'll be supporting conservation efforts, plus you'll get a great beer and a cool glass. We are a family-friendly and dog-friendly brewery."
A Deep Dive Into HopFusion Ale Works
Because many Fossil Rim supporters reading this blog have never been to HopFusion, or perhaps even heard of it, this is the perfect opportunity to have Moore and Hill really delve into the details of the brewery and what it offers. Let's begin with a history lesson.
"If we are talking about the history of HopFusion, a good place to start is that Macy and I built this place by hand," Hill said of what was an abandoned warehouse when they discovered the location. "We dug the holes, cut the concrete, did the woodwork, and fabricated everything. We didn't have a construction background, but we do now. We got the building in May 2015 and opened the taproom in November 2016. Every day was literally a building process.
"We designed this place so that everyone can come hang out; you don't even have to drink beer. Just come hang out with your friends – don't feel pressured to drink if you don't want to.
"It's a laid-back environment where you can sit here and watch the game if you want to or play board games. We had no idea how popular the board games would be. We have repeat customers who I'm not sure have ever ordered a beer.
"They'll order a nonalcoholic beverage, open their laptop, and get some work done. We have sodas and teas."
They place a high priority on having an atmosphere that people want to be a part of.
"You can't really build an atmosphere or a culture, but I think you can put the elements in place to allow for it," Moore said. "The vibe in this place has grown organically, thanks to our customer base. We watched it happen.
"Some neat things have happened here. People have gotten engaged here and went on to get married. In 2018, we had a Marine Corps birthday (occurs annually on November 10) – a dad and his three kids, all Marines, hadn't seen each other for several years and reunited here.
"In 2019, we had a Marine Corps birthday where a war veteran grandfather and his grandson, a new Marine, did the cake-cutting ceremony together. I'd never seen that (across generations)."
In the very competitive craft beer market within the Dallas-Fort Worth area, how does HopFusion manage to stand out?
"For one, I think the environment here is unique," Moore said. "We were the first larger brewery in Fort Worth built with a taproom. We were voted four times as the best brewery in Fort Worth – every year since we started. As for variety, we are pushing out new beers every week and I'd put our selection up against any other brewery in the area.
"We get a lot of beer tourists from all over the United States. I had a guy tell me he'd been to 1,000 breweries, and then he added he thought this was the best one he'd ever been to. That's saying a lot, and we work really hard to create the same experience for everyone with high service ratings to show for it."
As we get into specific beer varieties at HopFusion, take a moment to check out what is currently available in the taproom: https://hopfusionaleworks.com/currently-on-tap/.
"One thing to mention is that we will mix any beers you want," Hill said. "If there is a flavor you are used to or looking for, we will mix any combination. We can almost always find something that you'll like. We listen to the customers.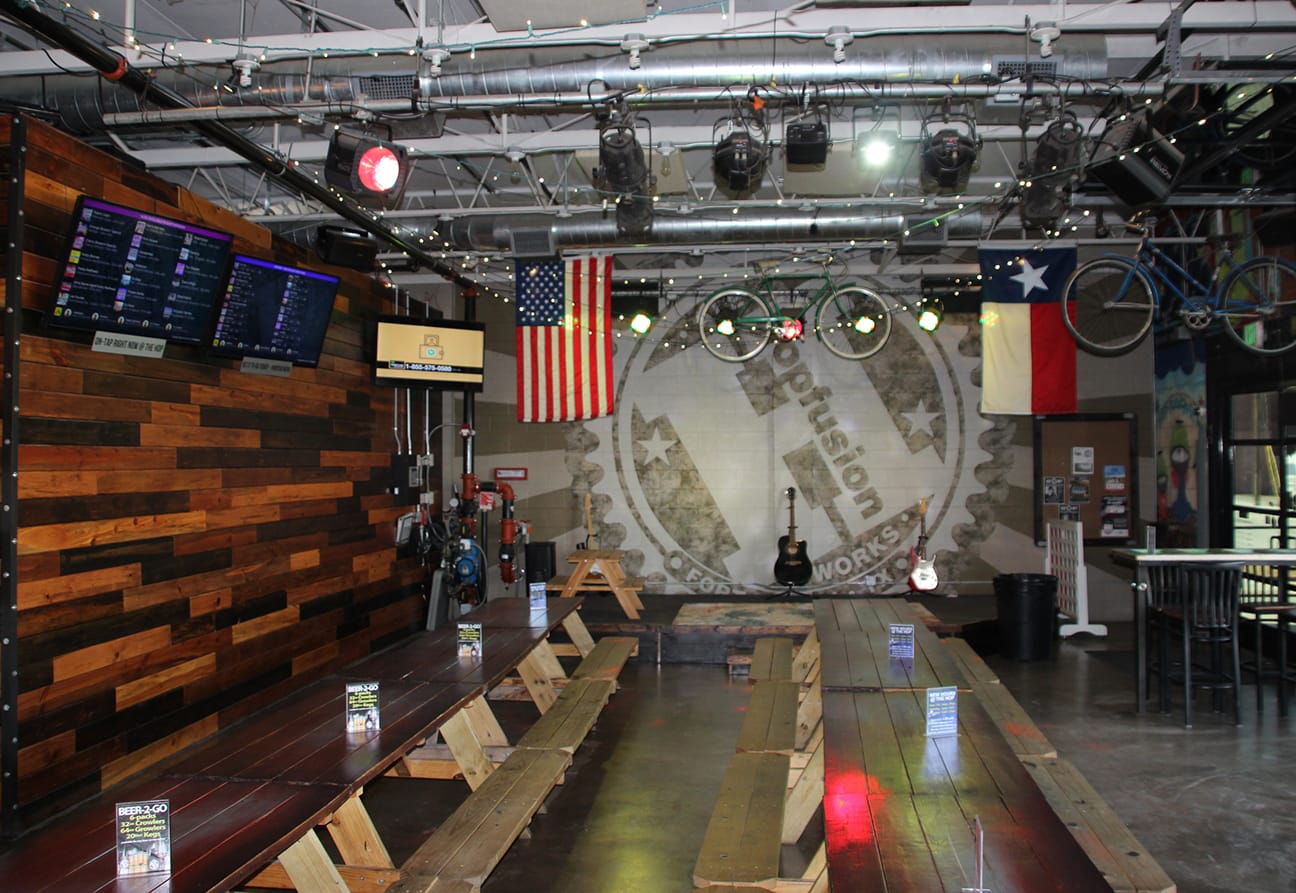 "If they keep asking for a certain beer, we need to work on that beer. We kept having requests from Bud Light and Coors Light drinkers; we realized we needed to make a light lager, and so the Tejano Lager solved that totally."
These guys love the challenge presented by a hard-to-please customer.
"We serve wine, cider, and mead, in addition to beer," Moore said. "People might say they don't like beer, and that's my favorite thing in the world to hear. I'm like, 'Do you have 10 minutes? We'll figure this out.'
"If someone tells me they hate stouts, it's only because they haven't found the right stout. Nine times out of 10, we can help them discover something they didn't know existed and then they are on the craft beer bandwagon."
Hill also readily embraces the task of expanding beer horizons.
"We've had people come in who are embarrassed to tell us they only drink Bud Light, for example," Hill said. "We say, 'Let's work on that and figure something out.' They may start with Tejano Lager, which is definitely the gateway beer from Bud Light and Coors Light. Now, they are drinking Oktoberfest (Märzen), Coco Añejo (coconut stout), or they've discovered they like IPAs (India pale ale).
"It's fun to see them progress through stages from where they began. When you help someone have that breakthrough, they tell people about it, and then the next time, they bring two of their friends; that's exactly what we want."
Hill said they like to present some "older-style" beers that are not found much anymore, but are really good. These guys will definitely dive headfirst into obscure flavors in the name of creativity.
"On the wild side, we've done pickle and Chile de árbol beer, a key lime milkshake IPA, banana pudding beer, beer with blackberries and blueberries, prickly pear, and many other creations," Moore said. "I'm working on a pineapple upside-down cake beer. We'll mix kombucha into beer."
If some of those dessert flavors make you think of a chef's creations, there is a reason for that.
"There is a lot of synergy between our beer creations and those of a chef," Moore said. "Our ideas are often based on food flavor profiles. We'll collaborate with restaurants – the banana pudding beer was based on a pudding recipe at Ellerbe Fine Foods in Fort Worth; they actually made us shortbread wafers that we crumbled to garnish the beer. There really isn't a top end, as far as where we'll stop.
"At the same time, we don't try to make a crazy creation for the sake of crazy; we want it to be good and worthwhile, and maybe it ends up being unique. Ideally, any beer we create should be good enough that you might want 2-3 pints of it."
HopFusion – https://hopfusionaleworks.com/ – is open daily from noon to 11 p.m. It is open from noon to midnight on Saturdays, and closed on Mondays.
There is a different food truck outside most days of the week, as well as live music most Friday and Saturday nights. If in a hurry, customers can stop by and pick up "beer-to-go."
"We don't have a (lone) brewmaster on purpose, while most breweries do have one," Moore said. "That person is responsible for recipe development. Here, there are four of us who brew and each have input, and we have our own styles.
"That lends to the creativity and wide variety of beer flavors you see. These are truly 'our' beers, regardless of the individual who actually created each one."
This place probably sounds awesome, but you don't just have to take the co-owners' word for it.
"The brewery is in a nice location and has a great atmosphere," Ahistus said. "They have really become the heart and soul of the 'Near Southside' area, and it's great to see that part of Fort Worth being revitalized with HopFusion leading the charge. In my opinion, HopFusion Ale Works is the best brewery in DFW. The variety of beers and, most importantly, the quality of all of their beers is second to none in Texas."
-Tye Chandler, Marketing Associate