D'Vine Wine, a Granbury-based winery, is a consistent supporter of Fossil Rim and their exotic animal-themed wines are key to the incoming funds.
On November 18, D'Vine Wine staff members and their spouses made the trip to present a check for $3,470 and also take a guided tour of the wildlife center.
"We donate 25 percent of the sale of each bottle of Fossil Rim wine back to Fossil Rim," said D'Vine Wine Co-owner Diana Hedges. "We are pretty excited, because every year that total donation amount has been increasing. That lets us know that people are enjoying the wine.
"It's been a good fall season for us at D'Vine Wine. I think thing are getting busier as we approach the holidays."
Fossil Rim wine varieties include Zebra Blush (raspberry white zinfandel), Giraffe White (pinot grigio), and Rhino Red (red blend).
Hedges discussed the winery's enthusiastic support of the wildlife center just a 22-mile drive to the south.
"We love this partnership, and we love Fossil Rim," she said. "It's a way for us to give back to our community. We are in Granbury and Fossil Rim is near Glen Rose, but the two towns are so close together that it's an easy drive for one of our customers to come over here. We are surprised at how many customers we get who haven't been out here.
"Hopefully, we are encouraging some new people to discover Fossil Rim so that it is about more than just the sale of the wine. As a Granbury business, we consider Fossil Rim part of the Granbury area, and so does Visit Granbury. They promote Fossil Rim often, because they realize the value of it."
Hedges makes the trip to Fossil Rim for each wine sales donation, but she was happy to bring a large group this time.
"Nearly all of our staff made the trip here to take the tour, as well as their spouses," she said. "A number of them have never been here before, so we thought it would be better for them to see what they are supporting."
Fossil Rim Executive Director Kelley Snodgrass explained what the support of D'Vine Wine means to the organization.
"The partnership we have with D'Vine Wine is incredibly valuable to us," Snodgrass said. "They are such wonderful folks who have supported us for a long time. We appreciate all of our conservation partners, and none more so than the people of D'Vine Wine, who are truly friends of Fossil Rim and conservation partners in what we do."
Another instance of Fossil Rim and D'Vine Wine teamwork is right around the corner, as D'Vine Wine will host "Gallery Night with Peter Bruce and Fossil Rim" on Saturday, November 30 at the winery (107 E Bridge St) from 6-8 p.m.
"I'm really excited, because Peter is so well-known," Hedges said of the wildlife artist who previously lived in Namibia for years managing a wildlife refuge. "He's lived all over the world and is a great supporter of animal conservation. Having him as the featured artist is great to highlight Fossil Rim, because he knows this place well.
"Staff from Fossil Rim will also be there to talk with our guests. Since it is right after Thanksgiving, I think a lot of people will be in town, and we can look forward to a busy Gallery Night."
A stroll through the hall of Fossil Rim's East Admin building showcases a number of large Peter Bruce animal paintings.
The guided tour opportunity to learn from Snodgrass and Tours Manager David Whiting should come in handy for D'Vine Wine Staff, both for Gallery Night and in general going forward.
"Our customers tend to spend a little more time with us than someone in a regular retail shop, because they're tasting wine and just enjoying the atmosphere," Hedges said. "We love to get to know them, and they can see we have Fossil Rim wines on the menu, so when they ask us about them it's a perfect opportunity to share what we know about Fossil Rim. After this tour, our staff will have first-hand experience of Fossil Rim with a lot of current information."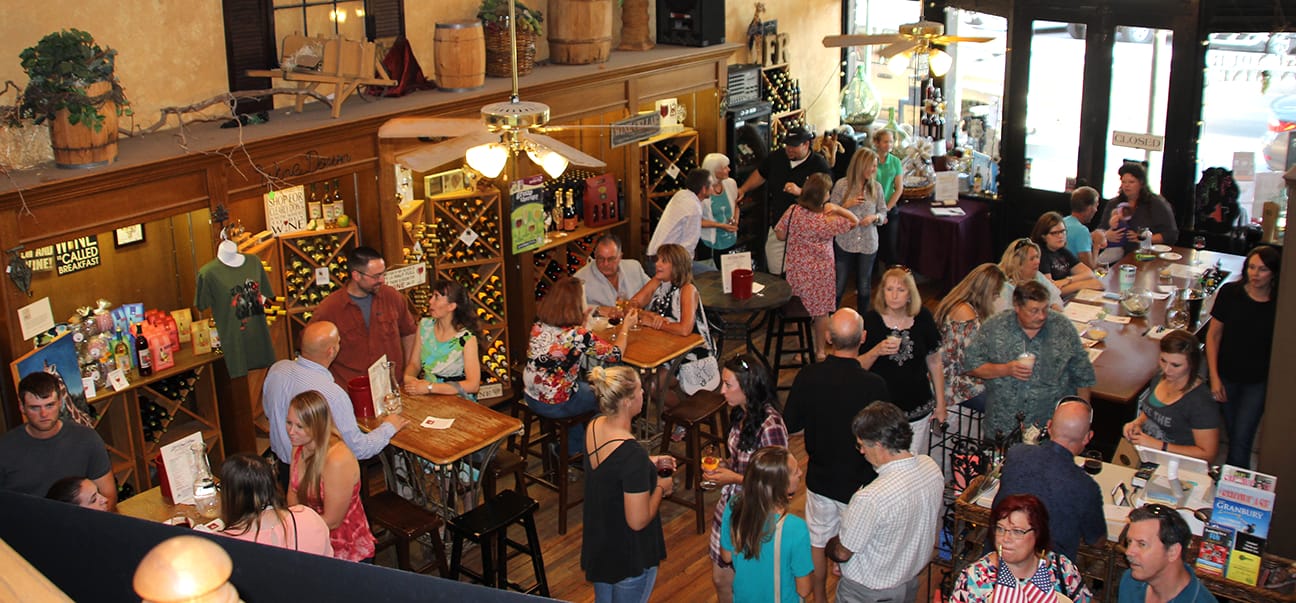 Jerry Allen will provide live music as Gallery Night guests visit with Bruce and Fossil Rim staff. Fossil Rim will receive 20 percent of all sales made during the event, and raffle items will be awarded to some lucky patrons.
"Art and wine seem to be a good pairing, pardon the pun, for our Fossil Rim events," Hedges said. "They go so well together, so when you also add animals into the mix, it's even better to make for a great event. People love animals and appreciate the conservation efforts."
Snodgrass is very pleased to see D'Vine Wine feature the works of Peter Bruce.
"Peter is an African artist with incredible skills in that he paints from experience and draws upon his knowledge of these species with stunning results," he said. "To capture a cheetah's face, for example, is really hard and he does an exquisite job. We've known Peter for many years here at Fossil Rim, and his paintings are impossible to miss around our office and in our Nature Store.
"We cherish our relationship with Peter, as well. This is a Gallery Night that people should go out and see; Peter has some remarkable works."
To purchase Fossil Rim wine, check out https://tinyurl.com/yymvken2.
"We are going to be coming back out to Fossil Rim soon to do a wine tasting with staff, because we want them to have firsthand knowledge of Fossil Rim wine, just like our staff is trying to learn more about these animals and their conservation efforts," Hedges said.
-Tye Chandler, Marketing Associate