When people visit Fossil Rim Wildlife Center, it is a near certainty they will see an animal eating hay at some point – especially in the winter months. Odds are most people never wondered where that hay came from. As it turns out, a lot of planning, care, and old-fashioned hard work went into the mouthful that white rhino is enjoying.
Fossil Rim does not buy grass hay, which is crucial to the park's operation with the vast majority of the 1,100 animals being hay consumers.
"It's incredibly important," said Executive Director Kelley Snodgrass. "Not just from a financial standpoint, but also a quality-assurance situation. We get the type and quantity of hay we want when we want it."
Hay History
Hop in the time machine back to 1984 when Fossil Rim opened to the public, and Snodgrass notes the evolution of the hay process through the years.
"For many years, we produced all the hay we needed on Fossil Rim property," he said. "As time went on, for various reasons including drought, we had to call on friends and organizations with nearby properties to utilize their land. Sometimes, a friend called to offer us the opportunity to cut hay on their land. It's helped tremendously."
Different faces have been primarily responsible for the hay production over time.
"We had a really good hay production manager here, Rodney Marsh, who was actually also an animal care specialist," Snodgrass said. "It's never just one person, because generally rain means all your hay fields are ready at the same time. There's an old saying, 'make hay while the sun shines,' and it's true. After Rodney left in 2004, I shared the duties with our former director of support services, Darryl Morris."
Another big change came in 2009, when Daniel Branham became the head honcho of hay. In fact, Branham, agriculture resources manager and co-manager of the support services department, recalled the specific day – April 27 – off the top of his head.
"Daniel has done an excellent job since he took over," Snodgrass said. "He's really good at it – the 'hay whisperer,' if you will. He has a feel for the land and is very careful with the equipment. Now he has Trent Sandlin and Richard Freeland helping him, and they are really good."
Branham said approximately 170 acres of hay on and off Fossil Rim property are being cut and baled 2-3 times in 2020.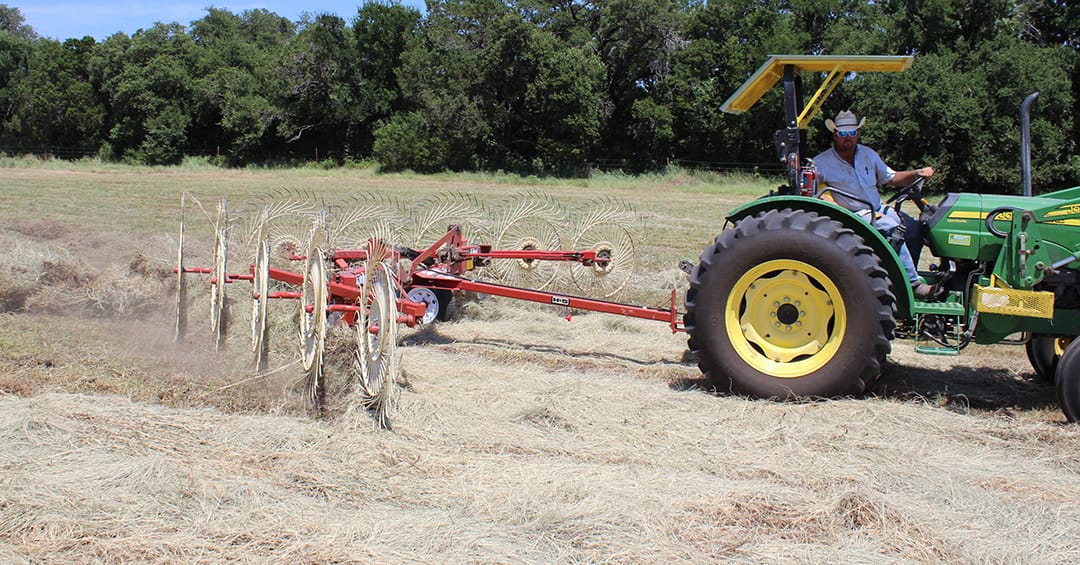 "When considering how our hay production has grown, it's important to remember that back in '84 we had an animal care staff of three who also dealt with hay," Snodgrass said. "Donations of agricultural equipment have been upgrades for us and allowed Fossil Rim to bale more hay in a shorter time."
"We always tried to produce quality hay, but now Daniel is doing things more appropriate for our soil. He takes soil samples and amends the soil accordingly."
Gamblin' Man
While Branham got a laugh from the "hay whisperer" reference, he points to longevity and luck.
"I would say experience is what helps me most," he said. "I've been farming hay since I was old enough to drive a tractor. I'm still learning, that's for sure, and a lot of it is experimentation. Farming is the biggest gamble you've ever seen.
"You nurture the soil hoping it's going to rain. So far, I've hit it pretty good, but I think it's just the luck of the draw."
While he simplified the process down to "cut, rake, bale," in reality there is a bit more to it.
It is important to note that 109 of the 170 acres of land producing Fossil Rim hay this year are on wildlife center property.
"You have to feed, nurture, and care for the grass if you want the quality and quantity of hay you desire," Branham said.
Most years, the fertilizing is done in April and May.
"We do try to aerate the soil every year and get oxygen to the (grass) roots while retaining as much water as possible," Branham said. "We'll just continue to cut and bale all the way to the first frost."
Branham keeps an especially close eye on the weather when he's considering cutting the hayfields.
"If you cut coastal and then it gets rained on, it does reduce the quality," he said. "At least when it's hot and dry the time between cutting and bailing can be very short. If it rains, it may be three days before you can bale it."
Taking Pride In The Process
Four years into his time on the hay team, Freeland has definitely come to appreciate the value of developing a game plan for the process.
"We plan everything out – cut hay at the proper time for the highest-possible protein content," he said. "There's a tight window that we have to work with and hit just right. The one variable we cannot control is the weather, but carefully watching the weather forecast usually helps you get around it. The weather this year hasn't been very helpful, but you deal with it."
Sandlin hit the ground running after arriving at Fossil Rim in 2015.
"Trent has grabbed this job by the horns, for sure," Branham said. "I think he's really good at what he does, and he's made it where I can go home some nights and also be able to do the maintenance side of my job. It's great to have Richard joining us; he has been a big help, especially with raking and cutting."
"Having Richard in the mix frees Daniel up to deal with a lot of other business he needs to take care of," Sandlin said. "He does a great job and he's always there to help, so it makes the process a lot easier."
Freeland loves doing his part. He also recognizes how important it is for the animal population.
"I am the rake operator most of the time," Freeland said. "Daniel and Trent have both allowed me to bail and cut hay. It's such a fun process; we just enjoy producing a quality product. The better the job that we do, the more the health of our animals will benefit.
"That's why quality is everything, and the process includes from the springtime until we cut hay.  We are constantly watching for weeds, Johnsongrass, or any other potential detriment to the animal so that we get the cleanest product possible."
Tools Of The Trade
All three of them can operate all the related equipment: two tractors – one with a cab and one without, a hay rake, a round baler, a square baler, a cutter, a mower conditioner, a shredder and a pasture aerator.
"The square baler is definitely the most challenging part," Sandlin said. There's an art to running that thing. You have to get in the field and play with it. It took me at least a couple of hours to finally get it running smooth.
"You have to put all your focus into it the entire time. What's going in it, how fast are you running, how are the bales looking? If you hurt its feelings, it will hurt you."
Branham pointed to "old-school" technology for the challenge.
"For the round baler, you sit there and look at a computer screen," he said. "The square bailer is manual – no electronics."
"This is the first cab tractor I've used, and we are both thankful for it," Sandlin said. "Credit to (Fossil Rim Mechanic) Scott (Moore) for keeping all of our hay-related equipment up and running, year in and year out."
It Takes A Village
With two-thirds of all square bales coming from off the property this year, as well as 15-plus percent of round bales, these guys spend plenty of time outside the park in the name of hay.
First, there are entities like Ice Creek Ranch lending their land. Ice Creek is the leading off-property contributor with 32 acres being used for Fossil Rim hay.
As far as individual landowners contributing to the hay cause, those involved in 2020 include Jeff Payne and Snodgrass, who lends 12 acres of his property.
"Usually, we cut and bale, the landowner takes care of the fertilizing and we keep half the hay," Branham said.
"Most of the property owners letting us cut their hay are right here local," Sandlin said. "We don't have to go far, which makes a big difference on not having to take our tractors and equipment way down the road for reducing wear and tear. We appreciate all the cooperation from our neighbors, because they are helping out Fossil Rim.
Snodgrass knows how much Fossil Rim has come to count on these arrangements.
"Obviously, we're very appreciative of it," he said. "They are contributing to the conservation of these threatened and endangered animal species, and to the sustainability of Fossil Rim. There is absolutely a deeply felt gratitude for that. We hope we're helping them out in some way, too."
Fossil Rim staff chip in when it comes to hauling square bales onsite, plus Stephen Vara of nearby Walnut Springs hauls offsite square bales.
"The help we get from our coworkers, I think that is one of the biggest teambuilding activities we can do," Branham said. "They might not admit it, but we have a blast out there loading hay – at least for the first hauling of the year."
"When we do get in a bind, everybody on property pitches in to help," Sandlin added. "Especially if we get hay on the ground and the weather isn't cooperating, we come together to get it out of the field. It's not only us three out there. We have good equipment to run, and that makes it a lot easier."
A Numbers Game
"Producing more hay than we actually need puts us in position to survive a drought, and that's always a goal," Snodgrass said. "We carefully figure out how many bales we need to use per day and adjust accordingly."
For Branham, he sets the goal of 500 round bales and 3,000-4,000 square bales produced each year.
"We don't need all the hay we are going to produce this year, but you never know what next year is going to bring," he said. "It will still be good hay next year, and we can always sell it if needed."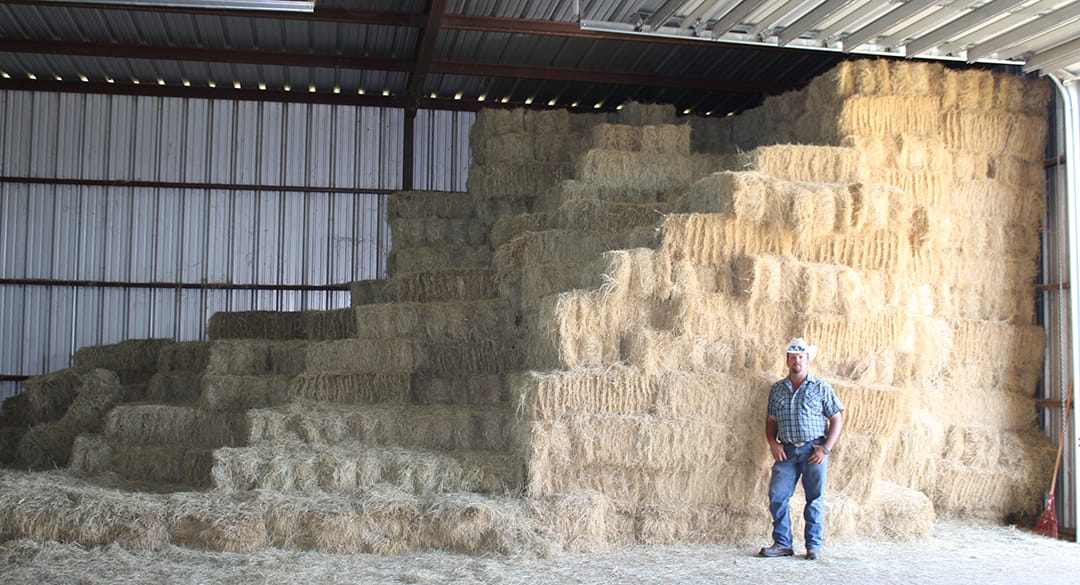 Fossil Rim's barn holds approximately 3,500 square bales.
"We'll fill it up to the brim and top it off right before the first frost," Branham said. "We have several storage areas for round bales, but they aren't covered."
"Ideally, we have a few excess bales for the following year," Snodgrass said. "If our land does produce quality grazing opportunities, we prefer that to hay.
"Hay is counted on during droughts and winter, so our needs can change each year. Winter is the main need for hay by far, followed by drier periods during summer."
The Consumers
Some Fossil Rim species are particularly adept at putting away the hay.
"White rhinos are one of our major hay-consuming species," Snodgrass said. "The sable herd is roughly 30 animals, and they can eat a lot of hay. I would also point to the black rhinos, gemsbok, addax, zebras and Przewalski's horses."
Fossil Rim guests may see some species eating what looks like green hay, but it is an entirely different animal.
"Alfalfa is a staple for our browser species like giraffes, bongo, kudu and dama gazelle," Snodgrass said. "We can't grow it here, so it has to be purchased."
Haymakers With Love
If Branham, Sandlin, and Freeland did not really care about their efforts in the hay department, it would be a shame for the animals.
"It feels good having a job where I contribute to something," Sandlin said. "You can see people like those in animal care appreciate what we do, and that's nice to know. We try to do the best we can. There's no cutting corners while we're doing this."
"I think we take extreme pride in this," Branham said. "The reason we produce our own hay is because we know what's going into it. We can cut it exactly when it's ready and we have the equipment to do it. I know our animal care staff likes that we are producing our own hay, and without it Fossil Rim wouldn't quite be the same.
"Even this year with the challenges related to COVID-19, we still find a way to get it done. The weather has been challenging so far, the days off for the three of us have been unpredictable, and we have to carefully plan around the bailing so there are enough employees to haul the square bales. But, we will figure it out to take care of these animals."
-Tye Chandler, Marketing Associate