Fossil Rim Wildlife Center is well into the second half of its fourth decade of existence, and to consider this place a manmade success is not quite accurate.
Among the facility's 74 employees, 46 of them (62 percent) are female. Women have been making a difference here for many years, and the female influence continues to grow.
March 8 happens to be International Women's Day (IWD), which is a global occasion to celebrate the social, economic, cultural, and political achievements of women. The first IWD gatherings occurred in 1911 across Western Europe. Since 1987, March is formally Women's History Month.
So, let's delve into women's history at Fossil Rim.
"There has definitely been a growing female presence with much more influence since I began my career with Fossil Rim in 1984, and rightfully so," said Executive Director Kelley Snodgrass. "So much of our history is tied to the contributions of women. We need passionate people in conservation, regardless of gender."
Snodgrass is grateful for the many women who have put their heart and soul into making Fossil Rim the best it can be.
"We've been very fortunate to have a number of devoted women working here, leading here," he said. "Not only the employees here now, but former employees, board members, volunteers – all throughout the organization. We have leaders in the conservation world who are female, and that's a growing trend in this field."
While elaborating on every significant female contribution to Fossil Rim is more aptly suited to a novel than an article, Snodgrass addressed the facility's Mount Everest of sorts.
"Certainly, we can look toward the impact of Krystyna Jurzykowski coming on in 1987," he said. "She and Jim (Jackson) acquired Fossil Rim; that was a pivotal moment in Fossil Rim's evolution and history. It created a much deeper involvement for us in the conservation world. Krystyna was there leading the charge."
After a difficult transition that took the duo from partnership to outright ownership, "Fossil Rim Wildlife Ranch" became Fossil Rim Wildlife Center on May 7, 1987.
"You can't discuss Fossil Rim women without bringing up Mary Jo Stearns," Snodgrass said.
A full-time staff member from 1989-2017, Stearns' journey took her from animal care specialist to carnivore curator.
"Mary Jo was the first female employee on the ground out here back in 1989," Snodgrass said. "That was the first time I had a partner to boost our cheetah breeding program. She added a needed balance and perspective.
"The animal care and animal health staffs were largely male (in the early days). When Mary Jo came on board, she had a strong, positive influence on our operations."
In a 2017 interview, Stearns mentioned she was the only woman among the six people on the animal care staff in 1989. Now, there are 14 people on the animal care staff and seven of them are women.
"The open-mindedness of Kelley and Jim Jackson to hire me and other women meant a lot," Stearns said.
"(Dr.) Holly (Haefele) needs to be included on the all-time list of females in our history," Snodgrass said.
Keep reading for a lot more about the aforementioned animal health heroine.
"What Janet (Johnson) and Cara (Burch) have done with the Attwater's prairie chicken program has been phenomenal," Snodgrass said.
Avian Curator Janet Johnson and Senior Animal Care Specialist – Avian Cara Burch annually ensure that Fossil Rim is the world's leading producer of the endangered grouse from the Texas Coastal Prairie.
"It is very hard to narrow down a list," Snodgrass said. "So many former employees were instrumental in where we are today. This place was built on the shoulders of great people who were here decades ago, as well as those here today. That's a legacy we need to respect and continue to build upon."
Fossil Rim currently has five female directors on the management staff. Each one of them discussed women in the wildlife workplace.
Director of Animal Health Dr. Holly Haefele
After training as a preceptee for six weeks in 1999, Haefele joined the Fossil Rim staff in 2004. Hired for a temporary position, after four months she became an associate veterinarian. Two years later, she was promoted to director of animal health and continues in that role today.
"I would like to say I don't think about being a female director and that it is expected for women to be in leadership and directorship roles," Haefele said. "But, I graduated from a college from which the first women graduated approximately the year I was born. So, that helps put things into perspective.
"I am proud to have a role in Fossil Rim's management and grateful to lead a department comprised of smart, driven women. However, not even having to think about being a female staff member, as opposed to a staff member, day-to-day is the best part."
To her point, the animal health staff consists of four women.
"In my time here, the biggest change regarding women is that they are now in leadership roles – the five directors, plus Janet as avian curator," Haefele said.
Haefele pointed out some of Fossil Rim's all-time female contributors.
"I think the most important woman in Fossil Rim's history is Krystyna Jurzykowski," she said. "She saw Fossil Rim's potential and is still helping to ensure that Fossil Rim reaches it. I also think about the impact of the Attwater's prairie chicken team, Janet and Cara. They have truly made a huge impact on that program by consistently giving everything during chick season and striving to improve every year."
Director of Tourism Donna Steakley
Joining Fossil Rim's team in 2005, Steakley has held five different positions, beginning with director of the Nature Store. She currently oversees the Nature Store and Overlook Cafe, plus she is in charge of special events at Fossil Rim.
"I work for rhinos; I seriously believe I work for our animals," she said. "It's my job to make money to feed them."
Thinking about equality in the workplace, Steakley recalled a challenge long before her Fossil Rim career.
"As a young woman, I took an aptitude test with 18 men in a group of 19," she said. "The highest dexterity score earned a job as an apprentice printer; they didn't want to give me the job because a woman hadn't done it before. When the scores were revealed, I was determined to prove I could do the job well and work just as hard as they did.
"Long story short, I finished the four-year apprenticeship in two-and-a-half years. Flash forward in my career to this point, where women are encouraged to excel at Fossil Rim, and it's nice to see."
Steakley shared her fabulous Fossil Rim female selections.
"Krystyna is an amazing woman with passion and drive you can feel when you are around her," Steakley said. "She's definitely one of the most important figures in Fossil Rim history. Holly is outstanding at her job. She is very smart, and I look up to her, but she never acts like she's above you.
"She always explains animal-related matters to me and has taught me so much without even realizing it. I have so much respect for her because of that."
As opposed to the environment she recalled at the printing company, Steakley cannot say enough about the acceptance she sees at Fossil Rim.
"That's what's nice about working at Fossil Rim – it doesn't matter if you're a man or a woman," she said. "I also look up to (Director of Animal Care) Adam (Eyres) and Kelley; they are amazing, regardless of gender. We all have our part to play here as human beings, and I respect everyone for the job they do."
Director of Human Resources Tally Hickey
In her current position since arriving at Fossil Rim in 2017, Hickey has previously worked in HR for the U.S. Department of Defense, the medical field, and Lowe's. When she is looking to make a new hire, gender is the last thing on her mind.
"In our application tracking system, I never ask for gender," she said. "I'm looking for the person best qualified for the position. I do think it is a plus to have a diverse working environment, but the key is having everyone on our staff motivated to do their job exceptionally well.
"For many of our jobs that require more than one staff member, people will see we have men and women working in that position. It is nice to see that, in terms of women showing they are just as capable."
While she stayed determined as a young lady entering the job market, Hickey hopes aspiring female professionals nowadays feel a bit more emboldened.
"As a child of the 80s and 90s, I saw more women staying home, taking care of their families," she said. "Now, more women are going to college and pursuing their career goals. Women have worked hard to get to this point, and I think if you are a young lady seeing the opportunities available to you these days, you should feel encouraged."
In regard to outstanding women at Fossil Rim, she appreciates all who place a priority on the park's animal species.
"I admire all the women here at Fossil Rim who are dedicated to wildlife conservation," she said.
Director of Education Jennifer Arledge
Originally at Fossil Rim in 1994-96 as conservation camp coordinator and then education coordinator, Arledge returned in 2019 to take the director position.
"I know when I started my career here, there was a higher percentage of men at the management levels of wildlife institutions," she said. "Fossil Rim was a bit different than most with the presence of Krystyna here, considering she was co-owner at the time. When I look back at my first term here, I think Fossil Rim was ahead of the curve in the 90s regarding female involvement. From what I saw, women were treated equally; you were expected to do a great job to help Fossil Rim achieve its mission no matter who you were.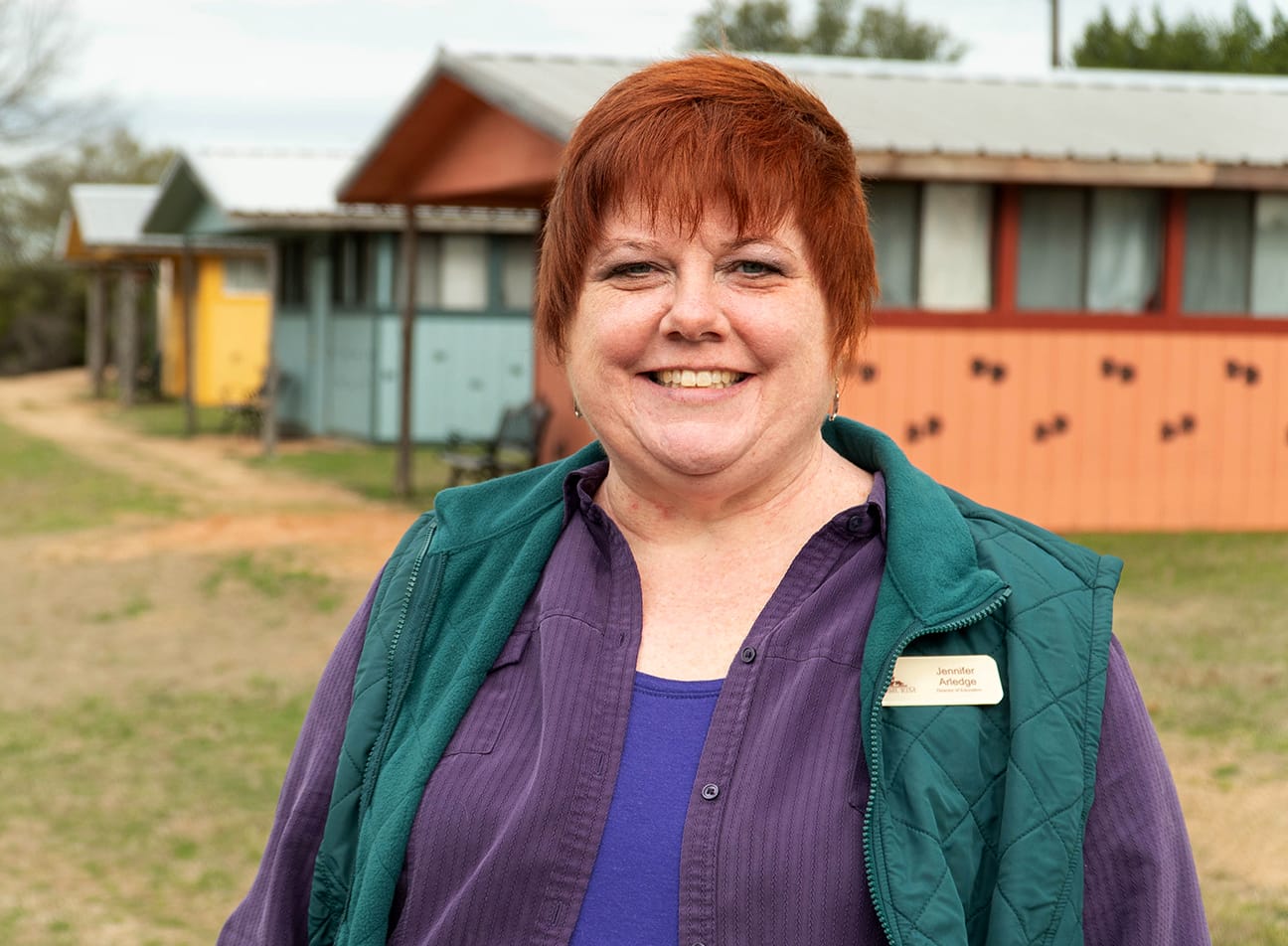 "You were recognized for the strengths that you brought to the table. Equality is better than a female-dominated field, because you want young boys to see opportunities where they can aspire to achieve, as well."
In her particular department, women made headway earlier it seems.
"The education field tends to be heavily weighted towards women," Arledge said. "When women first entered the workforce, education was one of the few available fields. It became a tradition of women aspiring to be teachers. For fields like animal care and animal health, I think we see the presence of women continue to grow."
Arledge worked at wildlife institutions on the West Coast, East Coast and in the Midwest before heading to Oklahoma and back to Fossil Rim.
"We may have a higher percentage of female staff than a lot of places, but I have seen the long-term trend of more and more women showing interest in fields involving animals and the environment," she said. "I think a lot of women are mindful of the state of the world where their children and grandchildren will grow up; they want to leave it in better condition than they found it, in my opinion."
Among the women who contributed to this story, Arledge experienced Fossil Rim a full decade before anyone else.
"Reflecting on my first time working here, I never had the sense that men were treated better," she said. "You are looked at as an individual here, not for any sort of group you belong to, and to me that is fair."
When asked about great women of Fossil Rim, Arledge recalled an influential coworker from the mid-90s.
"I definitely think of Laura Jenkins-Kay," she said. "Laura had numerous job titles over her decade-plus here. When I was here, she was the safari camp coordinator, then director of events and volunteers, then director of sales and tourism. I was inspired by Laura.
"She was very organized, optimistic, and treated everyone well. When she had to be firm, she knew how to be tactful about it. I admired that she could be a strong woman without seeming off-putting; it's a fine balance and she pulled it off."
Director of Development Jennifer Smith
Jennifer Smith took the reins of the development department in August 2019. The Florida native worked her way to successful fundraising for the Humane Society before coming to Fossil Rim.
"As the youngest and newest female director to join the Fossil Rim team, I knew I had my work cut out for me," Smith said. "Every day, I am so amazed by the commitment and hard work of everyone on our staff to the common cause that is our mission. In my seven months here, I have started to develop a culture of giving and spreading the word that Fossil Rim is a nonprofit organization that depends on the support of visitors and donors."
Smith definitely had some female coworkers in mind to discuss for International Women's Day.
"I have so much respect for Holly and I'm glad to get to work with her," Smith said. "I have the opportunity to ensure that our director of animal health gets the supplies she and her team need to care for our animals. I can't wait to take on the monumental task of getting the funding to expand our veterinary hospital.
"Another woman who inspires me to keep doing better at my job is Jennifer in education. I recognize that educating and empowering the generations to come will be crucial to future conservation efforts to save species and the land they live on."
Fossil Rim holds its female staff in high regard, but like Arledge said, "You are looked at as an individual here."
"Getting to the point where you see it as 'that person is doing a great job' is what it's all about," Snodgrass said. "It shouldn't be he or she; it should be they."
Some other women in prominent positions at Fossil Rim are shown in the photos below.
-Tye Chandler, Marketing Associate