'Tis the season of giving, and Christmas generosity was in the air at Fossil Rim Wildlife Center for the benefit of a local family.
Fossil Rim called upon the Somervell County Food Bank (SCFB) to select the family for the first annual Adopt-A-Family. It involved the collection of clothes, shoes, toys and funds to buy said items before they were to be presented at SCFB Dec. 18. The Fossil Rim staff was informed of the age and gender of the children, as well as the items needed.
"We've had a long history with the local food bank," said Dr. Pat Condy, Fossil Rim executive director. "The (canned goods) collection comes to the food bank from our Somervell County Day, and that's a tradition, but this is the first time we've done this for a family in need through the food bank."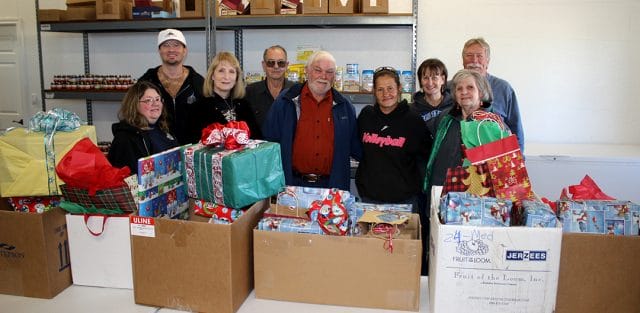 Fossil Rim requested that Max Bly, SCFB director, choose the family to be adopted. Fossil Rim's finance department – Pam Adams, Hailey Shields, Maggie Blake plus coworker Linda Lowry – then organized the gift gathering, purchasing and wrapping of presents. For the Fossil Rim staffers who donated money, it was used to purchase the remaining items on the family's wish list.
"Those ladies all stepped up," said Adams, Fossil Rim CFO. "I needed the help, but I think we all like to shop. They were just so willing to take it on.
"When we did this years ago, it wasn't in association with the food bank. I'm pleased with how it all came together."
Melanie Noisey, who has four children and two grandchildren, walked into the food bank on the afternoon of Dec. 18 to see a long table stacked with wrapped presents and surrounded by Fossil Rim and SCFB staffers. She quickly became emotional.
"I knew I was coming up here to get some gifts from Fossil Rim because they'd adopted my family," Noisey said. "When I came into the food bank (in late November), Max told me about it and I was excited. I was overwhelmed when I saw the presents on the table. That was more than I expected, and it was great.
"I don't know what to say. I never expected this to happen to me, but I appreciate it a lot. Max and the people at the food bank are great, and Fossil Rim is wonderful."
Scott Hughes, Fossil Rim IT director, wanted to add a computer to the gift list.
"Scott had a refurbished computer available, and he thought we could offer it to the family," Adams said. "I thought it was a great idea, plus he had a second computer he decided to give to the food bank."
Noisey said she was surprised by the computer.
"We didn't have a computer, but I have two teenage kids and it's a wonderful blessing," she said.
From the Fossil Rim perspective, it was valued to be able to see Noisey's reaction to the gifts.
"This is how we're going to do this in the future," Condy said. "It's good that we were able to actually meet Melanie instead of doing this anonymously, plus it was important that the food bank staff selected a family they wanted to do this for."
"To see what it meant to the family's mother, to know her story and that she was really appreciative – that meant a lot to us," Adams added.
Noisey emphasized how close she is with the food bank staffers.
"This is my family," she said. "I volunteer here on Fridays when I can, and otherwise I'm cutting wood with my dad. I give these folks a hug every time I leave here, because they've helped me out a lot with groceries. I'd do anything for them."
Bly was happy Noisey's family was selected.
"When something like this is done, you like to see it go to deserving people," he said. "With Melanie, it really is wonderful because she's always appreciative of what we do for her. She works, but she has a big family to provide for."
Between Adopt-A-Family and Somervell County Day, Bly is quite the Fossil Rim fan these days.
"We're basically working with Fossil Rim as a team on some of these things, and it's great," he said. "It's wonderful what Fossil Rim is doing for the community and for the food bank. All I can say is 'thank you.'"
Somervell County Day, which involved the donation of canned goods to SCFB in exchange for a free Fossil Rim visit, helped pack the food bank's shelves this holiday season.
"This is the best our inventory has looked this time of year," Bly said. "Somervell County Day donations really put us over the top in terms of canned goods."
As for Christmas morning, the forecast calls for smiles in the Noisey household.
"The kids are already excited," Noisey said. "They're trying to open the presents early, but they're not going to. As of (Dec. 18), these are the only gifts that will be under the tree, and our Christmas is going to be great."
-Tye Chandler, Marketing Associate