We have great news for those of you that want to be even more engaged with Fossil Rim as you drive through the facility: the Fossil Rim App! Available for free within both the Apple App Store and Google Play Store, the app offers insights and fun for guests of all ages.
You might be asking yourself – do they really want technology to interfere with enjoying such a beautiful place? We had the same concerns. Do we want a phone app to hinder people from enjoying the 1,800 acres of beautiful nature dedicated to conserving threatened and endangered species?
Although we opened in 1984, it's not the 80's anymore! Every day we see our guests using their phones to record, enhance, and share their experiences at Fossil Rim. Modern technology may seem to clash with our center's tranquil environment, but when used as a tool to guide and educate, it can make for an adventure.
The Fossil Rim App is designed for the guest on the go, highlighting our animals, park amenities, and our incredible conservation work. Check out some of the cool features that can take your Fossil Rim expedition to the next level:
Animal Spotlight

We've all been there before – what animal am I looking at? Using the Spotlight, guests can get the app's best-guess at what species they are seeing. The possibilities are ranked by percentage, each clickable to where you can find more information on our species. This tool was developed by reviewing hundreds of photos of our Fossil Rim animals, so while it won't work on your dog, it can help you decide if you're looking at a waterbuck or a wildebeest.
Animal Library

Miss the ol' fashion animal guide? Our paper species guides that we've handed out for years are still here in spirit as part of our Animal Library. From addax to zebra, we have each of our Gosdin Scenic Drive species listed, as well as some Texas native species you may see along the way. Clicking on a species provides quick facts about the animals, which pasture they are located in, as well as links to challenge questions and connecting concepts.
Pasture Map & Points of Interest

Are we there yet? Here's your answer! Using your phone's navigation services (at your approval), you can follow your journey through our pastures on the interactive map. Just make sure to click on the locate button on the map page to get started. With a top-down view of our pastures, you really get a sense for the spacious environment our animals call home. While on the drive, you can find locations of note, including pasture names, guest stops, and park facilities. Can't find it on the map? We have the Points of Interest listed within the menu, where you can have the app do the legwork and show you just where you're seeking.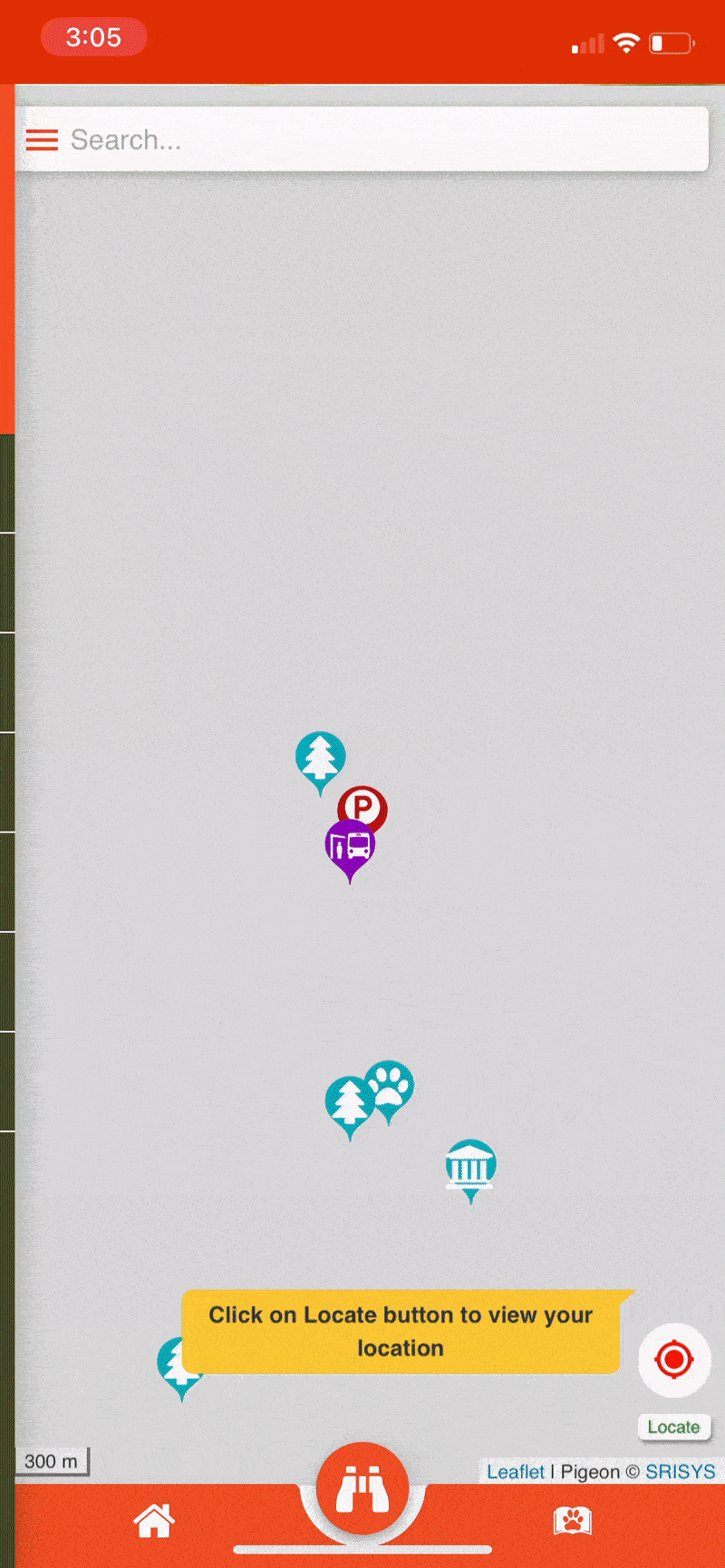 Species Challenges

After you Spotlight a species, you can take on challenge questions based on the animals that you're viewing. Offer up the questions to your family and friends on the drive, or test your own knowledge to review your trip. Whether you're a first-time visitor or have a yearly membership, there's always more to explore at Fossil Rim!
Learn More About Fossil Rim

Ever wondered what ties Fossil Rim together? Check out the menu section labelled "Learn More" to delve deeper into concepts that span our animal collection, animal health and management, and our stalwart conservation breeding programs. These pages can tell you how a herd functions, how conservation breeding works, and whether that animal you're seeing has horns or antlers.
We've only just begun! We are working closely with our app developers to continue growing how our guests interact with the Fossil Rim App. Future plans include listing of special events, educational opportunities, and potential discounts. We also hope to see continued additions to our listed species (like those in our Intensive Management Area) as well as updates on our conservation programs. Keep an eye on our social media pages like Facebook, Instagram, and Twitter for any updates to this new venture.
We recommend that all guests download the Fossil Rim App before arriving, due to the inconsistency in cellular network service in our area. Be sure to download the Fossil Rim App to your phone today!


-Will Baker, Environmental Engagement Supervisor