When one of Fossil Rim Wildlife Center's animal care specialists has a father who is an artist and D'Vine Wine in Granbury enjoys a strong partnership with the facility, there is great potential for a fun Saturday evening.
This scenario played out to perfection for Meet The Artist on Sept. 23, as Thomas Shea's Game Preserve pasture portraits were on exhibit to highlight many of the giraffes his daughter Molly Shea regularly cares for. Diane Hedges, D'Vine Wine owner, recalled when the last Fossil Rim event – Winos For Rhinos – was held at her establishment in February.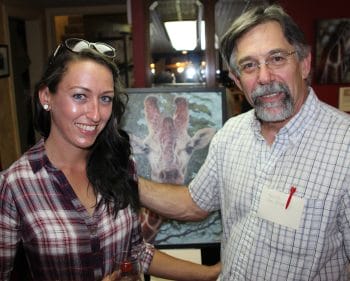 "We certainly had some different people at this event," she said. "It did go much smoother, probably because we were all much more prepared for it. We had no idea we'd have this kind of turnout at the last event. There was a lot of good support once again."
This marked the second event for Mr. Shea with Fossil Rim, but the first at D'Vine Wine. He made the trip from Wisconsin for the occasion.
"I can't believe that he comes this far and drives all of these paintings down," Hedges said. "I was on a Behind-the-Scenes Tour (at Fossil Rim) one time and I met Molly. As we were talking, she mentioned her dad is an artist. The next thing I knew, he sent pics of his art, and I knew he was talented.
"He asked for more time to make a series of paintings, and we've been emailing ever since. I would love to keep hosting this event."
Thomas recalled his 16-hour journey in advance of the night.
"I camped out in Missouri, and actually spread my paintings out on picnic tables so I could get my camping gear out," he said. "It was a little stressful, because some of them are still a little wet. Fortunately, they made it (unblemished) and are still drying on the wall now (for a couple of days). Some paintings come together real quickly for me, while others I struggle with.
"The one with 'Mosi' took me an especially long time on the background; it's something I worked on until the last minute. I'm so glad the event turned out well."
He pointed to a favorite work of giraffe art.
"The one of 'Snorgie' where she is turning her head is my favorite," Thomas said. "Something about the photograph I worked from really had something special to it. It just came together quickly."
Shea was appreciative of the team effort to showcase his works.
"Diane was so enthusiastic and fun to work with," he said. "She was very accommodating to spotlight the paintings in such a great way, plus have a great spread of food here and the Wine-A-Ritas are delicious. Carly (West) and Karen (Adams) were my main Fossil Rim contacts to set this up. Kelley (Snodgrass) and Adam (Eyres from Fossil Rim Animal Care) have been so helpful and inspiring for me to learn more about these animals."
The father is so pleased with the life his daughter has made at Fossil Rim. Molly's primary focuses are giraffes and Kordofan aoudad, but she also cares for a variety of other hoofstock.
"I'm proud of what Molly is doing here at Fossil Rim," he said. "She works so hard, and it's always changing, depending on what animals are born and where she needs to pitch in to help. She has the support of all her coworkers; they're such a great team. I'm proud of her and reassured that she has such nice friends to work with."
West and Adams enjoyed doing the legwork for their first tandem effort in Fossil Rim's Development Department.
"The event went very well," West said. "Mr. Shea was very easy to work with. His passion for art, giraffes, Fossil Rim and Molly are evident when speaking with him."
Adams recognizes the potential of the D'Vine partnership. "D'Vine Wine is a great venue for gatherings and events," she said. "There are limitless opportunities regarding our partnership with D'Vine Wine to promote awareness for Fossil Rim and our mission. It's also a great way to promote cross-tourism between Granbury and Glen Rose." Thomas made the call on the arrangement of his artwork for the evening.
"The rest of the ambiance is what you get each time you visit D'Vine Wine," West said.
The ladies were thrilled about the enthusiasm for the event.
"We are very pleased with the turnout and especially grateful to all of our wonderful staff who volunteered to help," Adams said. "It was so exciting to sell a painting! We hope to sell a few more."
On that note, the artwork can still be purchased. To inquire about a purchase, contact West at carlyw@fossilrim.org. With the purchase of any of these paintings, 50 percent of the proceeds will go to Fossil Rim.
A North Texas Giving Day check was presented to Snodgrass by Hedges at the event.
"The North Texas Giving Day check is the annual donation that D'Vine Wine gives from the proceeds of the Fossil Rim wine sales," West said. "It was exciting to have them listed as a matching donor for this year's Giving Day to encourage individuals to donate and help us reach our goals."
They pointed out that Kimberly Armstrong with Farina's Winery in Granbury donated the appetizers for the evening, adding they were quite delicious.
West and Adams also sold $300 in tickets for their "Giraffle."
"It included a one-hour giraffe tour, sculpted giraffe figure, cheese platter, journal, coffee mug, plaque, t-shirt, corkscrew and bottle opener, and a bottle of D'Vine Wine's Giraffe White wine," Adams said. "Our winner was Holly Blue, who was staying the weekend at Foothills Safari Camp and enjoyed her tour (Sept. 25)."
In fact, West reached out for further details of the rave review.
"Holly and her daughter, Kyla Blue, did a tour with Adam," West said. "Holly said they really enjoyed seeing the giraffes up close, and it was amazing to see how tall they are. The opportunity to feed the giraffes was a great experience, and they enjoyed viewing the inside of the barn to learn about how the giraffes have a warm place when it's cold outside. Their favorite story was how 'Demetri' got his name."
West was excited to tease an outdoor event Fossil Rim Development is working on for Spring 2018.
As for Hedges, she knows her winery's partnership with Fossil Rim is an uncommon bond and she embraces it.
"I do think it is unusual – the partnership – we have," she said. "Several years ago, I was approached by Fossil Rim's marketing department. I said we could make wine and label it for them, which started the conversation. Working with (Executive Director) Dr. (Pat) Condy and (Marketing Director) Warren (Lewis), we had a lot of discussions about the type of wine and how we want it to look.
"I don't know anybody else that does this. A former Fossil Rim intern who is now working in California recently wanted animal-themed wine, so we are now providing Fossil Rim wine for their event. Our hope is the people in California take more notice of what Fossil Rim is doing here."
Hedges has her own aspirations for other event variations to boost Fossil Rim.
"A Fossil Rim art gallery night is in the future I think," she said. "It would hopefully be a variety of animal artists. I would encourage other animal artists to contact me for a Fossil Rim-related benefit."
On that note, interested artists can give her a call at 817.573.7200.
When great art, fine wine and superb socializing come together, the mix makes for great memories.
-Tye Chandler, Marketing Associate