Early December is always a memorable time of year at Fossil Rim Wildlife Center, with "Dream Day" being chief among the reasons why.
For the 11th annual installment of a special day for local children facing medical adversity and their families, the guests of honor on Dec. 8 included Raegan Holder (age 5), Tobyn Holder (2), Sienna Jayne (5), Peyton Prater (5) and Caden Braswell (5).
Dream Day guests always seem to have a great time, but this crew may have taken the cake, as no one even had a fleeting grumpy moment. The day began with the families arriving at the Admission Center just a few minutes ahead of Santa, Mrs. Claus and their elf atop a Somervell County firetruck.
"This is a time to focus our attention on a few families with children going through adversity, and this event has really grown over the years," said Dr. Pat Condy, former executive director. "To the families, enjoy and relax – it's your day; it's your time."
A number of Glen Rose officials, from the sheriff to the mayor, were on hand to greet the families. Condy thanked event co-sponsors Glen Rose Medical Center, LDL Educational Resources Foundation, United Coop, Best Western, and Texas Parks & Wildlife Department.
Condy also praised Fossil Rim staff and volunteers for their efforts in regard to the occasion, especially Carly West, Karen Adams, Warren Lewis and Tessa Chenoa Ownbey.
The fun began with a guided tour provided by volunteers Beverly White and Chris Paulsen. The kids fed an ostrich and then felt an ostrich egg.
"First, we were ostracized, and now we are 'emunized,'" joked Paulsen, as he drove the bus toward the awaiting emus in the Buffer Pasture. Guests got to watch Animal Care Specialist Becca McLachlan feed the mountain bongo and greater kudu herds, plus get an up-close look at bongo calves.
While the tour did not go into the Intensive Management Area, White had a binder with illustrations so she could still explain those animals to the guests. As the bus passed by gemsbok in the Main Pasture, White told the story of how Tom Mantzel, Fossil Rim's original owner, was gored through the leg by a gemsbok horn and actually saved by a distraction provided by his dog. Besides holding everyone's interest, it emphasized the lesson of safety first in a wildlife park.
The tour bus eventually headed to the Overlook, as the kids headed over to the EcoCenter to make enrichment items for the residents of the Children's Animal Center with the help of Kristina Borgstrom, Mark Phillips and Andrew Bullard.
"We adopted our three daughters, and I think Fossil Rim reached out to LDL, which then contacted the special needs department in Glen Rose ISD," said Matt Holder, father of Raegan, Tobyn and another five-year-old daughter, Matison. While Tobyn was a domestic adoption, Raegan and Matison were both adopted from China.
"Our youngest daughter, Tobyn, was born with Down's syndrome and had open-heart surgery at four months old," he said. "She has really blossomed after her heart was repaired. Raegan also has Down's syndrome, but hasn't had the medical issues Tobyn has dealt with. We feel very blessed to have this day with them.
"Our family is a very fun group. Matison says stuff that a 13-year-old would, as opposed to a five-year-old, because she's pretty witty. She loves what we are doing today."
Holder shared some thoughts on what his daughters seemed to be especially enjoying – at least regarding the guided tour.
"Matison was pretty intimidated by the ostrich, but I think she likes all the animals," he said. "Raegan really likes going across the cattle guards, when everybody is hollering and raising their hands. It was a little chilly out, so Tobyn got in some snuggling time."
Holder praised the support in nearby Glen Rose for his daughters.
"Glen Rose and Granbury – the community around Fossil Rim is phenomenal," he said. "When we thought about adoption, it was a no-brainer that we could handle it because of our community support. To see these families getting to do this with their kiddoes is awesome."
A caretaker for her nephew, Caden, who has muscular dystrophy, Liz Davidson was also keeping an eye on Caden's brother, Dillon, and her daughter, Abigail, at Dream Day.
"Caden's nurse nominated him for this event, and then Fossil Rim approached us," Davidson said. "Once we heard the details, we definitely wanted to be part of it. The kids really enjoy feeding the animals, and meeting Santa was a big deal. My daughter, Abigail, loves elves, so she was excited to see (volunteer Sara Paulsen).
"I grew up in Glen Rose, but this is actually my first time at Fossil Rim. I liked getting to check everything out."
Next, the children were able to watch goats, exotic birds and a pot-bellied pig enjoy their enrichment items. Santa and his crew were right there with the children the whole day.
"I'm Santa Dan, also known as Dan Broyles," said a Fossil Rim volunteer in full St. Nick gear. "In real life, I teach at the college level; this is my 25th year. I've had this beard since 1971. I have been Santa for all 11 years of Dream Day, and it is the most rewarding thing I get to do all year."
Broyles recalls making a spur-of-the-moment decision to partake in the Dream Day events.
"I was on property giving a guided tour, and the marketing director asked over the radio if I was still on the property," he said. "She wanted me to stop by her office. She asked me if I'd put on the red suit for the very first Dream Day. I asked to think about it, and she said I had about 20 minutes to decide.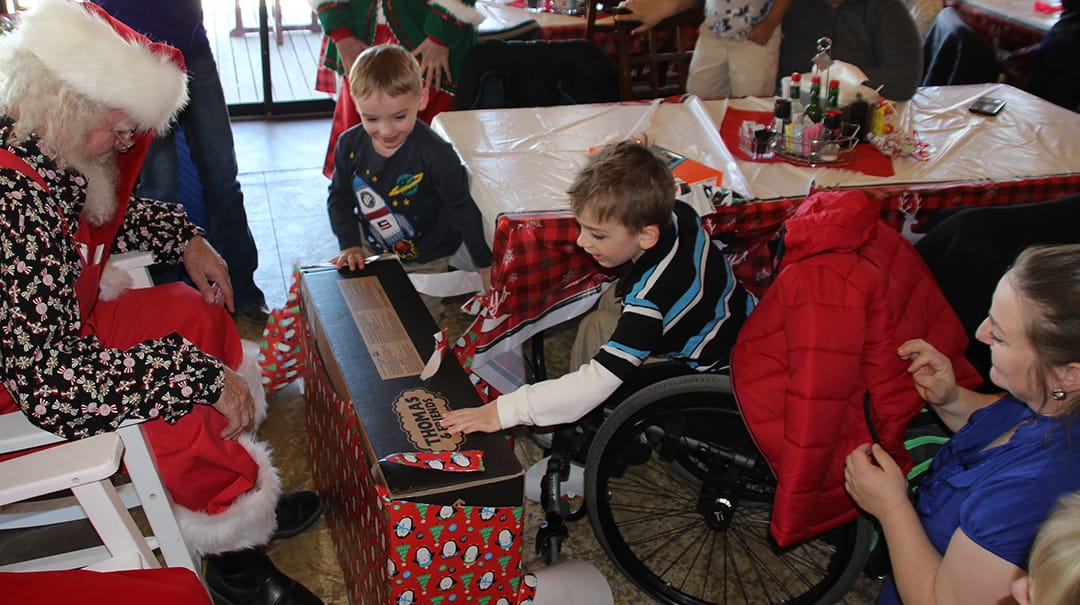 "Fossil Rim is the reason I'm Santa, and I've loved every moment of it – both here and out in public. It started with just me, and then Mrs. Claus (Shirley Smith) joined me three years later.
"Sara came on as an elf four years ago. We also have elves in the Children's Animal Center (Bailey Gensheimer, Ava Landgraf and Amber Wiedeman this year), and it seems like the crew participating in Dream Day grows every year."
There are some memorable reactions each year when the fire truck pulls up and the young Dream Day guests first see Santa Dan.
"Kids are overwhelmed sometimes; their mouth flies open and they're pointing like 'there he is!'" Broyles said. "That interaction is really cool."
Broyles said his favorite species at Fossil Rim is usually whatever baby animal is standing closest to the bus.
From there, the bus headed back out to continue the guided tour before lunch. Giraffe Caretaker Molly Shea invited the guests to stop by the giraffe barn, and she gave them a tour of the barn and a closer look at the giraffes in their yard.
The bus then passed by Hartmann's mountain zebras – White explained the equids are actually black with white stripes instead of vice versa – and cheetahs among other animals on the way to the Foothills Safari Camp for lunch and opening of presents in the glass-walled pavilion.
Fossil Rim Chef Nick Itayem, Pastry Chef Dawn Sorrells and their culinary crew prepared a menu of mini corndog nuggets, waffle chicken nuggets, mini grilled cheese sandwiches, pasta with homemade marinara sauce, flatbread cheese pizza squares, garden salad, three varieties of cupcakes with different buttercream frostings, tea and, of course, juice boxes.
Matison Holder would later tell Itayem his waffle-batter variation were the best chicken nuggets she had ever eaten.
Some of the widest grins to ever grace the pavilion were produced when it was time to open presents. At one point when a large present involving Thomas the Tank Engine was opened, brothers Caden and Dillon both exclaimed "I love it!" while Santa was the recipient of numerous hugs of gratitude.
From there, the families boarded the tour bus one more time and saw some more animals on their way back to the Admission Center. It was another occasion of optimal fun, another terrific time for brave youngsters, another Dream Day at Fossil Rim.
-Tye Chandler, Marketing Associate