In early December each year, a few local families get a respite from adversity and just enjoy their time with each other and the animals at Fossil Rim Wildlife Center.
On the morning of Friday, Dec. 7, Fossil Rim staff welcomed the Timmons family and the Sanders family.
Rich Timmons is battling terminal brain cancer. He used to train cutting horses and has won many awards through the years. Rich was joined at Dream Day by his wife, Sheri, as well as sons Nicholas and Jake.
"We moved here in Dec. 2015, and I'm very glad we did," Sheri said. "Today was better than a dream come true, because it's real. For us, it's a special time to make memories. We don't know how many days we have left, so this was a remarkable day."
Cecile Sanders was there to enjoy the day alongside her daughter, Bryar. Bryar's father passed away recently after an accident.
"We've lived in Glen Rose all our lives," Cecile said. "Bryar has visited a few times with her dad; she likes the giraffes and her dad knew all the exotic animals, so they enjoyed driving around together while he would quiz her about what species they were looking at. But, she'd never experienced Fossil Rim to this level.
"Bryar is more concerned with me right now than anything. I think we're overly worried about one another. There is a little bit of anger about (her father's passing), but she's a tough girl and is handling this relatively well."
Cosponsors of the event included Fossil Rim, Glen Rose Medical Center, United Cooperative Services, LDL Educational Resources Foundation, The Promise, and Texas Parks & Wildlife. Companies to donate gift certificates or merchandise to the families included The Petting Zoo, Aurora, Tractor Supply, Hammond's BBQ, David's grocery, Brookshire's, Best Value Pharmacy, Chick-fil-A, Dinosaur World, Pizza Hut, and Gosdin's Dozer Service, Inc.
After the families arrived at the Admission Center, Santa (Dan Broyles), Mrs. Claus (Shirley Smith), and the Elf (Sara Paulsen) appeared atop a Somervell County Fire Department truck to greet them. Dr. Pat Condy thanked a variety of people in attendance for their support, including County Judge Danny Chambers and Chief Deputy Sherriff Dwayne Griffin, as well as representatives of LDL, Dinosaur Valley State Park, and The Promise, among others.
Upon enjoying some donuts and warm greetings in the cold weather, the families loaded up and headed to the White Rhino Barn to meet with Hoofstock Animal Care Specialist Justin Smith. Smith introduced the families to each of the white rhinos – including two calves – and let them touch and scratch the huge herbivores, plus took them in the feed storage room and fielded any rhino-related question they could think of.
"This is my first year to be this involved with Dream Day," said Smith. "I'm normally off Fridays, but was asked to do the rhino tour. It was really enjoyable. The families were fantastic and very interested to ask questions. My favorite comment was 'I didn't realize rhinos have a favorite spot' (to be scratched).
"It's always fun to let people see the rhinos up close in a way that most people don't get the opportunity to, as far as interacting with them. It can change a person's perspective on how they view these animals."
From there, the families headed to the Richard B. Haas Family Cheetah Conservancy (Cheetah Hill), checking out any number of animal species they might encounter along the way, to meet with Carnivore Curator Jason Ahistus and Cheetah Specialist Alex Sharkey.
The families entered the "cheetah kitchen" and learned about nutrition for Fossil Rim's big cats, then headed over to visit a cheetah, "Jojo". Sharkey invited the guests over to touch Jojo's fur through the fence as she purred loudly. As a hand-reared cheetah, Jojo is very comfortable with people.
Once again, any questions the group had were fielded by the staff members.
"This is my first Dream Day," Sharkey said. "I think it is really special to be a part of this. To see families come and experience Fossil Rim where we can open their eyes to new experiences and share what we do here – it's really cool."
Sharkey talked about how a calm, ambassador cheetah like Jojo is great for such an encounter.
"It's a once-in-a-lifetime opportunity to be able to get that close to a cheetah and even touch one," she said. "Jojo does a really good job of staying calm to let people experience that. A lot of people are surprised that cheetahs purr. Their speed is amazing – zero to 60 in three seconds, but I see the purring really interest people who get the chance to hear it."
From there, the families headed off to the Children's Animal Center to make enrichment items with hidden snacks inside for the goats, as well as the sheep and pot-bellied pig. The animal residents enthusiastically tore into their enrichment items, while the guests of honor also got to take a look into their specific Christmas stockings for their first gifts of the day.
Both mothers were thrilled for their families to have these close encounters of the animal kind.
"This is amazing and so much fun," Cecile said. "It's exactly the type of thing Bryar would want to do with her daddy; it's like she got a part of him back. She is crafty, so I think she really enjoyed making (enrichment items) for the pig and goats.
"She likes to take care of animals, and she had some rare opportunities today. It was special for her to be able to listen to the cheetah purr."
A visitor's highlight animal experience often lies with an exotic species, but Sheri saw it a bit differently for her husband.
"For me, my favorite moment was a tossup between finding the favorite spot (to rub) a rhino and scratching the cheetah," she said. "It was also great to see Rich interact with the goats. We've had horses and cows since 1998 and he hasn't been able to interact with our animals in several months, so a moment like that meant a lot. Animals have a special place in his heart, and to see him perk up was a big deal."
From there, it was off to the Foothills Safari Camp for a delicious lunch and then opening presents from Santa. The menu, prepared by Dawn Sorrells and Daniel Baker, featured tried-and-true kids' favorites like hamburgers, hot dogs, curly fries, pizza rolls and cupcakes.
The gifts brought some big grins and a few tears of joy, as well. When the Timmons family received an annual membership to Fossil Rim, Sheri got emotional and shared a kindred glance with Cecile that turned on the waterworks for several onlookers.
Fossil Rim Director of Tourism Donna Steakley, who was one of the event's key organizers, did her best to explain what it is like to experience a Dream Day with these resilient families.
"To see parents in adverse situations watch their children's faces light up, even if it's only for a little while, takes my breath away," Steakley said. "To help provide this experience is the most humbling feeling in the world. I usually think about my day on the drive home, but on Friday, my eyes stayed filled with tears; I felt blessed to be a part of it."
This was not the "typical" Dream Day itinerary. To say the weather was unpleasant would be an understatement, so instead of an overall tour, the event was more about some key destinations. The families seemed to love the change in game plan.
"Fossil Rim is a magical place, and when I say our staff is the best, I mean it," Steakley said. "Our executive director (Kelley Snodgrass) and support services staff made a quick change and put seats in an enclosed van so we could keep our guests warm. Animal care staff changed their plans and, not only did they let the families experience some things the general public doesn't get to, they went above and beyond to make sure they put smiles on the faces of all our special guests. So much goes on behind the scenes; it was truly an all-staff event.
"Without the generosity of our sponsors, partners, volunteers, staff and donors, we couldn't make the day so magical. How do you properly thank such wonderful people?"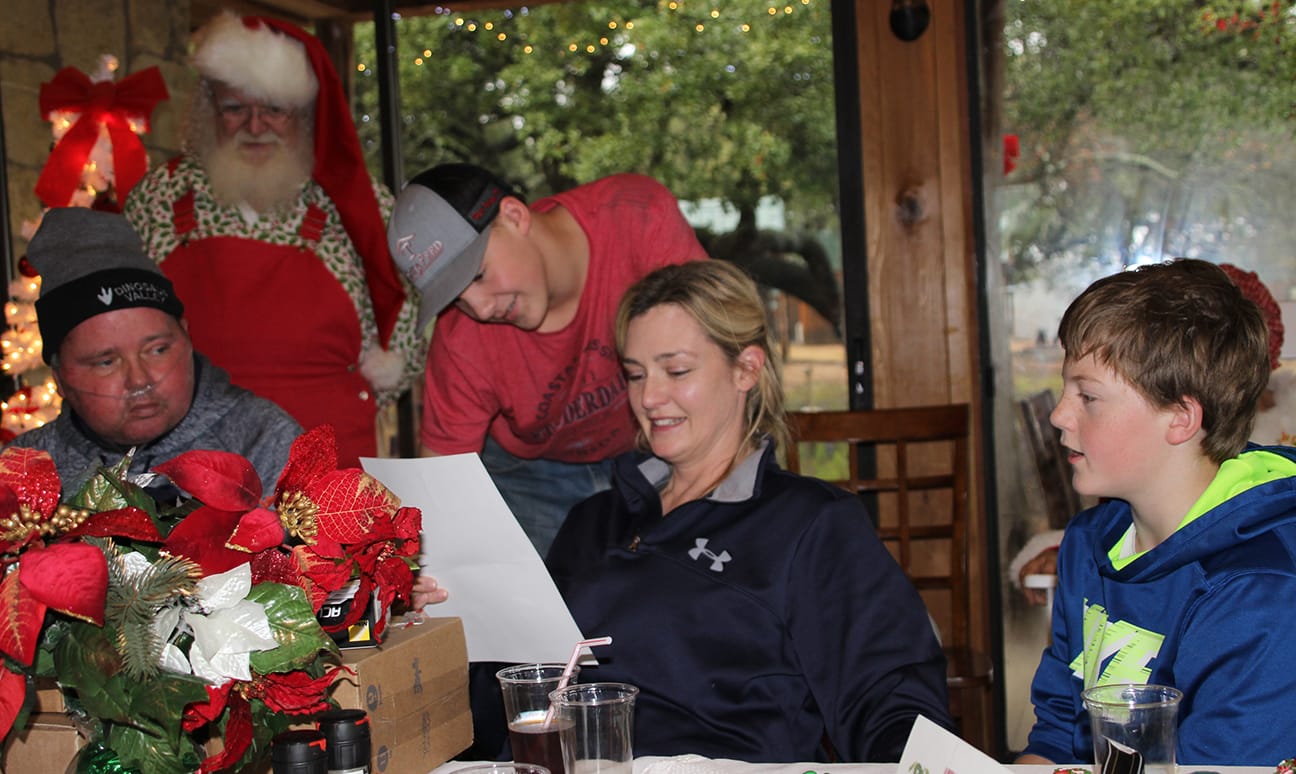 Speaking of the executive director, Snodgrass joined Steakley in experiencing the gravity of emotion during the most moving moments of the gift giving that closed out the event.
"It is difficult to convey in words how moving the Dream Day spirit was this time around," Snodgrass said. "Our partners, sponsors, volunteers and staff made a special day for the two families that the weather could not dampen, although there were more than a few sets of eyes that were dampened – Santa blamed it on the onions (from the lunch buffet). Although all 12 Dream Days have been special, many said this was the best one yet."
-Tye Chandler, Marketing Associate