For children who've encountered more than their fair share of adversity, even one day's escape can mean so much.
That's a prime premise of Dream Day at Fossil Rim Wildlife Center, as three children and their families were the guests of honor Dec. 4 for the ninth installment of the event. Fun is always the objective for the youth, who are battling various medical hardships.
Dream Day 2015 had several aspects to distinguish it from previous years.
"This year was different, in part because we had a repeat honoree in Jacey Barron," said Lynn Rogers, Fossil Rim development coordinator, of a 15-year-old Glen Rose girl who partook in Dream Day 2012. "She is still receiving treatment for two conditions, and we wanted to reach out to her family once again. That's the beauty of staying in touch with prior Dream Day honorees. We want to know how they're doing.
"Also, Gina Reed is usually here helping us with our honorees from (Glen Rose) elementary school, but this year we were able to honor her (three-year-old) granddaughter, Gracelyn (Stephans of Stephenville)."
The third honoree was three-year-old Dillinger Lopez of Granbury.
"Katie (Hunholz, Fossil Rim programs coordinator) goes to my church, and she nominated him for this," said his mother, Jaci Lopez.
A new twist to the day's gift giving enabled Fossil Rim to provide more than ever.
"This year, we received a huge amount of toys from our Nature Store thanks to donations from our vendors," Rogers said. "Because we saved so much money gifting these donated items, we were able to give more gift certificates to the parents that will help them out. Dream Day is about the kids, but you can also empower the parents to deliver a better Christmas with more resources."
While LDL Educational Resource Foundation, GRMC and Dinosaur Valley State Park are returning event sponsors, Rogers noted a new addition.
"We were fortunate to have Dr. Mike Jones join us as a new sponsor this year, and that was another special aspect this time," she said.
As each family arrived in the morning, it was greeted by a large contingent of Fossil Rim staffers and volunteers wearing their Dream Day jackets, while assorted invited guests and representatives for each sponsor were also in attendance. Mr. and Mrs. Claus arrived atop a Somervell County Fire Department truck, as they drew wide grins from the children on hand.
Dr. Pat Condy, Fossil Rim executive director, addressed the crowd.
"Thanks to all our city and county officials, Mr. and Mrs. Claus, the families and everyone working to make this a special day," he said. "Thanks to LDL and GRMC from the start, and then Dinosaur Valley State Park and Dr. Mike Jones for joining us, as well. To our guests, please sit back and enjoy the day."
When families headed out for the first portion of their Family Tour, they were treated to the services of Kelley Snodgrass, Fossil Rim chief operating officer, as their tour guide for the day.
As the tour bus made its way toward the Overlook, Snodgrass expanded on the current situation for nearly every animal species that came into view. He explained the concept of conservation and shared details of the project that will assess the effects of transmitter collars on scimitar-horned oryx, as well as the challenges for addax and addra gazelle, which are each nearly extinct in the wild as the oryx have already become. He was pleased to elaborate on the successful reintroduction efforts involving the formerly extinct-in-the-wild Przewalski's horse, as well as the planned reintroduction for the oryx.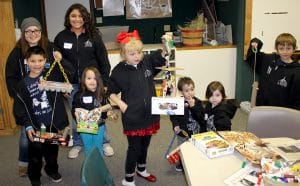 "Some of these animals have health issues, and our experienced veterinarians do what they can," he said.
When they arrived at the Overlook, the families headed to the EcoCenter classroom to build some enrichment items for the birds at the Children's Animal Center.
Amanda Box, Jacey's mother, talked about her daughter's Dream Day return.
"She was really excited and quite shocked we were asked again," Box said. "The first time we thought it was a one-time event. She knows it's an honor for her, but she was even more excited to be able to bring her two cousins along. This is their first time to come to Fossil Rim, so this is a special treat.
"The way she was greeted with hugs when we came up was great. Jacey is a very private person, so she didn't want anyone to acknowledge she was sick when we were here last time.
"The diagnosis at a young age was hard on her, but she's more accepting of her situation now, and so she appreciates this generosity. When she got out of the car and saw everyone here, she was like 'wow, mom.'"
Box noted how Jacey was in a better position to fully enjoy this Dream Day compared to 2012.
"We were shocked at how special they made her feel during her first Dream Day," she said. "She was almost a month out of her second brain surgery, so she wasn't feeling 100 percent. Warren (Lewis, Fossil Rim marketing director) had come to the hospital in Dallas and brought her a huge packet of items from Fossil Rim after her surgery. She was feeling a little better this time, so she could enjoy the experience even more. Because she knows more about (Dream Day) this time, I think she appreciates it more."
Jaci Lopez was grateful for her son's invitation. His two sisters were also in attendance.
"I don't know if he realized (Dream Day) is to honor him, but he's been pretty excited," she said. "I told him we were going to the zoo. I think this is fantastic to give something special to these kids and make it an exciting day for them. We'll definitely come back in the future."
Matt Stephans, Gracelyn's dad, shared similar sentiments. Her two brothers were able to enjoy the day with her.
"I thought it was awesome when we found out we were coming for this," he said. "I've seen different programs like this, but I never thought we'd get the chance. It's a great opportunity for our family and a great day. Gracelyn hasn't been here before, but the older kids have.
"She loves the animals and feels free here. She'll definitely be coming back; we love it here."
When the enrichment items were completed, Dillinger proudly displayed his creation to fellow three-year-old Gracelyn, who smiled in approval. Peanuts were hidden in the toys and the families got to watch the birds enthusiastically retrieve their snacks. After a tour of the children's animal center, it was back on the bus for the tour. When the time came to hand feed giraffes, little faces throughout the bus hosted ear-to-ear grins.
On the way to the Haas Family Cheetah Conservancy, Snodgrass explained how Fossil Rim got its name and pointed out where a den of wild gray foxes lived. He provided a lot of insight about the cheetahs, including why one that had been raised as a foster cub didn't have a tail.
The tour bus headed to the Foothills Safari Camp for lunch with some items requested by the honorees. In fact, Dillinger had asked for pineapple pizza, and when the box opened his eyes widened to accompany a "thumbs-up."
After lunch, the children of each family were treated to their own seemingly endless bag of presents provided by the vendors. Dillinger's sister, Seraphine, two years his senior, assessed his presents with a rating of "totally awesome!"
"I think this time is more memorable and better," Jacey said of the day after presents were opened. "My favorite part is seeing my cousins enjoy this so much and how happy they are. I love my youngest cousin's reactions to the animals.
"The animals were memorable (during Dream Day 2012), because I'd never been able to experience that before. The giraffes are my favorite animals here."
The day concluded with the final stretch of the tour, which was highlighted by a stop at the white rhino pens.
"It would've been impossible without everyone's help," Rogers said of the day. "It's a beautiful time to come together as a team from a selfless place. When they see the children arrive at the front gate, they realize exactly why we make the effort we do.
"Our sponsors mean so much to this event. It really does take a village, and that's how we make it happen."
Later that day, Rogers received a text from one of the parents.
"I'm just now going through everything we received," the message said. "Let me just say what a blessing this has been. I cannot believe all the gift certificates we have. I'm truly humbled by the thoughtful hearts that it takes to do this.
"I personally want you all to know how much you have touched our hearts. Thank you very much."
-Tye Chandler, Marketing Associate