Fossil Rim's Natural Resources Manager Caitlin Pyle shares the details of a recent major volunteer event.
Fossil Rim staff was delighted to host a corporate group volunteer workday in early October.
We had 25 volunteers representing SAP Concur come for the day, and they were able to assist Fossil Rim in a multifaceted way. Their work actually benefited departments all across the facility including Education, Natural Resources, the Children's Animal Center, Animal Care, Admissions, and Lodging.
One group led by Camp Manager Andrew Bullard went to Wolf Ridge Nature Camp and helped work on our public hiking trail. All of our overnight camps and day camps go on a guided nature hike, most often on Fossil Trail, so we are always working on keeping that trail clear and safe for all our guests.
"Having the Concur Cares group out here was a huge resource for the education department to help keep our guests safe on the trail while ensuring their best experience," Bullard said. "I was able to educate about a few of our native Texas plants while leading the group in what needed to be done, and that was rewarding in itself."
Natural Resources Manager Caitlin Pyle led the largest of the four groups through the park to our Foothills Safari Camp located in the Main Pasture. One of our volunteers brought his own chainsaw to help the efforts of tree trimming, which was a huge help! We have over 6,000 guests per year visit our lodging facility, and we want to ensure they have the best experience.
This group of excited and hardworking volunteers were able to do in one morning what would have taken our Landscaping Technician Richard Freeland so much longer to achieve, which he was thankful for.
The lodging staff prepared coffee, tea and pastries as a way of showing gratitude to the volunteers for all their hard work. Everyone who was volunteering at the Foothills Safari Camp that day was quite impressed with the staff hospitality.
All of the oak tree trimmings at the camp were then used as browse for the rhinos and giraffes to eat. Our Black Rhino Intern Wade Barbour came to pick up the three truckloads of browse to share with the black rhinos later that day.
It made the act of service even more special for the volunteers to know, not only were they giving back to Fossil Rim, they were actively providing food for our animals. To get to see the giraffes up close and hand feed them later on during their guided tour was especially rewarding.
Natural Resources Management Specialist Vanessa Hays led a smaller crew of the Concur Cares group down to the Admission Center at the main entrance to get their hands and knees dirty while cleaning up the flower beds and removing invasive plants from that area. The Admission Center makes the first impression for most of our 250,000 guests annually, and thus the staff was excited about the help!
We also had some younger volunteers come for the day, as a handful of junior volunteers came with their parents and provided a helping hand at our Children's Animal Center.
One of the memorable moments for Pyle was watching this large corporate group bond and meet new people within their organization while volunteering. Some of them met for the first time in the parking lot at 8 a.m., and by lunchtime they had become more than acquaintances.
Since we had split their group up in order to tackle four different projects around the park, they were able to work in smaller groups and get to know one another, as well as the Fossil Rim staff.  Then, the guided tour through Fossil Rim in the afternoon brought the whole SAP Concur group back together and they were able to chat and bond over their experiences. It was special to know that many of these volunteers arrived as coworkers, but ended the day as friends.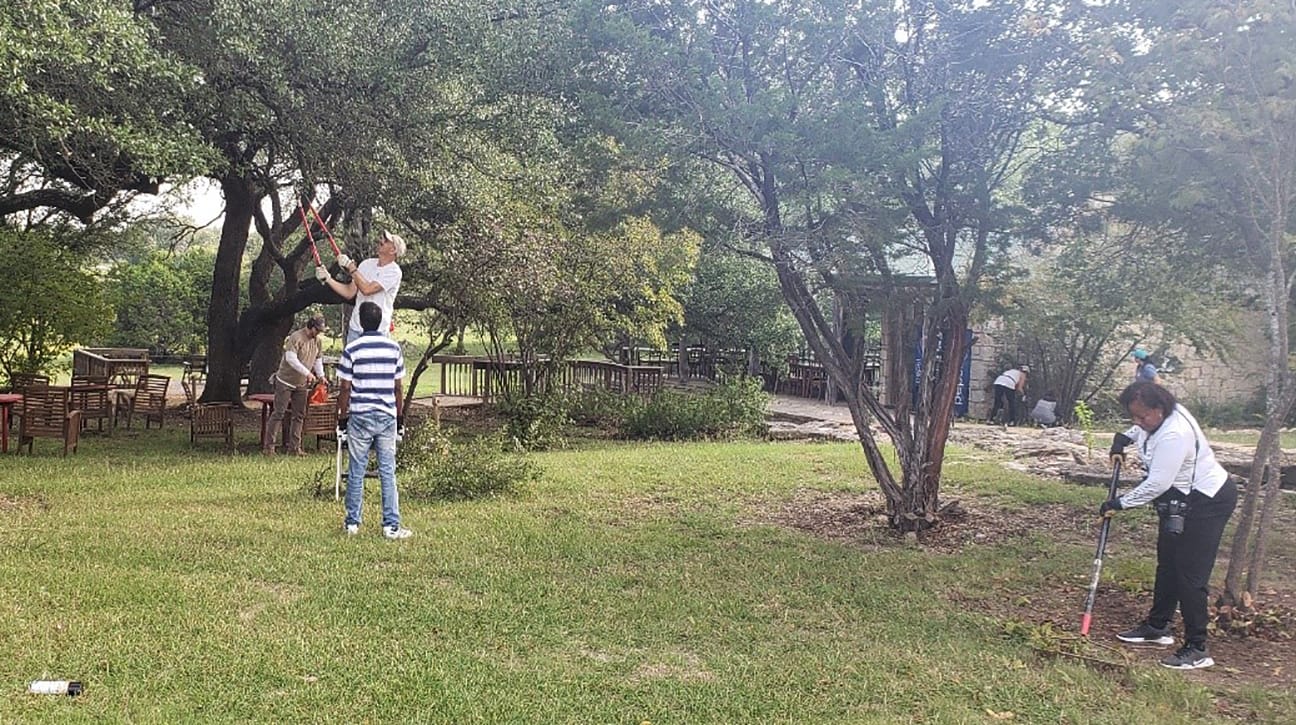 SAP Concur is an international software company with an office in Allen, Texas about two hours northeast of Fossil Rim.  They place a heavy focus on corporate social responsibility with their employees being able to compile 32 hours of paid volunteer time each year. For the second year in a row, they chose to support Fossil Rim!
"Thank you again for such an incredible experience!" said Concur Resolution Team Supervisor Areli Moyini. "Everyone was so excited to be able to contribute hard and meaningful work to Fossil Rim and it was great to get to meet all of you. We will be increasing our commitment next year and hope to be able to come twice a year to help with anything you might need."
-Caitlin Pyle, Natural Resources Manager