Each year, the global environmental products and services company Clarke holds its Day of Caring program, in which all offices close and all employees go perform community projects as volunteers.
Fossil Rim Wildlife Center is fortunate enough to have a partnership with Clarke wherein the company supports our mission through both generous donations and volunteers contributing their time. In mid-July, Clarke employees made the trip from Illinois, Louisiana and Mississippi to help our education department out.
Clarke visitors included Vice President Frank Clarke, Director of Human Resources Julie Reiter, Control Consultant Danny Meyers, Control Consultant/Technical Adviser Sean Healy, Field Biologist Emily Boothe, and Control Consultant Doug Carroll.
They worked with Director of Education Tessa Chenoa Ownbey, Homeschool Coordinator Mark Phillips and conservation education interns Cassidy McDonald and Andrew Bullard.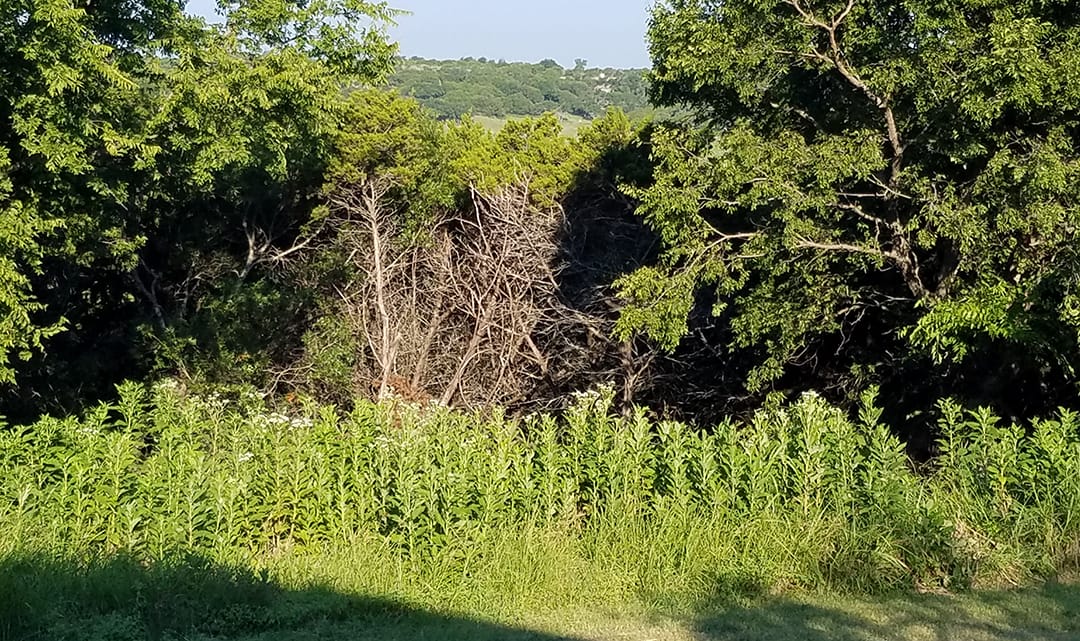 "We had the unique opportunity of working alongside the Clarke company since they chose Fossil Rim for their volunteer project this year," Ownbey said. "Project leader Doug Carroll had requested a 'down and dirty, nasty job,' and I had just the thing for them!"
Ownbey wanted to improve the view in front of the education department's amphitheater, but the slope had become too steep for heavy construction equipment.
"We needed a team to go down through the weeds and brush, deal with the chiggers and cut everything out by hand," she said. "I needed a volunteer group with enough experience and muscle to be safe and get the job done. The Clarke team fit the bill perfectly!"
Ownbey recalled a humorous moment.
"One of the high points for me was when Clarke Executive Vice President Frank Clarke lost his sunglasses," she said. "He seemed like a serious kind of guy, and so I was hesitant to offer him the use of mine, which are bright pink with zebra stripes. But, I took the risk. As I came to discover, Frank ROCKS pink zebra sunglasses and did so all day long!"
She pointed to the toughness of another volunteer.
"I was very impressed by Danny Meyers, who – despite his kidney stones – insisted on manning the chainsaw throughout the day," Ownbey said. "This could have had something to do with Doug dropping a few limbs on himself early on."
It certainly was not an all-male effort.
"The women on the team were rocking the more physical work, such as dragging all the limbs up the hill," Ownbey said.
The project was completed and Ownbey was pleased with Clarke's team effort.
"We really had an amazing time together, despite – or maybe because of – the heat, sweat and chiggers," she said. "We look forward to working together with this Clarke team again next year! I already have a few little 'down and dirty' projects in mind."
Carroll shared his account of the project with Fossil Rim Executive Director Dr. Pat Condy.
"We were so pleased with the hospitality of the staff during our stay," Carroll said. "(Tours Manager) David (Whiting) gave us a great tour, was very informative and patient in answering what must've seemed like a million questions from us. Our accommodations at The Lodge were truly first class and we appreciate it being made available for us. Tessa was a joy to work with."
Carroll said he hoped the brush clearing efforts of his team were satisfactory and that the amphitheater experience would be better for it.
"Everyone in our group came away from Fossil Rim with a profound appreciation and respect for the work being done there," he said. "Mr. Clarke will be reporting back to our executive advisory committee on what he learned and will be making a personal recommendation for continued support of Fossil Rim from our company. Not only with the Clarke Day of Caring event, but also through the annual One for Tomorrow Award!"
Carroll actually lives just a few miles down the road from Fossil Rim in Walnut Springs.
"As a full-time resident of Bosque County, I look forward to working with Tessa in the volunteer program on a regular basis," Carroll said. "Also, our entire group agreed that we would like to come back next year for our 2018 Clarke Day of Caring."
Condy was very pleased to have another visit from some members of Clarke to Fossil Rim.
"We appreciate very sincerely the support we have received from Clarke and how Doug has helped facilitate that," Condy said. "We received a wonderful donation from them in 2016, and now we benefitted from the great team of Clarke Day of Caring volunteers with the brush clearing. I enjoyed very much meeting the team and having some interesting discussion.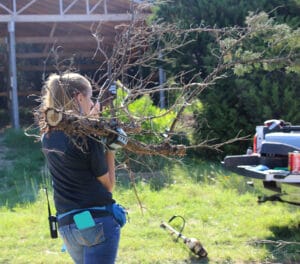 "I hope the experience helped Mr. Frank Clarke learn even more about what we strive to do here. Also, I know that Tessa is thrilled to have Doug joining her volunteer program."
With the support – in more ways than one – of generous companies like Clarke, Fossil Rim staff can continue to do everything in their power to work for the conservation of species in peril.
To learn more about the Clarke company, check out https://www.clarke.com/.
-Tye Chandler, Marketing Associate