Not unlike Fossil Rim Wildlife Center as a whole, the facility's Children's Animal Center (CAC) continues to diversify and improve the experience it provides.
The CAC Supervisor since August 2016, Kristina Borgstrom takes great pride in every facet of the CAC, which is located at the Overlook beside the Nature Store and Overlook Café.
"I first learned about the Children's Animal Center during my time as an animal care intern in the spring of 2014," Borgstrom said. "This is my first supervisor experience; I've taken on the role and run with it, but I've benefitted from the guidance of all the animal care curators and education directors."
Many people may not be aware that the CAC, and the Overlook area (1789 CR 2009) as a whole, is free to visit and can be accessed without entering the wildlife center.
"The Children's Animal Center is at a unique location where we get visitors who take the Gosdin Scenic Drive through the park, as well as people who are only visiting the Overlook area," she said. "I see a lot of grandparents bringing their grandkids by, people coming to have a picnic, people without (an automobile) like motorcycle groups and cyclists, plus school groups that are only visiting the Overlook on a field trip. We serve a variety of people, and it's nice to have access to this area from inside the park, as well as the county road."
The CAC is open from 10 a.m. to 4 p.m. daily, but on weekends it will not close until 5 p.m.
"I like to remind people they can use the county road to visit us before or after they go through the park – not just at the midpoint – if that helps with their planning for the day," Borgstrom said.
Petting Zoo?
Sometimes, guests will refer to the CAC as a petting zoo, but Borgstrom is hopeful that label will fade away.
"Traditionally, a lot of people have seen the Children's Animal Center as a petting zoo," she said. "But, considering the animals in our collection nowadays, the only animals visitors can pet are the free-roaming goats. They do provide an opportunity for an up-close interaction for people who may not be around animals often, but overall, it's a misconception to consider this a petting zoo. I see it as a nature center and learning experience with a lot of animals to see and interact with, which hopefully puts us more in line with Fossil Rim as a whole.
"We want to promote conservation messages, educating people on the need for species survival plans, and now we have some ambassador animals from breeding programs, such as 'Latika' and 'Morgan' the black-footed cats. That's one of those species people can't see on a regular basis since they are in the Intensive Management Area (IMA). It's also an example of us providing some alternate spaces for other animal care departments."
Black-footed Cat
Latika moved to the CAC from the IMA in 2018. She is no longer in the breeding program, but will be the best bet for many Fossil Rim visitors to see one of the facility's smallest mammals.
"Latika is usually shifted out onto exhibit during the cooler temperatures," Borgstrom said. "Visitors should know she only weighs about three-and-a-half pounds, so she can be tough to see sometimes. She loves to hide in her hollow log. Latika is naturally nocturnal, but we do put out enrichment items sometimes that might help you to see her running around, such as furs and feathers."
More recently, Morgan the black-footed cat joined her at the CAC.
American Red Wolf
Two American red wolves technically live near the CAC. Like Latika and Morgan, they probably provide the best opportunity for many Fossil Rim visitors to see the species if they cannot take a Behind-the-Scenes Tour. The red wolf is a critically endangered species.
"The carnivore department takes care of them," Borgstrom said. "If guests want to visit the area, the exhibit is right behind our Children's Animal Center. There is an upper viewing area, as well as a hiking trail that goes around the exhibit. The trail entrance is behind the keyhole garden near the tortoise yards, and it's about a 15-minute walk to complete the trail.
"The carnivore staff worked hard on the wolf area so that the exhibit could be used once again. By nature, red wolves are shy and secretive, as well as more active during the morning and evening."
Exotic Birds
Two bare-eyed cockatoos, "Pearl" and "Hobo", live at the CAC.
"They are fun to see, and I like to call Pearl our 'greeter' at the Children's Animal Center, since she does know how to say 'hello'," Borgstrom said. "We are reuniting those two in one aviary after a couple of years of separation. They turn 30 years old this year."
There are also two blue-and-gold macaws, "Millie" and "George".
"They have been here for many years; longtime visitors might remember them being near the café," she said. "Millie and George are about 40 years old."
The CAC also has a male eclectus parrot, "Nick".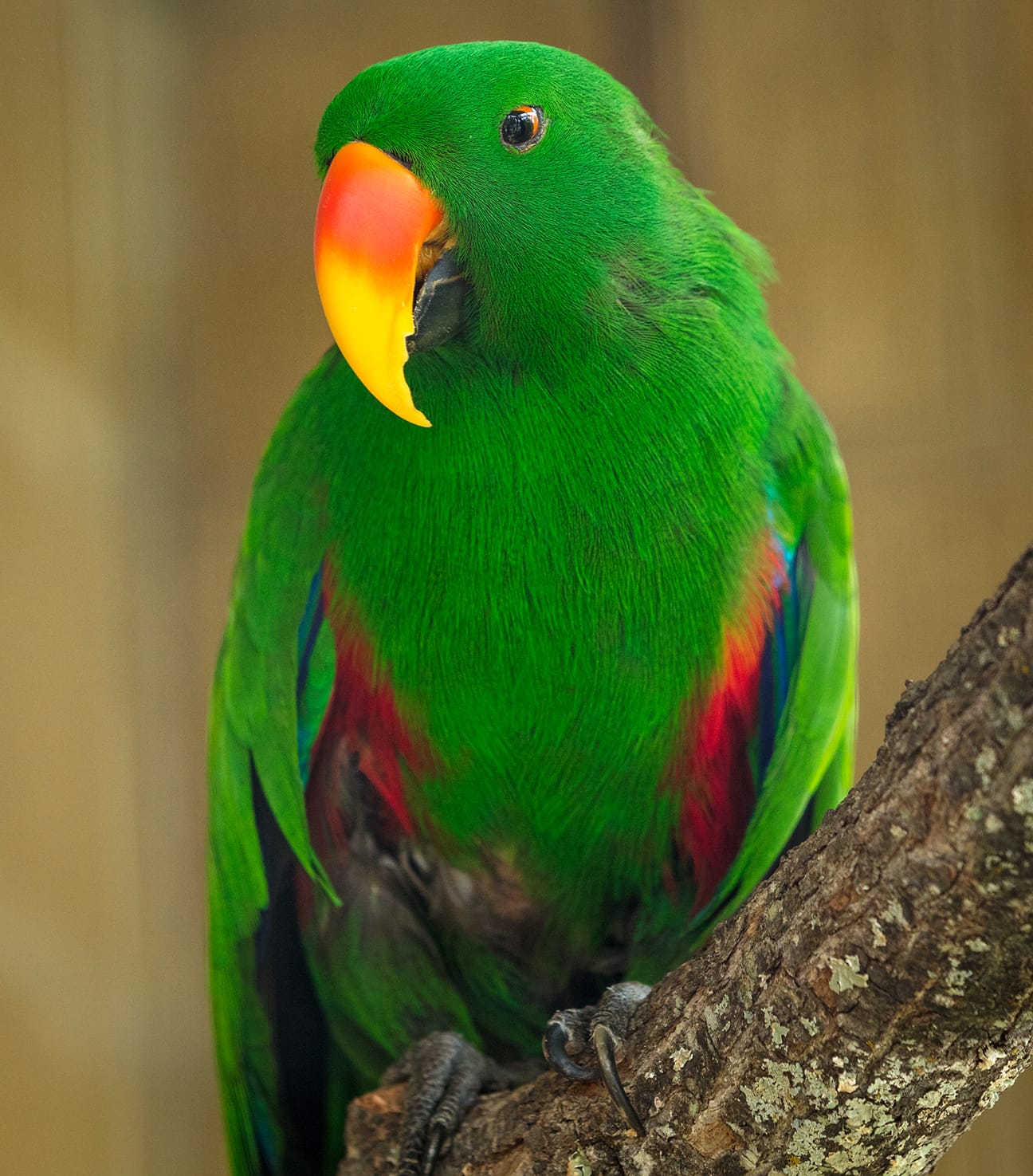 "Nick turns 29 this year," Borgstrom said. "He is shy, for the most part, but he'll do some chirps and whistles when he gets excited. If he gets startled, Nick is well-known for his firetruck alarm call, which can get all the birds riled up and calling as a group. It's fun to see that they still exhibit those wild behaviors."
Tortoises
The CAC has two Texas tortoises. When guests enter the building, they are the first species on the right.
"They are a threatened species that is native to southern Texas and the state's only species of tortoise, as opposed to about 20 turtle species," Borgstrom said. "We have a male named 'Grady' and a female named 'Heidi'. Grady is the answer to a good trivia question, considering he is the oldest animal at Fossil Rim at age 48."
There is also one African spurred tortoise. Both tortoise species live inside, but have the option to go into outside yards.
"We have a female named 'Venus'," she said. "She can be shy, but is often visible outside in her house."
Pot-bellied Pig
"Hamlet" is a longtime resident, but Borgstrom mentioned another pig on property, as well.
"Hamlet is one of our two pot-bellied pigs; 'Arnold' lives in retirement near the administration building," she said. "Hamlet turns 11 this year and, like the emus, he'll come up close to the fence line to say 'hi'. Hamlet loves to eat grass and flowers, plus cooling off in his wallow. When we do let him out to roam around, he gets along well with the other animals.
"Some of his favorite enrichment items are feeder balls with pig pellets or Cheerios, plus he loves tearing open boxes with hidden snacks; we call them 'feeder puzzles'."
Many guests may know the goats perform tricks, but Hamlet has a few tricks up his proverbial sleeve, as well.
Emus
"Einstein" and "Ume" live in a yard in the back corner of the CAC.
"Those two are pretty fun," Borgstrom said. "I consider Einstein one of the original emus of Fossil Rim; he turns 25 this year. Ume was one of the six chicks that the previous CAC Supervisor, Amber (Wiedeman), actually hand-raised.
"Both are very comfortable with our visitors and love splashing around in the water to cool off during the summer. We hose them down, and they have a wallow they enjoy going into, as well."
Sheep
"Earl" lives in an outside yard beside Hamlet and the emus.
"Earl has grown on me to become one of my favorite animals," Borgstrom said. "He's pretty big at over 200 pounds, but he is just two years old. Earl is a special case for the Children's Animal Center, because he was donated to Fossil Rim when he was just a couple of days old. We took on the challenge of hand-raising a baby lamb, and he came with a generous (monetary) donation to Fossil Rim.
"The couple who donated Earl continue to be good supporters and visit him annually. We always give him a goat buddy in his yard.
"You might see him prancing sometime. We use his wool for enrichment for our carnivores, both at the CAC and in the IMA."
Goats
As previously mentioned, the resident goats receive some hands-on affection from guests. There are LaMancha goats, which are larger than the other goats. There are also Nigerian dwarf goats and Nubian goats.
"For health and safety reasons, we don't want guests touching animals out in the park," Borgstrom said. "Our free-roaming goats are here at the Children's Animal Center for the people who want to touch animals. We have a goat-only pen where they can go take a break if they ever get overwhelmed, but there should always be at least one or two goats roaming around that can be petted or brushed."
Ambassador Animals
This actually refers to a variety of animals, many of which are arthropods or reptiles.
"One of my major goals the last couple of years was to help build upon the ambassador animal program we have here," Borgstrom said. "I will continue to work with our education director, Jennifer (Arledge), on further developing that collection and increasing our use of those animals. We'll do some more table programs so people can meet these animals up close and personal. Renovations like the remodeling of the barn has enabled a lot of these animals to be seen through our new display window, even when they aren't taken out for a program or go offsite visiting school students.
"When I started, we had three species, and we currently have 10 ambassador species. Our main focus right now is on arthropods and reptiles, as well as other small critters. We have our first amphibian, our barred tiger salamander, which is pretty cool."
Other current ambassador animals include a rosy boa, California kingsnake, Eastern box turtle, corn snake, blue death-feigning beetles, emperor scorpions, Mexican red knee tarantula, Madagascar hissing cockroaches, and African giant millipedes.
The Staff
Borgstrom has a right-hand man to help her tell the world about the wonders of the CAC, and his name is Jason Moden. Guests will usually see Moden Thursday-Saturday.
"Jason joined me on the staff this year, plus we have two interns and our volunteers," Borgstrom said. "The interns are assigned a set group of animals each day to act as animal care staff for. We have helpful volunteers like Carol Lee, who helps us every Wednesday. Her mission is to get every kid to pet a goat.
"We also have a junior volunteer, which requires a minimum age of 13. But, younger kids can come with a parent if they want to help take care of the animals for a couple of hours.
"For people interested in volunteering, check out the Volunteer page of our website: https://fossilrim.org/how-to-volunteer/. There is a wide range of what a volunteer could help us with."
A Place To Learn And Educate
There is so much people can learn when they are inside the animal pastures, but the same can be said when they are within the confines of the CAC.
"As you enter the Children's Animal Center, a lot of the displays and signs you see were former intern projects," Borgstrom said. "Our goal moving forward is to make our displays more interactive to teach fun facts and conservation. We have a touch-and-feel board that an intern made last summer so you can feel some furs, feathers, and snakeskins. The Children's Animal Center is a great spot to take questions you may have developed while inside the park and you can ask one of our staff members or interns.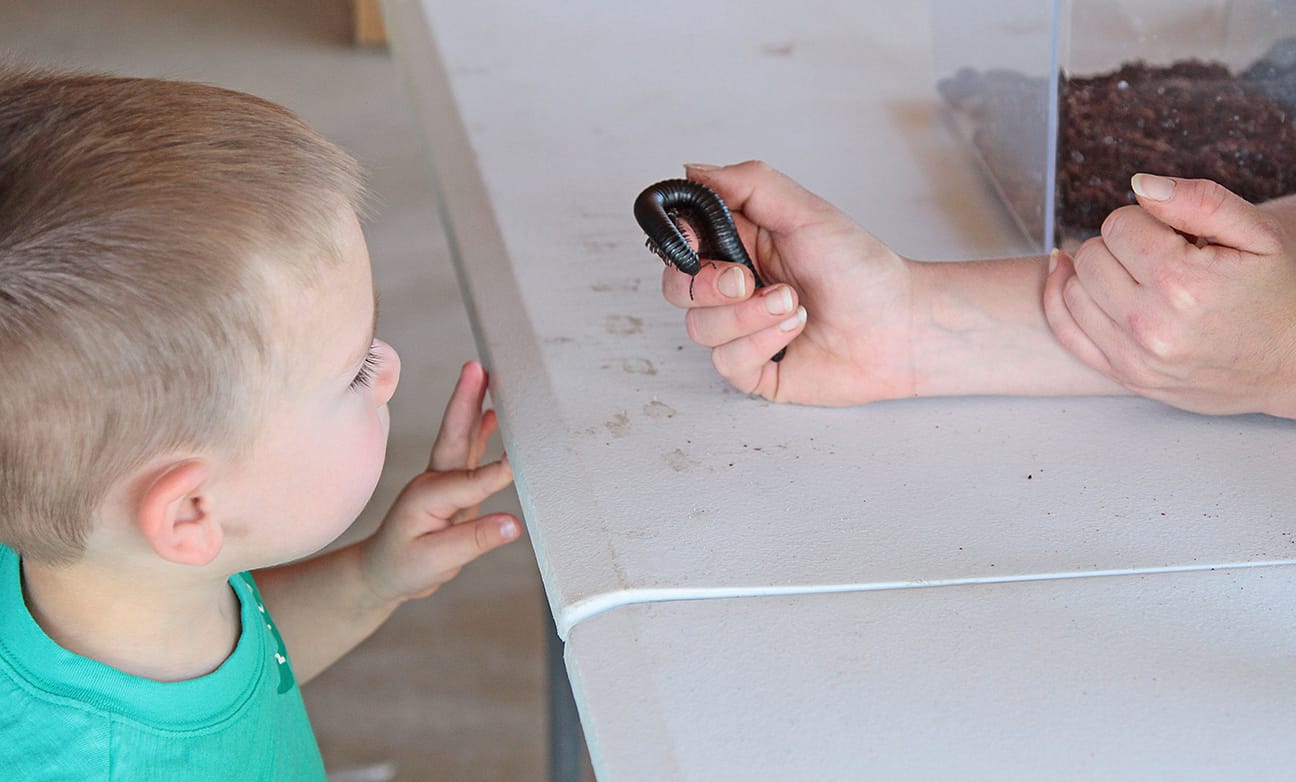 "If you want to learn more about Fossil Rim history and our conservation efforts, feel free to ask us. If you don't take a guided tour, the odds are you are going to have some unanswered questions about the animals that we can help you with. We are working on developing our biofact program – furs, feathers, horns, antlers, eggs – to touch and interact with."
So that covers the learning done by guests, but the CAC is also a prime location for those who have acquired knowledge about Fossil Rim and its animals to share it with others.
"We are an animal care department, but we want interns who are interested in public education, as well," Borgstrom said. "This is a unique opportunity for a mixed position – roughly 60 percent animal care and 40 percent education. Public speaking is a great skill to have, and interacting with our guests here will definitely help an intern develop in that regard."
Come Check It Out
Borgstrom is going to continue to do her best to make visiting the CAC even more informative and entertaining.
"If someone hasn't been here in a couple of years, for example, we now have a TV monitor that we play Fossil Rim videos, announcements, and educational displays on," she said. "We've worked to improve the main yard by creating a 'river walk pathway' to help prevent erosion and keep your shoes from getting muddy on a rainy day."
The CAC will remain free to visit, but you can directly support the continued improvements being made.
"If visitors want to give back, we do have a cash donation box at our entrance area, but we can also take credit card donations," she said. "Those donations help us both at the Children's Animal Center and throughout Fossil Rim."
If you've never been to the CAC or maybe it has been a while, Borgstrom and her Children's Animal Center crew cannot wait to see you.
"The Children's Animal Center is really a fun place to see and explore when you are at the Overlook," she said. "We are located just to the left of the Nature Store, for people who are driving up from the Game Preserve pasture. We have new animals for you to see if you haven't been here recently. Going forward, we're going to keep working with the education department to provide more educational opportunities here than ever before."
-Tye Chandler, Marketing Associate