After a hugely successful Somervell County Day, the teamwork between Fossil Rim Wildlife Center and the Somervell County Food Bank continued a couple of weeks later with Adopt-a-Family.
Hailey Shields, Fossil Rim staff accountant-administration, let her coworkers know some specifics about a certain local family. Gifts were purchased, gathered, taken to the food bank and then the family came to pick them up and take the presents home in advance of Christmas Day.
"We try to help a family in need," Shields said. "I just need to know how many family members, ages and genders. I was able to call the mother ahead of time, and it was good to get to know her."
This is the first year for Shields to lead the project.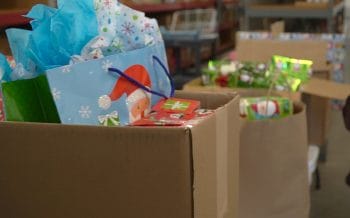 "I always like to help out the community," she said. "Anytime there is an opportunity, whether it is Dream Day or an event like this, I love to do it."
Fossil Rim made a change this year to have each department "adopt" a family member this year by going to purchase his or her presents.
"I think it helped us come together to have each department buy gifts instead of finance taking the money to buy it all," Shields said. "We are pleased with the participation and the departments seemed to enjoy selecting the gifts. The finance department is proud to lead the way on an event like this, but it's really about all of Fossil Rim getting involved to give back to our community."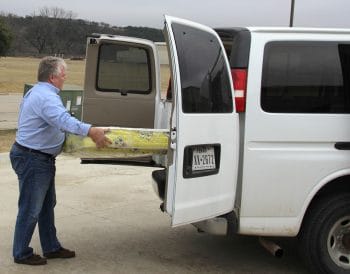 In total, the family ended up receiving two laptops, a $50 Walmart gift card, a three-month supply of track phone minutes, a twin-size mattress and box spring, jackets, and a bevy of gifts for the children.
"Everyone was thankful but the grandmother expressed her gratitude by hugging each of our necks and blowing kisses as we drove away," Shields said. "The mother was not able to be there due to medical reasons, but she called me first thing the next day telling me how grateful she was."
Debi Bly, Somervell County Food Bank director, enjoyed working with Shields for the first time.
"Hailey was definitely on top of things for this," Bly said. "She called me early and has obviously worked hard to make sure it was a success. The fact each department adopted a member of the family is incredible to me.
"It's an extended family with multiple generations living in one household. They've been through some hard times with some loss and medical problems; it's just so nice of Fossil Rim to adopt this family and give them that happy Christmas they probably wouldn't otherwise have this year."
Bly was thrilled with the results of this year's Somervell County Day, wherein local residents or employees gain free park admission on a certain day by donating two canned goods per person.
"That event was incredible for the food bank this year," she said. "We had the trailer filled with food. People brought food constantly all day long. It was the best Somervell County Day I'm aware of."
Shields considers Somervell County Day a great partnership that she hopes will always continue.
"Not only are guests helping out their family with free admission that day, but they are helping out their community through the food bank," Shields said. "Those people should know they are making a huge difference."
Bly discussed the state of inventory at the Somervell County Food Bank with 2017 drawing to a close.
"We have so many canned goods for the holiday season," Bly said. "People have been so generous, both with donating canned goods and giving money. We are lacking in produce, dairy and meats right now, but we'll see what we can order regarding those items. Certain items we need are cereal, canned spaghetti sauce and canned meats – items that will make a meal within themselves.
"Even if we receive items right before Christmas, it can make a difference. The food being donated now will get us through January. It's truly a blessing to have all these donations."
To contact Bly about donating food, give her a call at 972.979.5360 and leave a message. 
-Tye Chandler, Marketing Associate